Mermaid Party: Under the Sea Mermaid Party Activities. Today I'm sharing the Mermaid Party Activities and Games from my recent Mermaid Party. Looking for mermaid party ideas? Also check out this mermaid party, these fun mermaid cookies, this under the sea birthday party and these under the sea party ideas!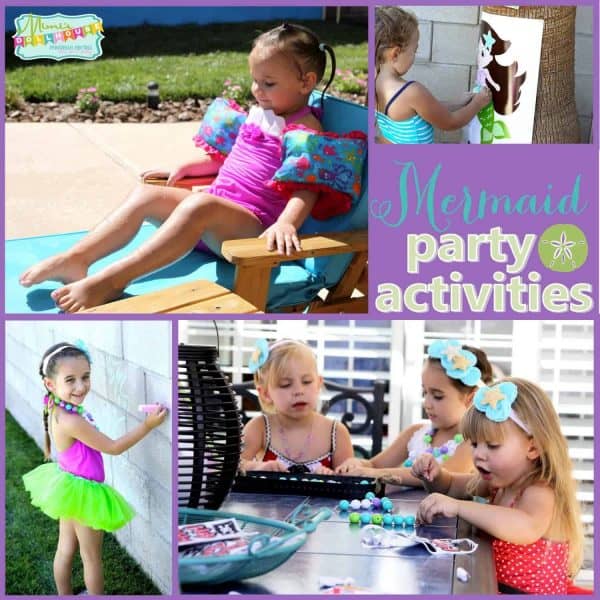 One of the best parts of throwing a birthday party for kids, is the games and activities. I LOVE coming up with themed activities and stations for the kiddos to explore. It's always my favorite place to work in little details and fun, quirky theme elements. My daughter's mermaid party was no exception. Today, I'm sharing the fun stations we set up for her party…check it out.
#1 Dress like a Mermaid or a Pirate
The first station I set up for the party was the dress up station. I love seeing all the little kids running around in outfits that match the theme. I made some cute headbands for the girls with sea stars attached (tutorial coming soon!). The little girls paired these with mini lime green tutus that made them all look like cute little mermaids.
The little boys got strips of fabric to wrap around their heads and Felt Pirate Eye Patches
to make them feel like little pirates…aargh!
#2 Pin the Sea star on the Mermaid
This mermaid party game was super fun. I printed out the mermaid board large (size 16×20) and the kids took turns trying to stick the sea star stickers onto the mermaid's hair.
#3 Mermaid Bubble Necklaces and Pirate Hats
The little mermaids made their own bubble necklaces (tutorial coming soon for this too!!) This was a HUGE hit with the little girls. They loved making their own mermaid jewelry. We also didn't want to leave out our cute little pirates, so we gave them the chance to make their own pirate hats and decorate them with stickers and jewels.
#4 Seashell Toss
Using foam board and bean bags, I made a seashell toss game for the little quick fun competition game.

#5 Coral Reef Coloring
What mermaid party would be complete without a coral reef. On the block wall around the yard, the kids were able to create their own coral reef with sidewalk chalk. This was definitely a favorite as well!!
#6 Swimming and Bubbles
So of course, the best activity for a mermaid party is swimming. We decided to take our swimming to the next level with a Bubble Machine
as well. Splishing and Splashing around in the pool and chasing the bubbles was definitely the highlight of the mermaid fun!
#7 Beach Pail Party Favors
Last, but not least, were the fun party favors. Each child had a persoanlized beach pail with towels, googles, and fun mermaid themed candy and goodies…fin-tastic!!
If you love these mermaid party games and activities…please pin this image to your birthday Pinterest board: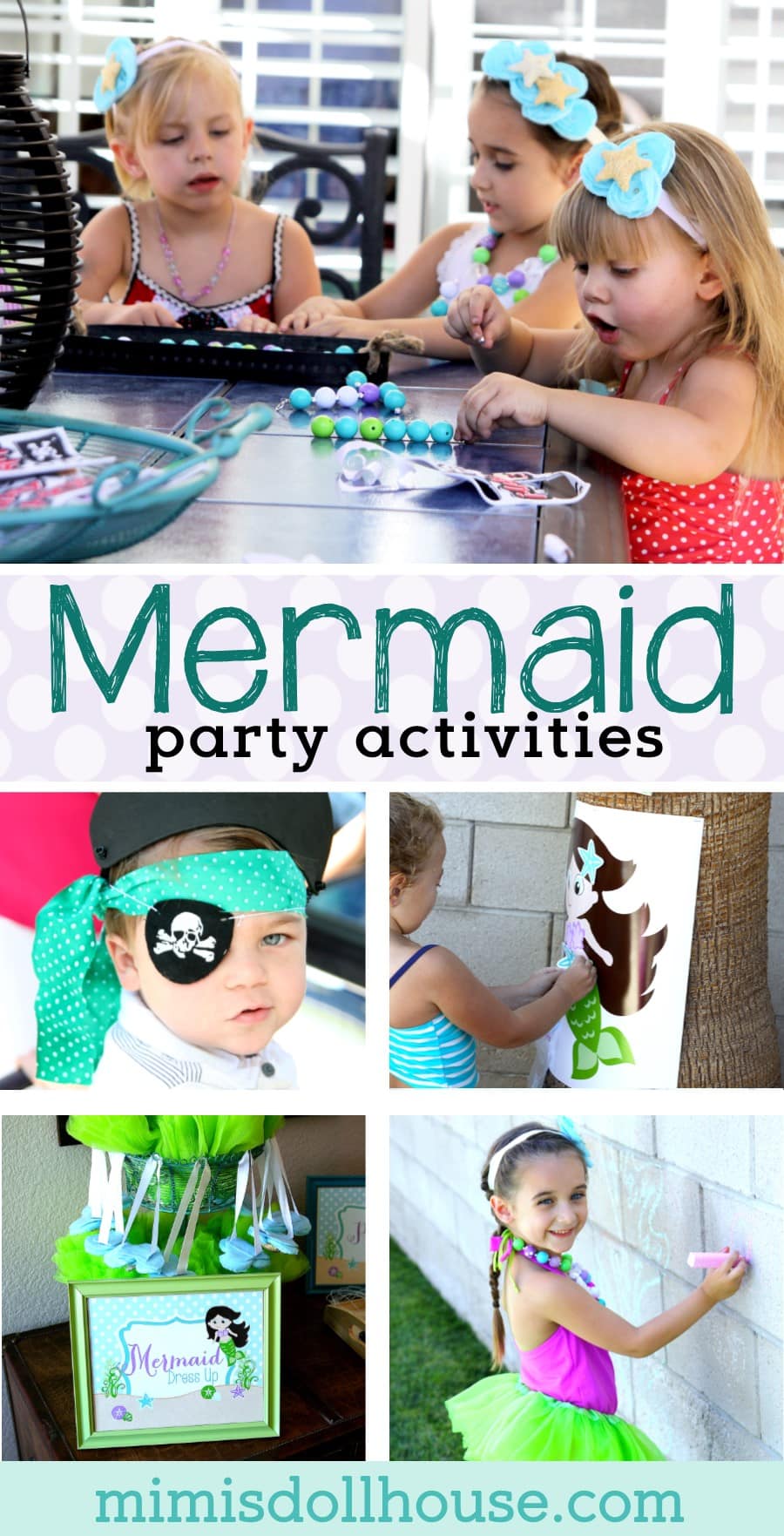 Wanna throw a Mermaid Party? The Printable Mermaid Party Collection is available for purchase in my shop: