How to plan a Nerf themed party
If you are looking for a great party theme for your older child or tween, a Nerf party is right on target. With fun competitive games and super easy to DIY decorations and Nerf party supplies, you can plan a Nerf themed birthday easily and have a great time!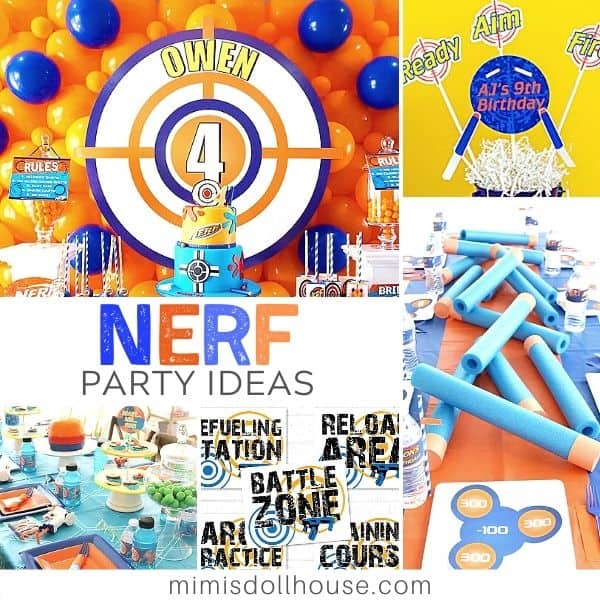 Perhaps your house looks like mine…no matter how many times I clean, I always seem to find little foam darts hiding in nooks and crannies. Also, it seems nowhere is safe from occasionally getting popped with a Nerf bullet.
Throwing a NERF THEMED PARTY?
☑️ This
Nerf Party Kit
is the perfect set to get your party planning headed in the right direction!
If you can relate to these scenarios…a Nerf birthday party may just need to be in your future. Why not capitalize on something they ALREADY love and have an epic dart battle meets birthday bash form your preteen's party.
Nerf Party Ideas
I have tons of fun Nerf party ideas to share…from simple decorations to elaborate set-ups. One of the easiest ways to turn ordinary party items into Nerf party items is adding darts to them. You can grab them pretty inexpensively from Amazon in bulk.
Let's take a look at some of the completely awesome party ideas you can copy for your Nerf party…
Nerf Party Decorations
First up…the decorations. Having some amazing decorations is a perfect way to really get your party theme off to a great start. From balloon backdrops to competition signs…you will love these ideas.
Nerf Party Backdrop from Tinselbox
So seriously…is this not so flipping cute? I love the target with the bright balloons!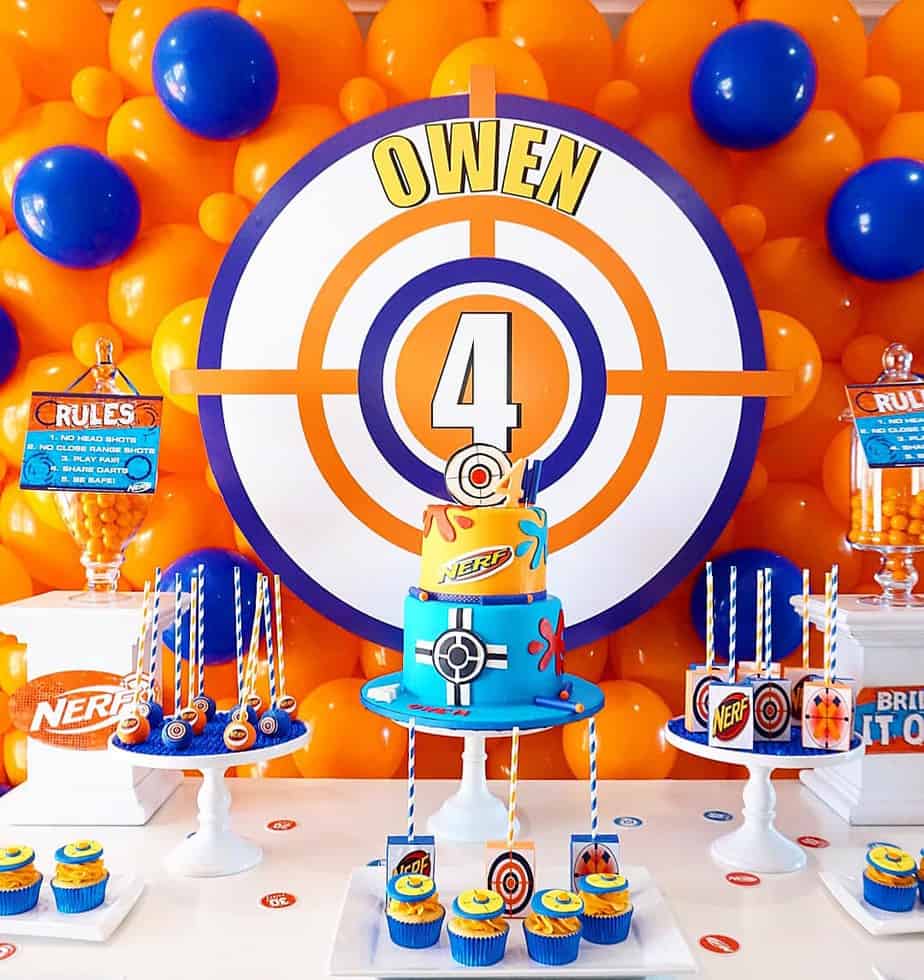 Nerf Party Backdrop from Southern State of Mind
Simple darts and pool noodle giant darts for the win!!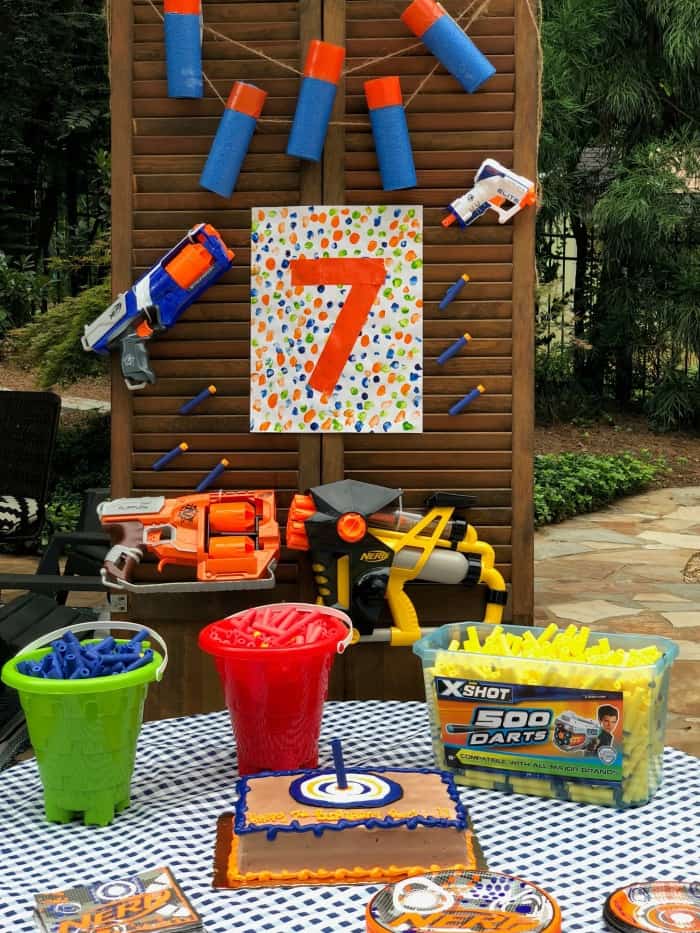 Nerf themed Kid's Table from Darling Darleen
Here is a fun and festive way to set up the table for your little guest to all eat at!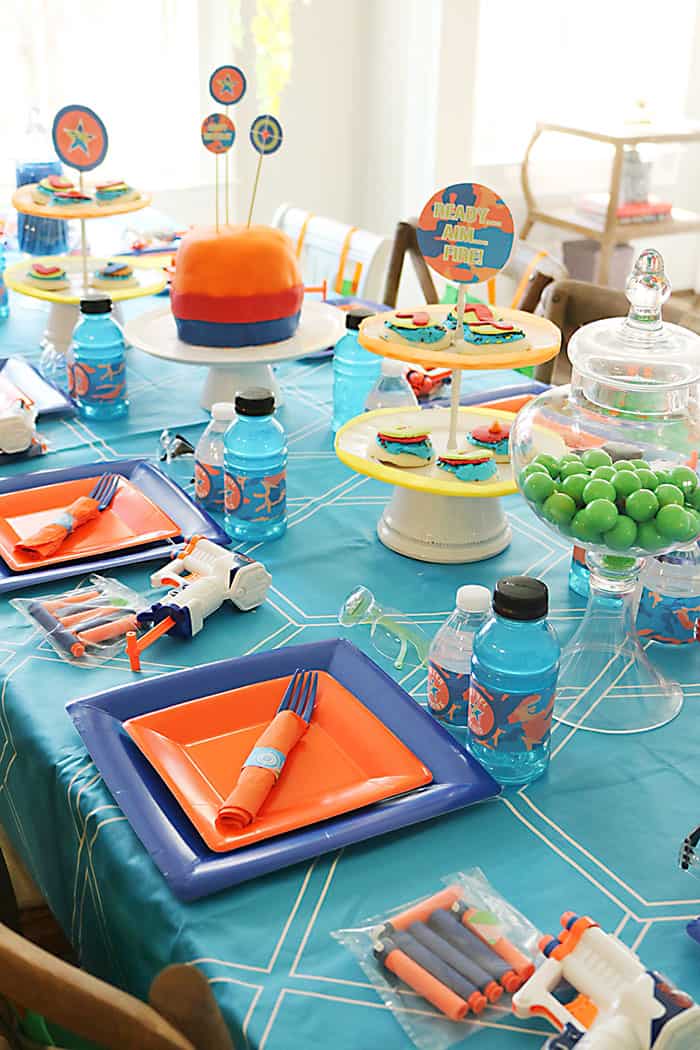 Nerf Game Backdrop from Kara's Party Ideas
Anyone want to have a Nerf gun war? It's game time with this fun party design!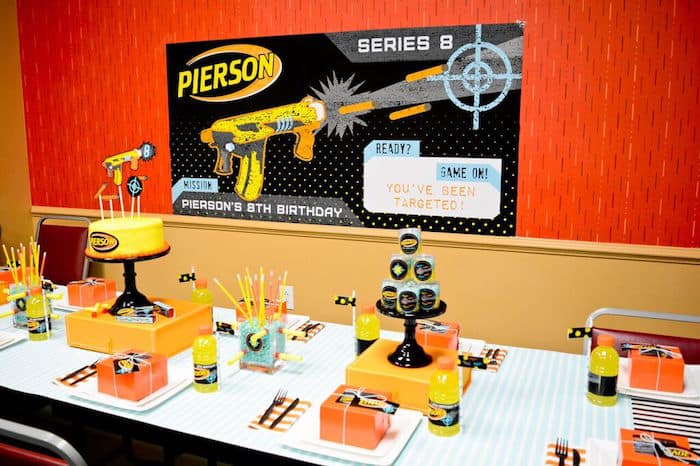 Nerf Happy Birthday Banner from Harding Paper Co.
Here is a simple, yet adorable party banner for your birthday bash!
Nerf Party Supplies
So cute, right. To coordinate with those fun backdrop and decor ideas…here are some amazing Nerf party supplies that will help take your party beyond the ordinary!
Dart Gun Cake Topper from Hadley Mae Co.
Isn't this simple, personalized cake topper so cute?
Giant Nerf Darts from Skytech Lasers
Here is another fun design using pool noodles. Simply cut your blue pool noodles into pieces and cover those ends with orange candstock. It's so easy…it's almost not fair!
Dart Target Signs from Simply Everyday Me
Target practice anyone? These printable targets can be used to set up awesome Nerf games for your party guests to play!
Nerf Cake Topper from Erin's Handcrafted Creations
Here is a fun and personalized cake topper. This is such a great way to dress up a simple homemade or store bought cake. So much fun!
Nerf Party Cups from My Party Story
Aren't these cute little Nerf themed cups? Personalized and on point!
Nerf Gun Piñata from Creaciones Disenos
Let's get the party started with this fun Nerf gun themed piñata. Party games anyone?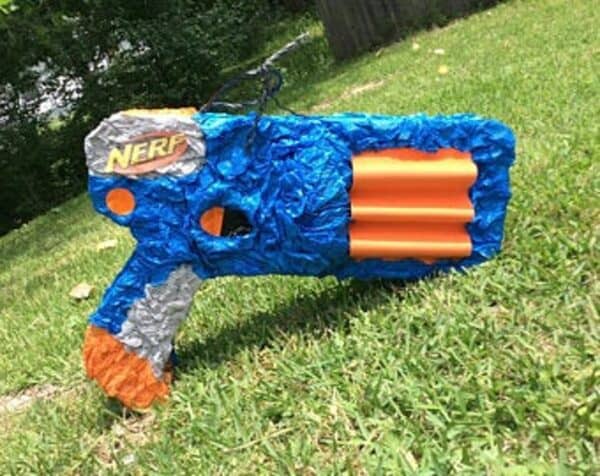 Happy Birthday Banner from Amazon
Here is a fun Birthday banner option!
Nerf Candle
from
Unique Image Candle
Nerf number candles are great for topping that Nerf party cake!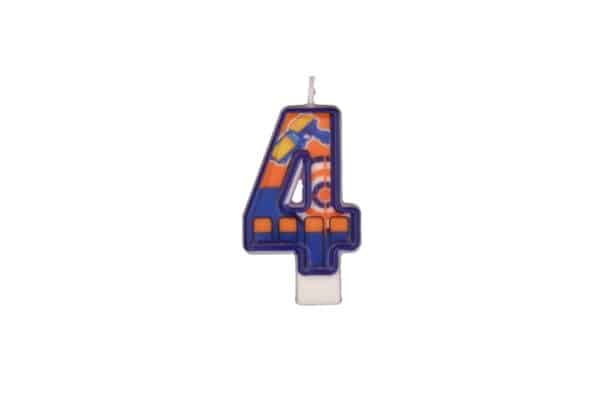 Party Backdrop from Amazon
This backdrop would be perfect for photo ops! Set up a simple photo booth for your party guests!
Nerf Party Printables
Printables are a great and economical way to decoration your party. They are easy to use and often can be personalized. Check out these super awesome options:
Dart Party Signs from Nvite
Nerf Party Favor Tags from Lilacs and Charcoal
Nerf Party Printables from Printable Studio 505
Nerf Party Favor Tags from Simply Everyday Me

Nerf Party Invitations
Set your theme off right from day one. These easy to use printable/digital invitations are great for staying on theme and getting your party started from the very beginning.
Nerf Party Invitation from Festivity Ink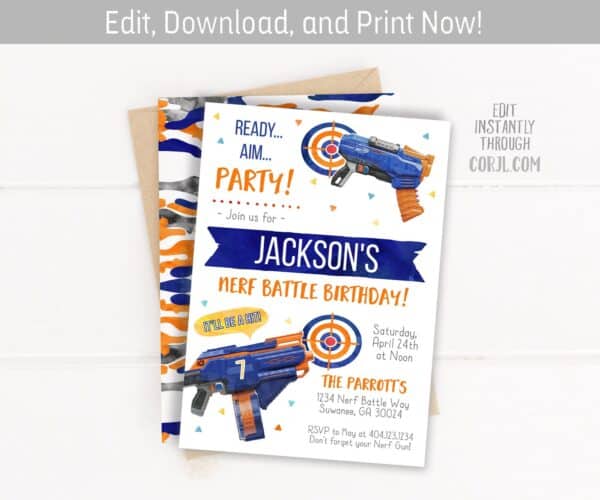 Nerf Party Invitation from Bloomberry
Nerf Invitation from Busy Bees Happenings
Nerf Party Tableware
Themed tableware sets make planning a party awesome. You can stay on theme, get everything all in one place and stay on budget!
Nerf Party Tableware and Decorations from Oriental Trading
Nerf Partyware from Amazon
Here are some helpful links for a Nerf party:
Conclusion for planning a Nerf party:
Setting up a Nerf party is as easy as coming up with amazing ideas. These decorations and supplies ideas will help make your party planning a snap. Check out the awesome ideas in this post for easy ways to throw a Nerf Gun party!
If you love these ideas, please pin this image to your birthday Pinterest Board: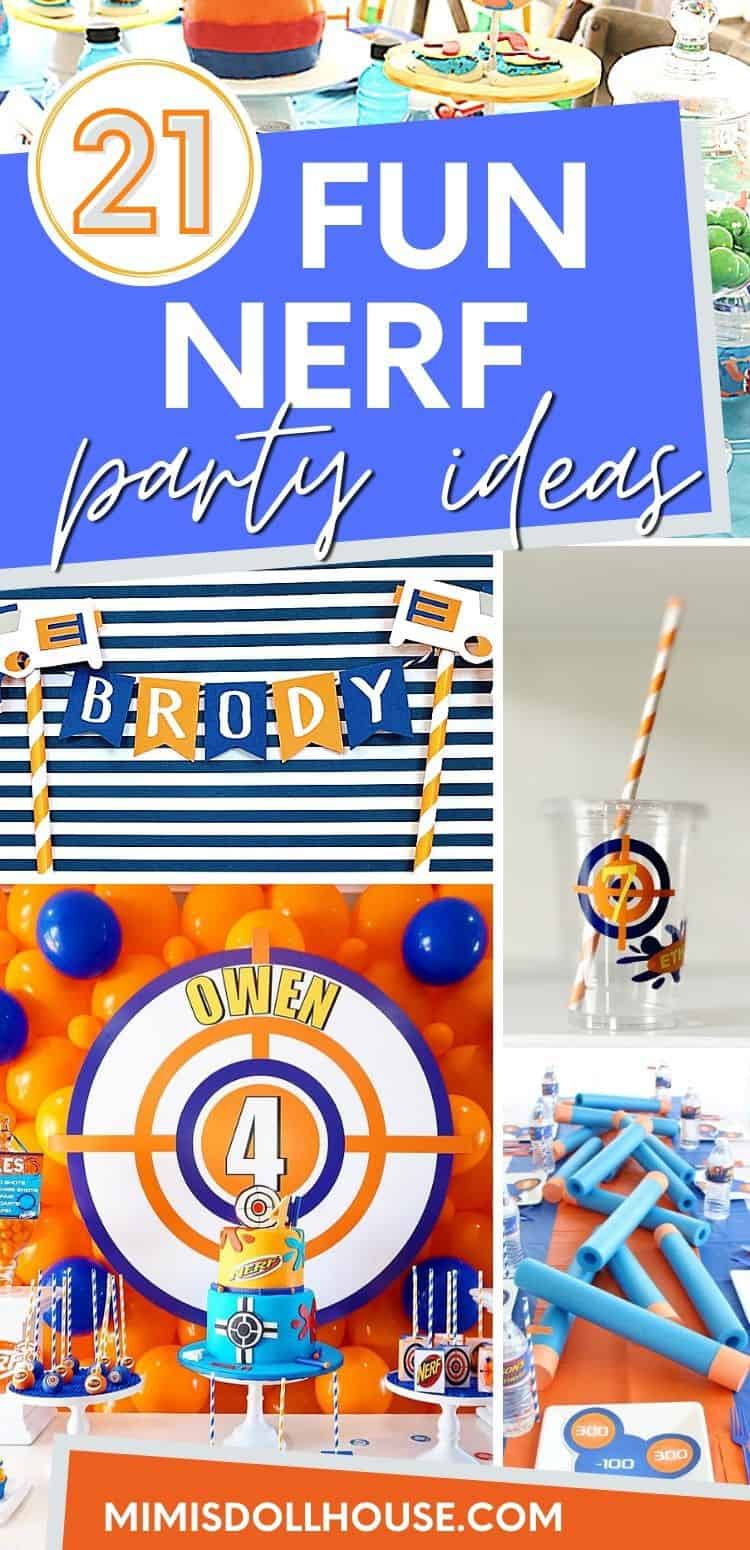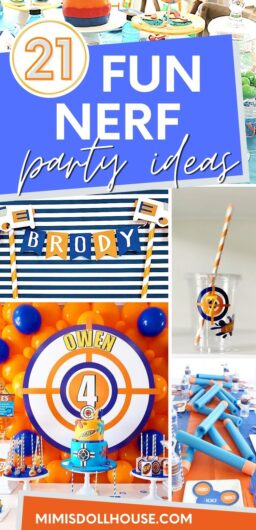 Related posts for Nerf Party Ideas:
Thank you for reading my Nerf Party supplies ideas.