Nerf Party Desserts + Food Ideas
Delicious and super cute themed party treats are perfect for a Nerf birthday party. These Nerf party food ideas will excite your guests and be a blast to bake. Let's check out all blue and orange goodies and food options!
Nerf guns are like a right of passage…especially for little boys. Once your little ones get into the Nerf guns…it becomes a battle ground of foam darts and targets.
Throwing a NERF THEMED PARTY?
☑️ This
Nerf Party Kit
is the perfect set to get your party planning headed in the right direction!
Pulling some of these fun little foam darts and Nerf gun ideas into your party planning and even baking…well that just sounds like fun.
Ready to check out all the orange and blue fun? Take aim!
RELATED: On Target Nerf Party Supplies + Ideas
Nerf Food Ideas
Alright, let's talk about Nerf party food. Often desserts are easy to come up with, let's face it sometimes just making cupcakes in the right color can be a win. Healthy snacks and non-sweet foods can be harder to keep on theme.
That's what makes something like these Nerf Lunch Baskets from Jenny Cookies so perfect. This is great way to make sure all your little battle ready kiddos fill up on fuel. Grab some themed napkins and a cute tray and you are in business.
Healthy snacks and food for a Nerf Party
Here are some more ideas for non-dessert treats for a Nerf birthday party:
Nerf Darts: Cheetos, Carrot sticks or baby carrots,
Cheese Darts: Cheese Sticks or Cheetos
Cheese Pellets: Cheese Puffs or Cheese Balls
Pellets: Melon balls, Cantaloupe Balls, Cuties Oranges
Fuel: Gatorade or Flavored Water (add a little food coloring to make sprite or lemonade into a bright orange or blue drink)
Nerf Party Desserts
Alright…let's look at some amazing and delicious dessert ideas. These are great to make or buy for parties and can really make or break that birthday theme. Ready to start drooling?
Nerf Cake Pops from Tinselbox
These cute little Nerf themed cake pops are adorable with the little edible targets and Nerf logos. So much fun.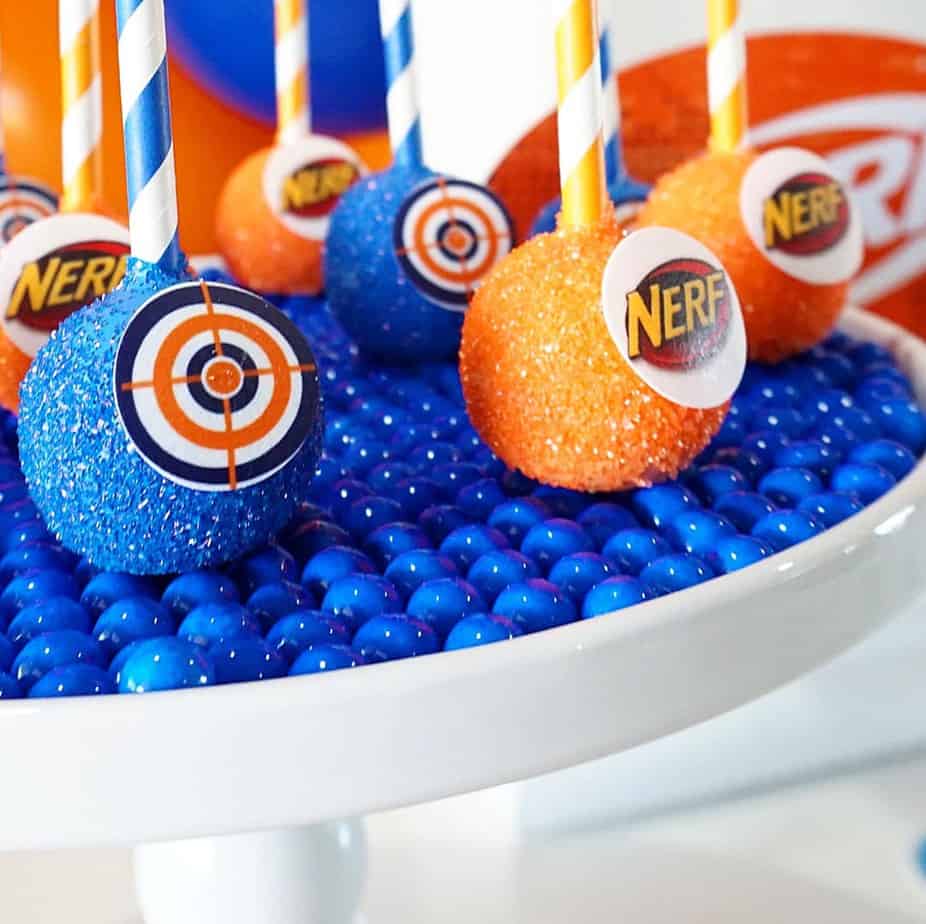 Nerf Donuts from Azukitas
This is an awesome target frosted donut wall. How cute are these adorable donuts?
Nerf Cake Pops from All Things Sweet by Amber
Here are some amazing and far more elaborate cake pops. These are adorably shaped like Nerf guns. So fun.

Nerf Party Cakes
Ready to take a look at cakes? These Nerf themed party cakes for a birthday are FANTASTIC!
Nerf Cake from Jenny Cookies
This might be my favorite Nerf cake EVER. Using cookies are cake toppers is seriously suck a great way to capitalize on your baking. If you have some adorable cookies…use them to jazz up that cake. Love this!
Nerf Cake Topper from Top it Like it's Hot
Here is an awesome Cake topper set you can buy to use on your cake. How awesome is it when someone helps you make those cute, cute treats?
Nerf Cake from Kara's Party Ideas
Sometimes simple printable cake toppers are the way to go. This fun cake is lined with gumballs and topped with printables.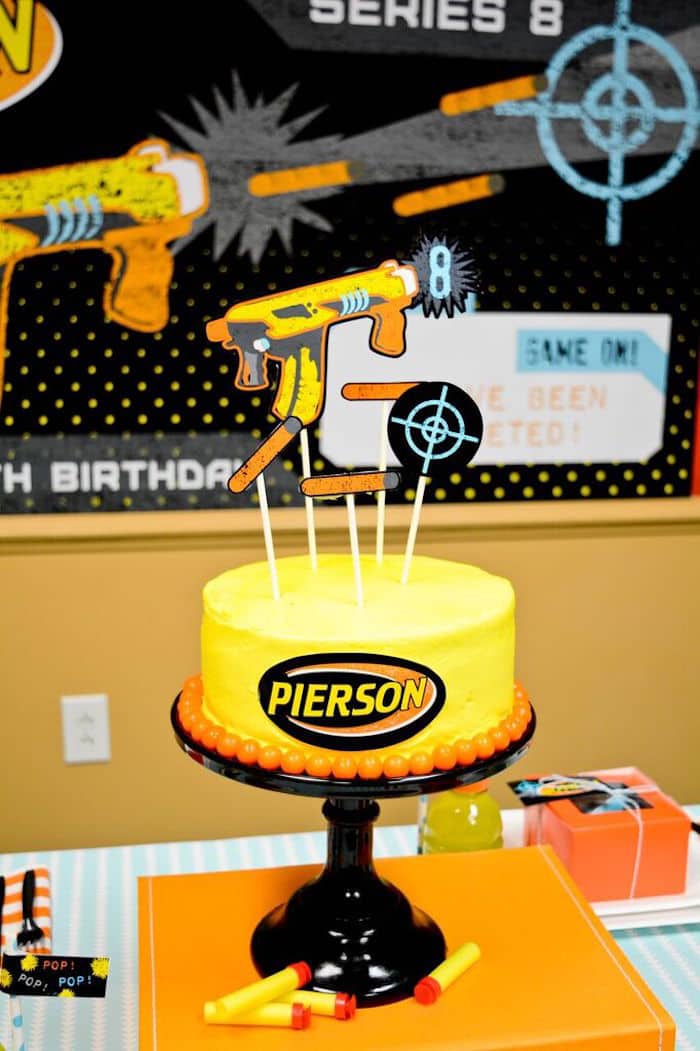 Nerf Cake from Mommy's Fabulous Finds
Here is another fun party idea. This one uses fondant to decorate a cake. I love the simple target symbol.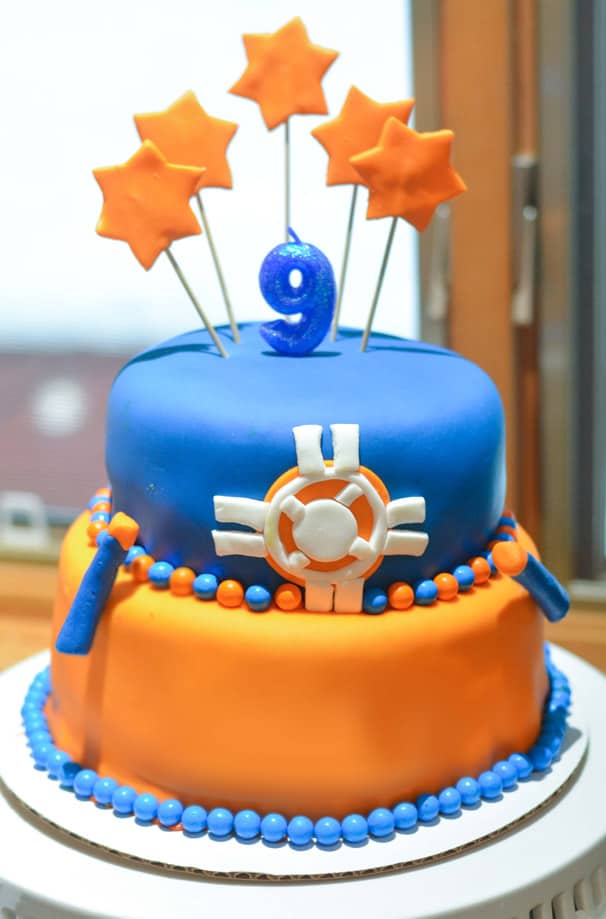 Nerf Cake from Cake Central
If you have a bunch of darts, why not use them to decorate your cake. Not every topper has to be edible. This is a simple and super economical way to perp your cake for a party.

Nerf Party Cupcakes
Next, up we have cupcakes. These cupcake options will be perfect for a party. Check them out…
Nerf Dart Cupcakes from Uplifting Mayhem
This is a super simple idea. Bake blue and orange frosted cupcakes and top them with foam darts. Easy peasy and super fun.
Nerf Fondant Toppers from Sweet Treats Shop
These absolutely adorable fondant cupcake toppers can be used to top cupcakes that your party guests are sure to love.
Nerf Cupcake Toppers from Paper Party Packs
Here are some fun paper cupcake toppers. These would be great on cupcakes and would definitely be a simple, yet super adorable way to dress up simple cupcakes.
Nerf Party Cookies
Here are some awesome cookie options. Decorated sugar cookies are probably my favorite splurge for a birthday party. There are some amazing options for Nerf themed cookies. AH-MAZ-ING!
Nerf Cookies from Andre Cookies
These are completely adorable. The dart guns are so, so cute!
Nerf Cookies from Tudo Dolce
Here is another adorable option for Nerf cookies. The targets are particularly fun!
Nerf Cookies from The Side Cookie
How adorable are these fun cookies? The polka-dot Nerf cookie is so perfect.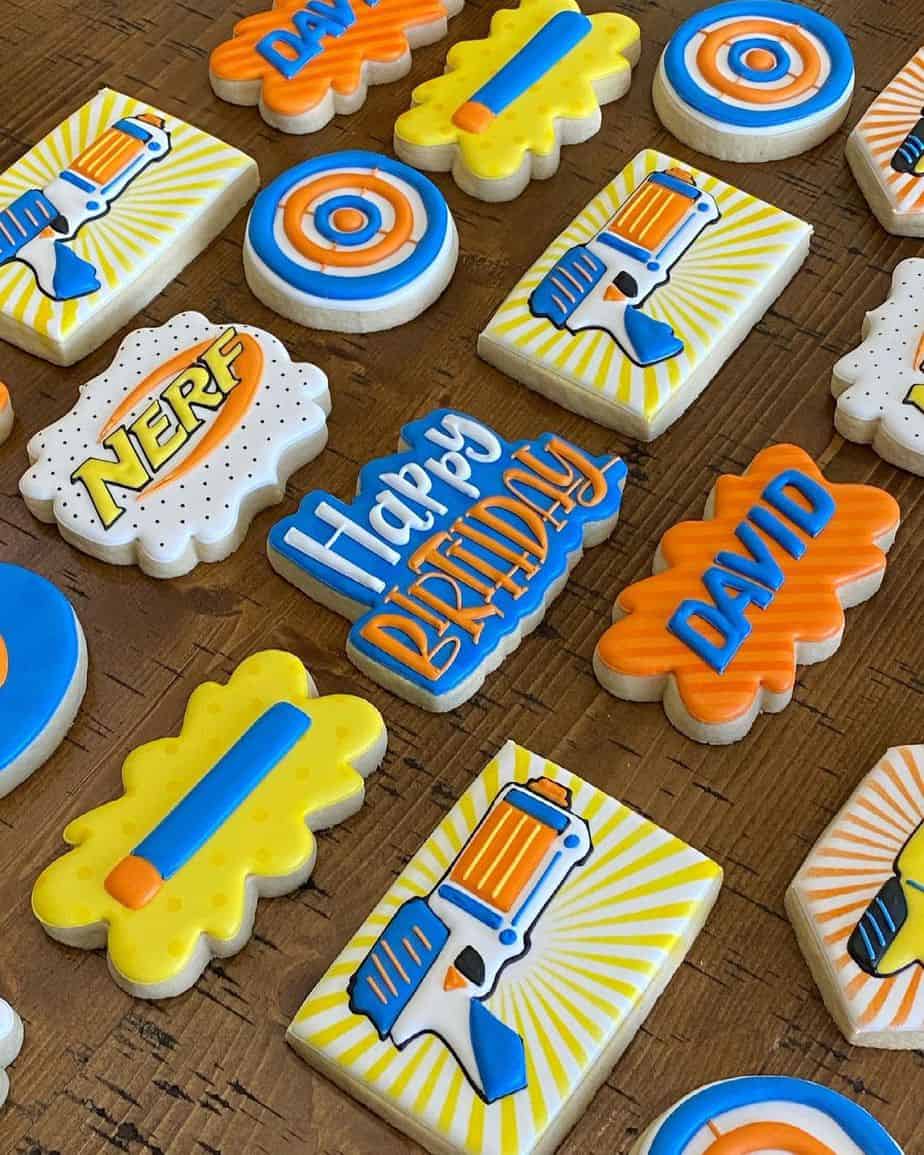 Nerf Cookies from Double Batch Baking
The texture on the darts on these cookies are so much fun. The striped design behind the gun and numbers is super cute too.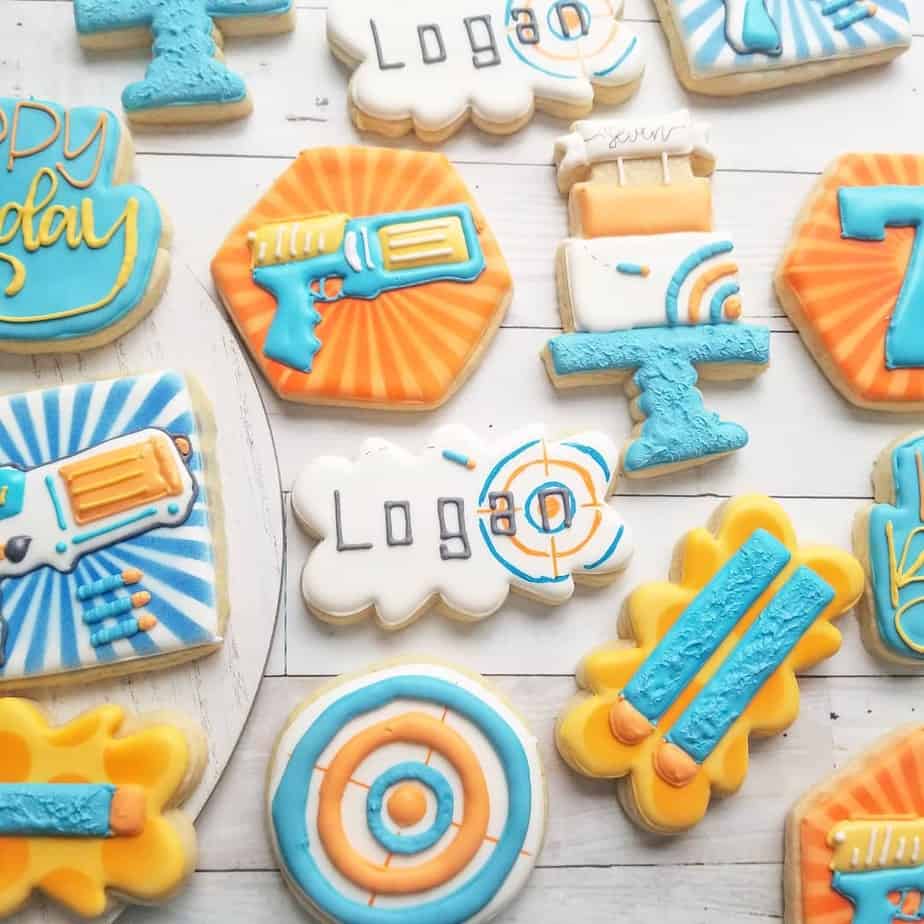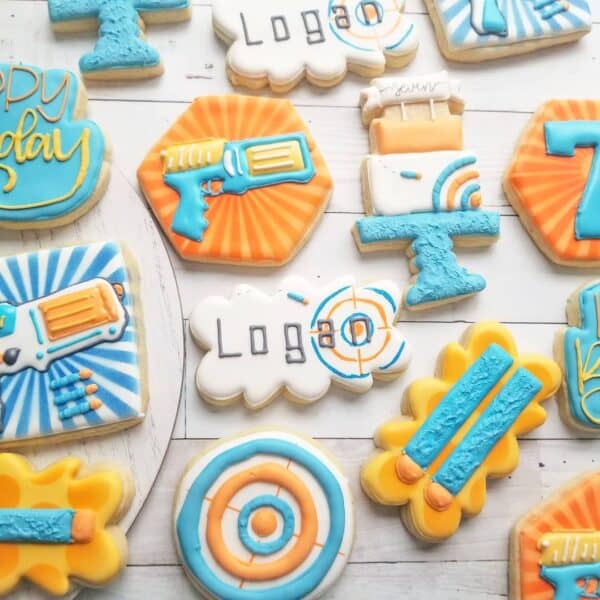 Nerf Cookies from Pink Pelican
Here is a great option with the Nerf logo also. Super cute!
Nerf Cookies from The Cookie Encounter
These gorgeous cookies would be perfect for a Nerf themed party. Especially that "ready, aim, fire" cookie!
Nerf Party Tableware
If you are looking for some fabulous ways to serve all these Nerf party goodies…check out these fantastic party ware options. This is a simple way to get your party decorations started and keep your theme on point!
Nerf Party Tableware and Decorations from Oriental Trading
Nerf Partyware from Amazon
Here are some helpful links for a Nerf party:
Conclusion for planning Nerf party food:
These gorgeous and absolutely delicious ideas for Nerf party desserts are sure to inspire you to make the best birthday party! When it comes to fixing food for a birthday, staying on theme makes such a difference. Check out these amazing ideas to help set your party up from the start!
If you love these ideas, please pin this image to your birthday Pinterest Board: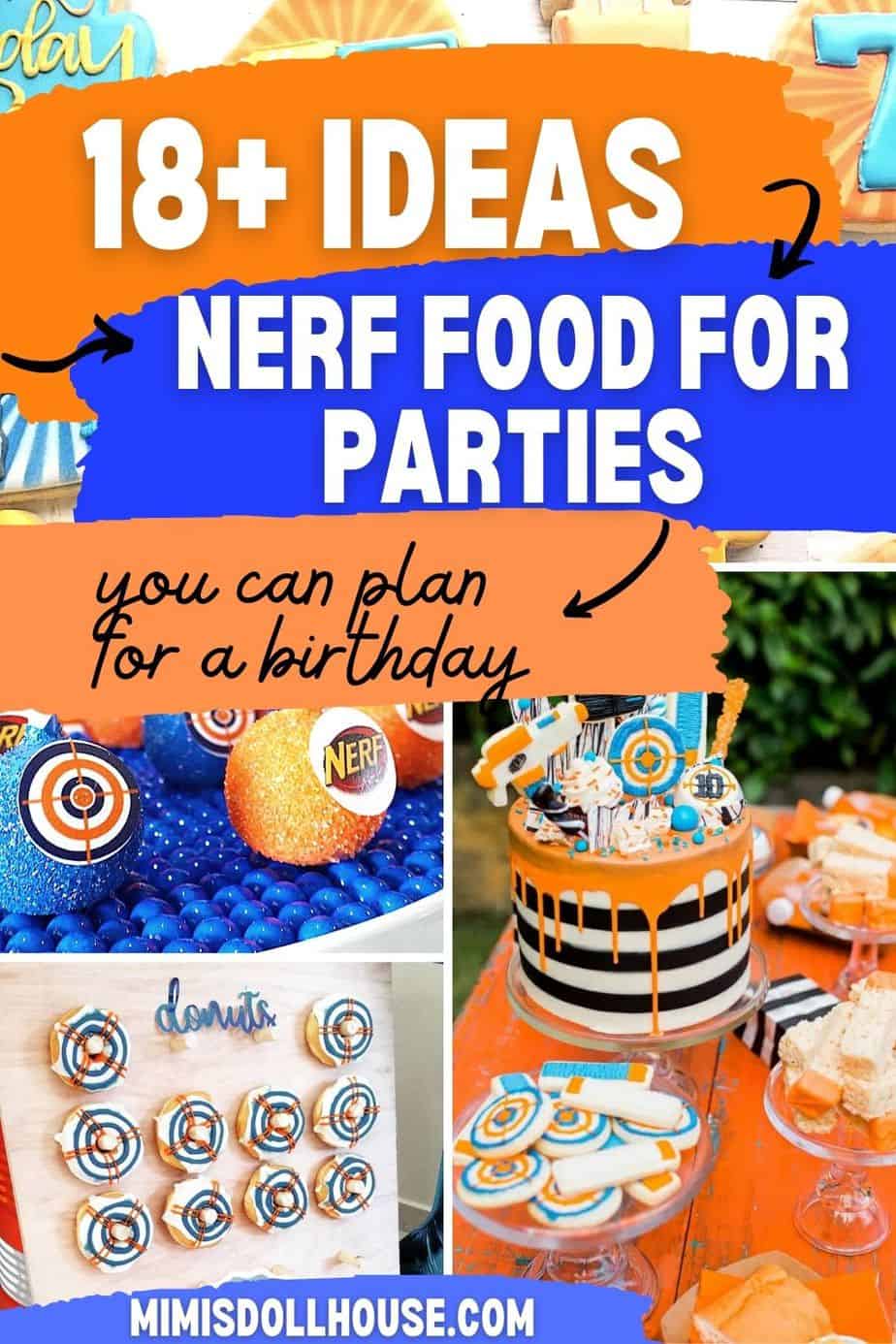 Related posts for Nerf Party Dessert Ideas:
Thank you for reading my Nerf Party Themed Food ideas.