Crafts for Easter you can do with your kids!
Easter Craft Ideas: Easter Egg Crafts, Easter Bunny Crafts & More! Get into the Easter spirit with some fun and festive Easter Crafts! Whether you want to make Easter egg crafts or create cute little Easter bunny crafts…these ideas are sure to inspire!!
Let's make some fun crafts for Easter!
Ok…does anybody else feel like St. Patrick's Day and Easter are like crazy close together this year? Wow. I can hardly catch my breath. It's like they are just one ginormous holiday instead of two totally unrelated holidays.
I think there should be a law that iconic holidays have to have at least 3 weeks separating them. It's only fair….
Throwing an EASTER PARTY?
☑️ This
Easter Party Kit
is the perfect set to get your party planning headed in the right direction!
I'm putting together an Easter party this year and decided to scale back my SPD crafts, etc. so I could put a little bit more time into Easter. This apparently has caused me to ruin my daughter's life. She was devastated that I didn't send "something like cupcakes" with her to school for St. Patrick's Day.
She used to think I was awesome. Now I have to re-earn my cool mom badge by stepping it up for Easter. Being a mom to little girls can be soo much drama!! You think I'd have seen this one coming. Oy!
Looking for Easter themed party ideas? Be sure to also check out these Easter cakes and desserts, these Easter parties, and these Carrot themed Easter ideas. Also, we have an Easter birthday party, and Easter Peter Rabbit party to share!
Related: 40+ Free Easter Printables
I have some super cute ideas and some amazing goodies from some of my favorite party ladies…I think it's gonna be killer:)
Here are some amazing and fun to DIY Easter crafts to get your creative juices flowing…
Easter Egg Crafts
Are you ready for some amazing Easter Egg Craft ideas? There are so many fun things you can do with either hardboiled or plastic eggs to really step up your Easter decorations this year. Also…who knew there were so many amazing and creative ways to decorate an Easter egg? I'm sure you will love these Easter ideas…
Emoji Easter Eggs from Studio DIY
Do you love emojis? These are some of the cutest Easter Eggs I've ever seen…I definitely want to hunt for these!!! (pssst…if you love emojis, you should totally check out these emoji Oreo pops and cookies and also these Emoji Valentines!!!)
Paint Chip Easter Garland from Modern Parents Messy Kids
This is a fun and frugal craft that will bring a little pop of color to your mantel or Easter decor. I love this Easter egg craft!!
Easter Coupons for Kids
Do you love the idea of giving your kids Easter gifts that are more meaningful? Why not give the gift of fun ideas? These free printable Easter Coupons from Gifts.com allow them to have special dates with you, stay in their pjs all day, get out of a chore and more!!!

Easter Egg Countdown with free printable from Happy Organized Life
Think of this like an advent calendar for Easter…with fun colors and cute Easter eggs. Yep…this is a definite keeper!!
Easter Egg Bath Bomb from Lydi Out Loud
Relax in the bath with these invigorating Easter Egg bath bombs. Who says you can't have a spa day for Easter?
Salt Dough Easter Egg Crafts from Design Mom
Here is a fun Easter egg craft for kids. These would make great gifts to give as well.
Easter Egg Wreath from The House the Lars Built
I absolutely LOVE this beautiful Easter Egg wreath. This is the perfect addition to a spring time door. Also I love this pink painted window…it makes the perfect backdrop for this beautiful wreath.
Easter Egg Balloon Hunt from Celebrations at Home
If you are planning a Easter Egg hunt for toddlers…this quick balloon and Easter eg craft will make the hunt so much fun and so entertaining!!!
Glitter Easter Eggs from Better Homes and Gardens
Aren't these adorable? So funny and girly…

Sharpie Easter Eggs from Obviously Sweet
These are awesome…so modern and unique. LOVE it!!
I am especially in love with the glitter eggs. Gorgeous, right!! I think my girls would flip for those:) What better way to say, Easter Eggs are awesome than to dress them up in style. Besides, who doesn't like glitter?
Easter Bunny Crafts
Whew…There is definitely something just so cute about Easter bunny craft ideas. Maybe it's the cute fuzzy tails or the long ears? I love that you can turn ordinary party decor (like balloons and paper fans) into cute little bunny crafts by adding ears and a face of a bushy tail.
It's like little Easter bunnies were made to be crafted!
Giant Easter Bunny Balloons from A Kailo Chic Life
Here is another gorgeous ballon craft perfect for Easter. These bunny balloons are so adorable!
DIY Easter Bunny Bags from Party Delights
Need to add a little pop to Easter gifts? Add these fun little bunny butts! So precious.
DIY Bunny Party Hats from The House that Lars Built
Every party needs a party hat and Easter is NO exception. Bust out the adorable bunny ears and get your Easter on!!
Bunny Pom Pom Garland from Create Craft Love
This adorable Easter bunny craft is fun and playful. I love the furry bunny behinds!
Surprise Easter Bunny Crafts from Craft With Mom
This is a great gift for kids. Give them a surprise inside a perfectly packaged Easter bunny!!
Reclaimed Wood Easter Bunny from My Recipe Confessions
Looking for an earth friendly Easter craft? Check out this reclaimed wood Easter bunny craft. This is great for a porch or entryway.
Easter Mason Jar Crafts from Lolly Jane
Here are some simple bunny mason jars. Fill these cuties with candy of your choosing!
Canvas Easter Bunny Baskets by Positively Splendid
These are fantastically adorable! I love the detail. They would make great Easter gifts or even little Egg Hunt Baskets.

Bunny Envelopes from Martha Stewart
These cute little easy to DIY envelopes would be great for teacher projects or if your little one wants to take some Easter bunny crafts or gifts to their friends. They are small and hold a little gift, but still say "Hey I love you and made you this!!". Cute.

Easter Bunny Cones from the Party Dress
These are fun and functional. Great Idea! I love the use of fun and funky paper to make cones for party food. The little bunny on top is just adorable too:)

I really love Easter. It might be my favorite holiday, except of course for Christmas and Fourth of July. (I know…I'm a nerd. I'm cool with that.)
Here are some helpful links for Easter crafting and decorating:
Easter Party Tableware
To compliment your adorable DIY Crafts for Easter, grab some absolutely adorable Easter themed tableware to set up a memorable Easter brunch or party! Check out the adorable options below:
Porcelain Bunny Plate from Sweet Lulu
Spring Bunny Tableware from Sweet Lulu
Gingham Bunny Napkins from Meri Meri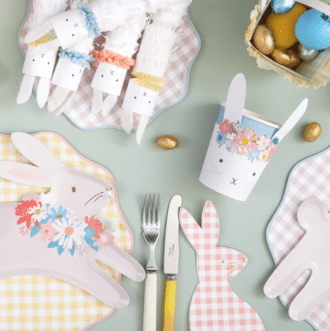 Bunny Plates from Sweet Lulu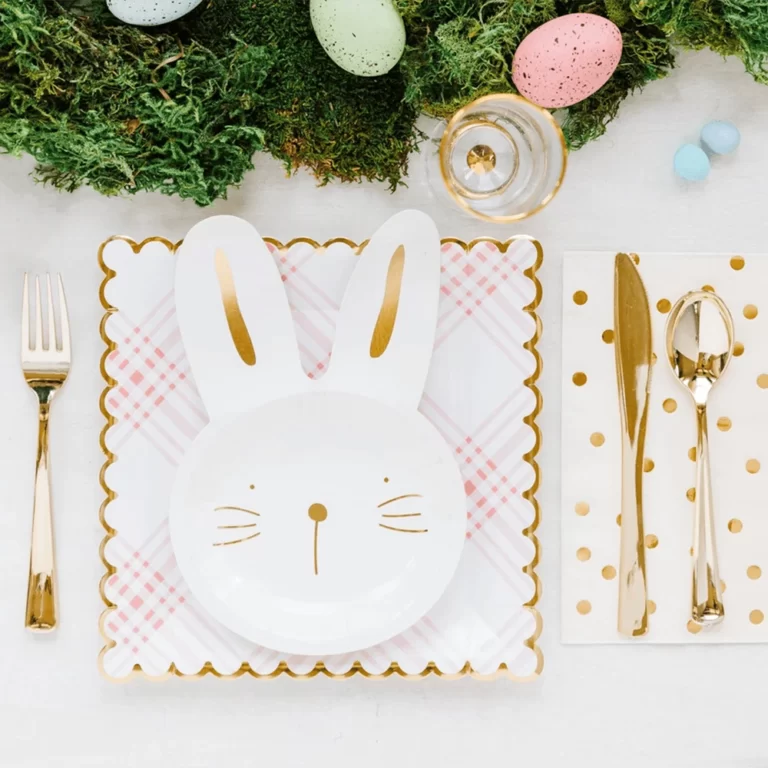 Honeycomb Bunnies from Meri Meri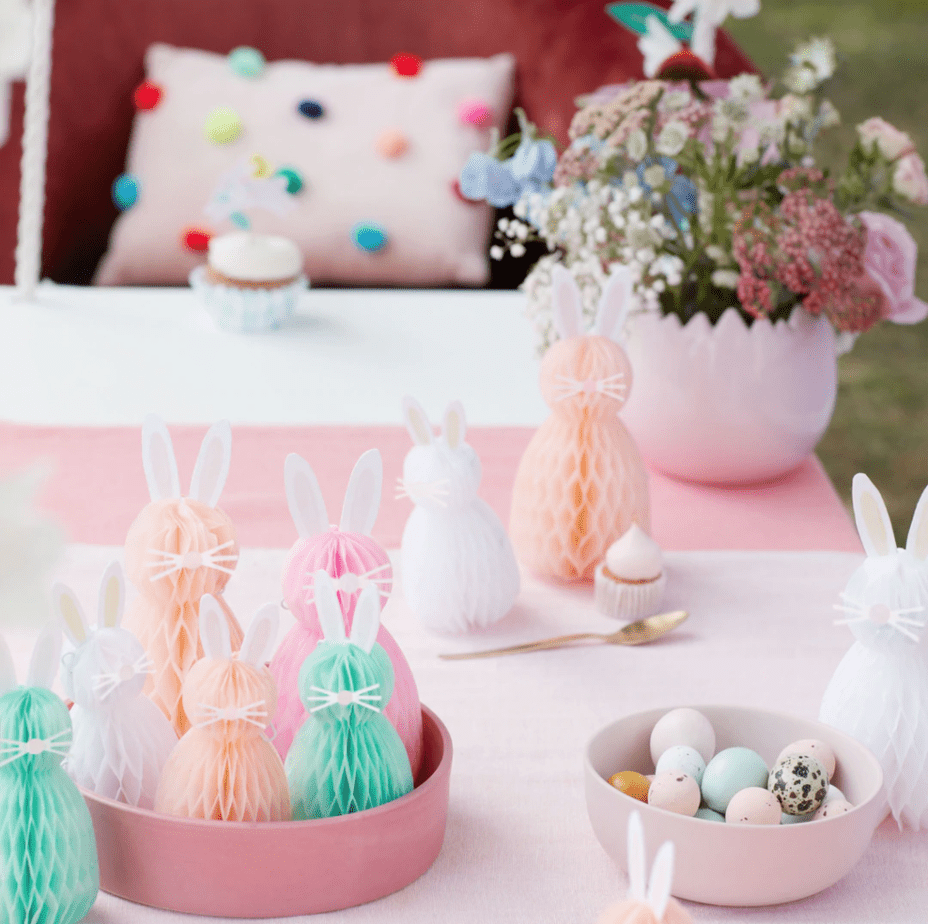 Hoppy Easter Party Decorations from Oriental Trading
Cute Easter Party Decorations from Oriental Trading

Conclusion for Craft for Easter:
If you love to craft and get excited over holiday decorations, these DIY crafts for Easter are perfect! Try your hand at clever Egg decorating, making cute bunnies out of ordinary party decor and more. We have tons of ideas that are kid-friendly crafts for Easter for toddlers and children as well. Bring on the bunnies!
If you love these Easter Craft ideas, please pin this image to your Easter Pinterest board:
RELATED POSTS FOR Easter Craft Ideas: Easter Egg Crafts, Easter Bunny Crafts & More!
Thank you for reading my Easter Egg Craft ideas!