Throw an Easter themed birthday with fun Bunny Printables!
Looking for just the right idea for your spring birthday? Celebrate your little one with a fun bunny birthday party. Bright colors, Easter designs and so much more can give a fun holiday flair to your party.
A bunny themed birthday party is a great theme for little ones and allows you to explore those Easter holiday decor aisles for inspiration!
So I love spring… As the weather starts to warm up and the flowers start to bloom…it just makes me happy. Spring colors are the best too…so bright and beautiful. Ah…now I'm smiling!!
Throwing a BUNNY THEMED PARTY?
☑️ This
Bunny Party Kit
is the perfect set to get your party planning headed in the right direction!
If your little one has a spring birthday, have you thought about an EASTER birthday party? Cute little bunnies, and chicks…awesome sauce!!
Bunny Birthday Party Ideas
Ready for some super adorable bunny birthday ideas! If you have an Easter or spring baby…you can't go wrong with a fun bunny themed birthday! This theme is especially clever for a 1 or 2 year old little "bunny".
Some-bunny is having a birthday!!
Bunny Party Desserts + Food Ideas
Let's take a look at some adorable and delicious bunny themed treats and dessert ideas. These are great cookies and cupcakes and more that will be a hit for your little bunny's big day.
Bunny Cake and Cupcakes from Kara's Party Ideas
Super duper adorable…right!!!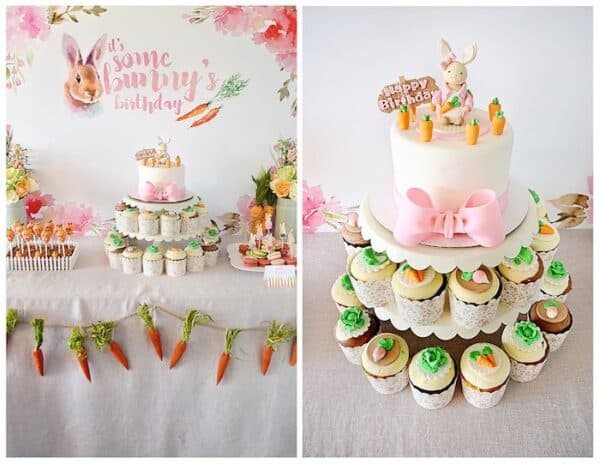 Bunny Ears Cake from Pinterest
Here is a fantastically easy idea that can be done to pretty much ANY flavor or type of homemade or store bought cake. Beautiful, right!! Here is a kit to get you set with making this cake.
Carrot Dip from Bronners
Easy, clever and delicious. This is the perfect snack for any little bunny!
Bunny Butt Cake from Emily Enchanted
Who wouldn't want to eat a bunny behind? Perfect dip for crackers!
Bunny Cake from Joni and Cake
Here is a fun cake idea with adorable fondant toppers! Love the little bunny on top!
Bunny Birthday Cookies
Ready for some beautiful and yummy cookie ideas? Here we go…
Bunny Cookies from Honey Butter Bakery
How perfect are the these little beauties? I love the details and the fun faux grass feel!
Bunny Cookies from The Bakery Studio
Aren't these personalized bunny cookies perfection?
Bunny Cookies from Because Carbs
These little flower wearing, nerdy chic bunnies are perfect for a party. What little one wouldn't want to eat one of these adorable cookies?
HOP Bunny Cookies from Per Party Boutique
Bunny cookies don't get much cuter than these! Wouldn't sweet little hopping bunnies be great for your birthday?
Bunny and Carrot Cookies from Sweet June Bakery
What beautiful cookies. Hand painted sugar cookies are ALWAYS a favorite!!
Cottontail Cookies from Sweet Livvy Cookies
These clever little bunny tail cookies are perfect if cookie decorating is not your greatest talent. Even your kids can help make some of these!!
Bunny Cookies from Cakes by Cheryl
Here is another beautiful little painted bunny cookie!
Bunny Birthday Party Decorations
No bunny birthday party would be complete without some beautiful decorations! These ideas will blow you away!
Bunny Birthday Party from Elle Bowes
This simple and classic party is so cute for a little girly bunny party. Love all the ideas!
Bunny Balloons from Hello Party
Nothing is cuter than fun little themed balloons. These little bunnies are no exception!
Bunny Table Setting from Little Lantern Lifestyle
Fun watercolor tablecloth and bunny plates for a simple bunny party table! You can find these cute carrot napkins here.
Printable Bunny Backdrop from Simply Sweet Designs
This sweet personalized printable backdrop is great for a party table!
Bunny Bash Easter Birthday from Kara's Party Ideas
Fun little bunny cupcakes and some peeps for the win. This simple and gorgeous party table is perfect for a bunny party!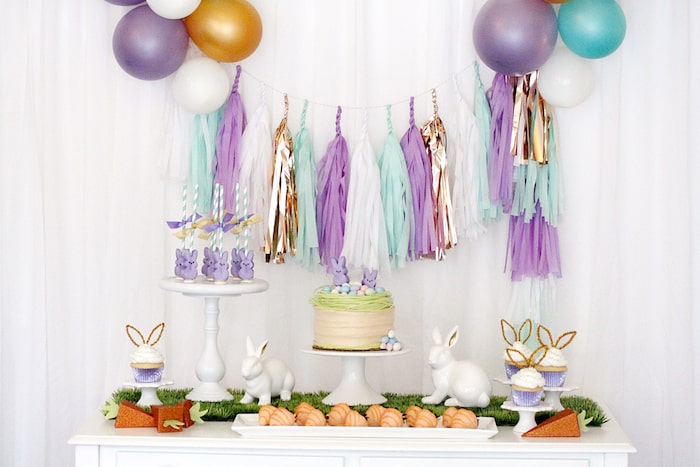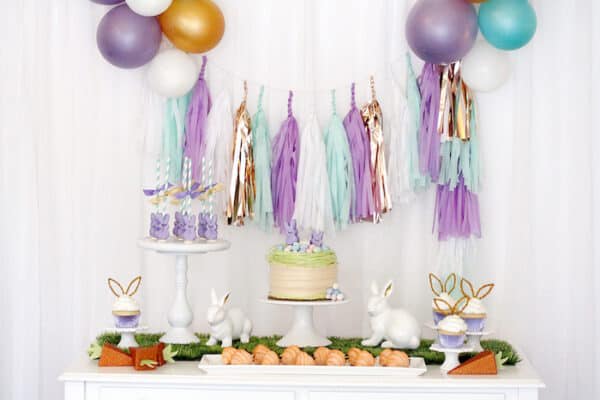 Bunny Garland from Galvan Bliss
Here is a simple and cute bunny garland to make decorating a snap!
Simple Bunny Party from Meet Haha
Party set ups don't have to be big and elaborate. This simple and classic set-up is great! Get ready to party bunny style!
Bunny Favor Tags from Sassy Scrappy Designs
Here is a cute idea for labeling your party guests favors and treats.

Bunny Birthday Tableware
Check out this adorable bunny tableware… Perfect for a bunny birthday!
Porcelain Bunny Plate from Sweet Lulu
Spring Bunny Tableware from Sweet Lulu
Gingham Bunny Napkins from Meri Meri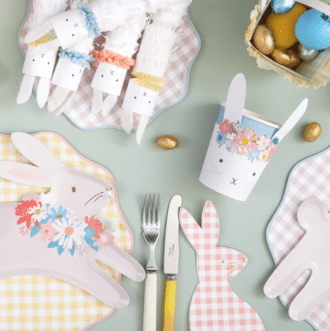 Bunny Plates from Sweet Lulu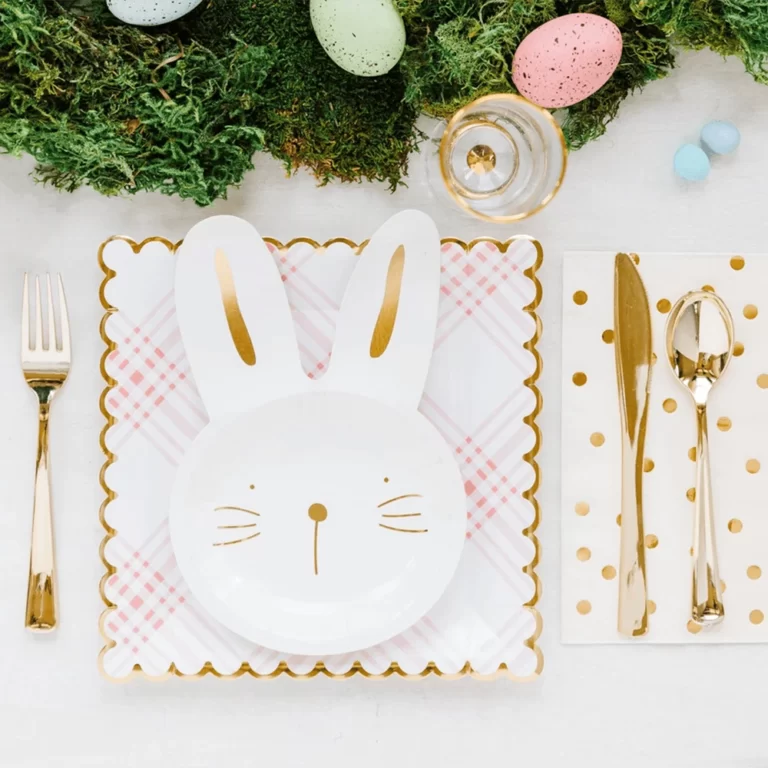 Honeycomb Bunnies from Meri Meri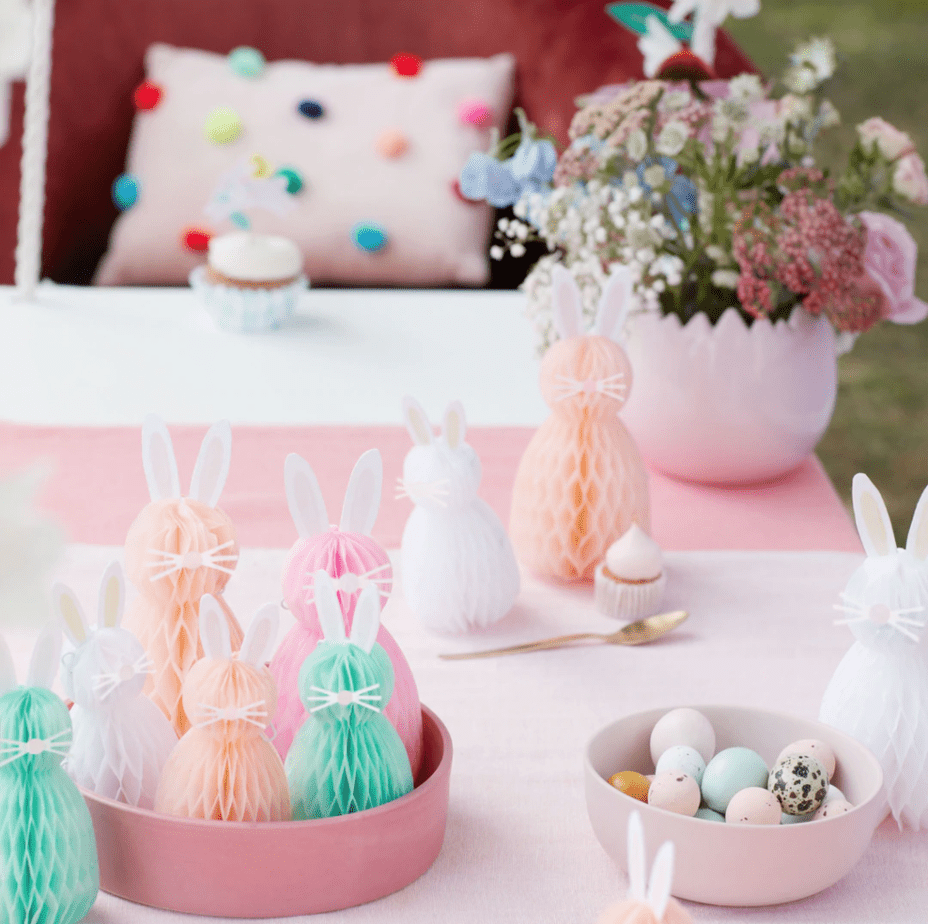 Hoppy Easter Party Decorations from Oriental Trading
Cute Easter Party Decorations from Oriental Trading

Today I'm also sharing an adorable Easter Birthday Party styled by the talented Tiersha from Parties by Tiersha. Check out the cuteness…
I love how creatively she used the little pails and baskets in the display. Bonus…these can be found in the $1 aisle at Target. There are seriously some major finds in the Target $1 aisle.
It's one of my favorite "secret" party spots!! These little pails match this party PERFECTLY too!!
Here is a fun welcome wreath made of bits of ribbon..Welcome wreathes are such a nice way to start a party off, don't you think. I love to put them on the front door as guests come in! Did you know you could also use water bottles on glass bottles?
You also don't have to spend a ton on glass milk bottles. You can totally use the frappuccino bottles you get at the grocery store! Winning!!
Reusing items like these can really help cut down on the cost of a party too, which, lets face it…who doesn't want to save a little money where you can??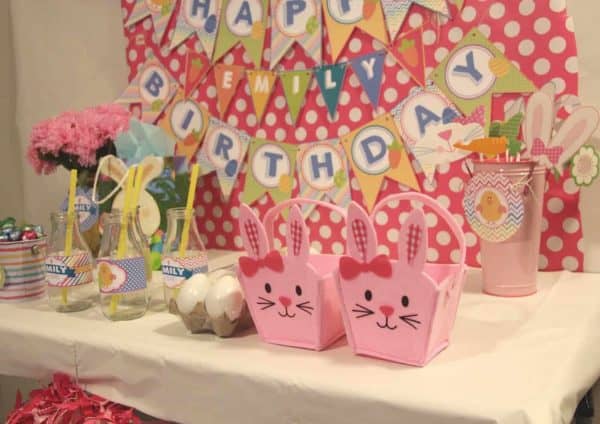 If you love the idea of throwing a bunny birthday party, you can grab our bunny party printables below. These printables are designed with an Easter flair so they are perfect for celebrating a little on who is born around Easter time. Is "Some-bunny turning 1"?
The Printable Easter Birthday Party Collection is available for purchase in my shop.
Here are some helpful links for throwing a bunny themed birthday party:
If you love this Easter birthday party, please pin this image to your Easter Pinterest board:
RELATED POSTS FOR Easter bunny birthday party ideas:
Thank you for reading our Easter Birthday Party Ideas!