Easter: Carrot Party. Today I'm sharing a fun Easter Carrot Party. This is a great way to say Happy Easter. There is nothing quite as cute as celebrating Easter with some yummy bunny carrots!!! Check out this fun twist on a classic Easter party!
Looking for Easter themed party ideas? Be sure to also check out these Easter cakes and desserts, these Easter parties, these Carrot themed Easter ideas, and these Easter crafts. Also, we have an Easter birthday party, Easter carrot party and Easter Peter Rabbit party to share! Download our free Easter cupcake toppers!!
Holiday parties are oh so fun…but sometimes its easy to get into the traditional rut. When I started brainstorming ideas for our Easter party…I definitely wanted to steer clear of the typical bunny motif. I wanted something a little different (and definitely not pastel!!) I started thinking about the cute little Easter bunny. He hippity hops his way into your yard leaving behind his sweet little eggs all the while searching for something sweet to eat. And what does Mr. Easter Bunny think is sweet? Carrots of course!!
For this carrot themed Easter party I used bold orange dots and bright green stripes. It was fun and perfect for a little grassy garden party. Check it out…
To make the little buckets for the orange chocolate covered strawberries, I found little orange pails, put a small piece of floral foam in the bottom and used a piece of fake grass to make the top of the carrots. We also served little shot glasses with ranch and veggie sticks for our little hungry bunnies to munch on.
I used Orange Shimmer Sixlets Candy
and Green Candy Beads
and Clear Gumball Tubes
to make cute little carrot favor tubes. These cute little marshmallow carrots were perfect on yummy snickerdoodles.

The amazing carrot fondant from Edible Details was perfect in the "dirt" (ok, chocloate) cupcakes, too. I used scrapbook paper to make fun carrot shaped popcorn cones.
The orange and white striped dresses came from Crazy 8 and were the perfect match for this party design!! I also duel wrapped green silverware in orange and green napkins to look like carrots. The orange Jones Sodas fit perfectly in the water bottle wraps as well!!
And of course…some yummy carrot juice!! The backdrop was made from various shaped green and orange paper fans.
I wrapped our little palm trees in orange streamers for some jumbo carrots around the yard.
Yummy carrot shaped cookies were a hit. I also filled orange plastic wraps with gold fish crackers and rolled them up with a little green tissue paper for carrot treats…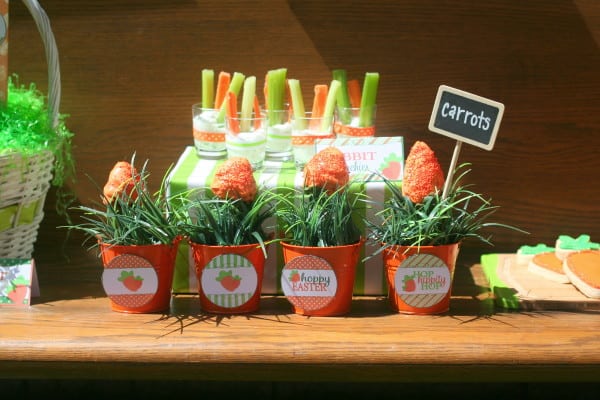 Happy, Happy Easter!!
Vendor Credits:
Party Styling, Printable Paper Goods, and Photography: Mimi's Dollhouse
Carrot Cupcake Toppers: Edible Details
Carrot Cookies: Sunshine Bakes
Gourmet Popcorn: Popped
Here are some helpful links for throwing a Carrot party:

RELATED POSTS FOR Easter: Carrot Party
Wanna throw a Carrot Party?
The Printable Carrot Party Package is available for purchase in my shop in both Easter and Birthday versions: