Strawberry Party Ideas for a First Birthday
If you are looking for a sweet first birthday party idea for your little lady, a strawberry themed "Berry First Birthday" party is fun and simple to do. From sweet strawberries to fresh greens, reds and pinks. You will love these easy to recreate ideas!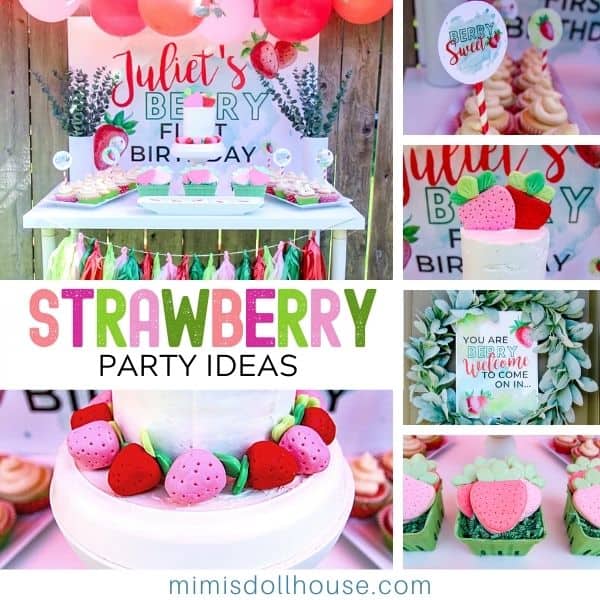 When you have a sweet little one turning one in the Spring, sometimes you just need a sweet little party theme. For my Juliet's first birthday, we decided to have a Strawberry party. Today I'm sharing all the cute details.
Throwing a STRAWBERRY THEMED PARTY?
☑️ This
Strawberry Party Kit
is the perfect set to get your party planning headed in the right direction!
If you love a good party theme like me, finding something easy and delicious (like STRAWBERRIES) that you can turn into a complete theme is the BEST!!
Strawberry Party Theme
So a sweet and sugary strawberry just honestly has to be one of the best foods, right?! It makes such an adorable basis for a first birthday party too, since of course, your little one is BERRY, BERRY sweet, right?
I really wanted to capture that sweet springy vibe with this first birthday party. So of course a mix of bright white, watercolor greens, pink and reds, eucalyptus and some bright strawberries were the perfect combination for color and simplicity.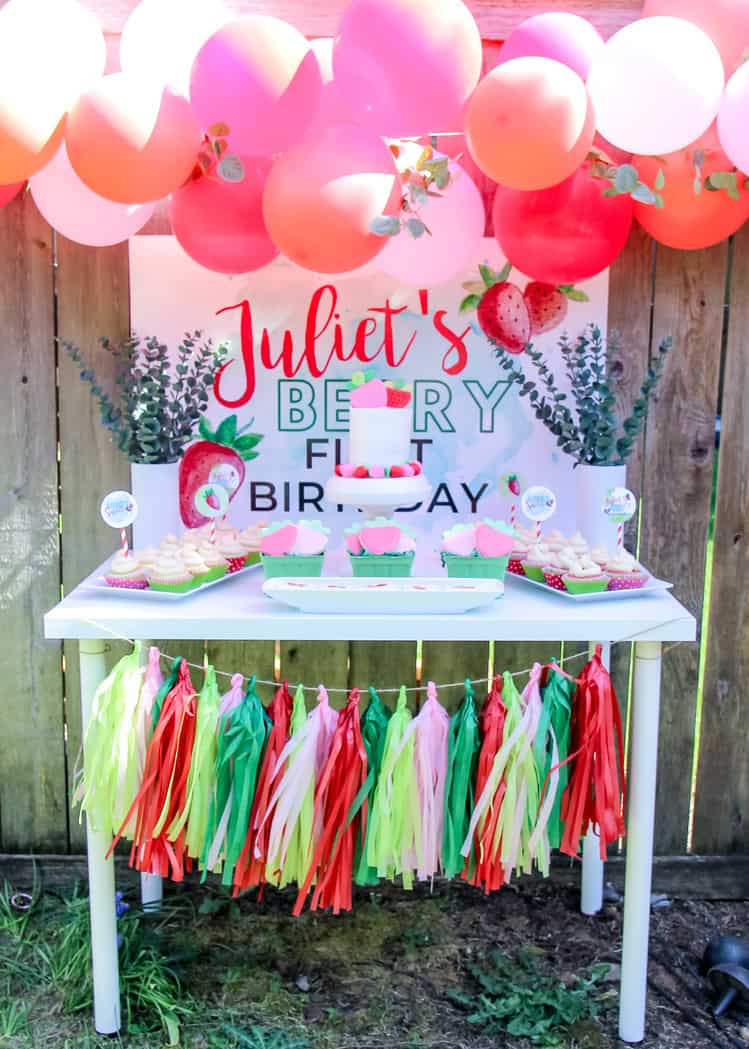 I used a mixture of colors from coral to pink to red for the strawberries and a mixture of light and dark green for the accents. It was definitely a fun party to put together.
Simple parties are often the best for spring and summer. The nice weather does most of the heavy lifting, so having a sweet little outdoor party is a great way to just relax and have fun with your party guests.
Strawberry Party Decorations
Let's talk decor….
Planning a strawberry themed first birthday party is super simple. You just need some pretty greenery and some pops of red. (Also….bonus, the easy to use and instantly downloadable printables help SO MUCH!!)
For the welcome sign, I used a simple wreath and placed the welcome sign in side of it. So simple and super cute! You can also use smaller wreathes to showcase smaller signs.
I grabbed some clear vases from the Dollar Tree and spray painted them with white chalk paint (you can use any vases but this was a super cheap way to make the vases exactly as I wanted them! I then filled them with eucalyptus stems. This was a great addition to the food plates and desserts. Nothing like a little extra green!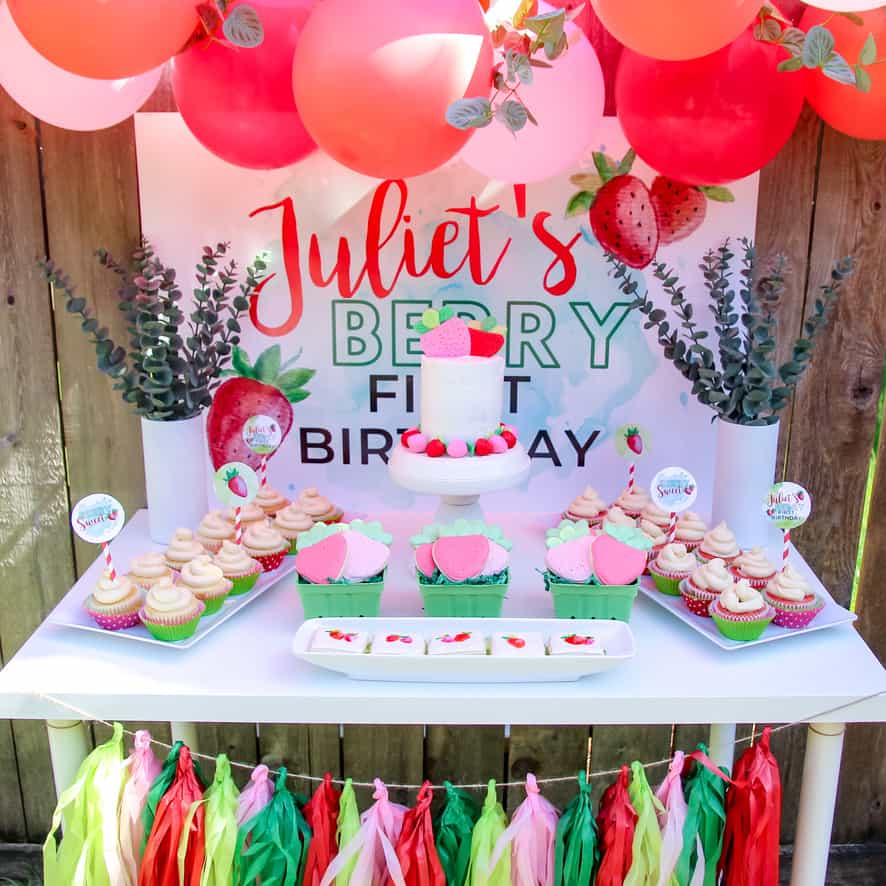 For the front edge of the table, I used tissue to make a tissue garland. You can combine this pink/green garland and this red garland to achieve this garland.
Strawberry themed Balloon Garland
For the party table, I made a simple sign for the backdrop and used a fun balloon garland with simple greenery added in (you can find this one at Target.) This was a very easy way to bring color to the backdrop and make a fun a festive design without having to spend a ton of money.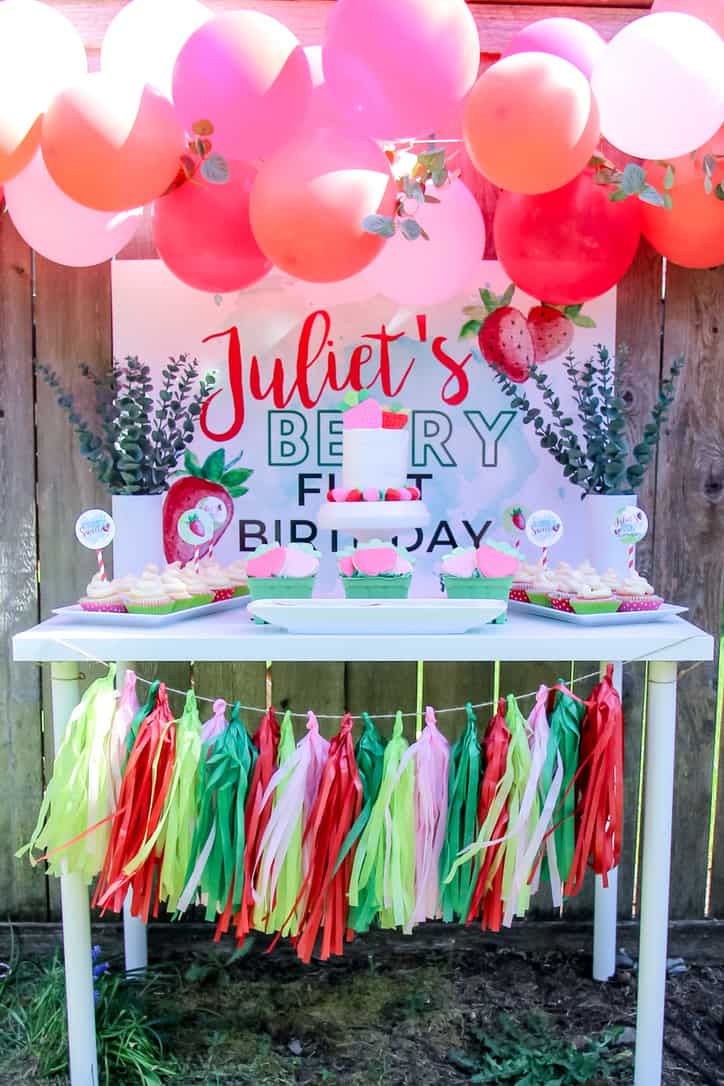 Strawberry Party Printables
These fun Berry First Birthday printables are available for purchase from my shop. The package comes unpersonalized and as an instant download for easy use.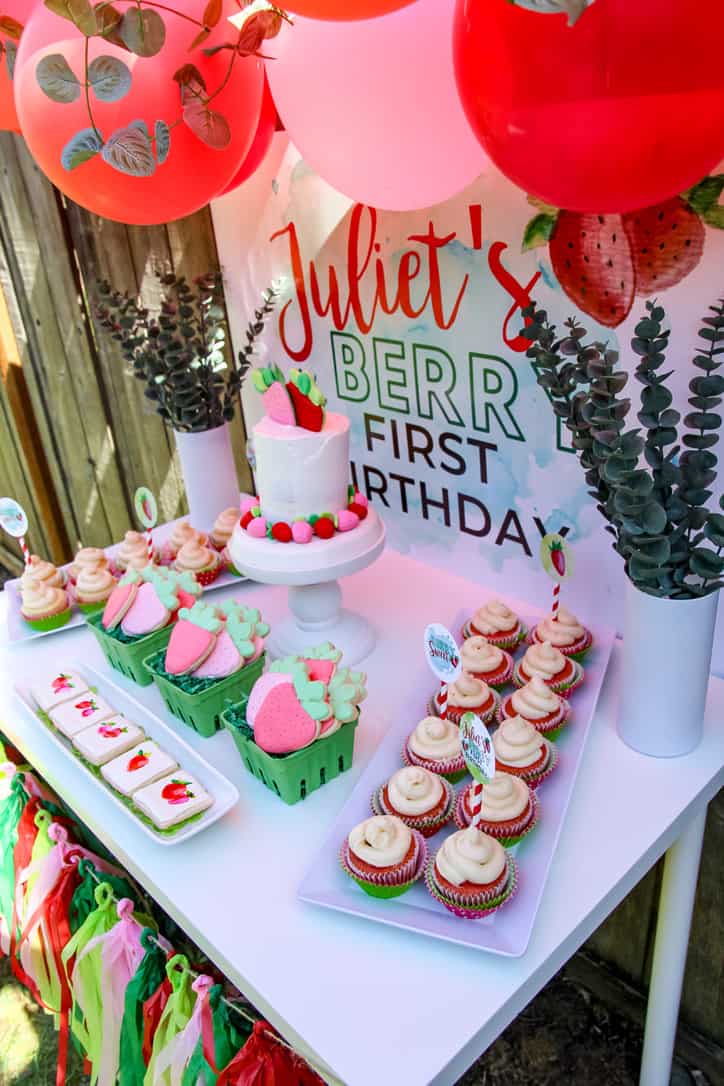 You can also grab a "It's my Berry First Birthday" sign for your table backdrop as well. Super simple to have printed as a poster at your local print shop (like Walgreens).
The printables are great for jazzing up simple foods…like these white chocolate cupcakes. They are also great for party favors, signs and labeling food. It's just overall a fun way to pull your theme throughout every part of your party.
Strawberry Party Food Ideas
Of course, the food is always the highlight over every party. From delicious sweets to themed foods…you can't go wrong with some yummy party food!
For this Berry Special party, I set up a simple dessert table. Since the weather was nice, we grilled up some burgers and had salad and fruit and Strawberry Lemonade (you will definitely want this Lemonade recipe).
We had two different kinds of Strawberry sugar cookies, two types of cupcakes, and a strawberry smash cake. So much strawberry goodness!
Strawberry Desserts
Are you wanting to make your own strawberry sugar cookies? Trust me…it's so much easier than it looks! I have a simple recipe and tutorial for these adorable Strawberry cookies (and the watercolor Strawberry cookies too!)
They even taste as good as they look. What's better than that?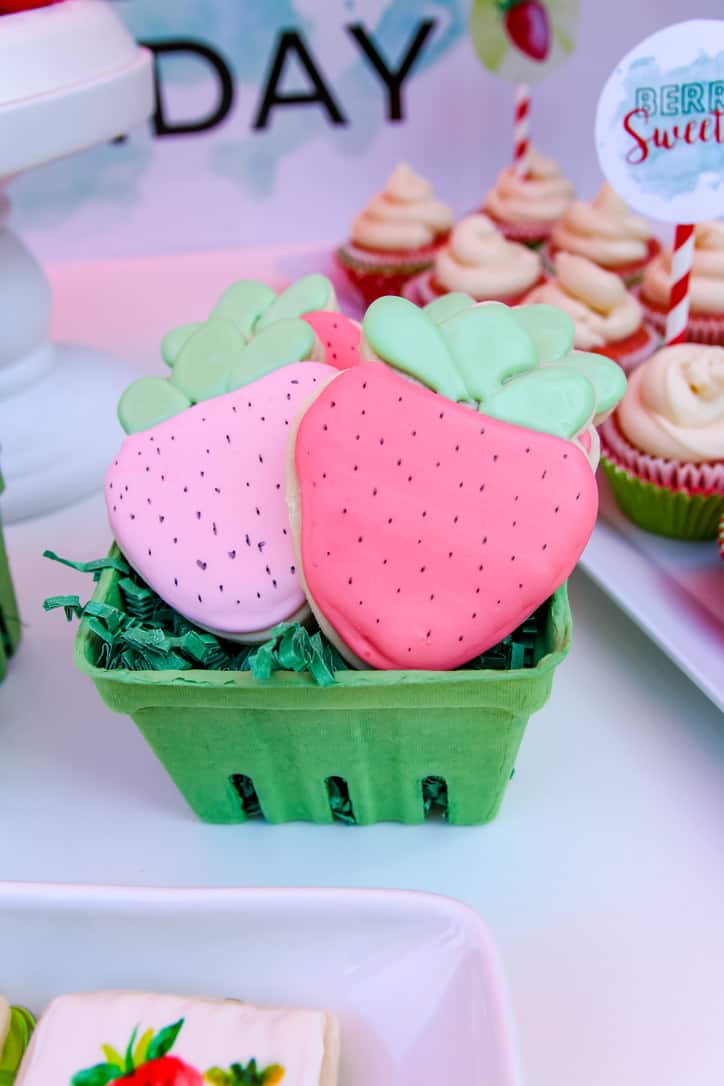 Making a fun smash cake (or even big layer cake for other party guests too) is super simple as well. I am sharing my strawberry cake and cupcake recipe and the tutorial for making these fondant Strawberry toppers and cake base to dress up your strawberry layer cake.
One of the coolest parts of this smash cake is the fondant. They were easy to make and so cute on the cake.
Full disclosure: I let the baby play with/suck on the large strawberries a little as she was digging into her smash cake, but I did remove the little strawberries from the bottom of the cake before I gave her the cake.
While adorable, fondant does get hard and isn't a super safe decoration for babies to try to eat. No choking on your smash cake, people!
Berry First Birthday Ideas
Using strawberry decorations and party ideas for a first birthday is super simple. It was so fun to celebrate her "berry first" birthday this way. Here is my little one enjoying her smash cake.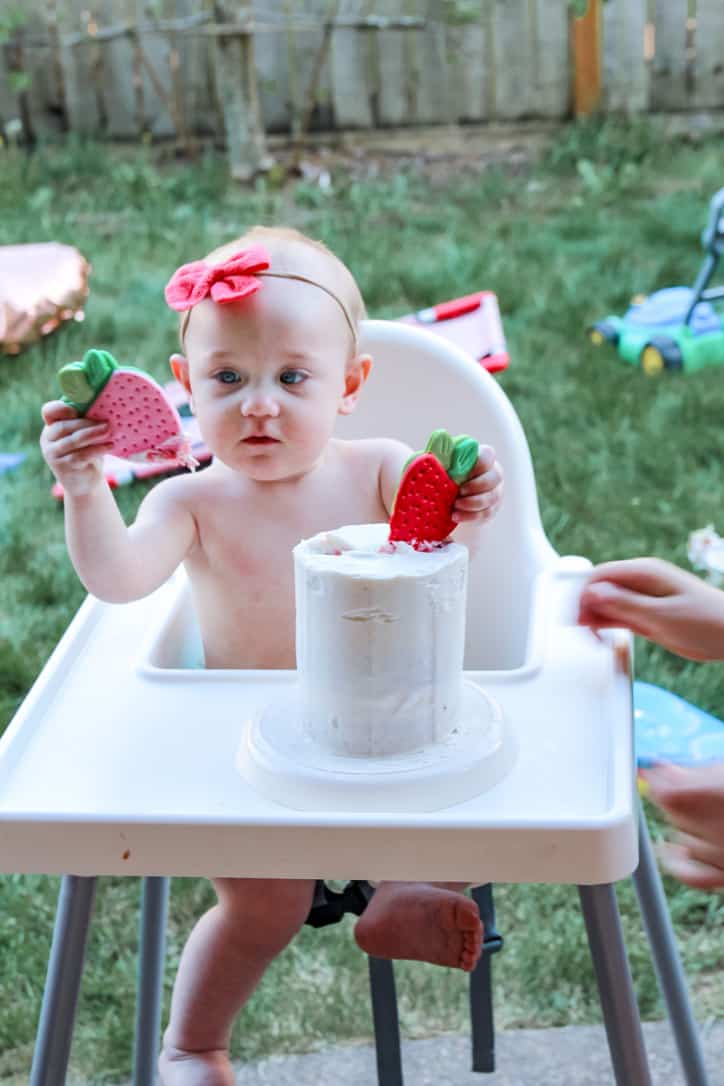 The welcome sign also makes a great photo opportunity for your little one. Here is little Juliet posing in front of her party sign! So big!!!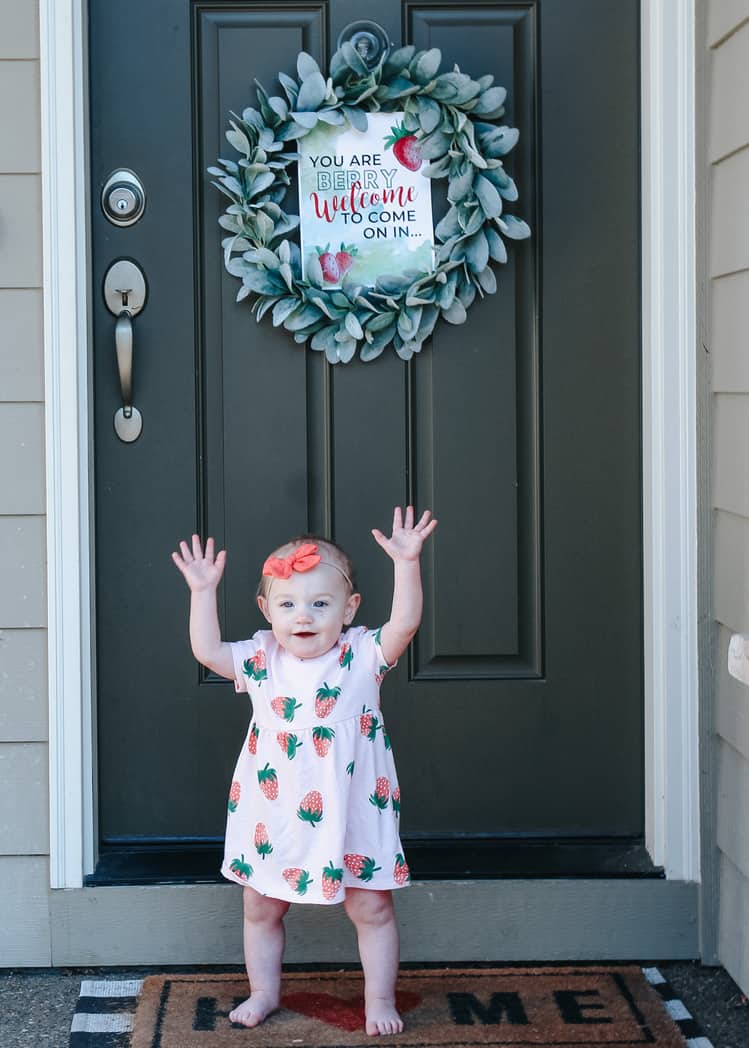 Strawberry Party Supplies
Using the favor tags, I also included strawberry cookies as favors. This is a budget friendly way to have a favor without having to buy a whole bunch of additional treats.
Strawberry Tableware
One of the easiest ways to pull a theme throughout your party is to grab some themed tableware. This cute strawberry set is PERFECT for a Strawberry themed or Berry First Birthday Party!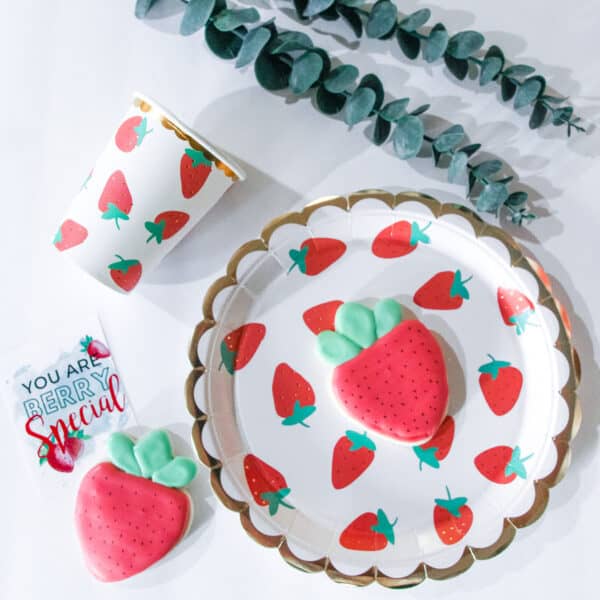 Conclusion for Strawberry First Birthday Party:
Planning a berry first birthday party is simple and fun. This is a great way to celebrate a spring or summer birthday. These ideas are perfect for a strawberry party with fun colors and sweet greenery. I know you will love putting together this party.
Here are some helpful links for planning a Strawberry Party:
Strawberry Printables
Wanna throw a Strawberry Party or make a Strawberry Lemonade Stand?
The Instant Download "Berry First Birthday" Strawberry Party Decorations are available for purchase in my shop:
The Printable Strawberry Shortcake Party Decorations are available for purchase in my shop:
If you love these party ideas, please pin this image to your birthday Pinterest Board: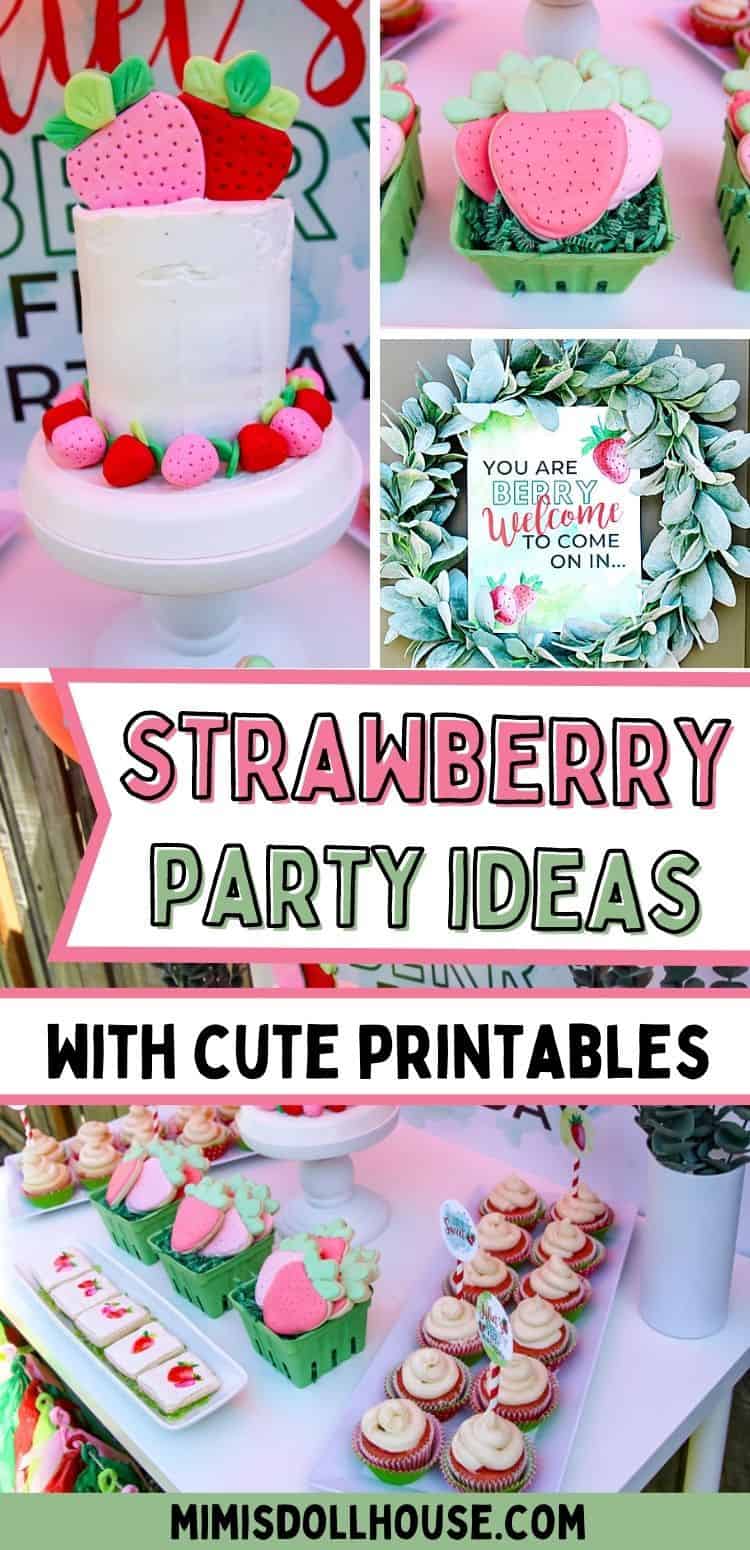 Related posts for Strawberry Party Ideas:
Thanks for reading my Berry First Birthday Party Ideas!