Strawberry Party: Strawberry Shortcake Jars. Serve up a delicious strawberry treat in an adorable jar with this easy recipe and tutorial. Strawberry Shortcake never looked so good! Looking for more Strawberry party inspiration? Also check out this lemonade stand and these apple ideas!
One of my favorite desserts is Strawberry Shortcake. There is something so sweet and refreshing about the taste of fresh strawberries and I love the texture of angel food cake. See just writing about this makes me want to go whip up a little treat right now. I will not do this, however, because swimsuit season is sneaking upon us and frankly…it already isn't a pretty picture!
For the Strawberry Lemonade play date we did last week. I made some super yummy little strawberry shortcake jars. Like the Strawberry Buckets, these were also Easy Peasy.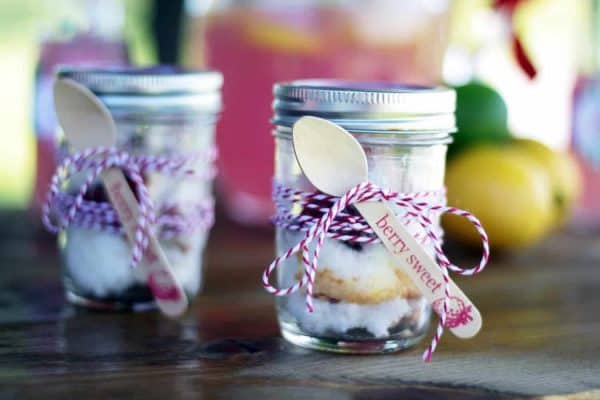 Strawberry Shortcake Jars
To make these Strawberry Shortcake Jars, you need:
Angel food cake (homemade or store bought)
fresh strawberries
sugar
Ziplock Bag
spray whip cream
patterned paper
Fork
Scissors
Step One. Use a fork to pull pieces of angle food cake and place them in the bottom of clean mason jars. You don't want to smash the cake, but fill in as much of the bottom half as you can.
Step Two. Slice strawberries. Place the sliced strawberries and some sugar (roughly 1/8 cup) into the ziplock bag with a little water. Shake the bag until all the sugar is melted into the starwberries.
Step Three. Add a layer of srawberries to the jars.
Step Four. Fill the remainder of the mason jar with Spray whip cream.
Step Five. Using the metal insert as a guide, trace and cut circle from patterned paper or scrapbook paper. Place paper over metal insert inside the mason jar lid and secure lid.
Step Six. Wrap jar with baker's twine and stick a small wooden spoon into the twine. Spoons can be embellished with stamps or washi tape as desired.
Serve and enjoy. They are fun, cute and easy! Can't ask for more than that:)
Links to purchase the items used in this Strawberry Shortcake Jars Tutorial:
Wanna throw a Strawberry Party?
The Printable Strawberry Shortcake Printable PDF Package is available for purchase in my shop: