Mother's Day: FREE Mother's Day Printables. Here are some fun, brightly colored and FREE mother's day printables! Check out all of our free holiday printables.
Woo…this has been a busy week. A busy month really. Lately, my soon to be 4 year old has been a little difficult. There have been many days that I have thrown my hands up in the air and fought back tears of frustration at the seemingly never-ending battles of will. But then just as I've about had enough and I'm ready to sell her to the circus, She looks up at me with those big beautiful blue eyes of her and says "Mommy, I love you!" and all is restored.
The job (and yes, it really is a job) of being a mom is HARD. These little people do not come with instructions. Despite the growing pains we often experience, my little ladies truly are my best friends. There is this episode of Little Einsteins (Disney Junior) where Annie sings her i love you song: "You are my best friend, I love you". This has kind of become our little mommy/baby anthem. Aren't my BFFs the cutest?
When I started thinking about Mother's Day…I kept coming back to this concept….My little babies are my best friends. We do everything together. They are my little shadows. I even built this whole business around them. What better way to celebrate Mom's Day then by highlighting that special relationship between Mom and Child.
Bang…there was my theme: ME+MOM=BFFs.
Simple and fun. I decided to stick with bright neon paint splatter and patterns for a modern take of the feel of the 80's that is so popular with the young folk. (Wow that made me sound old, didn't it!!)
Would you like to download these fun printables for FREE? What's better than that?! Download link is below the sample photo:)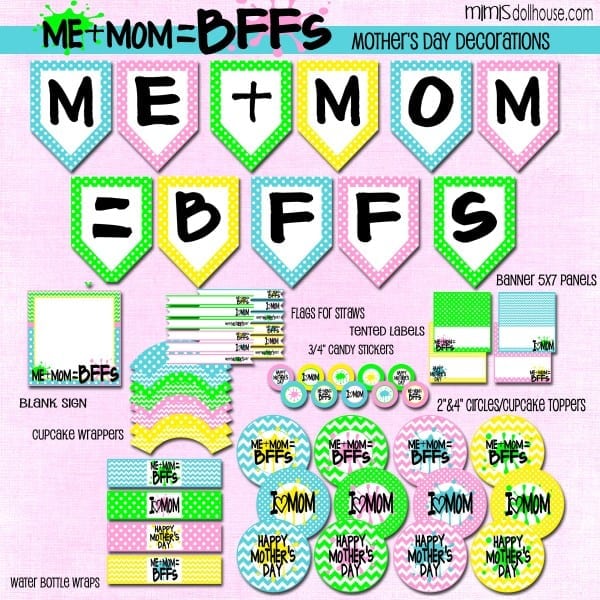 Download the FREE Mother's Day Printables
Moms…enjoy your day! Oh, and if you use my free printables, I'd love to see your photos!! Submit your party photos here! It always makes me smile to see what you all do with my designs!
Here are some helpful links for throwing a Mother's Day party: