Mother's Day Table Decorations to Help Celebrate Mom!
Hooray for fun Mother's Day decorations! Looking for creative ways to celebrate your mom, the moms in your life or even yourself this Mother's Day? No matter who you want to honor, these mother's day parties and adorable desserts are sure to inspire you to be the diy-er of your dreams!!
Being mommy…it's a thankless job 364 days of the year. On Mother's Day though, we get to sit back a relax and be pampered all day, right? Well maybe in a perfect world!!
Those little buggers that call us mom are worth the sleepless nights, but celebrating Mother's Day doesn't have to be the cause of more lost sleep!! Here are some of the best Mother's Day ideas around…
Let's talk about Moms…if you are planning to do something amazing for your mom (or for yourself…let's be real, sometimes as moms we have to do all the celebrations!), don't go it alone…check out these ideas and take a page from the pros!!!
Mother's Day Party Ideas
Thinking about a Mother's Day party? Well, why not? Moms are awesome and deserve ALL. THE. LOVE. With spring in the air, it's all about the floral this year. From soft tulips to bright lemon yellows…flowers are definitely all the rage.
Don't worry though…if flowers aren't your thing, we have plenty of other non-flowery ideas to share too.
Oh, and coffee…I did mention they were ideas for moms, right?
Tea Parties with a Mother's day theme
Mother's Day Tea Party from Sugar and Charm
This beautiful tea party idea is perfection. Lots of white mixd with soft colors. We are in love! My favorite detail is the little Poloroid photo on the napkin rings. This is an adorable way to add some personalized touches that would brighten any mom's day!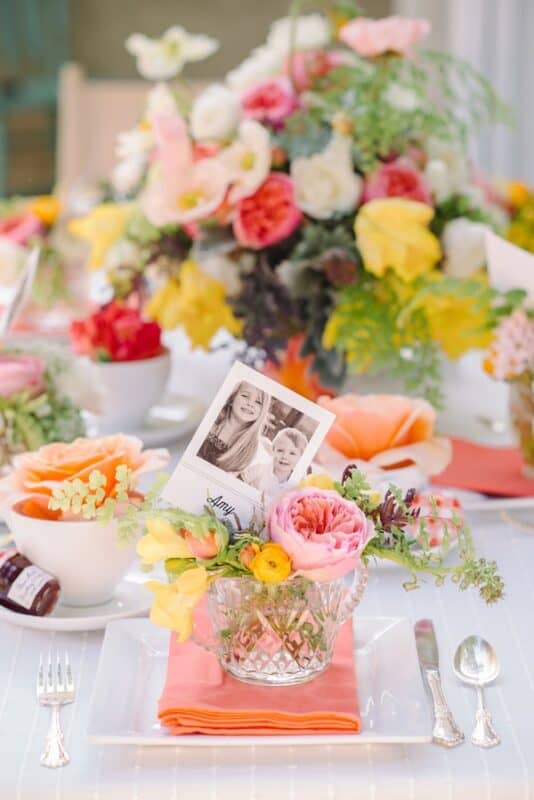 Coffee with Mom Party from Charming Touch Parties
See, I told you I promised coffee! What better theme for Mother's Day then celebrating that wonderful substance that gets us out of bed each and every morning and helps us face the day? Coffee party, anyone? Yes. Please.
Mother's Day Soiree from Capes and Crowns
This fun party was designed around the concept that moms are selfless and amazing…we agree. I collaborated on this fun party and it turned out perfect! I designed these fun mother's day printables and they are available to you for free…Download them here!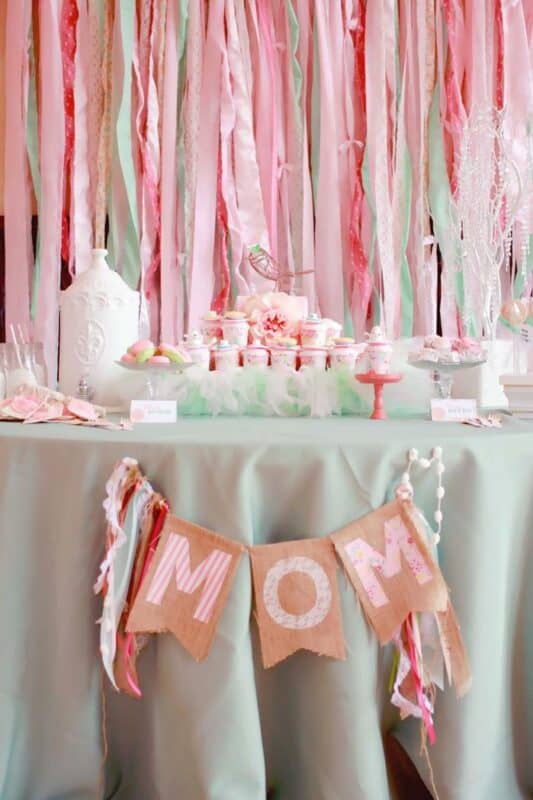 Tea Party for Moms from Brit & Co.
This fun, bright colored Mother's Day spread is flirty and playful. It's simplicity is what makes it so genius. I love the simple Sharpie style backdrop and bright flowers. You know you want to hang out with these peeps and have some momma-themed fun!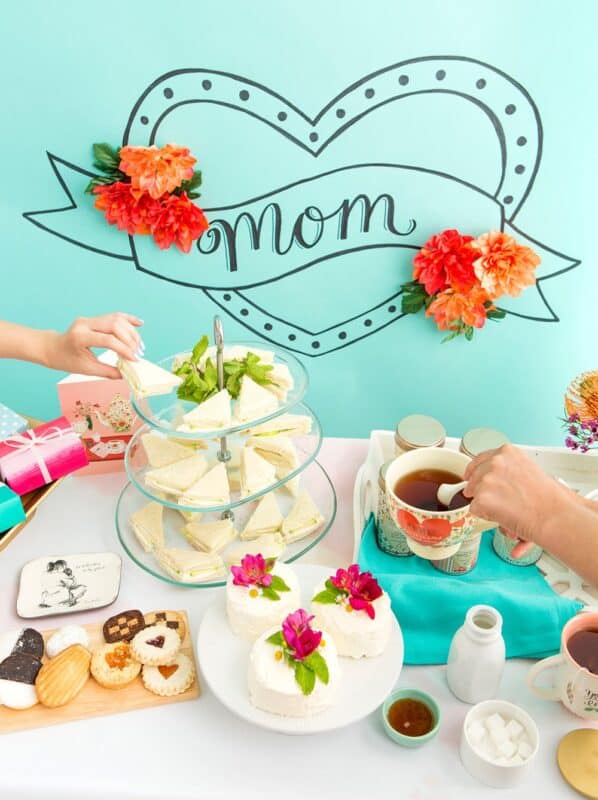 Ideas for a Mother's Day Brunch
Brunch is definitely the most popular Mother's Day party meal. Brunch is perfect because it allows moms to do one of two common Mother's Day activities.
Sleep in. *gasp, I'm not sure I even remember what that is*

Attend church. Because you need to receive your yearly carnation (that's for all ya'll who grew up in the south like me!)
Planning a brunch party for Mother's Day is a lot like planning any other party, except its now acceptable to serve quiche. This is like the icing on the Mother's Day cake (ok, not REALLY…the icing on the cake IS the icing on the cake…there better be CAKE!)
Tea Toast to Mother's Day from A La Mo
This fun Toast to Mother's Day is a great inspiration for brunch. Whip up some mimosas and party like before you had diapers to change!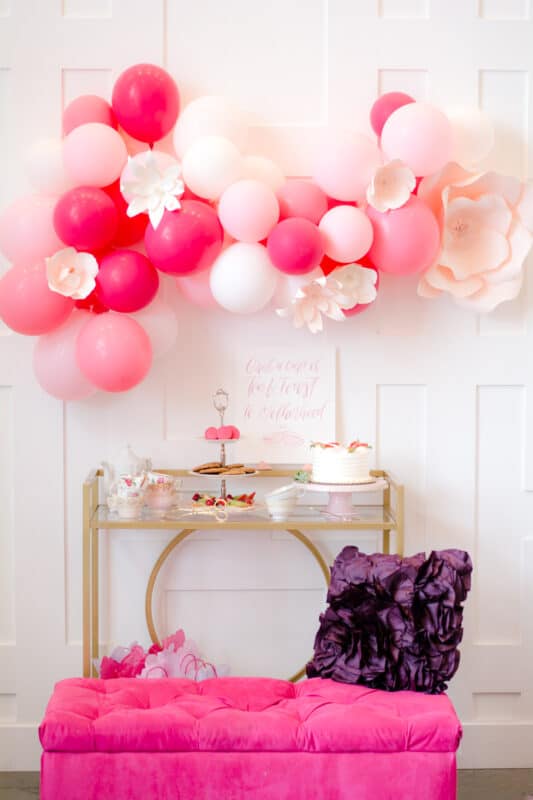 Pretty Mother's Day Brunch from Redbook
This brunch spread is beautiful and modern. It has fun black and white polkadots and pretty pink flowers. This would be ideal for a mother who loves classy and streamlined designs and parties. It's simply gorgeous.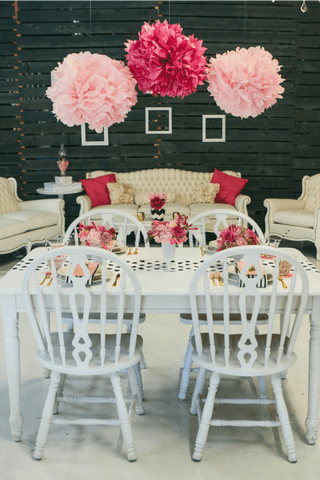 Mother's Day Photo Brunch from Pizzazzerie
This Mother's Day table is similar to the Poloroid set-up, except it focuses on vintage photos. This would be perfect for honoring moms of older generations. The vintage frames add such a nice touch to already spectacular decor.

Mother's Day Dinner Party Ideas
Retro Mother's Day Picnic from The Beauty Dojo
Celebrating a baby boomer? Why not take her back in time to the 50s with this retro diner Mother's Day picnic. It's fun and colorful…I am sure it would be such a hit!!! Make sure you grab some tunes to play that fit this theme and dance the night away!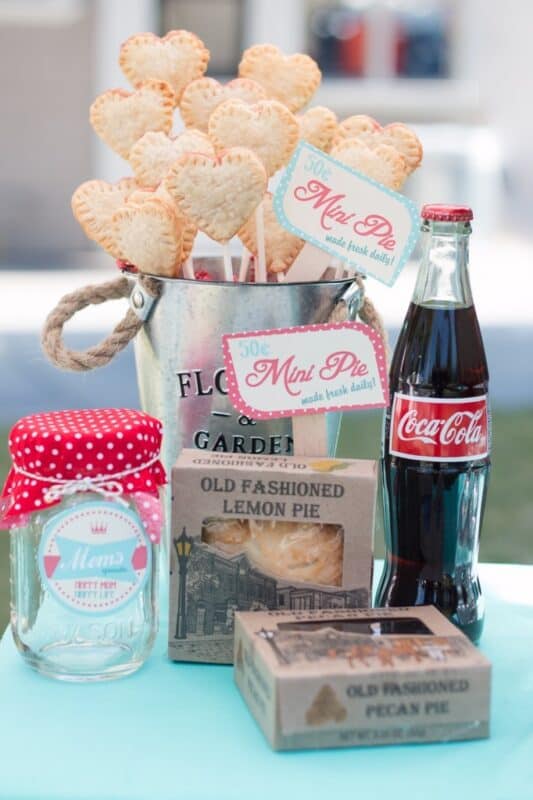 Mother's Day Lemonade Tablescape from Kara's Party Ideas
Lemons and lemonade are one of my absolute favorite spring party trends. I love how much you can do with citrus themes. (By the way…if you are thinking about styling a lemon or citrus themed party, Sweet Lulu has the CUTEST citrus party supplies EVER! Just saying!)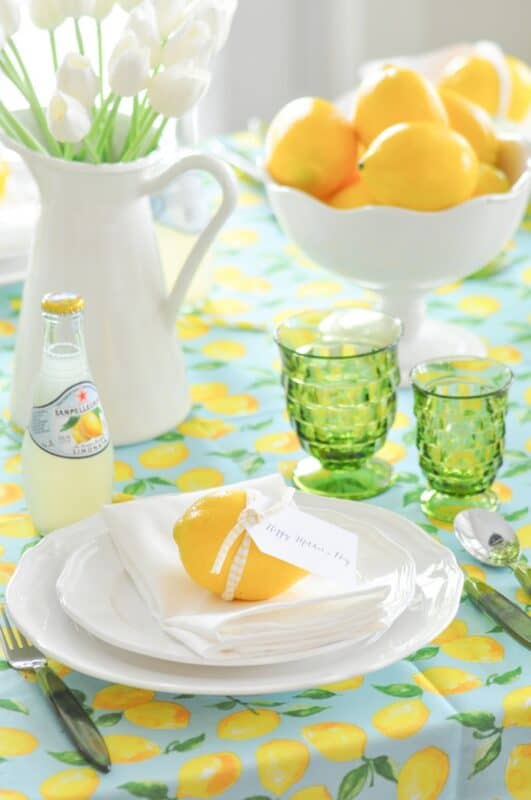 Boho Citrus Tablescape for Mother's Day from Kara's Party Ideas
Here is another absolutely stunning citrus themed party idea. I love the bright oranges. It's the perfect amount of spring love!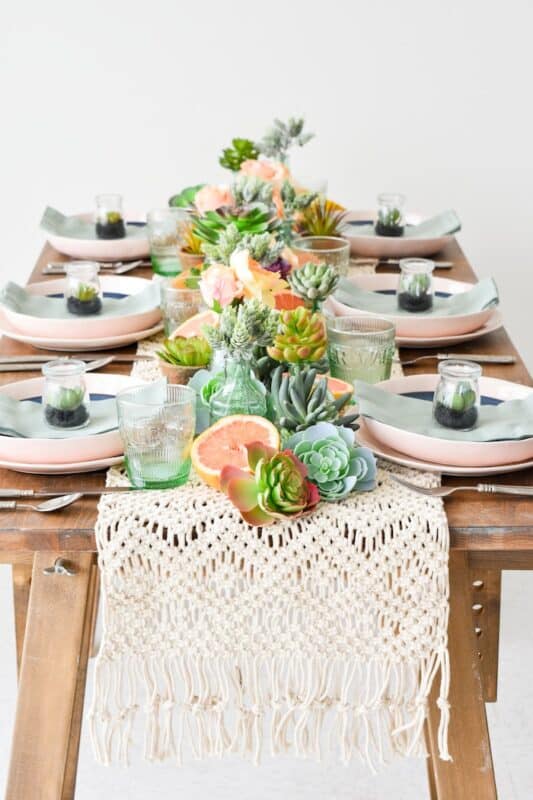 Mother's Day Party Decor
Mother's Day Fresh Flower Banner from Studio DIY
This is such an easy, yet utterly adorable idea. It is perfect for a garden party or to hang over a dessert table.
Donut Wall From The Merry Thought
Did someone say donuts? This cute little DIY donut wall will make mom smile and give you less dishes to wash after the party!
FREE ME+MOM=BFFs Mother's Day Printables
The job (and yes, it really is a job) of being a mom is HARD. These little people do not come with instructions. Despite the growing pains we often experience, our little ones can often be our BFFs. Which was the inspiration behind these FREE printable Mother's Day Decorations…I hope you love using them!
Download the Free Mother's Day Printables here!!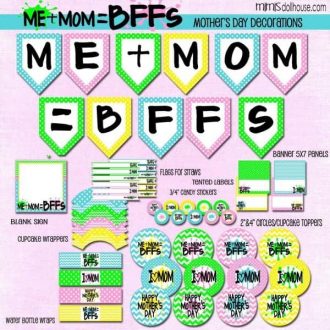 Mother's Day Food Ideas
What's a party without some food? Moms love treats, especially when we don't have to bake them! Show mom you really care with a glorious amount of delicious food (and cake…lots of cake!)
Mother's Day Cake Ideas
Mother's Day Typography Cake from The Proper Blog
Speaking of cake…You know you don't HAVE to bake a crazy elaborate cake to blow your mama away! This typography style cake topper on a simple white cake is just as cool.
Rosy Mother's Day Cake from Wilton
If you do want to bake and decorate an elaborate Mother's Day cake…you can't go wrong with this gorgeous rosy cake idea. I mean, how stunning is this? Psst….the directions are really pretty simple too! Just saying.
Wire Mom Cake Topper from Le Rustic Chic
This is one of my favorite cake topper ideas. Like the typography cake topper above, you can purchase a store bought cake and use this topper to give it that special touch you want if baking just isn't in your wheelhouse!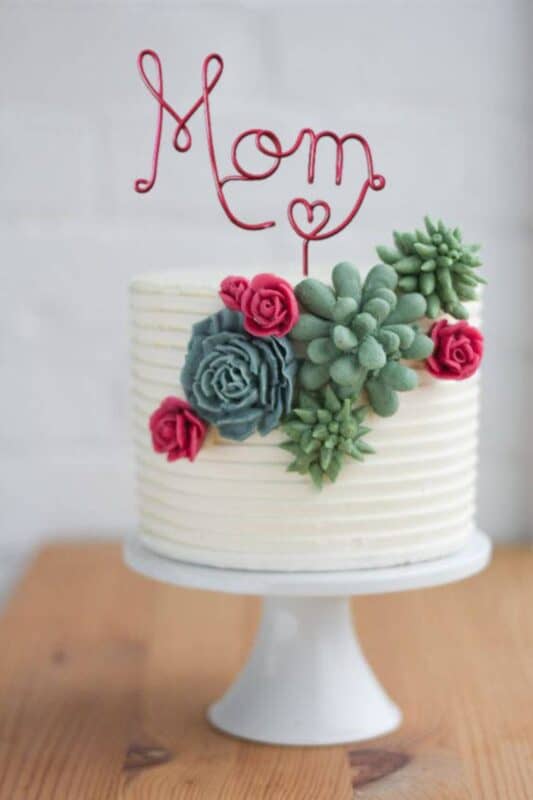 Tulip Cake for Mother's Day from Wilton
This take the cake (lol) for the best Mother's day cake. Maybe I'm just partial to tulips…but this cake is just way too beautiful to not be served to every amazing mother this year!

Mother's Day Food Ideas
So I know you're thinking "Come one…we need more than just cake". Ok fine…you are right…we can also have some killer cookies and cupcakes too!
Mother's Day Cupcakes from Juniper Bakery
These cupcakes are adorable and could be easily personalized for any mother! They are fun and festive…and delicious!
Mother's Day Cake Pops from The Cake Girls
Give mom a bouquet of roses she REALLY wants. Make her some Rose Cake pops with her favorite flavor of cake inside. She'll thank you for it!! (See it all comes back to the cake!)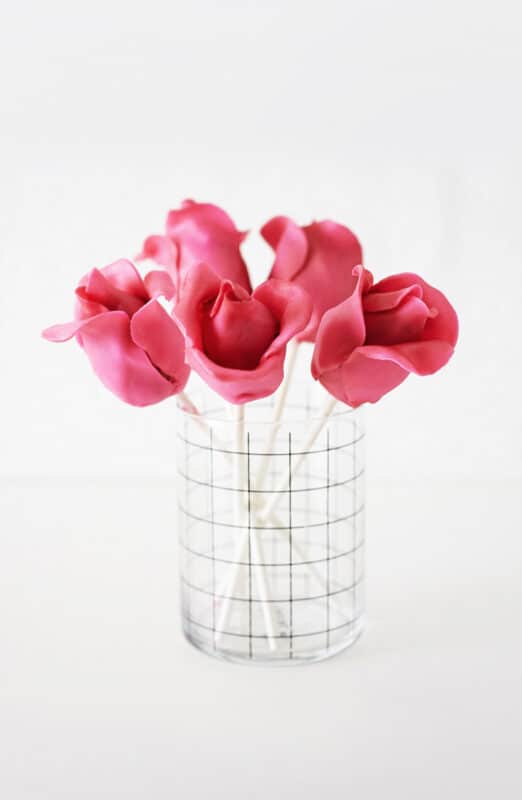 Flower Cookies from Jenny Cookies
If you really want to wow mom, these flower cookies just can't be beat. They are beautiful and would compliment any of the fun, floral parties we discussed above!
Mother's Day Cookies from Tell Love and Party
Give mom a little edible love note with some fantastic word cookies. This would be such a great dessert to open!!
Mother's Day Party Supplies
So we've discussed how to decorate for Mother's Day. We've discussed what to serve for Mother's Day. Now we just need to talk about what to DO for Mother's Day.
Mother's Day Party Invitations
First things first…invite mom (and any other guests mom might like around) to your party…
You can hand make invitations…mom probably loves your handmade things anyway, right! This is a fun and budget conscious way to go about it.
If you are looking for a downloadable Mother's Day invitation, you can find tons of adorable and affordable options on Etsy! Whether you are looking for chic, rustic, modern or vintage…you are sure to find one you love!!
Either way…you need to let everyone know where and when to party!!
Mother's Day Crafts
Because who doesn't love a little crafting for Mother's day?
Printable Mother's Day Coupons from Children's Ministry Deals
Here is a fun little craft idea that would be great for younger kids to give to mom. You can print these coupons out and put them in a bouquet of flowers or in little envelopes or gift bags!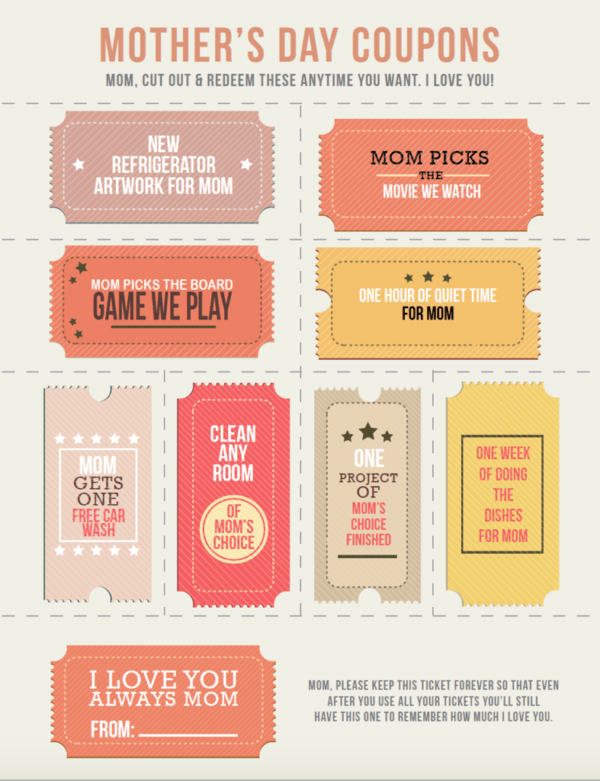 Fun facts about Mom Party Game from The Girl Creative
This would be a fun game to play with mom while she enjoys her coffee and cake. Let her know you really know what she loves!!
Bloom Picture frames for Mom from Frugal Coupon Living
If you have cute little ones at home…try making these fun photo frames. We made these a few years ago using magnetic picture holders so they could be displayed on the fridge. It was a blast!
Mother's Day Party Favors
Mother's Day Gift Garland from The Proper Blog
Here is an adorable way to display party favors or even just gifts for mom! This is like wrapping Christmas gifts into Mother's Day. It's kind of ingenious!
Mom Tattoos from Ducky Street
This is a cute favor idea for little ones who love their mama. These temporary tattoos will really show mom how much you love her!!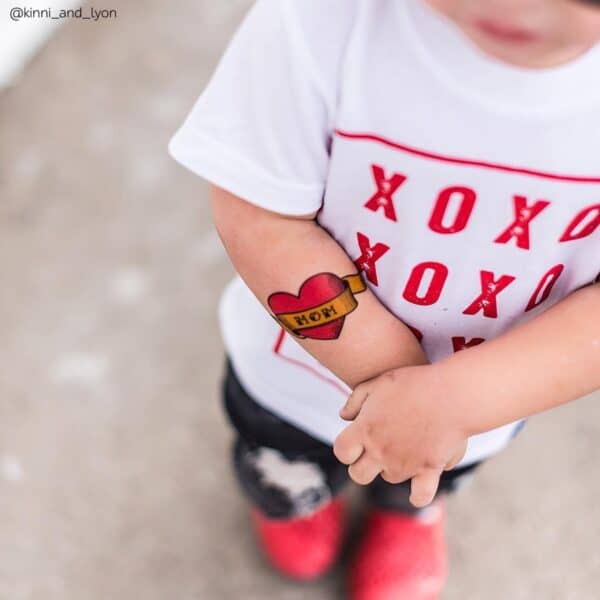 Mother's Day Favor Bags from Dash of Southern Sass
If you are giving little gifts (like jewelry *wink wink*), these fun little bags are just right! They would be perfect for keeping ad storing those awesome gifts for later too. You know, so they don't tangle all up in the jewelry box!!
Conclusion for 25+ Gorgeous Mother's Day Decoration Ideas:
So no matter what direction you decide to go for Mom this Mother's Day…I hope these ideas inspire you and help you on your way to being the greatest Mother's Day decorators of all time.
You can do it..I know you can!
If you like these Mother's Day ideas…pin this image to your Mother's Day Pinterest Board: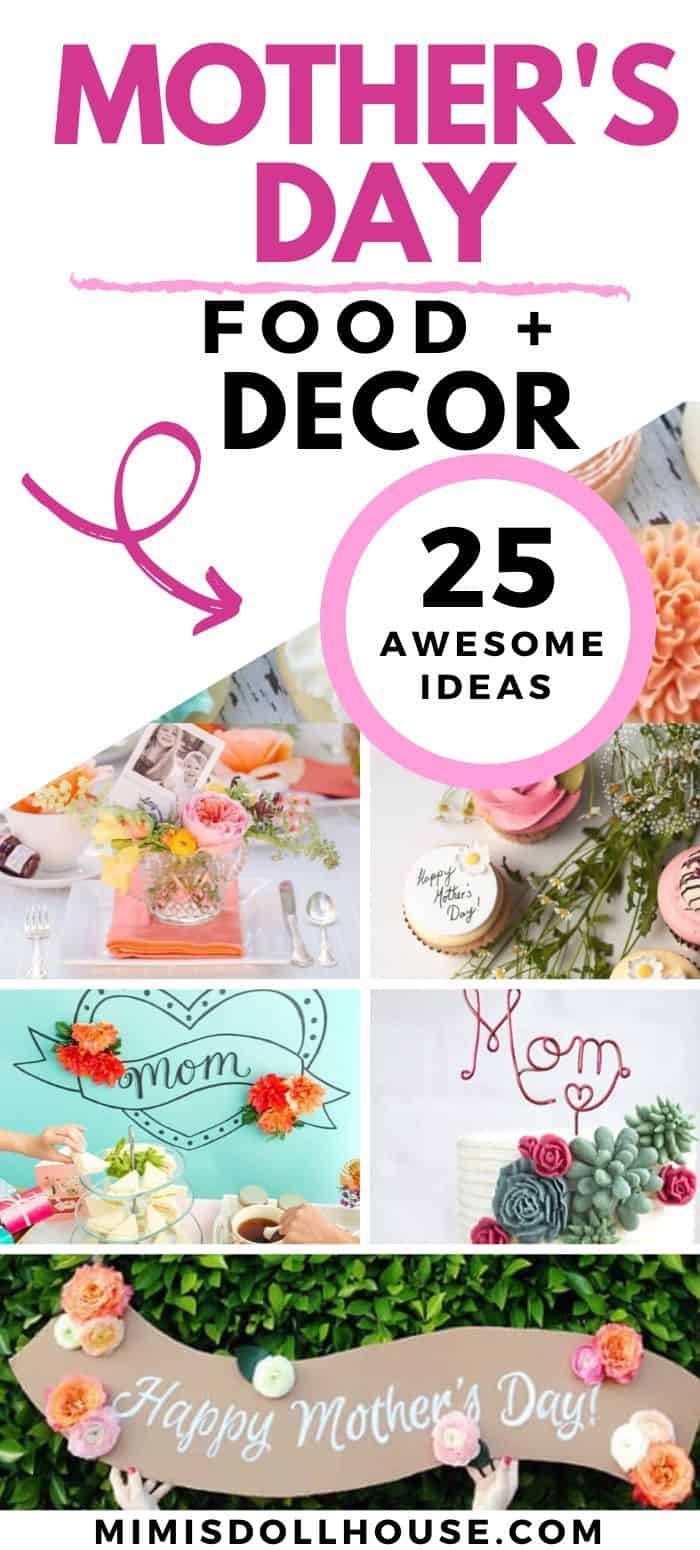 Here are some helpful links for throwing a Mother's Day party:
Related posts for Mother's Day Party Ideas:
Thank you for reading about our Mother's Day Decorations and Party Inspiration!