Party Q&A: Party Favors, Picking a Theme and Hair Tricks, Oh, my!  Today is my first post in the Party Q&A series. Be sure to check out our party tutorials and party inspiration!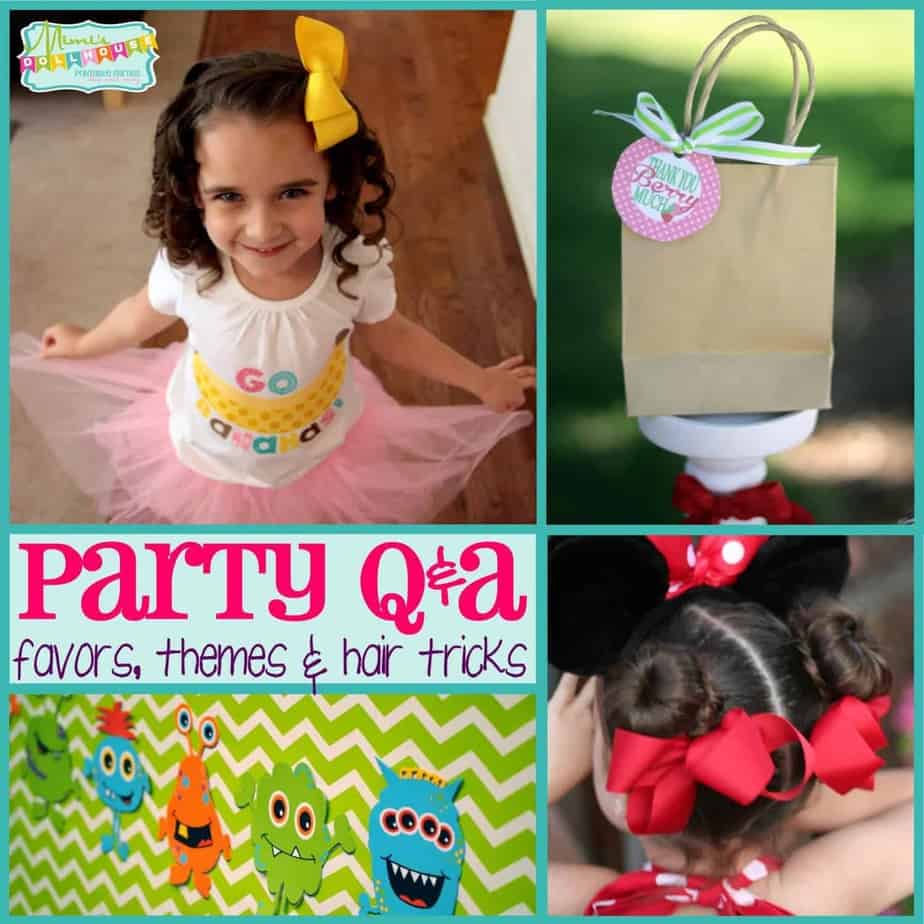 Question #1: "Should I have party favors at my party?  Do I need to have one for each person or just the kids or one per family?" -Elizabeth L.
This is one of those debated questions.  Technically, yes.  You should have some sort of favor for your guests, but you don't HAVE to. If you do decide to include a favor…the type, cost and size of the favor are completely up to you.  There is no rule that says it has to be of a certain value.  Personally…I like to go with one of two options…either something edible that can be taken home and consumed rather quickly or something of moderate to nice value that will be played with/worn by the guest for a longer period of time.  I'm not personally a fan of the cheap little plastic toys that are available in most store party isles.  They break quick and are kind of annoying.  I'd rather get/give a lollipop:)
For favor packaging…I like either a simple coordinating bag or box for favors that are not necessarily theme "coordinated" (like the Strawberry Party and Pirate Party favors below….
or a fun decorated themed gift like these banana candies from the Monkey Party.
Question #2: "How do you pick a theme for your kid's party?  I don't want to just do a character like Elmo, but I can't decide what theme I should do for my son's first birthday either.  Can you help?" -Kirsten G.
LOL…I totally understand.  Picking a theme can definitely be a tough one.  I have definitely gone both directions with my kids.  Sometimes doing a character party can be a TON of fun to plan.  I LOVED every aspect of planning my daughter's Disney inspired Princess Party.  While we did use inspiration from the characters.  I designed the party to not use any images of the actual characters.  This made it very cute and a lot of fun.
When it comes to planning a party without characters, I think the best themes are those that really showcase something about your child that is special or unique.  What do they love?  What is their favorite food or game or animal.  Are they busy or quiet?  My Emma LOVES Monkeys.  They are her favorite thing and she is completely my Curious Little Monkey. I knew a Monkey party was perfect for her…so a monkey party it was!!

For  an active little boy…I think one of my favorite themes is also the monster party.  So cute and perfect for a busy little fellow!
Question #3:  "I notice that you do a lot of cool things with your daughters' hair.  Do they sit still for that?  How do you make their hair so curly?" -Miranda R.
Thanks!  I love doing their hair and they actually do sit still!!  They love getting dolled up and having fun and unique hairstyles.  One of my favorite sites for Hair inspirations is Cute Girl's Hairstyles.
For curly hair…on my little Emma, because her hair is finer, I like Pink Foam Rollers
.  For my big girl…I love Vakind Hair Curler Magic Spiral Ringlets
.  These are both great options for curling wet hair and air-drying, cutting down on damage to hair.  The Spiral Curlers are awesome too because they last all day!!
For the tight sock bun look…I use Hair Chignon Donut Bun Makers
 in various sizes for nice clean buns.
Do you have questions you would like to ask Holly?  Send an email to [email protected] with your question to be included in a future Party Q&A Post. Please include "Party Q&A" in the email subject line.
Be sure to check out our party tutorials and party inspiration!