Nautical Party: Ideas for a Sailboat Party. Looking for some sea-sational nautical party ideas? Well today is your day!! I'm sharing some of my favorite sailboat and sea inspired party ideas. Be sure to check out all of our Nautical party ideas and inspiration.
Yo ho, yo ho a pirate's life for me…or at least a party planners who loves cutesy little sea creatures and baked goods life for me. I've been a girl mom for over 8 years. I'm comfortable in my girl mom status and I love my little princess-girly-girl-divas. Six months ago, however, I added a little man to my mommy stats and he is a welcome and completely new experience for our girl house. So because of this little dude and his, well boyishness…I have had trucks and monsters and sailboats on the brain.
A nautical party is a great theme for a sweet little boy. I envision a cute little chubby cheeked 2 year old in a sailor suit munching on crab shaped cookies. Are you with me?
Let's check out the goodies…
#1 Nautical Fondant Toppers by Sugar Pop Lane
I love fondant toppers. They have so many amazing purposes. Aside from the obvious cuteness of them, they are perfect for topping a cupcake or a simple sugar cookie and give those items that little touch of party magic!! These cute nautical party toppers are no exception!!!
#2 Blue Velvet Cake by Add A Pinch
Soooo, I know you have heard of red velvet…but have you heard of blue velvet? It's super similar to red velvet and just as striking!!! Wouldn't your party guests be wowed with a little blue striped cake???
Not sure you want to go the full cake route? Cupcake cakes are all the rage and perfect for a little kiddos party. They easily pull apart and can be designed a shaped to match your theme. This adorable anchor shape is sure to be a hit!!!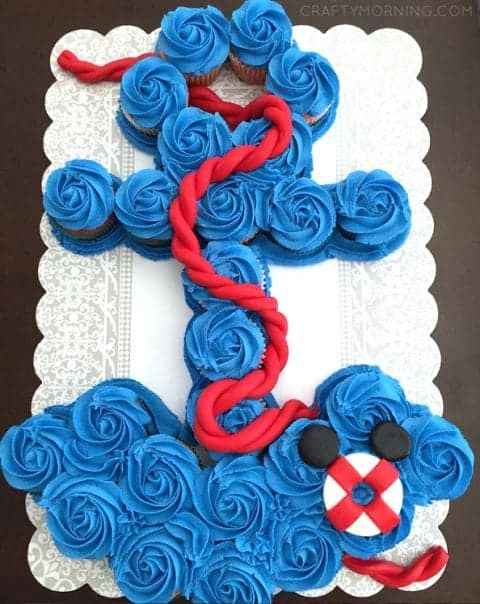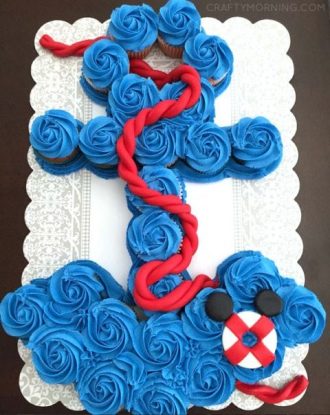 So these are as GORGEOUS as they are easy!!! I love the simplicity and the color. Perfection!!! I actually want to go bake some right now!
What's a nautical party without some cute little crabs? These candy crabs are a simple and adorable treat that is SURE to be a hit with the little ones. I mean, what's not to love? Candy…check! Eye balls…check! Sea creatures…check!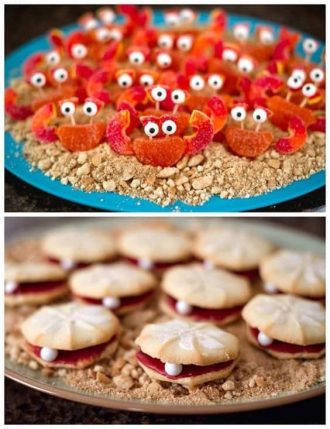 I also have some helpful nautical party resources to share:
Wanna throw a Nautical baby Shower or Birthday Party?
The Printable Nautical Baby Shower Collection is available for purchase in my shop: