Fun ideas for a Nautical themed baby shower!
Nautical Party: Ahoy! It's a Boy. Today I'm sharing the Nautical Baby Shower I styled for my sister in law's baby shower. It's full of crabs and boats and anchors galore.
Looking for more Sailboat party ideas? Be sure to also check out our wild things baby shower, movie night baby shower and rock-a-bye baby shower!
Ahoy, matey! This swashbuckling baby shower is a red, white and blue affair fit for a sweet little man. I styled this baby shower for my sister in law while she was pregnant with my nephew. She had a nautical nursery planned, so I themed the shower around the nursery…I mean honestly, why not?
Throwing a NAUTICAL BABY SHOWER?
☑️ This
Nautical Party Kit
is the perfect set to get your party planning headed in the right direction!
This is actually one of my favorite things to do with a baby shower. I love that by using the nursery theme as the shower theme, you can actually gift the mommy to be some of the decor, which makes some of those more expensive decor decisions extra worth it!!!!
My brother loves the Beatles (check out the Beatles themed Rehearsal Dinner I styled for their wedding), so it was fitting to use the "Hey, Jude" lettering as the centerpiece of the dessert table. I love the way the markee letters shine in the middle of the table.
These red velvet cupcakes are amazing! They are one of my favorite treats. I may or may not use red in parties just to be able to get these cupcakes!!!
Another great multi-purpose decor idea is to use Iron-on Adhesive Roll Fabric Fusing Tape
and fabric on White Onesies
to create a banner of baby clothes that the baby can actually wear after the fact.
My cute little daughters loved dressing up to match the shower and celebrating their little cousin. They love my sister-in-law (they prefer him to my brother, actually…but shhh, don't tell him!)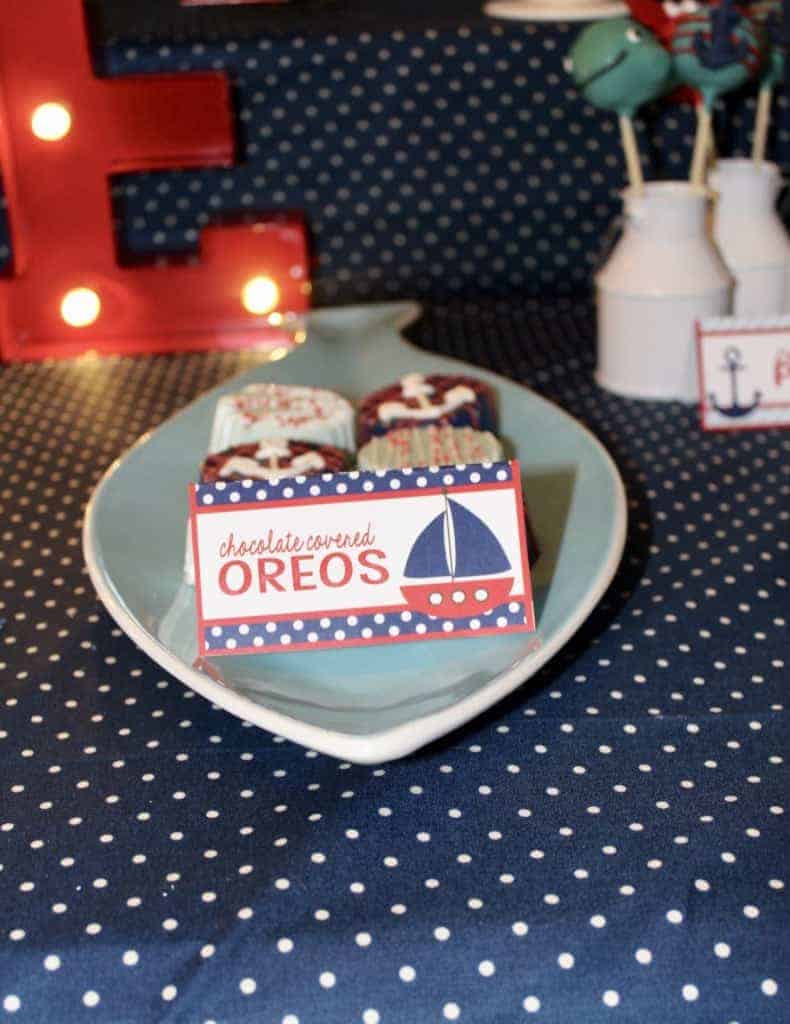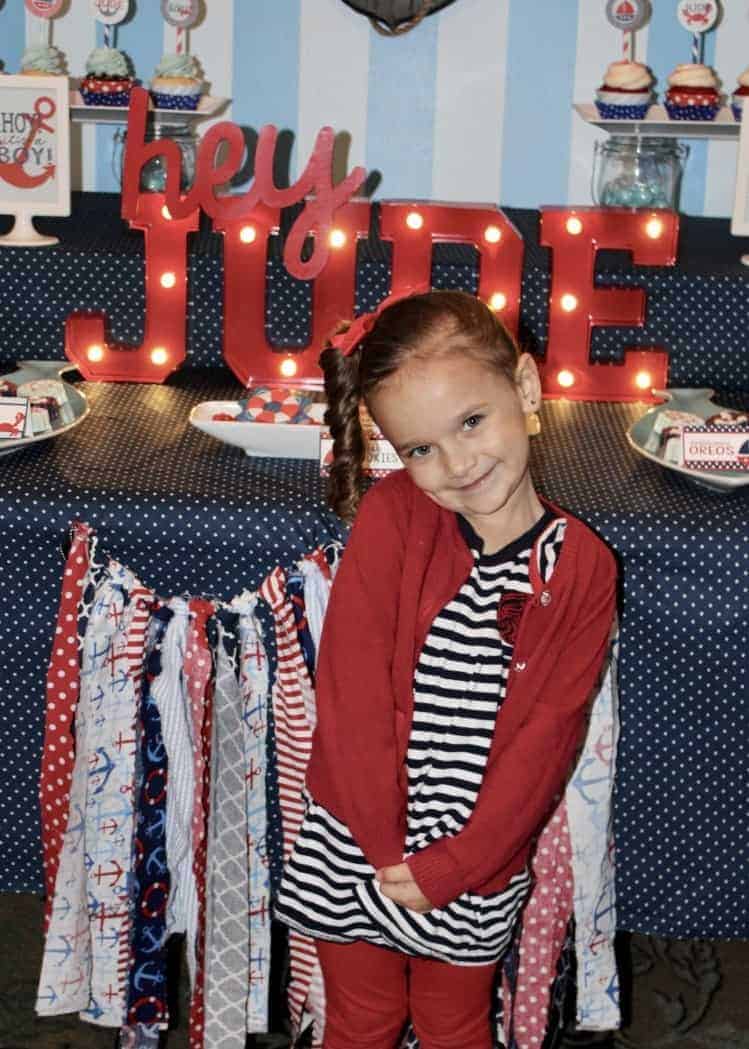 We had fun games and a sign in board that guests could put a little note for mama and baby. We also had the Wishes For Baby cards that could be filled out with funny or sweet reminders of things we wish for the new baby.
Nautical Baby Shower Decor and Party ware
If you are looking for an absolutely gorgeous and ready to use nautical themed baby shower decorations and tableware set, you can't go wrong with the Nautical Party kit from Target. It has so many items…it's almost sinful not to get it! I love the blues and reds. So sleek and so perfect!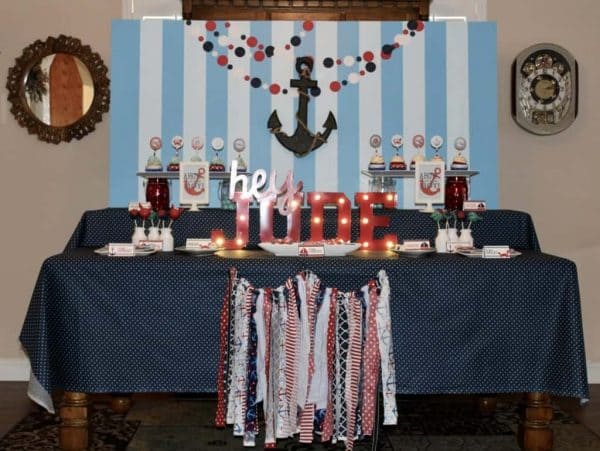 Aren't the crab cake pops the cutest!!! You can find them from Sparkling Sweets Shop.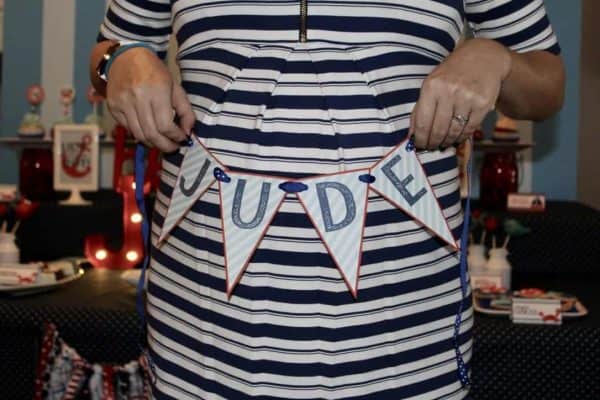 Nautical Party Supplies
Finding the right party supplies and decorations is so important to setting the ton for your Nautical party or baby shower. Here are some beautiful options you are sure to love.
Ahoy it's a Boy Party Supplies and Decorations Package from Oriental Trading
This package is simply gorgeous. With the metallic plates and banner and the soft blue and bright red. Simply gorgeous.
Sea Creature Candles from Meri Meri
How glittery and gorgeous are these candles? I'm in love…for real!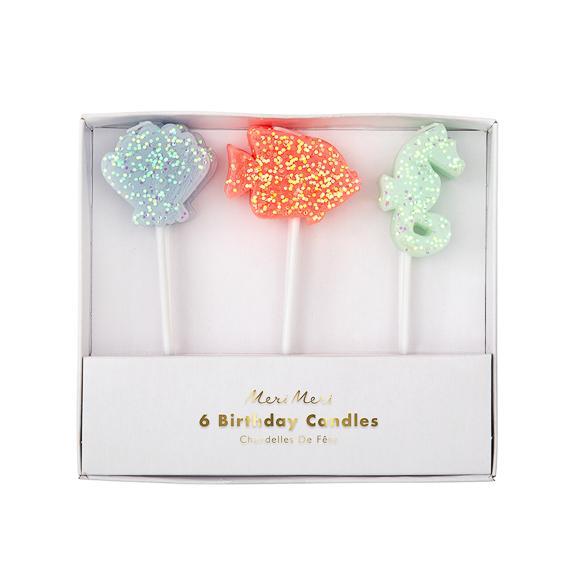 Little Sailor Party Supplies from Oriental Trading
Here is a super cute option for party ware as well
Nautical Party in a Box from Target
Here is another absolutely beautiful nautical party package that has so many items…isn't it super cute!!
If you love these Nautical party ideas, please pin this image to your Baby Shower Pinterest Board:
Wanna throw a Nautical baby Shower or Birthday Party?
The Printable Nautical Baby Shower Collection is available for purchase in my shop:
Here are some helpful links for throwing a Sailboat Baby Shower:
RELATED POSTS FOR NAUTICAL PARTY DECOR:
Thank you for reading our Nautical Baby Shower Ideas!