Rock n Roll Baby Shower: Rockabye Baby. Let's celebrate moms-to-be with a rock & roll theme. Today I'm sharing a vintage rock & roll baby shower. Be sure to check out all our rock & roll ideas and baby shower inspiration.
I recently had the honor to work with the oh so sweet and super creative Bridget from Bridgey Widgey on an AMAZING baby shower.
When Bridget came to me with her ideas for this shower, I instantly fell in love with the concept. The mixture of Teal and Red and Black Chevron is chic and modern while still having that "throw back vintage-y" feel from the vinyl and the graphics. I love the departure from traditional baby shower motifs with this rocker worthy set-up.
I love baby showers…they are so full of promise and hope and excitement for the new parents. I, however, like many others I have had the pleasure of working with, talking with, or having babies with, am not a fan of baby shower games. At my own baby shower, my well meaning hostess had a super fun idea to sample baby food and guess what each flavor was…this, unfortunately for me, coincided with a third trimester return of the dreaded morning sickness…you can imagine the rest, I'm sure, but in the least I think I managed to keep my "reaction" to the game secret (of course until she reads my blog…sorry, I loved the shower anyway!!) So if you also have a "reaction" to baby shower games…you will love this piece as an alternative to the traditional games…
Here are some of the highlights from the shower:
Yummy vinyl record cookies with Shake, Rattle and Roll Flags…
Kool Aid popcorn (Click on the link for a tutorial on how to make this awesomeness)
More straw flags and water bottle wraps for the future rockstar…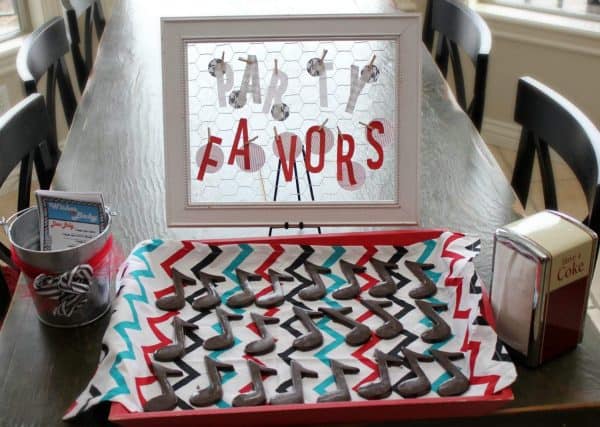 Anybody want some potato "picks"???
Bridget did such an amazing job styling this party…check out her full Rock n Roll Baby Shower for more details.
Be sure to check out all our rock & roll ideas and baby shower inspiration.
The Rockabye Baby Shower Printable Party Package is also available for purchase in my shop.