Printable Valentines that a perfect for kids and classrooms!
Valentine's Day: Clever FREE Printable Valentines. Valentine's Day is fast approaching and I'm sharing some fun and clever valentine's ideas and free printables today.
Looking for Emoji Valentines? Check out these Arrow Valentines, these Mustache Valentines and this fun Valentine's Day party.
So valentine's day…you love it or you hate it. I never really get into the whole romantic element of valentine's day myself…but I'm a sucker for the cute, clever, cheesy side of valentines. School valentines are the best.
Don't have time to print Valentines?
☑️ Don't worry if you don't have time to make or print valentines…you can always grab some from
Target
!
They are nothing like they used to be when we were kids. I remember in elementary school buying the cheap little valentines you punched out and writing all my classmates names on them. I always had two tiers of candy too.
We HAD to give everybody in class a valentine, but I would give the best candy to the kids I liked and the other candy to the ones who weren't my friends. Not the nicest thing I could have done, I suppose!!
FREE Printable Valentines
Now valentines are so much more complex and often homemade. It can be intimidating taking them for the first time, not knowing what all the other kids are bringing.
The coolest part though, are all the awesome ideas and freebies out there to make creative one-of-a-kind(ish) valentines for your kids that stand out without too much effort!!
Last year, my Aubrey took cute bee shaped crayons with tags that said "BEE mine"…this year, I am super excited about her valentines (HINT: whiskers), but I'll share those next week.
Here are some printable CLEVER valentine ideas…
Wheelie Like you Valentine from Glued to my Crafts
Race Car Valentines from Where the Smiles Have Been
Arrow Valentines from Mimi's Dollhouse
This is how we roll Valentine from Project Nursery
Bubble Valentine from Passion for Savings
Play Doh free printable Valentines from Grace and Good Eats
One in a Melon Valentines from Mimi's Dollhouse
Cootie Catcher Valentines from Atta Girl Says
Mustache Valentines from Mimi's Dollhouse
Starburst Valentines from Yellow Bliss Road
Poppin' Good Time Valentines from Glued to my Crafts
You're a Cutie Printable Valentines from Mimi's Dollhouse
Star Wars free printable Valentines from Wit and Wander
Emoji Valentines from Mimi's Dollhouse
Dinosaur Valentines from About a Mom
I've Got My Eye on You Printable Valentines from Mimi's Dollhouse
Want the free valentine tags? You can download them here for FREE:) They come in both the tag shape (as shown) and 3″ circles.
Download the circle Sunglasses Valentine's tags
Download the tag shaped Valentine's tags
You're All Write Valentines from She Wears Many Hats
Crayons Valentines from Crazy Little Projects
Tic Tac Toe free printable Valentines from Nest of Posies
Pencil Valentines from Postively Splendid
Glow Stick Valentines from Kommunicated
Minecraft Valentines from Meet Penny
Trading Card Valentines from Thirty Handmade Days
Bullseye Valentine from Positively Splendid
Hoppy We Are Friends free printable Valentines from Lil Luna
Just my TYPE valentines from Dwellings by Devore
These are cute and cheeky, but still kind of sophisticated. Perfect for an older child as well.
School Valentines from I Heart Nap Time
These are adorable and very inexpensive. Great for kindergarten!!
Whoopee Valentines from Paging Supermom
ok…serious fun, right! Just don't be surprised if the teacher isn't happy with this one!!
Peanut Butter and Jelly Valentines from Hostess with the Mostess
These are sweet and girly. My babies would love to get this one. Especially if it came with the sandwich.
The Printable Hippie Valentine's Day Collection is available for FREE: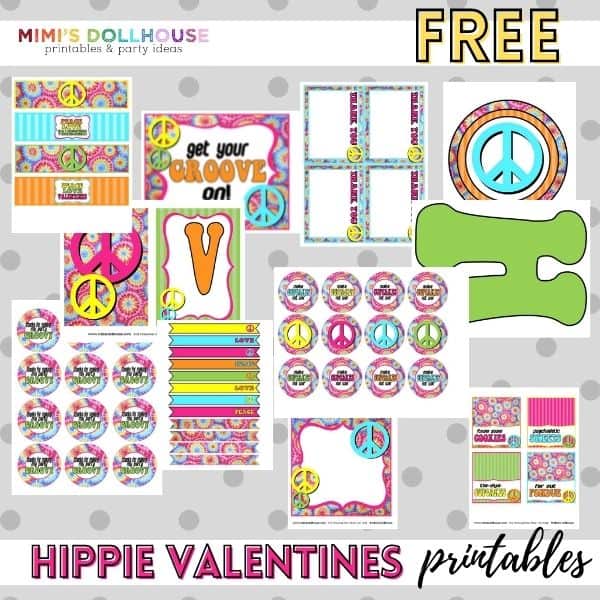 Free Love Birds Valentine's Printable Decorations from Mimi's Dollhouse
Free Printable Conversation Heart Decoration Package from Mimi's Dollhouse
These FREE Valentine's Day Printables are great for class parties and play dates. The Lovebirds collection is a fun mixture of aquas and pinks in various fun patterns and has a playful little birdie design to let your little valentines know you think they are "tweet" too!
The printable valentine cards are also double sided so your little one can address them personally to their little friends! I would love to see what adorable parties you use these FREE Valentine's Day printables to throw.
As always, if you have party pictures to share or would like your party to be featured on our website…send them on over to [email protected]. I absolutely LOVE seeing all your pictures and your creativity!
If you love these printable Valentines, save this image to your Valentine Pinterest board:
Here are some helpful links for putting together classroom valentines:
Valentine's Day Supplies and Partyware
Grabbing some adorably themed supplies and table ware can make styling your Valentine's Day party or serving your Valentine treats a snap. Budget friendly and fantastic…here are some AH-MAZ-ING options:
Valentine Hearts Tableware from Meri Meri
Valentine Hearts Plates and Napkins from Meri Meri
Rainbow Heart Plates from Meri Meri
Conversation Hearts Partyware from Oriental Trading
Ombre Heart Piñata from Sweet Lulu
Valentine Balloons from Amazon
Heartbeat Gang Napkins from Sweet Lulu
Heart Balloons from Target
Heart Plates from Target
RELATED POSTS FOR free printable valentines:
Thank you for reading our FREE Valentine's printables for kids!