Fall Party Themes that are perfect for birthdays and baby showers.
Fall Party Trends You'll Want to Try. With the season's change comes new party trends and opportunities. Check out the latest fall party trends and get inspired!
Looking for Thanksgiving party inspiration? Be sure to check out this Thanksgiving party, woodland themed desserts, pumpkin party ideas, and apple party ideas!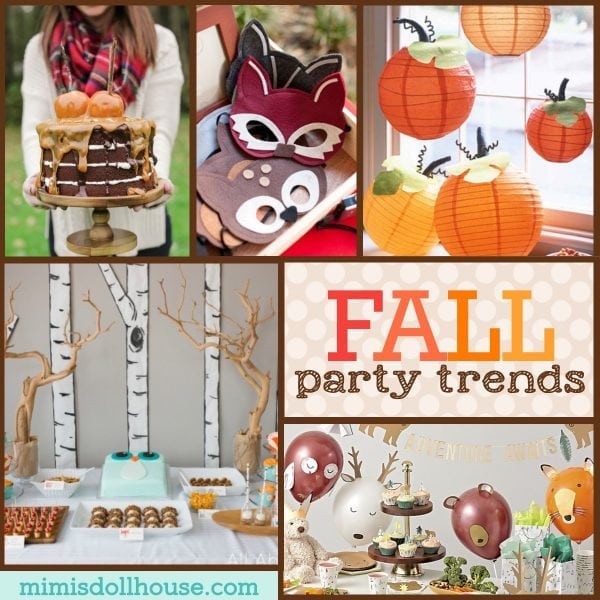 Fall…it's time for Autumn leaves and chunky sweaters and pumpkin spice lattes. Hands down, fall is my favorite season (unless it's summer….because then summer is my favorite. I might be complicated?)
Fall is so much fun. There are so many amazing fall party ideas and that truly make parties in the fall stand out.
Whether you are decorating for Thanksgiving, or a fall birthday or just a casual get together with friends…there are some gorgeous and festive fall party trends to get your creative juices flowing.
Let's give your guests something to talk about all season long!! Let's check them out…
Fall Party Trends: Woodlands
Woodlands creatures is such an adorable theme! I particularly love it as a baby shower party idea. It's perfectly unisex and the colors can be done in so many different palettes.
It's perfection. I have some adorable Woodlands party printables that can be used to compliment any party table. Here are some of my favorite Woodlands party ideas:
Naked Woodlands Cake from Pinterest
So this cake is beautiful. I absolutely LOVE naked cakes right now! Firstly, they are so rustic and gorgeous and super on trend. But, secondly…they are sooooo super easy.
No crazy icing on this cake…if you can bake cakes and fill layers…you can make a fabulous naked cake. Just add forest animals!!
Boho Enchanted Forest Party on Catch My Party
This is beautiful. I love all the wood accents and the greenery mixed with the brightness of the white. I love using white in table designs like this.
It really helps to brighten up the spread and allow details to really pop. One fall party trend you will see in this table is the use of natural decor. Logs and pine cones and moss, oh my! Love this!
Woodlands Creatures Birthday from All About Ami
This party is to die for. All of the handmade details are fantastic. And those hand-painted aspen trees on the wall behind the table are one of my favorite things! The bright colors mixed into this design really make it stand out!
Woodlands First Birthday from Sooti and Sweet
Throwing a Woodlands birthday party? Why not make so adorable forest animal felt masks? Your little "creatures" are sure to love these. Honestly, though…this whole party is fantastic. Be sure to check it out!!
Adventure Awaits Party from Crate & Barrel
I love the idea behind these DIY balloons. Decorations don't have to be expensive and they don't have to be fancy. Sometimes the simplest item can be used to DIY an adorable fall party idea.
Like these woodlands animal balloons. Genius!
Man Cub First Birthday Party on Catch My Party
This party is so good. The colors are black and white and when that is mixed with wood it gives such a modern and natural feel. I love focusing on the little "man cub" and of course…there is a naked cake.
Loving it! I love all the bear figures too!
Fox First Birthday Party on Kara's Party Ideas
I adore little foxes as first birthday party ideas. Foxes are mischievous little critters and their natural coloration and cute little faces are so perfect to pair with fall colors and celebrate your little playful cutie.
Be sure to grab our fox party printables in blue or fox party printables in pink.
Coordinating Woodlands Party Supplies
Here are some fun and adorable party supplies and tableware to help bring your forest animal party to life:
Woodland Party Tableware from Oriental Trading
Woodland Party Supplies from Meri Meri
Centerpieces from Target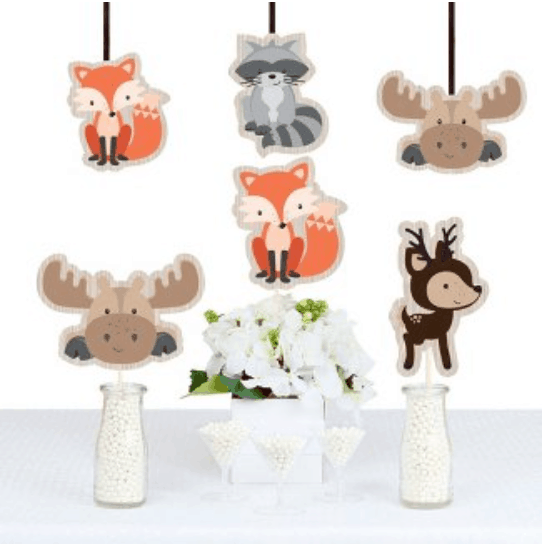 Woodlands Party Tableware from Amazon
Woodlands Partyware
from
Amazon
Don't you just love the woodland animal ideas (and the naked cakes!!) Check out these other woodlands themed desserts. Be sure to all grab some Woodlands party printables.
Here are some helpful links for throwing woodlands party:
Fall Party Trends: Pumpkin
What's fall without some pumpkin…I mean seriously! September hits and it's pumpkin, pumpkin everywhere and we aren't just talking about my coffee cup!
Pumpkin is not only an amazing flavor, but a great theme for a party. Celebrate your little pumpkin with a pumpkin baby shower or a pumpkin birthday.
Get some help along the way with pumpkin party printables. This is definitely one of my favorite fall party trends.
Simple Pumpkin Cake from Pinterest
This cake is cute and sweet and so simple. Those are the best kind, right! Add a simple burlap cake topper and some pumpkins to a simple cake! Instant adorable!
Little Pumpkin Baby Shower from See Vanessa Craft
Who says pumpkin themed have to be dark and brown and woodsy? Not this party. The mixture of blue and bright orange with lots and lots of white it so fresh and modern.
I love it! Especially those pumpkin centerpieces!!!
Pink Pumpkin Party from Creative Juice
If you are celebrating a little girl this fall…why not try pink pumpkins? They are fun and girly and definitely a different way to say "happy fall, little pumpkin!"
Did you know my pumpkin printables also come in pink? Hint..they do! You can get honeycomb pumpkins in pink and also pink velvet pumpkins too!
Pumpkin Patch Party from Simple Little Details
Perhaps the most classic, and yet still on trend fall party idea is the pumpkin patch. Grab some hay bales and some assorted pumpkins and invite your guests to a backyard pumpkin patch.
It's such a fun theme and you can definitely make some pumpkin pies afterward!!!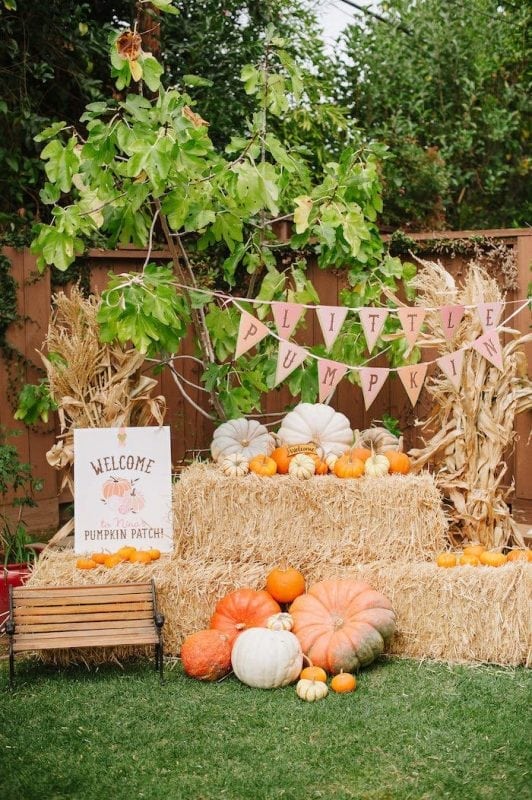 Gold Glitter Pumpkin Party on Kara's Party Ideas
Here is another take on a pumpkin party using gold glitter pumpkins! There are so many ways to dress up a pumpkin with gold glitter.
Where you want to buy the gold pumpkins or spray paint them yourself. Add some bling to your party decor with gold glitter!!
Pumpkin Lanterns from Martha Stewart
These paper lantern pumpkins are adorable. Did you know you could make adorable floating pumpkins from orange paper lanterns? Easy peasy and perfect for a fall party!!!
Gold Pumpkin Dinner Party from A Pumpkin and a Princess
Here is another gorgeous gold pumpkin party. Take your fall dinner parties to another level with hand painted gold pumpkins as your table's centerpiece.
Mix in some gold dipped pinecones and wood and boom…fall gorgeousness!
I love all the pretty pumpkins…don't you? Check out all of these pumpkin party ideas and pumpkin themed desserts. Be sure to also grab some pumpkin party printables.
Coordinating Pumpkin Party Supplies
Here are some awesome party supplies and party tableware options for a pumpkin themed party:
Ombre Pumpkin Plates from Meri Meri
Pumpkin Party Tableware from Oriental Trading
Pumpkin Napkins from Meri Meri
Pumpkin Sprinkles from Sprinkle Pop Shop
Here are some helpful links for throwing a pumpkin party:
Fall Party Trends: Apple
If apple cider and apple picking are what get you excited for fall…then this is the fall party trend for you! Apples, galore!!! Grab some apple party printables and let's get picking!
Simple Rustic Apple Dinner Table from Little Green Notebook
Apples as candles? Sure, why not. You can buy actual apple candles…or you can also hollow out real apples and put tea lights in them. Whichever strikes your fancy:)
Apple of Our Eye Party on HWTM
If pretty and pink and very clean is your idea of the perfect party…then this is the party for you. I love the gingham details and the pink apples. so cute!!
Apple of Our Eye Baby Shower from Lux Events
This modern, yet rustic apple party is beautiful. I love the green apples everywhere. That hand painted backdrop is perfection!!!
Apple Balloons from Studio DIY
Do you have some red balloons and five minutes? Then you can do this simple DIY to make Beautiful apple balloons! You have to try it!!! These would be perfect for a party entryway or as centerpieces on tables or even just as a photo op!!
Caramel Apple Cake from Pizzazzerie
Can you say yum? This caramel apple naked cake (I warned you about my love for naked cakes, right?) is so amazing and looks so delicious. I think I'm planning an apple party just to try this cake!
LOVE. LOVE. LOVE.
Autumn Apple Picking Party on HWTM
Apple picking is not just a fun fall activity…it's also a killer party theme. There are so many awesome ways to dress an apple and if you happen to have some apple trees available.
Why not make this adorable theme for your next party? I mean any excuse for mini apple pies, right!!
Coordinating Apple Party Supplies
Here are some simple and cute apple party supplies to help you plan your party:
Apple Garland from Oriental Trading
Apple Plates from Sweet Lulu
Apple Balloons from Sweet Lulu
Apple Straws from Party Chic
Apple Garland from Amazon
Yummy apples!!! Looking for apple party food ideas? Be sure to check out these awesome ideas for candied apples. Be sure to also grab some apple party printables.
Here are helpful links for throwing an apple party:
Looking for ideas for Thanksgiving-themed treats and desserts? Be sure to check out this Thanksgiving party, these pumpkin party ideas, and these apple party ideas!
If you love these ideas, please pin this image to your Fall Pinterest board:
RELATED POSTS FOR Fall Party IDEAS:
THANKS FOR READING OUR Fall Party Themes!