Pumpkin party ideas and desserts for fall.
Pumpkin Recipes: Pumpkin Party Food Ideas. Yummy pumpkin recipes and pumpkin desserts to set your pumpkin party apart from the rest!
Are you throwing a fall themed party or looking for candy corn party ideas? Be sure to also check out our pumpkin party ideas, apple party ideas, and woodlands creatures party ideas!
Are you pumpkin obsessed? I'd be lying if I said we weren't a little pumpkin obsessed over in my home. I love everything pumpkin from the pie to the porch decor!!!
I think a pumpkin theme is absolutely adorable for a fall birthday party…especially if you have a little one. A cute little pumpkin party is definitely what the pumpkin spice latte drinking doctor ordered this fall!
Throwing a pumpkin party? Check out our pumpkin party printables!
There are tons of pumpkin party ideas and decorations that you can use to make an amazing pumpkin-themed party…but there are also a bunch of fun pumpkin recipes and pumpkin themed desserts.
Today I have some of my favorites to share with you!! Here you go…
Pumpkin Desserts
Pumpkin Cupcake from One Charming Party
I love these cute little cupcakes. They would be super easy to make…all you need is orange sanding sugar and green sour straws to add to your cute cupcakes.
If you are looking for some awesome orange cupcake wrappers…the best selection is over at Sweets and Treats!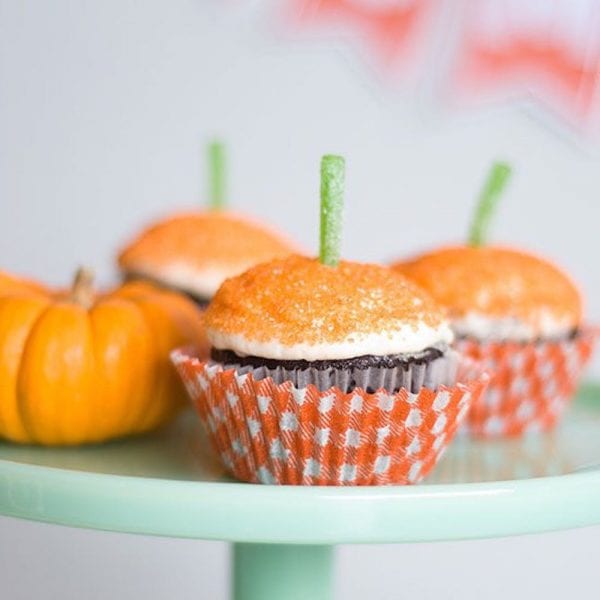 Pumpkin Creampuffs from A Farmgirl's Dabbles
Umm…can we say pumpkin deliciousness? These look perfect!!
Pumpkin Cupcakes from Sunshine's Kitchen
I love these fun little pumpkin cupcakes. So sweet and almost too adorable to eat!!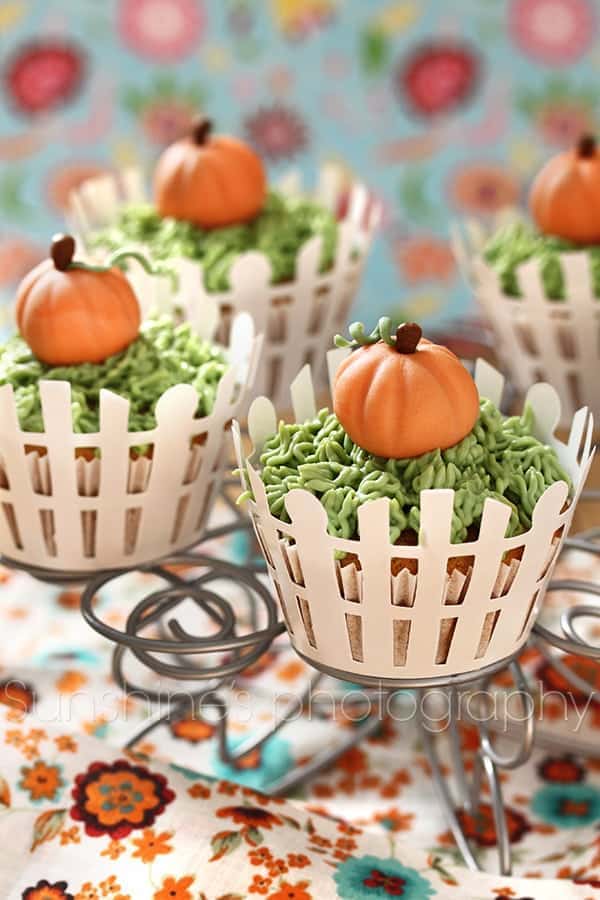 Marble Pumpkin Cookies from Merci Bakery
How about some yummy marbled pumpkins? These pumpkin cookies with fun fall leaves would be awesome for Thanksgiving too!
Pumpkin Pretzel Bites from Two Sisters Crafting
These would be perfect for little ones to snack on for a pumpkin party treat!! I mean who doesn't love M&M's on pretzels??
Royal Icing Pumpkins by Sugarbelle
These are not only super cute, but super yummy! Isn't the icing the best part anyway? Making these little pumpkins is easy enough, I think I can even pull it off…and I mess up sweet things all the time!
Pumpkin Cake from Mom Loves Baking
This cute cake can easily be made with or without the jack-o-lantern face. What a fun pumpkin cake idea to make!!!
Pumpkin Patch Dirt Cups from I Can Teach My Child
These are adorable. Yummy cookie crumb dirt cups with a pumpkin feel! Yes, please!!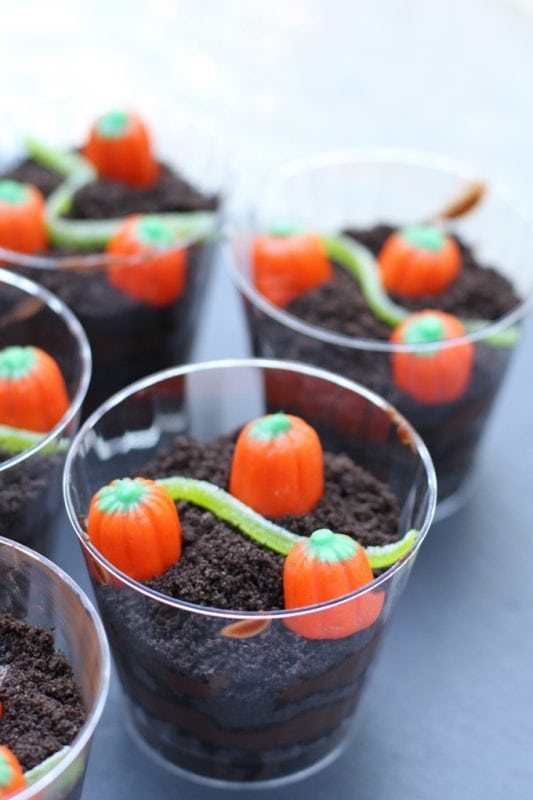 Pumpkin Oreos from Mimi's Dollhouse
Looking for an easy pumpkin treat? These pumpkin oreos are super simple and super yummy!
Pumpkin Cookies from Sweet Arts Sweets
Looking to have some yummy pumpkin cookies made for you? You must check these out. They are adorable!!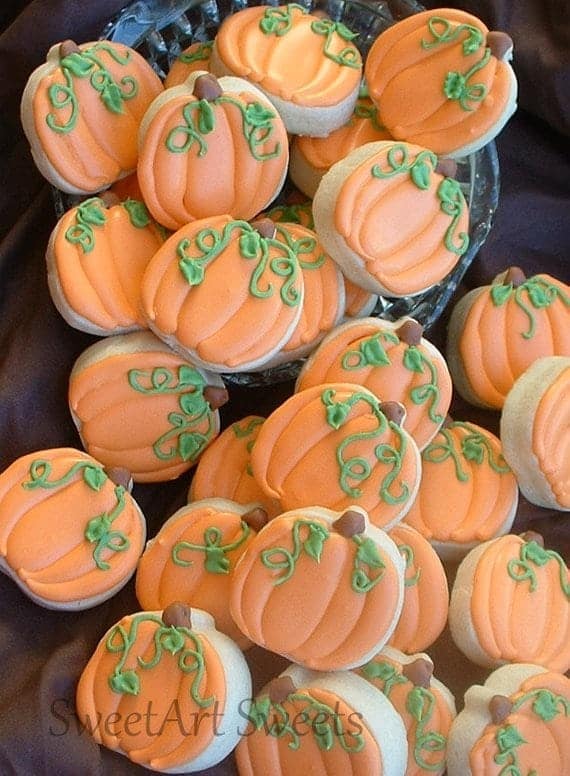 Pumpkin Pretzel Bites from The Spruce Eats
Here is another easy pretzel option to make for the kids (or for yourself…you can also just make them for yourself.)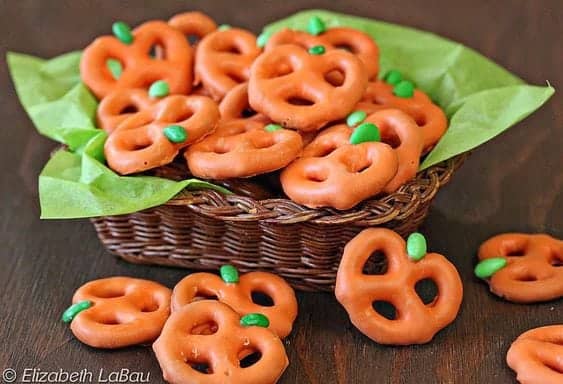 Pumpkin Food Ideas
Pumpkin Cupcake Poppers from The Bearfoot Baker
Aren't these cupcake poppers such a cute idea? I think these little pumpkins look soooo delicious!!!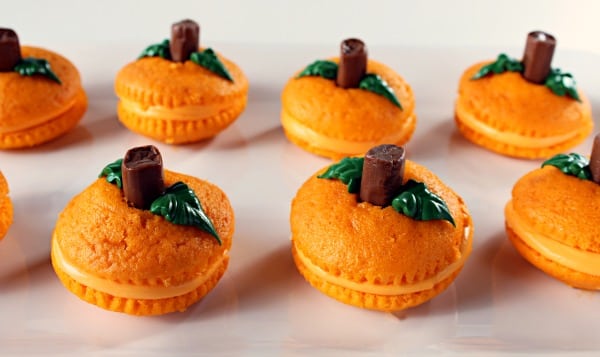 Pumpkin Cake Pops from Clever Housewife
So your pumpkin party is definitely not complete without some cute little pumpkin cake pops…especially if they are this easy to make yourself!!!
3-D Pumpkin Cookies from Glorious Treats
These fun cookies have a little surprise inside. They are fun and the kids would LOVE them!
Mini Bundt Cake Pumpkins from One Little Project
I'm kind of in love with these…they are so cute and look so unbelievably yummy!
Pumpkin Cupcakes from Mimi's Dollhouse
Want some easy cupcakes that look like little pumpkins? This is the tutorial for you…seriously, super, duper easy!
Pumpkin Rice Krispies Treats From Cincy Shopper
Aren't fun rice krispies adorable…check out this easy peasy pumpkin recipe tutorial.
Pumpkin Lollipops From Sweet Sugarbelle
This adorable treat is so easy its almost not fair…who knew you could make a simple lollipop so adorable?
Pumpkin Cheese Ball on Kara's Party Ideas
Not all pumpkin treats have to be sweet…how about a pumpkin shaped cheese ball…come on son!!!
Here are some helpful links for throwing a pumpkin party:
Are you throwing a fall themed party or looking for candy corn party ideas? Be sure to also check out our pumpkin party ideas, apple party ideas, and woodlands creatures party ideas!
Check out our pumpkin party printables!
If you love these pumpkin desserts…pin this post to your Halloween or Fall Pinterest board!!
Related Posts for Pumpkin Dessert Ideas:
Thanks for reading our Pumpkin Desserts + Party Ideas!