Construction Trucks and Dirt Movers and Dump Trucks for a fun boys' birthday party!
Construction Party: Dump Truck Party Ideas. Dump trucks, Dirt movers and orange cones galore! This dump truck party is full of adorable ideas!
Looking for Construction themed desserts? Check out this construction party, this construction birthday party, these construction party ideas and these construction party games.
I love parties for little boys. I really do and I wanted to share a cute one with you today. Maybe it is because I only have girls and we get TONS of princess, girly, frilly, pink stuff thrown at us all the time.
Maybe it is because I am full blown in the mist of a Storybook Princess Party. Maybe it is just 'cause I like little boy parties.
Is there anything more perfect for a little boy than dump trucks?
I mean really, think about it:
Big truck that makes lots of noise…check
Dirt…check
Hard hats and walkies talkies…check
It' s a match made in little boy heaven. Just like this party from Triple M Good Parties… Nikka from Triple M Good Parties is one talented mama!! I love her parties and all the fun ideas she has.
Like this Dump Truck Party she styled for her son Max's second birthday…
Don't you love the homemade birthday banner….and check out these cute Fondant toppers!
Here's what Nikka had to say about the party:
"My son Max has always been obsessed with big trucks. Every dump truck that we pass he says, whoa! Lucky for him I know a lot of friends who work with heavy equipment.
It was the topper to a great 2nd birthday to have a huge dump truck with a crane surprise Max for his party.
I made all the decorations for this party, including the invitations, place mats, all the food and all the desserts.
The fondant toppers for the cupcakes where made by Cakes and Kids. They fit perfect for the theme."
Here's Max in his real life dump truck! Isn't that the coolest idea? I also love the fuel up drink station…so clever.
The matching Dump truck shirts made by the incredibly talented Rachel from Golden Shop. (She also made my daughter's penguin shirt and the Bee Mine shirts they wore for Valentine's Day)
I LOVE, LOVE LOVE the little hard hats with the names on them…what a great idea!
Thank you Nikka for sharing your awesome party with us!!!
Here are some helpful links for throwing a construction party:
Vendor Credits:
Party Styling, Decorations and Theme: Triple M Good Parties
Custom Dump Truck Shirts: *Golden*
Fondant Cupcake Toppers: Cakes and Kids


RELATED POSTS FOR CONSTRUCTION PARTY IDEAS:
If you love this party, pin this image to your birthday Pinterest board: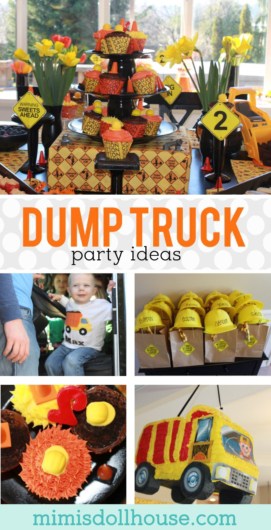 Wanna throw a Dump Truck Party?
The Printable Construction Party Package is available in my shop:
Thank you for reading our dump truck party ideas!