Ideas for planning a Blippi Party
Looking for a fun party theme for your little one? If he loves Blippi…he will love this orange and blue party theme full of Blippi themed decorations and ideas! From giant orange glasses to balloons galore, these Blippi party ideas are sure to excite any Blippi watching boy or girl!
In our home, it's not a complete day without someone singing "I'm an exca-vaaaa-toor" while running through the house. If you have a similar situation, you have probably started thinking about adding Blippi into your little one's birthday.
Throwing a BLIPPI THEMED PARTY?
☑️ This
Blippi Party Kit
is the perfect set to get your party planning headed in the right direction!
Fortunately, there are so many ways to add little Blippi gems all throughout your party decorations!
Here are some awesome Blippi party ideas and fun Blippi themed decorations that can make your party into an amazing event!
RELATED: Blippi Cakes, Cookies + Desserts
Blippi Party Ideas
One of the best things about Blippi, is that he uses things kids are already into and kid-friendly activities in his videos. This actually makes planning a Blippi party soooo easy.
Blippi is already perfect for a party with a ball pit or indoor play area. You can also add Blippi easily into construction themed parties, car/truck themed parties and more.
Here are some quick links to parties that could easily be adapted to include Blippi:
You can also use balloon animals, popsicles, cupcakes, and other fun, simple party things and they coordinate with a Blippi video.
Isn't it great when a party just plans itself?!
Blippi Party Decorations
Let's look at some absolutely adorable Blippi party ideas now that you can do for your own birthday party…
Blippi Party Table from Parties by Peggy and Trisha
How perfect is is this party table? It is simple and made with inexpensive materials, yet perfectly captures the Blippi vibe.
Blippi Balloon Arch from Sweet Amy Shop
Ok, who doesn't love a great balloon arch? This is super cute and pulls the colors in so nicely.
Blippi Party Backdrop from Pinterest
Here is another super simple, yet perfectly on theme dessert table backdrop. Love those giant glasses!!
Blippi Balloon Figure from Jigsaw Entertainment
Remember that episode where Blippi visits the Balloon artist? Make your own Blippi balloon figure…adorable!!
Blippi Centerpieces from Her Party Pants
Here is a great and budget friendly way to dress up centerpieces, jars of candy or literally anything you are using for your party. Easy and fun!!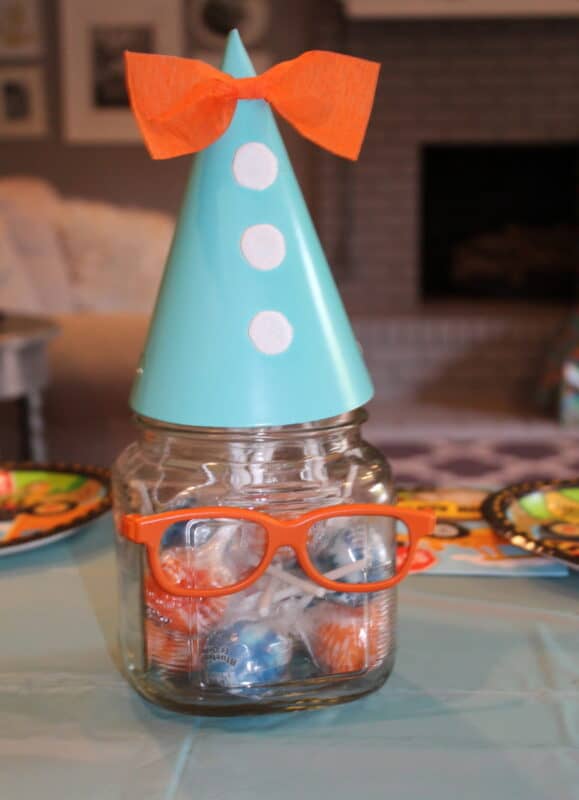 Blippi Party Supplies
Along with party decorations, you also need some fun Blippi party supplies to make your party complete. Check it out…
Blippi Piñata from Puerto Piñata Chile
These little piñatas are great for party treat, favors or an activity. So much fun!!
Blippi Favors from Pinterest
Easy and inexpensive party favors for the win. All you need is a little treat bag and some ribbon!
Blippi Cupcake Holder from Parties by Peggy and Trisha
Here is a fantastic way to turn an ordinary cake stand into a Blippi ball pit Cupcake stand. Hot glue those balls together and add them to the party supplies you have on hand for an instant treat!
Blippi Bowtie Napkins from Her Party Pants
These cute little bowtie napkin rings are perfect for a Blippi theme…especially coupled with the construction tableware. Celebrate your little one's love of Blippi and Big trucks!!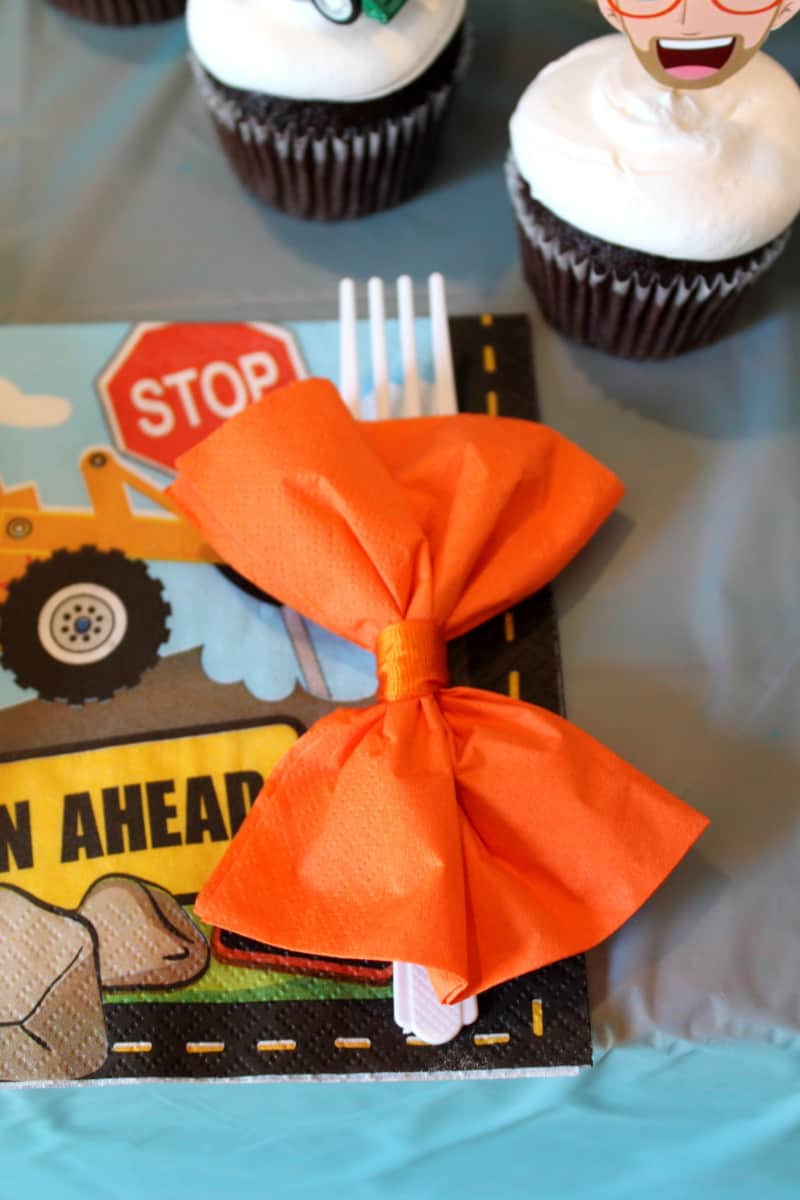 Blippi Bookends from Pjs and Paint
This easy DIY craft would be great as centerpieces or on dessert tables. So much fun.
Blippi Dress up from Target
Here are some easy items to help your birthday boy or girl (or even all their guest) dress up like BLippi. Super cute, right!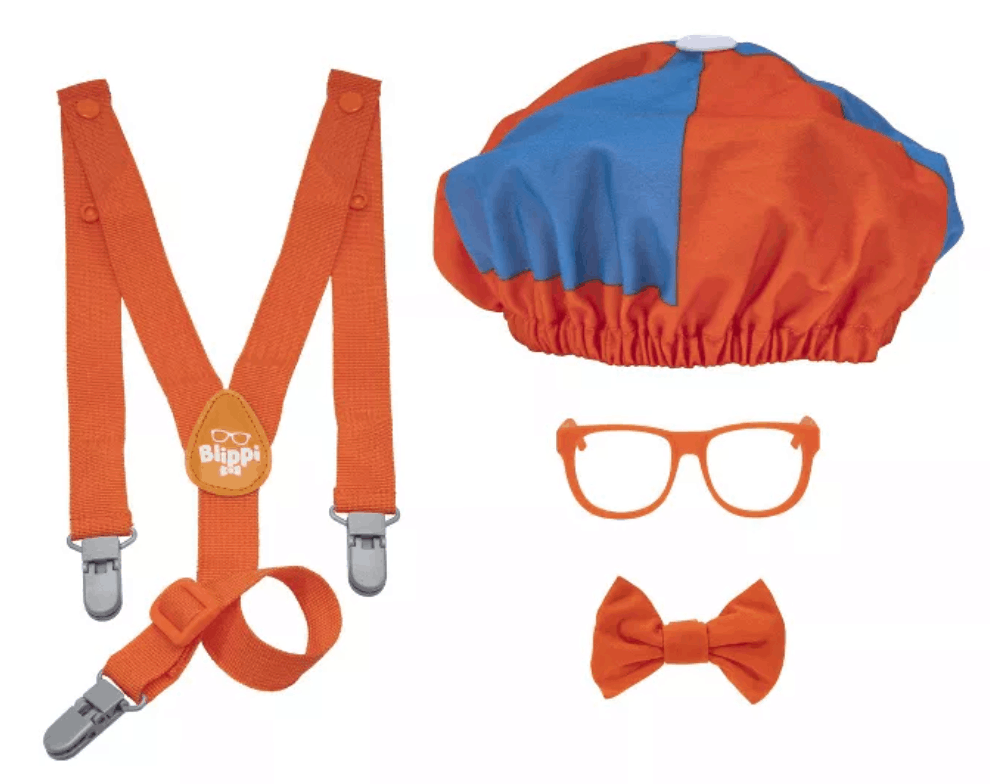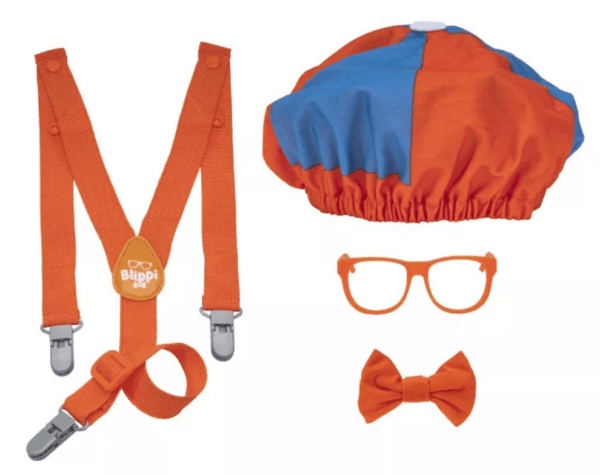 Blippi Party Tableware
Setting up your party tables and serving your delicious food does not have to be complicated. Here are some simple and adorable decorations and party ware that will help streamline your party planning!
Blippi Tableware and Decor from Amazon
Blippi Supplies and Tableware
from
Amazon
Blippi Tableware
from
Amazon
Blippi Party Printables
Don't forget that simple printables can be a great way to personalize and jazz up your party. Here are some excellent options…
Blippi Party Printables from Charlotte Rose Papier
Blippi Party Printables from Kid Zone
Blippi Invitation from Crispy Art
Blippi Invitations from Charlotte Rose Papier
Here are some helpful links for planning a Blippi party:
Conclusion for Best Blippi Party Ideas:
If you love Blippi, you will love these Blippi ideas for a birthday. From fun decorations to easy party favors…we have all the Blippi party ideas you need to plan an awesome day for your little Blippi fans!
If you love these ideas, please pin this image to your birthday Pinterest Board:
Related posts for Blippi themed party ideas:
Thank you for reading our Blippi party decorations and ideas!