Polka Dot Party: Mickey's Bouncy Ball Party.  Looking for a party theme to match your little cutie's personality? Bouncy ball is such a fun party theme for a little boy!  It's sure to be a hit! Be sure to check out all of our party ideas for boys!
I love getting photos from happy clients!  Did you know you can submit your party photos to be featured on Mimi's Dollhouse?  It's my favorite, ever!! This adorable bouncy ball party for  Mickey was styled by his mother Marla using my Dots Party Printables.
Here's what Marla had to say about Mickey's party:
"Everything was obviously centered around bouncy balls. We made round sugar cookies. The favors were filled with gum balls. Mickey's M initial was all gum balls hot glued on too. My favorite (and his too) was the ball pit. We had tables set up outside and there was a cover tent in the middle. We had the ball pit set up there. I hung the Happy Birthday Mickey behind it…Besides the mason jars filled with gumballs for favors, all the kids got a big bouncy ball that had their name on it. These were all in the ball pit area. Loved how the month banner turned out too. Our thank you's said 'thanks for bouncing over to my party and rolling presents my way. Because of you, I had a ball!! Love, Mickey.'"
I love the bright colored icing on the cupcakes and how they coordinate with the cupcake toppers.
Here are the adorable sugar cookies also in the bright primary colors.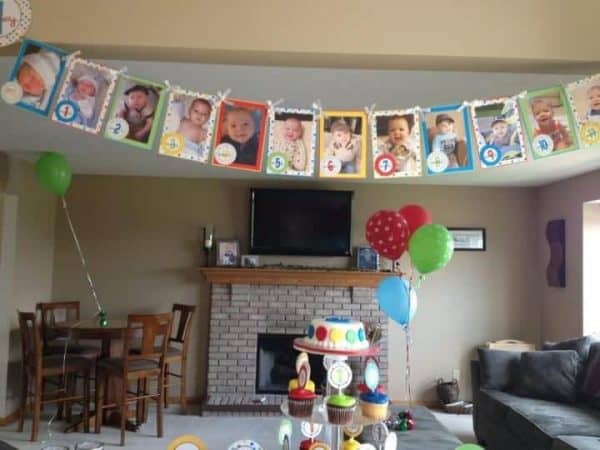 Here's the birthday boy enjoying his smash cake….I love these smash cake pictures!!!  So cute…
Gumball filled mason jars as party favors:) 
And of course, the adorable gumball covered "M" centerpiece…
Here are some helpful links for throwing a bouncy ball party:
Thank you for sharing your adorable "Bouncy Ball" party with us!!
The Printable Polka-Dot Party Decorations are available for purchase in my shop: