Adorable Owl Birthday Party Ideas
Looking for some adorable and super easy owl party ideas? These amazing little owl's are perfect for a look "Whoo's" on their way or Look "Whoo's" Two! Themed party. Check out all the fun ideas!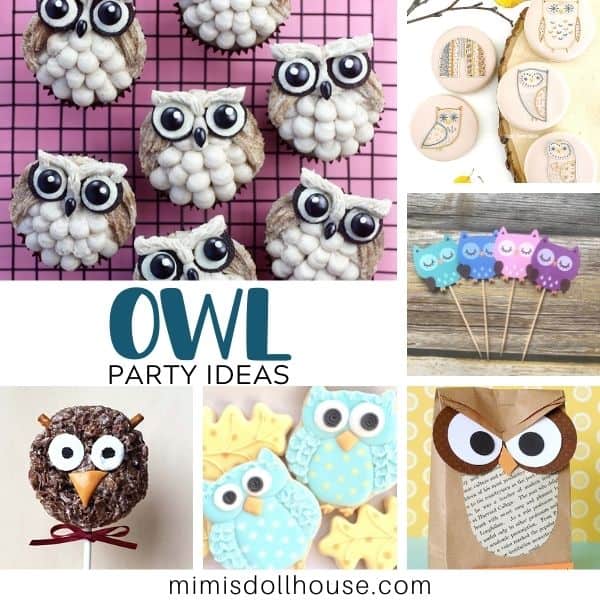 Lately my girls have been on a Tinkerbell kick. I think we have watched Tinkerbell and the Lost Treasure a million times.
In the movie, there is this scene where the boy fairy is talking to an owl getting some advice…he blabs on and on and the owl says "Whoo" and the fairy rambles on some more and the owl says "Whoo"…this is repeated a few times.
The fairy boy then exclaims "You really are the wisest of all the creatures" (or something like that…I'm too lazy right now to actually look up the dialogue).
Owl Party Ideas
Anyway…this scene got me thinking about owls and how owls are seen as wise. I think it's the eyes. The big wide eyes just seem to see EVERYTHING.
Owl parties are an awesome fall party trend. They are perfect for both birthday parties and baby showers…. There are so many possible variations and color schemes and possibilities with owls.
I really love the oreo owl eyes:)
Owl Cakes
Let's start with some cute owl cake ideas.
Owl Cake from Cake Central
Here is a fun DIY cake that anyone can make. I love those big owl eyes, don't you?
Owl Cake from Pull Out a Plum
Little fondant owls as a cake topper are also a super fun ideas for any party.

Owl Cupcakes
Owl cupcakes are probably one of the easiest and most popular ways to make the cute little owl the centerpiece of your dessert table.
DIY Owl Cupcakes from Fork and Beans
These are super adorable and easy to recreate. Love the slivered almonds.
Owl Cupcakes from Bakerella
These are definitely a little more complicated, but they LOOK fantastic.
Owl Cupcakes from Martha Stewart
Here is another simple option. Love the Oreo eyes!
Owl Cupcakes from Stylish Eve
Here is a slightly spookier version of the Oreo eyes. So fun!
Owl Party Desserts
Of course, there are lots of dessert ideas that aren't cupcakes and cakes. Let's look at some of the best!
Owl Krispies from Cookies and Cups
These are my favorite. I love how simple they are, yet absolutely perfect for an owl themed birthday or baby shower.
Owl Cookies from Joy of Baking
Adorable royal iced cookies are ALWAYS a good idea for a party!
Owl Reese's from Inside Bru Crew Life
Oreos and Reese's for the win with these cute little treats!
Owl Cookies from Daniella's Desserts
Here is another gorgeous set of owl cookies! Love them!
Owl Cookie Cutter from Teesa's Baking Supplies
Looking to bake your own cookies? Then you NEED this cookie cutter! So cute!
Owl Cookies from Sugar Pearls Bakes
The simplicity of this design mixed with the intricate icing lines makes them absolutely perfect!
Owl Party Decorations
Now that we have explored some fun food options, it's time for the decor. No party is complete without some awesome decorations!
Girly Owl Party from Anders Ruff
This sweet setup is a great way to party owl style!
Owl Garland from Forever Oh So Crafty
Here is a simple and fun Owl garland that would be great for a party table or photo backdrop.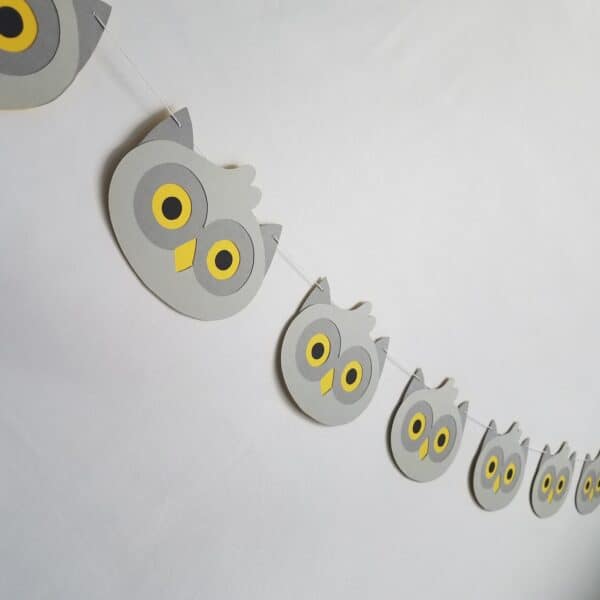 Owl Birthday Party from Catch My Party
Here is another fun way to set up an owl dessert table!
Owl Cupcake Toppers from 4U
You can't go wrong with owl cupcake toppers.
Owl Pomps from The Little Party Shop
Looking for some fun decor? These poms are a great addition to any owl party design.
Owl Party Supplies
Once you have the decorations in order, be sure to check out these activities and favors ideas. You will love these options.
Owl Activities from Kids Activities Blog
Here is a fun way to get your kids crafting during your party.
Owl Treat Bag from Lisa Storms
These would be great favor bags, or even a DIY activity for a party.
Owl Favor Bag from My Party Palette
These fun, colorful favor bags are great for a party.
Owl Cupcake Toppers from Beautiful Paper Crafts
Dress up your cupcakes with some easy cupcake toppers you will love!
The Printable Owl Birthday Party Decorations are available in my shop.
Owl Party Tableware
Setting up your party is so much easier with some matching party tableware. Here are some great options for your owl party:
Owl Tableware from Oriental Trading
Owl Baby Shower Tableware from Oriental Trading
Owl Party Tableware from Amazon
Here are some helpful links for planning an Owl Party:
Conclusion for Owl Party Ideas:
An owl themed party is such a great idea for a baby shower or a birthday. If you love party ideas, you will love these owl themed options. Perfect for setting up a cute party theme with matching desserts.
If you love these ideas, please pin this image to your birthday or baby shower Pinterest Board:
Related posts for Owl Party Supplies:
Thank you for reading my Owl party ideas and treats!