Amazing kid-friendly Halloween Party Games!
Looking for some fun and clever ways to entertain your kids for Halloween? These awesome Halloween games and activities are exactly what you need for a Halloween party. Check out all the great ways to have a blast Halloween style!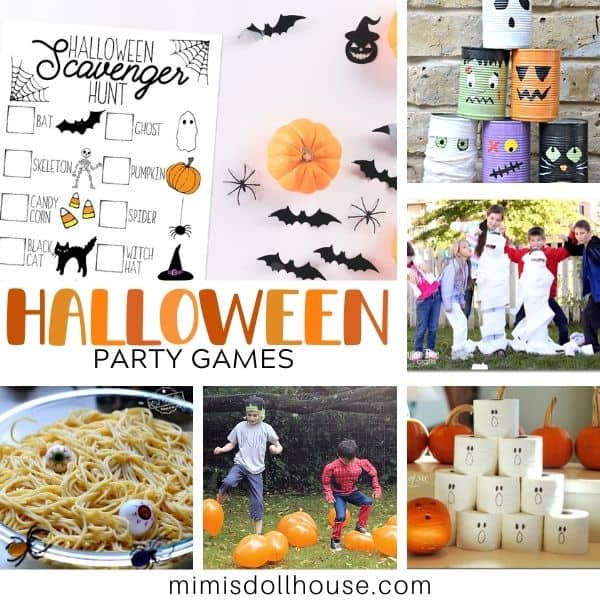 Can you believe it is already time to start thinking about Halloween? Seriously…I feel like Halloween just happened and it's been a year already. My girls are already thinking about their costumes.
We will be doing our annual Disneyland Spooky Night this year, so I won't be throwing a Halloween Party (sniff, sniff), but I will have some fun crafts and treats to share throughout the next month and a half. Happy Dance!!
I have put together a fun list of Halloween Game Ideas. What I love most about these ideas is how super easy they are.
For me, and I know for many of you, easy ideas=ideas that will actually get tried!
Halloween Party Games
Let's check out some super easy and amazingly fun games you can play for Halloween with your kids!
Eyeball Dig Game from Kid Friendly Things to Do
Good old fashioned spaghetti noodles and some plastic eyes for the win with this fun eyeball dig game!
Halloween Charades from Confessions of Parenting
Who doesn't love a great game of charades? This fun game will have you laughing all night!
Halloween Jep-arty from Pam's Party Printables
Customizable questions and some good Halloween fun. Your party guests will love this game!
Mummy Toilet Paper Game from Sugar Bees Crafts
Let's have some fun with toilet paper! This is easy, inexpensive and will result in some fang-tastic photos!
Halloween Bingo from Makoodle
First up, Halloween Bingo. Bingo is always a fun game and is easily played with kids and adults and a sure fire party pleaser. Plus, bonus…these printable cards are super cute…just don't eat the game pieces (ok, don't eat TOO MANY game pieces).
Pumpkin Stomp from Delia Creates
Looking for a fun backyard game? Let's have a pumpkin stomp! This will be so much fun!
Halloween Emoji Pictionary from The London Boys
Here is a fun game for an inside activity. This fun Halloween version of Pictionary is a great way to get your party guests into the Halloween spirit.
Halloween Marshmallow Toss from HGTV
Have some marshmallows? Then you have a simple and fun Halloween game almost completely planned!
Tin Can Bowling from Party Delights
This is a great activity that you can get creative with. Nothing beats recycled crafts!
Pumpkin Bowling Game from My Mix of Six
Here we have a fun and easy Pumpkin Bowling Halloween game. The cute faces on the toilet paper rolls are a great touch and these "pins" won't be loud or annoying as they are constantly knocked down. Score!
Halloween Activity Printables from Sweet Life Printables
Here are some super cute kid-friendly printables that you can download for your kiddos! Tons of fun!
Witch Pitch Game from Oopsey Daisey
Here is a fun Witch Pitch Carnival style candy tossing Halloween game. Show off your pitching skills, or perhaps just your pure dumb luck with this fun little game.
Murder Mystery from Bespoke Murder Mystery
If you are looking for a more elaborate game for the whole family, this murder mystery might be just the ticket!
Halloween Concentration Game from HGTV
My kids love playing concentration. This matching Halloween game from HGTV is fun AND full of awesome prizes. I love the eyeball tins and the water bottles for holding the treats. GREAT idea!
Scavenger Hunt from Thirty Three Designs
Here is an adorable Scavenger hunt you can do with your kiddos while you trick or treat. Amazingly fun!
Halloween Bingo from Twingenuity
Halloween bingo is a great way to enjoy some fun Halloween party time. This would be great for after tick or treating or even a Halloween birthday party.
Halloween Party Tableware + Supplies
Here are some amazing Halloween themed tableware and supplies to help you plan and set-up the best Halloween bash on the block. These are budget friendly and oh so perfect!
Vintage Halloween Supplies from Meri Meri
Halloween Tableware from Target
Vintage Halloween Supplies from Oriental Trading
Pastel Halloween Tableware from Meri Meri
Hocus Pocus Supplies from Sweet Lulu
Here are some helpful links for Halloween Parties:
Conclusion for Halloween Games for Kids:
If you need some great Halloween games for your next Halloween bash, these games are just what you need. Kid-friendly and ready to enjoy…you can't go wrong with these fun Halloween activities.
If you love these ideas, please pin this image to your Halloween Pinterest Board: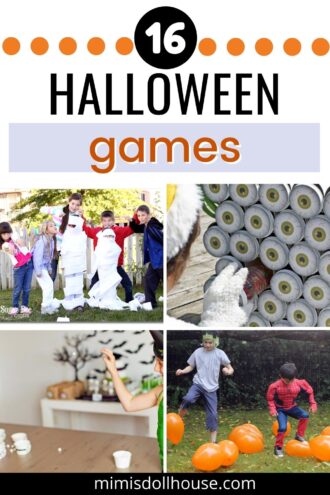 Related posts for Halloween Party Games:
H2 Header (include second most important keyword phrase)