Vampire themed appetizers and party ideas for kids.
Halloween: Vampire Party Desserts and Food Ideas. Want a Halloween theme you can really sink your teeth into?
Check out these Vampire Party Ideas for desserts and treats! Looking for Halloween treats? Be sure to also check out these recycled Halloween ideas, candy corn Halloween party, DIY Halloween costumes and grab some FREE cute Halloween printables!
If the idea of watching Dracula 100 times makes you giddy inside (or Twilight…I guess we could also say Twilight)… If you dream of having sharper teeth…
If you love the idea of fake bloody treats or find yourself saying "I vant to suck your blood" at social gatherings…then a Vampire party is just the fit for you!!!
Throwing a HALLOWEEN THEMED PARTY?
☑️ These
Halloween Party Items
are the perfect set to get your party planning headed in the right direction!
Another fun idea for a vampire party is to come up with clever vampire food names for the party snacks.
Vampire Themed Party Food Ideas
Personally, I love, love the bright red glossily accenting desserts. It is so fun and festive. Vampires don't have to be scary either. You can completely make a Vampire party super kid friendly.
So if Vamps are your jam, grab the FREE Vampire Printables and let's get partying Vampire style!!!
I've rounded up some of the best Vampire party desserts and vampire foods to sink your teeth into!! Check out the bloody goodness..
Vampire Ice Cream Floats from Shaken Together Life
So any good vampire knows…you need some O neg to keep the party pumping. Why not serve your little cuties some Vampire floats. Delicious looking and oh so yummy.
This fun drink option will keep your vampire party from, ummm….sucking! Ok. enough Vampire puns (probably not)!
Vampire Donuts from Delish
How adorable are these little donut Draculas? I love the little widow's peak and the dripping blood mouth. He's cute…he's scary and he's delicious!!!
Grab some plastic vampire teeth, black and red decorating gel and some donuts and bam…awesome treat.
Bloody Candy Apples from 1 Fine Cookie
These apples are gorgeous. I love the contrast of the bright red glossy "blood" and the smooth white chocolate. Stunning and I'm sure, completely yummy!
I want so eat these right now! It's amazing all the fantastic treats you can make with candied apples!!!
Vampire Bite Pies from Eating Rules
Ok…first off, yum! Secondly…how awesome do these look. They definitely look like Edward Cullen has been feasting on them with his family…right!!
I love how the ooey gooey goodness seems through the "teeth" holes. Yes, please!
Vampire Cookies from JoBees Bakes
Sometimes you just need a really good cookie. These vampire mouths are awesome and would definitely be a hit at any vampire party. I love fancy decorated cookies.
They are so fun and playful for a party spread. Perfection on a sugar cookie, right!!
Vampire Themed Snacks
Kid Friendly Halloween Drink from Kid Friendly Things To Do
Here is another fun Vampire Drink to share with your kiddos. Why not add a little blood to your drink. We need to keep that party pumping, remember!!
Your party guests will gush over this amazing drink option.
Tootsie Pop Dracula from Skip to My Lou
Need a kid friendly vampire craft or a fun little party favor? Why not make vampire lollipops using red tootsie pops? This is easy enough for your kids to make themselves.
They would also be perfect to take to school and let your child give them to their classmates.
Vampire Lips from Lucy's Sugah Shop
Chocolate Lollipop Vampire lips? Yes please!!! These are super cute and would be awesome as a party treat. Bonus…your little ones can hold them up in front of their mouths for a cute photo op.
You can't beat a good photo op, right!!
Vampire Ice Cream Floats from Living Locurto
Here is another amazing Vampire Float option. This is as yummy as it is gorgeous. It's sure to be a hit with your little vampires. I know my little ones would flip for this fang-tastic Vampire party drink!!
Blood Fondue from Sugar & Spice by Celeste
Can you think of anything more perfect for a Vampire party than a Blood Fondue? How awesomely grotesque is this? Its so good….it's scary!!! Sure to get your "blood" boiling in excitement!
Hope you enjoyed these amazing Vampire party desserts and food ideas. Looking for Halloween treats? Be sure to also check out these recycled Halloween ideas, candy corn Halloween party, DIY Halloween costumes and grab some FREE cute Halloween printables!
Here are some helpful links for throwing a Vampire Party:
If you love these Vampire food ideas for halloween, please pin this image to your Halloween Pinterest board: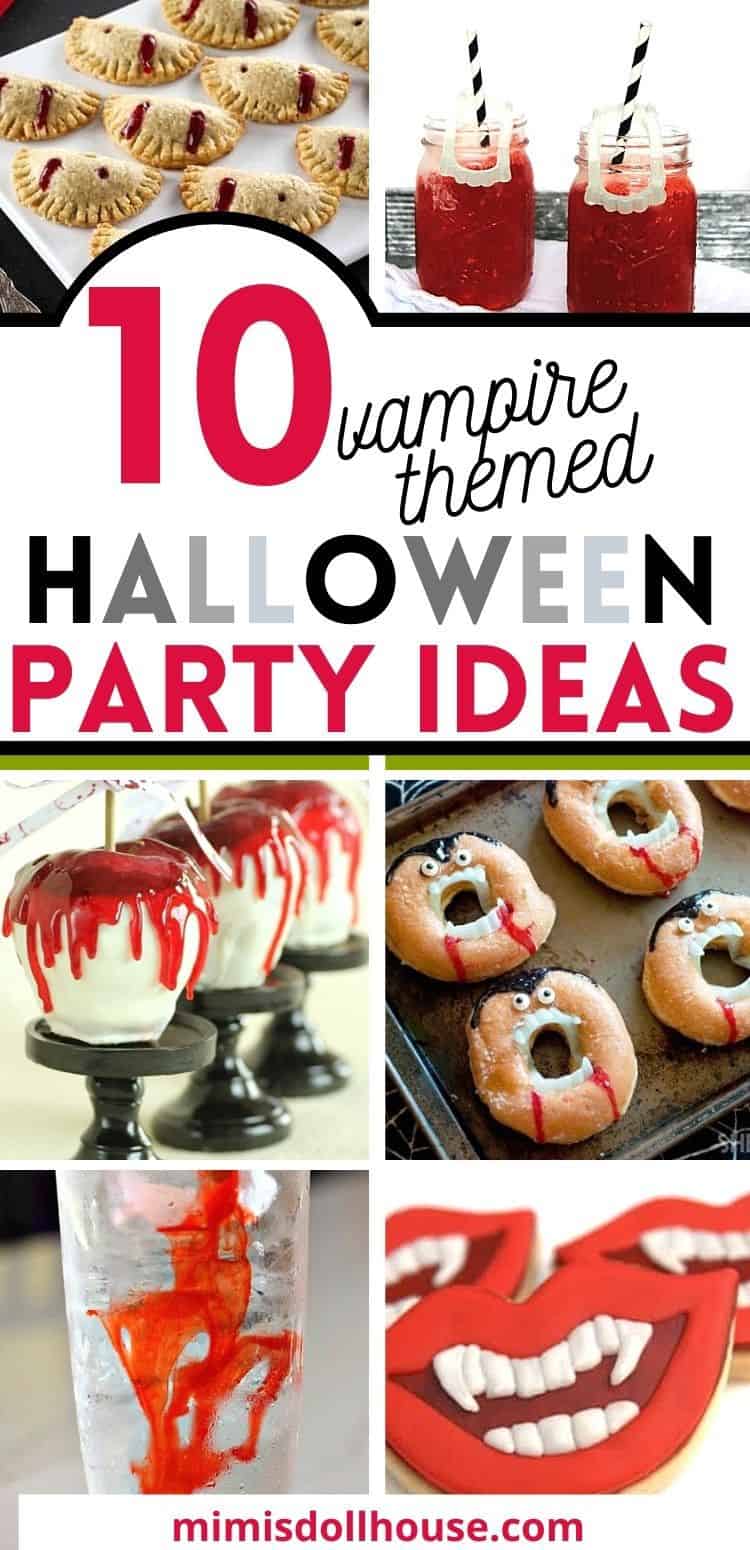 Want to throw a Vampire Party? Download the FREE Vampire Printables from my shop!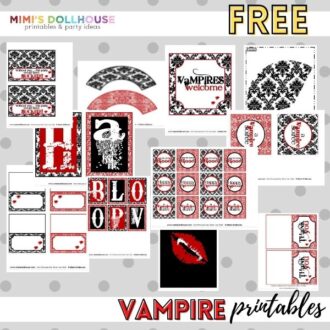 Halloween Party Tableware + Supplies
Here are some amazing Halloween themed tableware and supplies to help you plan and set-up the best Halloween bash on the block. These are budget friendly and oh so perfect!
Vintage Halloween Supplies from Meri Meri
Halloween Tableware from Target
Vintage Halloween Supplies from Oriental Trading
Pastel Halloween Tableware from Meri Meri
Hocus Pocus Supplies from Sweet Lulu
Here are some helpful links for Halloween Parties:
Related Posts for Vampire Food Ideas for a Halloween Party:
Thank you for reading our Vampire inspired party ideas!