Halloween Desserts that are perfect for a Kid Friendly Party!
Need some cute Halloween treats and food ideas for your Halloween party? Halloween Treats are such a fun way to celebrate Halloween with your little ones. Here is a list of some of the cutest Halloween Treats and Halloween food ideas around!
Looking for Vampire Party Ideas? Be sure to also check out these recycled Halloween ideas, candy corn Halloween party, DIY Halloween costumes and grab some FREE cute Halloween printables!
Be sure to check out our Halloween treat tutorials: Bat Cookies and Bat Cupcakes, Monster Cookies, Monster Bark, and Monster Popcorn and Mummy Desserts!
Ok…so I have a confession to make…Halloween, never really been my thing. If you're still reading this post after that confession, you are probably rolling your eyes and thinking "Who doesn't like Halloween?".
Throwing a HALLOWEEN THEMED PARTY?
☑️ These
Halloween Party Items
are the perfect set to get your party planning headed in the right direction!
I'm sure you are thinking of a million reasons why Halloween is amazing and I'm a loser for not being in love with all things Halloween.
Ever since I was a kid, Halloween just sorta creeped me out. I was always kind of a scaredy cat when it came to Halloween stuff. It always just seemed like an excuse to have people jump out at you and throw fake bugs.
I spent most of my childhood Octobers hiding from anybody with a twisted "sense of humor". It was like a month long St. Patrick's Day and I forgot my green!!!
Fast and Easy Halloween Treats
I've grown-up a little and have decided that Halloween is not all that bad. Actually, I think the decoration possibilities are pretty amazing. I carve my pumpkins and dress-up my kids. I decorate and host. I MIGHT even wear a little orange and black. Just don't be surprised if we trick or treat BEFORE it gets dark…
I'm going to put on a pair of big girl panties and get over my fear…kinda like having to kill spiders that scare my daughter (its still okay for a grown-up mom to still call her daddy to kill bugs, right???)
Frankenstein Twinkies from Bullock's Buzz
Aren't these Halloween Frankenstein treats absolutely adorable? I love Twinkies so any DIY Halloween treat that incorporates a Twinkie is winning in my book!
Witchy Leg Cookie Pops from Sugarbelle
This might be one of my favorite Halloween cookies ever! Seriously…who wouldn't want to eat an adorable Witches shoe? Come on!!! Adding a cookie to a paper straw is also such a great idea!!
These mummy treats are SUPER simple to make and absolutely adorable for Halloween! They are also perfect for throwing into lunch boxes!!
Oreo Witches Hats from Evite
This Halloween dessert idea is genius! I love that it incorporates a yummy strawberry and an Oreo. Covering anything in chocolate just makes my heart happy…especially Oreos!!!
Poison Apple Sugar Cookies from Angelica Made Me
So I loved the Wicked Queen from Snow White. Are you with me? Why not celebrate Halloween Disney Villian style with these adorable poison apple cookies? Care for an apple dearie?
How about some fun and playful little Frankensteins to brighten up your Halloween party? These are crazy easy and so, so cute!
Halloween Cookies from Dainty Cakes by Andrea
If you are looking to have your adorable Halloween treats made by a cookie boss who knows what they are doing…these Halloween cookies are for you!! They are fun and clever and look like perfection!
Halloween Snacks
One thing I do LOVE, LOVE, LOVE about Halloween are Halloween Treats. I love going to the store at Halloween time and looking at all the Halloween Treats in the candy aisle and of course…I LOVE baking my own Halloween treats.
Don't be surprised come October 1st if my kids' lunch boxes come to school full of homemade Halloween desserts…I might be spending all my free time turning cupcakes into monsters and goblins!!
Want to get Halloween inspired? Some of these Halloween treats ideas are truly AMAZING…even the scary(ish) ones!!!
Marshmallow Ghost Cupcakes from Our Family of Seven
This little Halloween cupcake tutorial is awesome! I love the easy of the marshmallow frosting and the adorable cuteness of the design. These are a guaranteed Halloween crowd pleaser!!
Jack-O-Lantern Macarons from Eats Amazing
Let's make some DIY Halloween macarons!!! Using a simple food marker, you can give each of your Halloween macarons a unique little Jack-o-lantern face.
Need a fun Halloween treat that can be ready in 10 minutes? This is your treat. Bark is easy to make and honestly, who doesn't want some yummy chocolatey monsters?
Bat Cookies from Sugarbelle
Another killer DIY Halloween cookie idea. These little bats are just too, too cute to eat (well almost.) I love the details on the wings. So much fun!!!
Halloween Mini Cookies from Sweet Arts Sweets
Mini cookies are some of my favorite cookies. These little Halloween Mini cookies would be perfect as party favors or lunch box treats. I love the mummy cookies most of all!
Any Nightmare Before Christmas fans in the house? These Oreos are easy and perfect for celebrating the King of Halloween!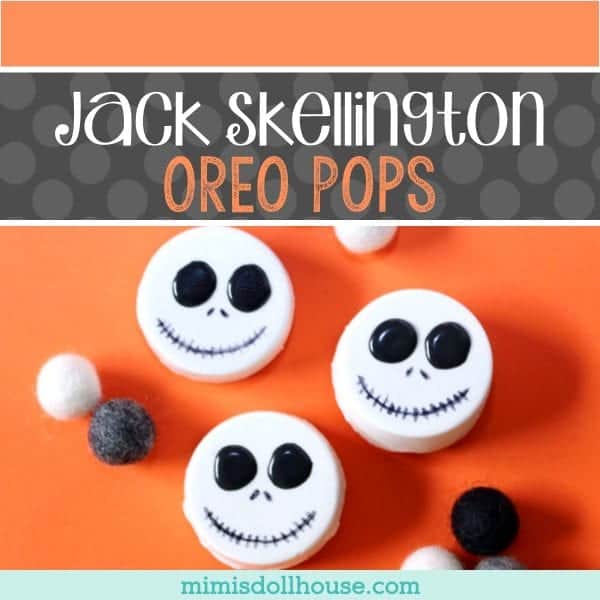 Halloween Cake Pops from New York Cake Pops
Looking for some adorable cake pops? These are perfection! I love the cute faces and the details on these Halloween goodies!!
Halloween Marshmallow Pops from My Baking Addiction
This is one of the simpler Halloween dessert options. While simple, they still look fantastic and would definitely be a great addition to a Halloween party spread. Love the sprinkles!!!
Easy Chocolate Bat Cupcakes for the win!!! Your little ones will LOVE these little flying fiends!!!
I hope you are loving these Halloween treat options as much as I am. Let's get baking and enjoy this Halloween!!
Halloween Party Tableware + Supplies
Here are some amazing Halloween themed tableware and supplies to help you plan and set-up the best Halloween bash on the block. These are budget friendly and oh so perfect!
Vintage Halloween Supplies from Meri Meri
Halloween Tableware from Target
Vintage Halloween Supplies from Oriental Trading
Pastel Halloween Tableware from Meri Meri
Hocus Pocus Supplies from Sweet Lulu
Here are some helpful links for Halloween Parties:
If you love these ideas, pin this image to your Halloween Pinterest Board:
RELATED POSTS FOR Halloween FOOD IDEAS FOR A HALLOWEEN PARTY:
Thank you for reading our Halloween Treat ideas and Kid-Friendly Desserts!