Halloween Crafts and Kid-Friendly Decorations.
DIY Halloween Decor + Craft Ideas. Looking for some fun and easy DIY Halloween ideas to decorate your home or party? Today I am sharing some Hauntingly good Halloween ideas!!
Be sure to check out all our Halloween party and decoration inspiration. Check out this adorable Candy Corn Party! Looking for Vampire Party Ideas?
Be sure to also check out these recycled Halloween ideas, candy corn Halloween party, DIY Halloween costumes and grab some FREE cute Halloween printables!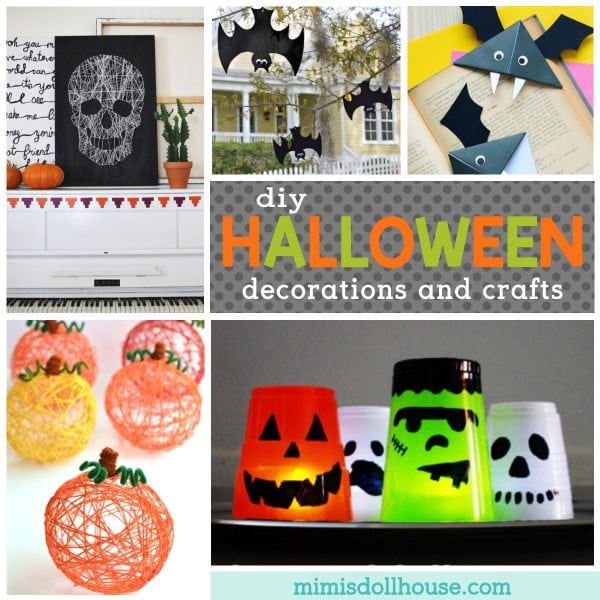 Halloween is almost upon us. It's time to get spooky with some fun and festive Halloween home decor. I was walking through Hobby Lobby the other day and fell in love with so many Halloween decor ideas.
There are so many fun Creative Costumes to shop for and there are tons of fun things to buy, but there are also tons of fun things to make…especially if you can get your kids involved in the creating!!
Today I have some awesome DIY Halloween ideas to share…check it out.
Be sure to check out our Halloween treat tutorials: Mummy Cookies, Cupcakes, and Oreo Pops, Bat Cookies and Bat Cupcakes, Monster Cookies, Monster Bark, and Monster Popcorn and Pumpkin Oreos and Cupcakes.
Halloween Decorations
Trash bag Spider Webs from How About Orange
First up are some wickedly cool and super inexpensive spider webs made from trash bags. Genius right?? Not only are these cheap and easy, but they look fantastic and kinda chic!

Floating Ghosts from Love and Laundry
Aren't these just the cutest things ever?? So easy and so fun. I especially love how they are can be cutesied up or made scary depending on the look you are going for. So many possibilities.

Hanging foam bats from HGTV
These cute hanging bats are a great addition to any Halloween party…especially if it's a kid party. They are not too scary but still give that nice creep factor. Nice!!

Archway Mouth from Nifty, Thrifty and Thriving
This Archway mouth is so menacing…I don't even want to step inside!! What a great way to welcome your trick or treaters or party guests!! Take a bit out of the fun!!

DIY Halloween Lanterns from Shift
These cute little lanterns are simple, colorful and fun. This would be a great project to do with the kiddos! Love it!

Floating Witch Luminaries from Polkadot Chair
Want a fun way to decorate your front porch or light your Halloween party? These DIY Witch Hat Luminaries are perfect!
Vampire Welcome Mat from Creative Live
Here is a fun way to welcome your party guests and trick or treaters…Vampires are Velcome!!!
Skull String Art from A Beautiful Mess
I love string art. It's such a fun way to say, hey…I'm crafty and I love Halloween. Check out this adorable DIY Halloween display!!
Googly Eye Wreath from Number 2 Pencil
Here is a fun and easy Halloween wreath idea! Have some fun and be spooky with your front door!! Eyeballs, anyone?
Button Ghost from Living of Love and Coffee
I love cute little button crafts. Make a little DIY Halloween ghost with your kids or just on your own to hang on the wall. Easy peasy!!
Bat Corner Bookmarks from Easy Peasy and Fun
Here is a cute little craft to help keep your spot in your favorite Halloween book this fall. These would be great crafts for a classroom or to give away at a Halloween party!
Yarn Garland on Better Homes and Gardens
Need a cute and simple Halloween decoration? You can make this fun little garland with some simple Halloween yarn! Winning!!
Spider Wreaths on Parents.com
Here is another easy yarn craft you can do with your kids for Halloween. You just need some popsicle sticks and spiders as well and you are in the crafting business!!!
Halloween Trees from Wholesale Party Supplies
If you are planning out a mantle for Halloween…these easy Halloween trees are a must. Such a simple and beautiful way to use black crepe paper!!
Yarn Pumpkins from One Little Project
How cute are these little yarn pumpkins? These would be a blast to make and so cute to display!
Halloween Pallets from The Keeper of the Cheerios
Do you have some pallets and want to make some fun DIY Halloween decor to put out for Halloween.
Halloween Party Tableware + Supplies
Here are some amazing Halloween themed tableware and supplies to help you plan and set-up the best Halloween bash on the block. These are budget friendly and oh so perfect!
Vintage Halloween Supplies from Meri Meri
Halloween Tableware from Target
Vintage Halloween Supplies from Oriental Trading
Pastel Halloween Tableware from Meri Meri
Hocus Pocus Supplies from Sweet Lulu
Here are some helpful links for Halloween Parties:
Be sure to check out our Halloween treat tutorials: Mummy Cookies, Cupcakes, and Oreo Pops, Bat Cookies and Bat Cupcakes, Monster Cookies, Monster Bark, and Monster Popcorn and Pumpkin Oreos and Cupcakes.
Here are some helpful links for Halloween:
RELATED POSTS FOR Halloween Decor Ideas:
THANK YOU FOR READING OUR Kid Friendly Halloween Party Ideas!