Sesame Street Party: Ideas for an Elmo Party. Thinking of diving into Elmo's World? Today I am sharing some awesome Elmo Party Ideas. Be sure to check out all our Sesame Street Parties and Ideas.
These fondant cupcake toppers are so cute it hurts! I LOVE all the details. These would be an adorable addition to any Elmo party.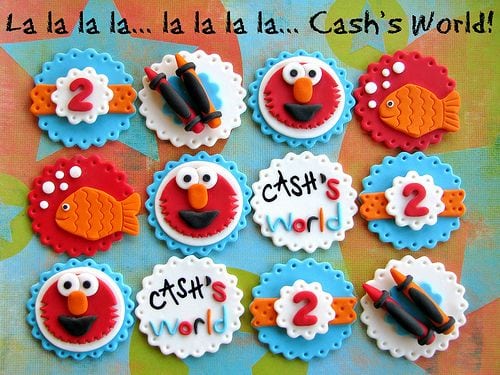 Not only are these cookies adorable, but they come with a tutorial as well. Nothing like cute DIY cookies to share:) These would be a huge hit with the kiddos.
I think this is such a cute idea and would make adorable and inexpensive party favors too. You can also let the kids run around the party wearing them like little Elmo capes which would make for some adorable photos.



Macarons are so popular right now and the coolest part about them is that they do not have to just be simple macarons. There are so many creative ways to use them. These Elmo Macarons are some of the best I've seen! Love them!
Of course, I offer some cute and easy yo use printable Elmo invitations and decorations! These are sure to be a hit at your party!!!
Elmo Face Decorations
Another awesome idea for an Elmo party is using solid red items (1.e. poms, cups, treat bags, napkin rings) and adding the Elmo eyes and nose. Here is an example of a cute way to dress a cup.
Making the Elmo faces is easy if you have some construction or scrapbook paper and cut or punch the circles. I also have a downloadable image if you would rather print and cut ready made.
Be sure to check out all our Sesame Street Parties and Ideas.
Here are some helpful links for throwing an Elmo Party: