Must See Sesame Street Party Ideas
Sesame Street Party: Sesame Street Birthday Ideas. If the idea of throwing an iconic Sesame Street party for your little one sounds like your cup of tea…you must check out these adorable sesame street birthday ideas! Also…who doesn't love FREE PRINTABLES? We have free printable Sesame Street Decorations too!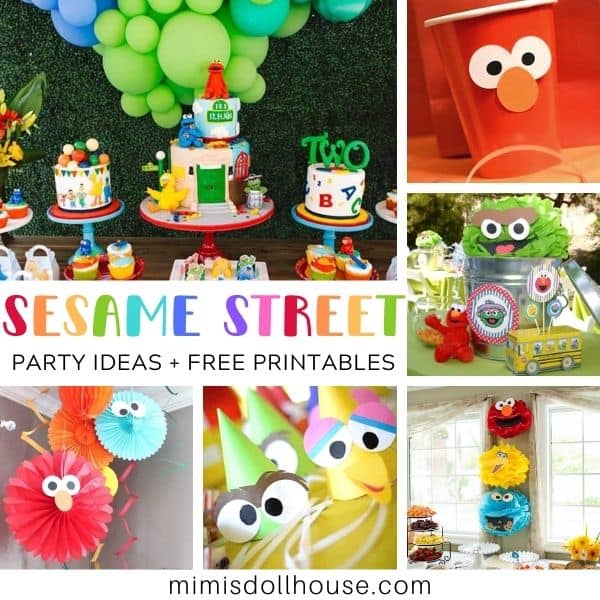 Planning a Sesame Street party is as simple as finding the right ideas and pulling them all together. We have all those ideas to share with you…
Throwing a SESAME STREET PARTY?
☑️ This Sesame Street Party Kit is the perfect set to get your party planning headed in the right direction!
Also, we have some fun and simple to use FREE SESAME STREET PARTY PRINTABLES. You can download those further down in this post to help set your party off on the right footing!
Let's check out those ideas…
Sesame Street Party Ideas
There are so many ways to celebrate a birthday with Sesame Street. You can go traditional primary color, girly pink, fun Elmo red with teal and so many other options. Focusing in on a favorite character is always a great option as well.
There are so many cute ideas for using simple party supplies to make fantastic party decorations. We will explore some of those ideas in this post.
Check out this post you are looking for Sesame Street Cupcakes, cookies + food ideas.
Sesame Street Party Decorations
Let's kick this party off with some AMAZING decoration ideas…
Sesame Street Party from Fun365
Here is a fun setup. The balloons really give the backdrop a nice colorful touch. P is for Party!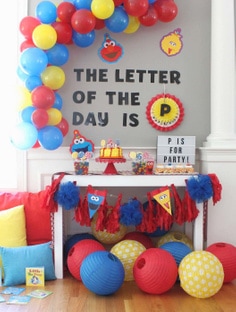 Sesame Street Party from Pretty My Party
Here is another fun balloon backdrop. This simple green/blue backdrop really helps the desserts on the party table take center stage!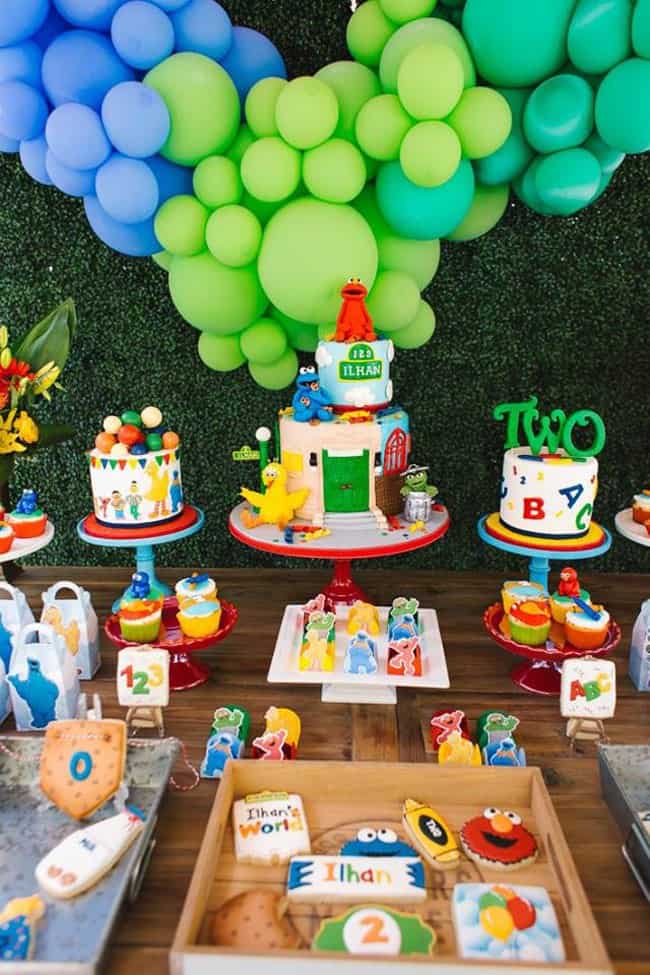 Sesame Street Backdrop from Bake Play Smile
Simple streamers can definitely be a crowd pleaser! So fun and colorful!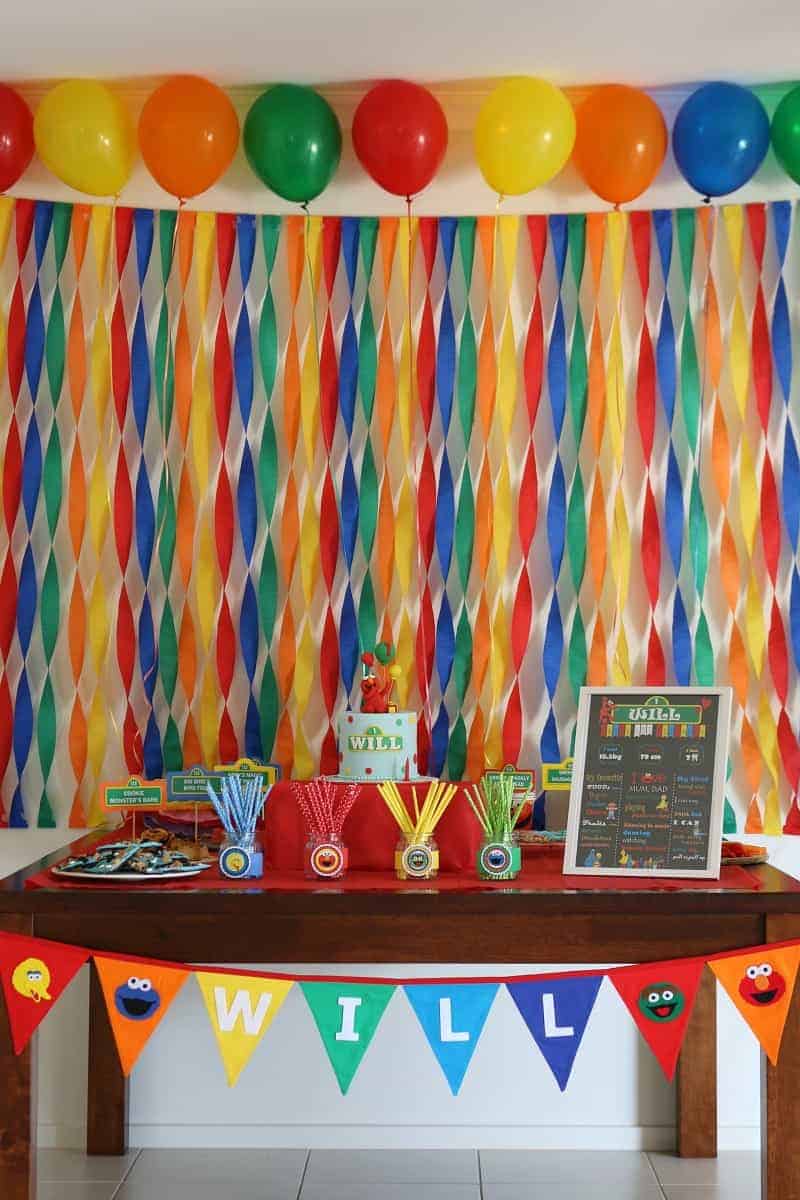 Sesame Street Poms from Fun365
Here are some easy to make charater themed pom poms! So cute!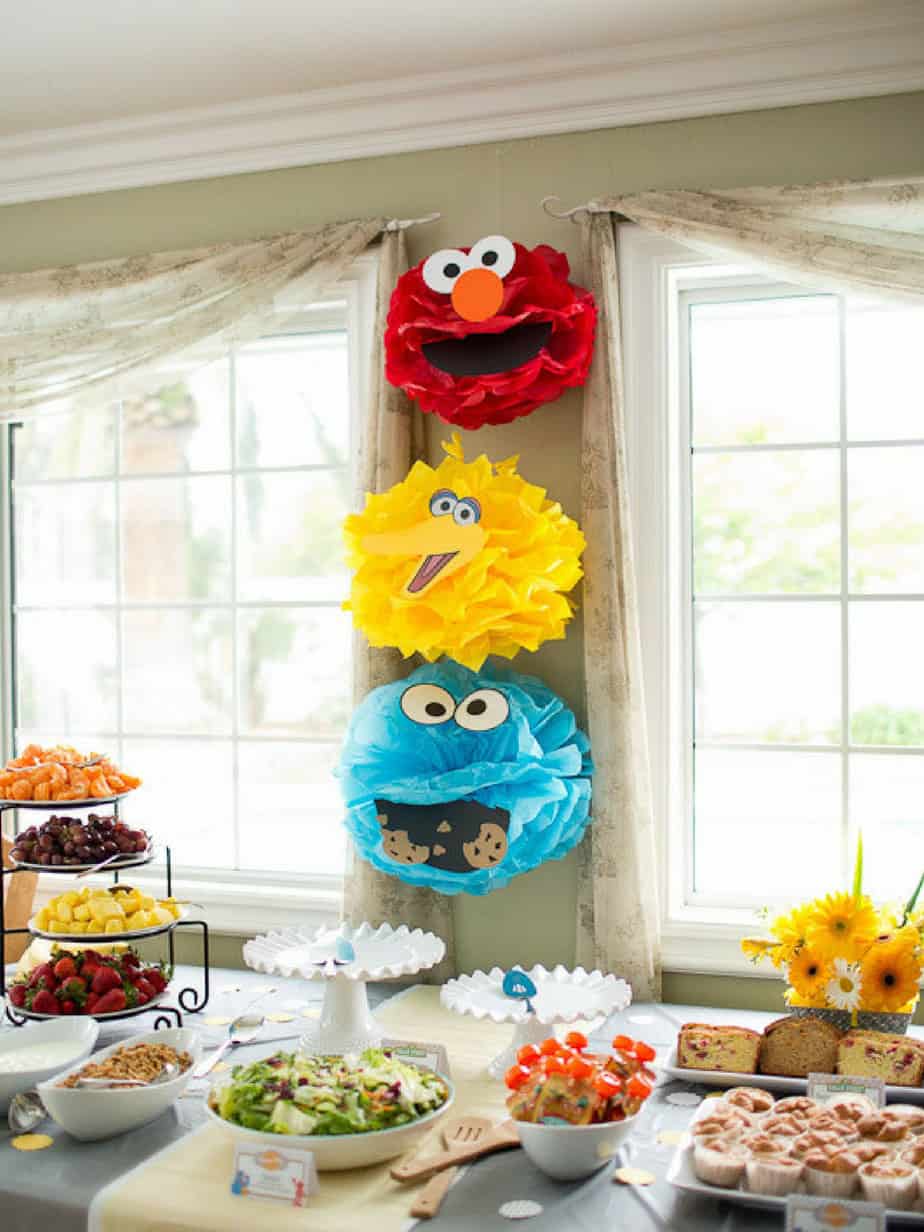 DIY Hanging Sesame Street Character Faces
These hanging faces are as easy and inexpensive as they are adorable! All you need is a few paper fan flowers and some black and white card stock! Simply cut circles out of the card stock and hot glue to the fan flowers….easy and awesome!
Sesame Street Centerpiece from Catch My Party
Looking for a fun centerpiece option? How about a street sign and a character cutout?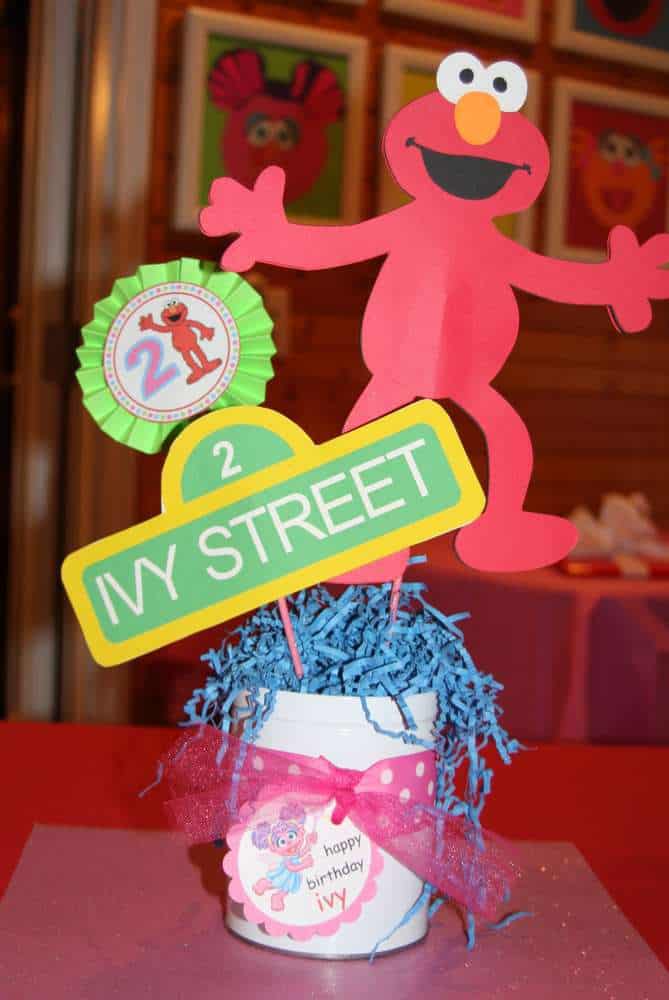 Sesame Street Poms from Patty Cakes Bakery
Here is another way to make use of those fun pom poms! Adorable!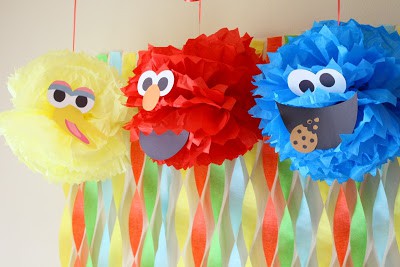 Sesame Street Sign from Kara's Party Ideas
If you can craft with foam, you can make a custom street sign. Isn't this so stinking cute?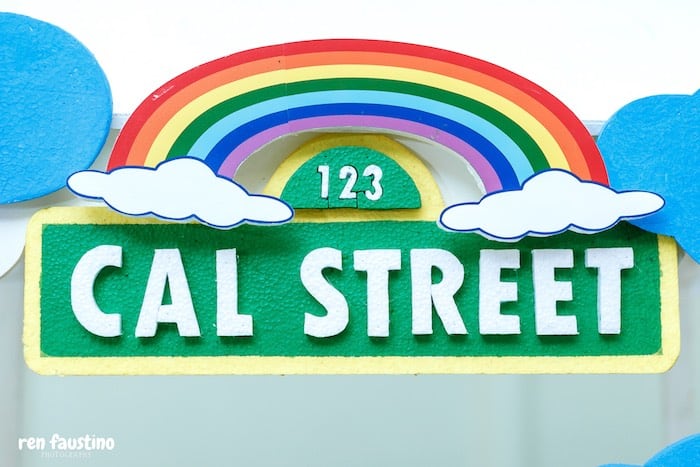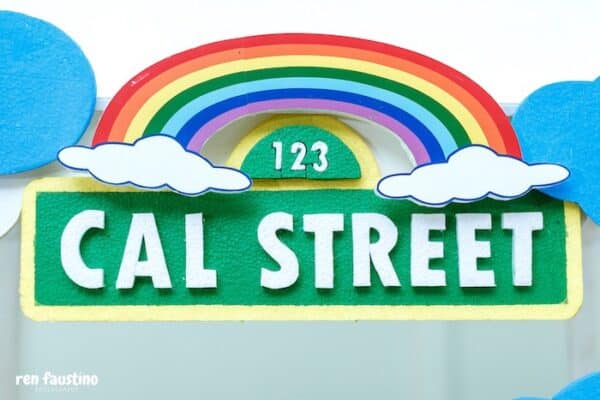 Sesame Street Centerpieces from Melly's Moments
Craft balls and glass jars make great centerpieces when paired with character face cutouts!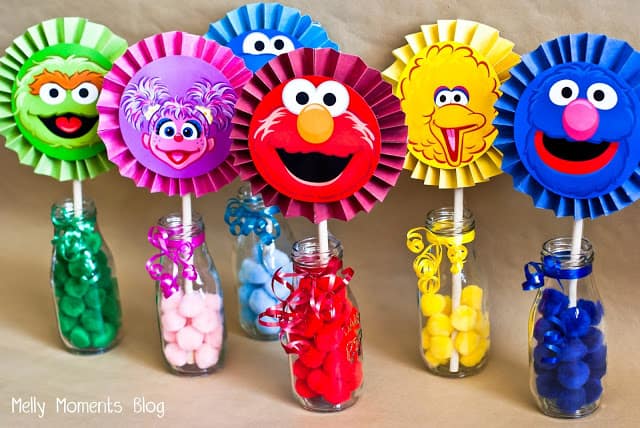 Sesame Street Party Supplies
Along with decorations, there are some fun and easy to recreate supplies that can really help set your party apart from the rest! Check out these ideas…
Elmo Face Cups with FREE printable
This super easy idea adds a great pop to your simple party ware. I even have a FREE printable for you to make it even easier.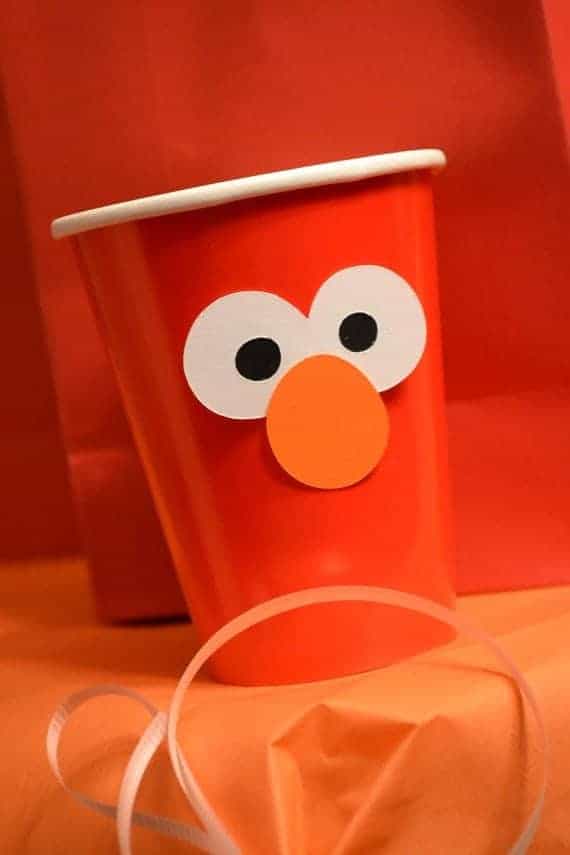 Oscar the Grouch Piñata from Making Merry Memories
Ok…so piñatas are where the party is at! Check out this easy to make Oscar piñata…your little ones will not be a bit grouchy about breaking this apart!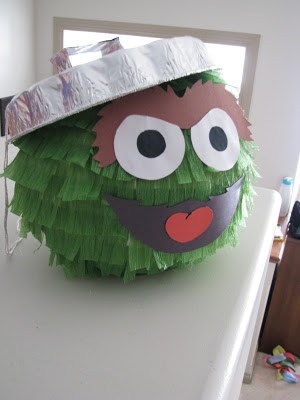 Elmo First Birthday Shirt from Kiwi Kisses
Create a cherished keepsake with this fun first birthday shirt. What a great photo idea!
Elmo Digital Invitations from Kov Kenn
Here is a simple digital invitation option. How fun is this design. It's also so very convenient!
Sesame Street Party Hats from Catch My Party
These are super adorable party hats!!! It would be very easy to make these with colored card stock and they would definitely be a hit!!
Sesame Street Candy Wrappers from Orbs N Earth
Simple little treats that would make great party favors!
Sesame Street Tissue Garland from Snooty Blooms
This decoration is almost too easy to use. Almost:)
Sesame Street Cake Topper from Inno Creative
Why not grab a fun personalized cake topper. This is particularly a great option for a simple store bought or homemade cake!
Cookie Monster Favor Boxes from Crafts by Kim
Simple and easy party favor boxes like these can make food serving and gift giving a snap! These can be filled with popcorn, candy, favors…you name it!
FREE Sesame Street Party Printables
Alright…planning a Sesame Street party is definitely made a whole lot easier with printables. You can print as many as you need and they are super versatile. What's even better…these are FREE.
Download the FREE Sesame Street Printable Decorations Here!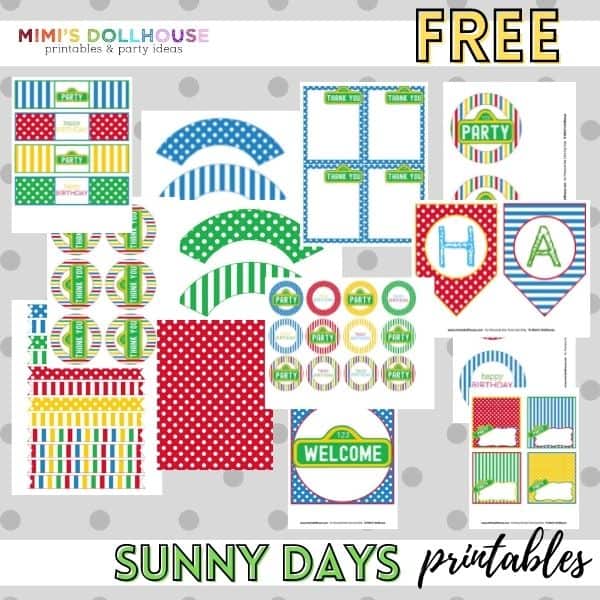 Adorable Sesame Street Party
I have a super cute Sesame street party to share as well using a variation of my free printables (available above). You can definitely get some inspiration for how to use these printables from this super fun party.
Sesame Street Party: Zayne's World. Can you tell me how to get to Zayne's First Sesame Street Party?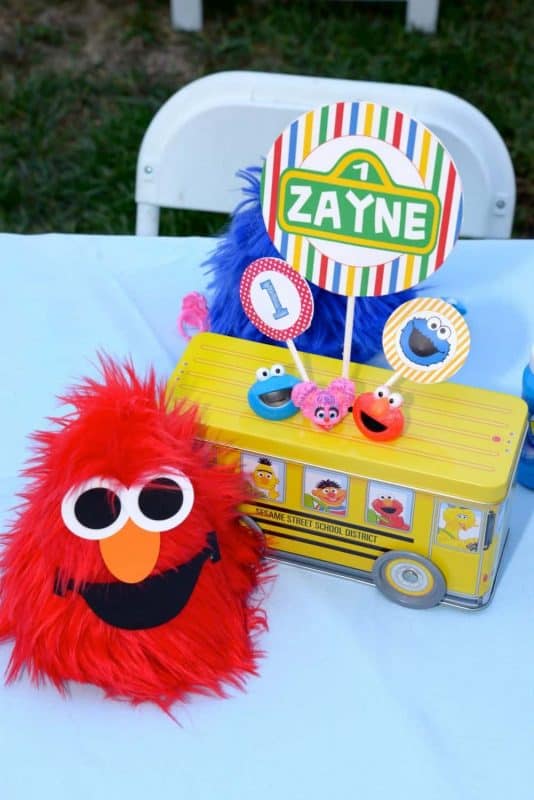 Today I'm sharing an absolutely adorable Sesame Street Party for little Zayne. This party was styled by Aurora from Everything but the I Do. Check out all the cute ideas…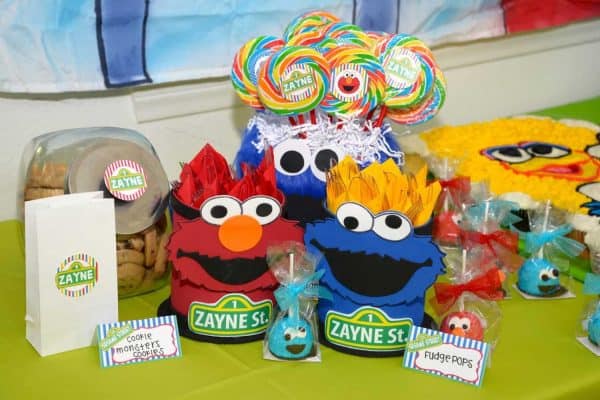 Here's what Aurora had to say about the party:
This Sesame Street first birthday party was inspired by my son's love of the Sesame Street show and his favorite characters, Elmo, Big Bird, Cookie Monster, and Oscar the Grouch.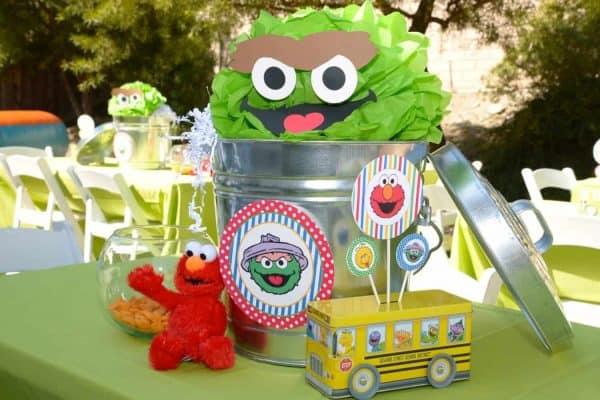 The focus of the party was to feature these characters throughout (plush and paper) and also the Sesame Street famous symbol, the lamppost.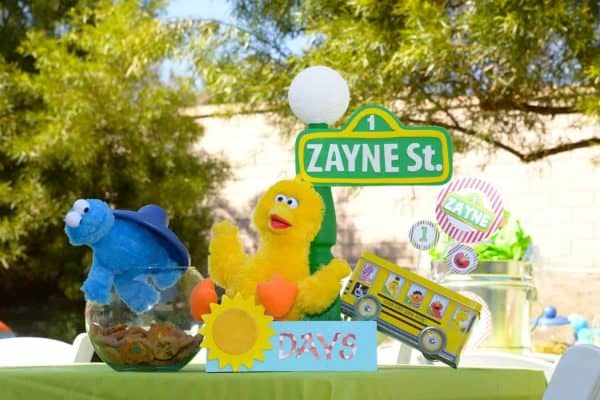 The table decor featured 2 main centerpieces and 2 small decor items. The first main centerpiece was the Sesame Street lamppost which I made from a wooden box, wood chair leg, Styrofoam ball, and printable paper from the Sesame Street printable package.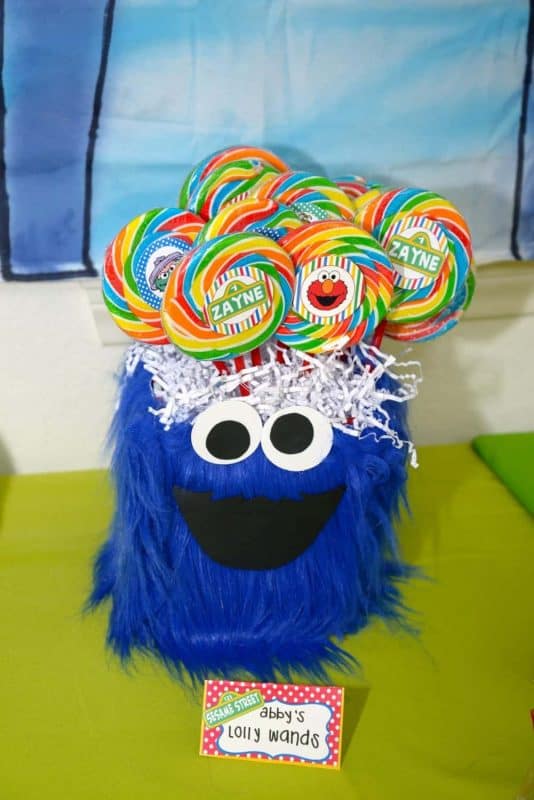 It actually had "Sunny days sweeping clouds away" going around the wood box. The 2nd main centerpiece was Oscar the grouch in a metal trashcan with a Pom Pom Oscar and Large Oscar party circle printable (this can be easily made with a green tissue pom.
The smaller decor on each table featured a Sesame Street bus with party circles from the printable package, and either a fishbowl with goldfish crackers and an Elmo plush character, or a cookie jar with Cookie Monster. I wanted the kids table to be really fun!
I made furry party hats that resembled Elmo and Cookie monster out of $1 tree party hats and fur fabric. The table also had bubbles, Sesame Street coloring books, crayons, and playdough.
My favorite aspect of the party decor was the sweets/favor table area. My son loves Elmo's world so I knew I had to represent that somehow. I decided to make a backdrop that was a replica of Elmo's world.
I used a twin white sheet and used spray paint to draw Elmo's room door, window, and stand with fishbowl. On the actual table I made a Cookie Monster lollipop stand with 2″ party circles from the printables package attached to each lollipop.
The Elmo and Cookie monster foam buckets held the utensils that were wrapped in napkins and sealed with the water bottle labels from the printable package.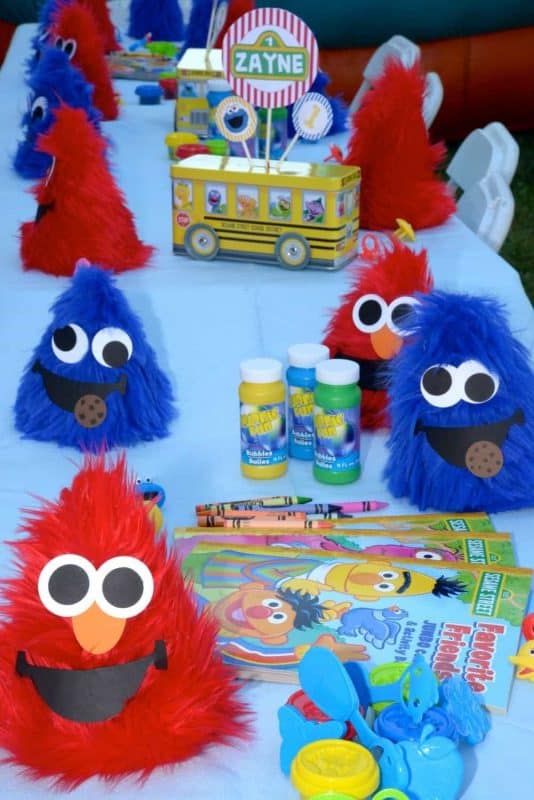 My favorite sweet treats featured were the Elmo and Cookie Monster fudge pops and Oscar's Trashy Treats (push up dirt cups)! The cake was a cupcake cake designed by Polka Tots.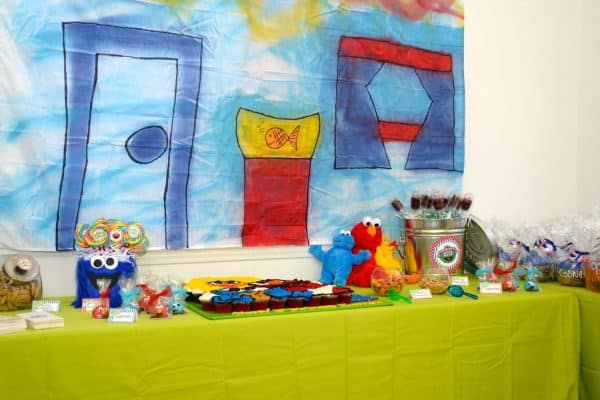 The favors for the kids under 5 were Elmo lunch boxes, a Sesame Street book, cup, and pencil wrapped and tied with a favor tag featuring Oscar the grouch that said "Thanks for trashing my party!"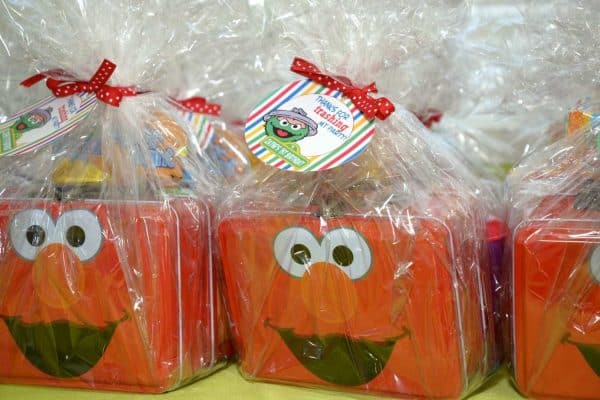 The favors for the older kids were cookie jars I created out of glass fishbowls, plastic floral plates, and wood knobs. To go with the cookie jars I found mini plastic trashcans that were only $1 and were filled with candy.
They were wrapped and tagged with Cookie Monster custom created favor tags that said "Me want cookies."
Vendors:
Photographer: Helen Riddington Photography
Elmo and Cookie Monster fudge pops: Rocky Chocolate Mountain Factory
Sesame Street Cupcake Cake: Polkatots Cupcakes
Foam Elmo and Cookie Monster buckets: Kimberly's Foam Party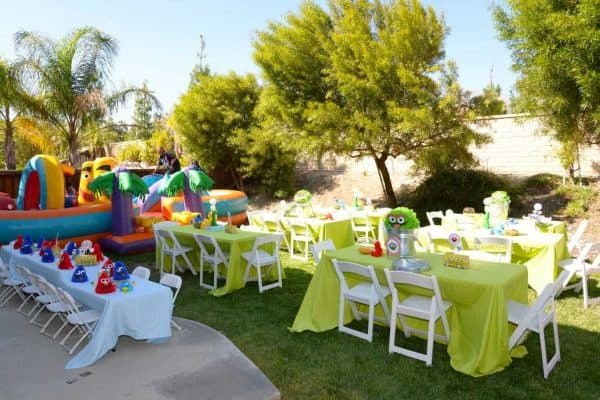 Here are some helpful links for throwing a Sesame Street party:
Conclusion for Sesame Street Party Ideas:
If you are looking for a fun and festive party theme with some killer decoration ideas…Sesame Street just might be your jam. With tons of ideas and FREE PRINTABLES…this post will get your party planning headed in the right direction.
If you love these ideas, please pin this image to your birthday Pinterest Board:
Related posts for Sesame Street Party Ideas:
Thank you for reading my Sesame Street Party Ideas!