Sesame Street Party: Zayne's World.  Can you tell me how to get to Zayne's First Sesame Street Party?  Check out our other posts for more Sesame Street Party Ideas and Inspiration.
Today I'm sharing an absolutely adorable Sesame Street Party for little Zayne.  This party was styled by Aurora from Everything but the I Do.  Check out all the cute ideas…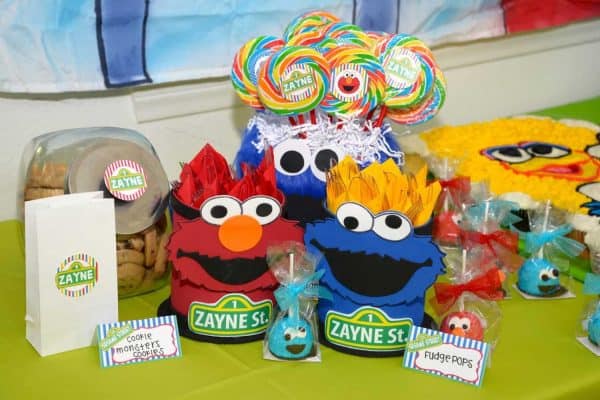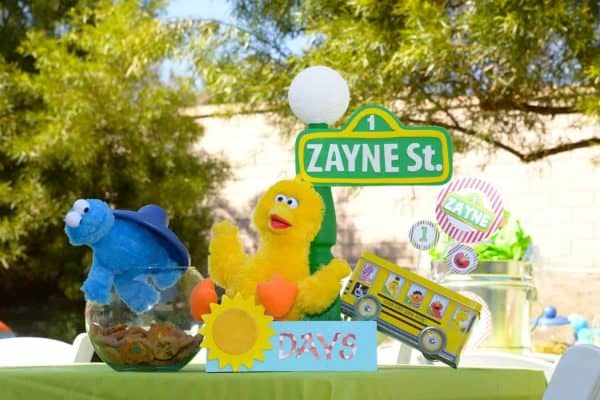 Here's what Aurora had to say about the party:
This Sesame Street first birthday party was inspired by my son's love of the Sesame Street show and his favorite characters, Elmo, Big Bird, Cookie Monster, and Oscar the Grouch. The focus of the party was to feature these characters throughout (plush and paper) and also the Sesame Street famous symbol, the lamppost.
The table decor featured 2 main centerpieces and 2 small decor items. The first main centerpiece was the Sesame Street lamppost which I made from a wooden box, wood chair leg, Styrofoam ball, and printable paper from the Sesame Street printable package. It actually had "Sunny days sweeping clouds away" going around the wood box. The 2nd main centerpiece was Oscar the grouch in a metal trashcan with a Pom Pom Oscar and Large Oscar party circle printable (this can be easily made with a green tissue pom. The smaller decor on each table featured a Sesame Street bus with party circles from the printable package, and either a fishbowl with goldfish crackers and an Elmo plush character, or a cookie jar with Cookie Monster. I wanted the kids table to be really fun! I made furry party hats that resembled Elmo and Cookie monster out of $1 tree party hats and fur fabric. The table also had bubbles, Sesame Street coloring books, crayons, and playdough.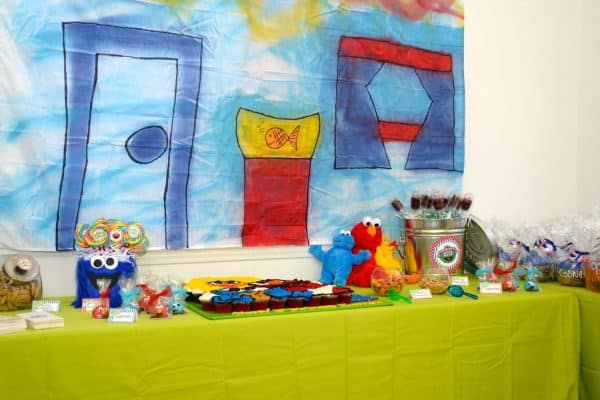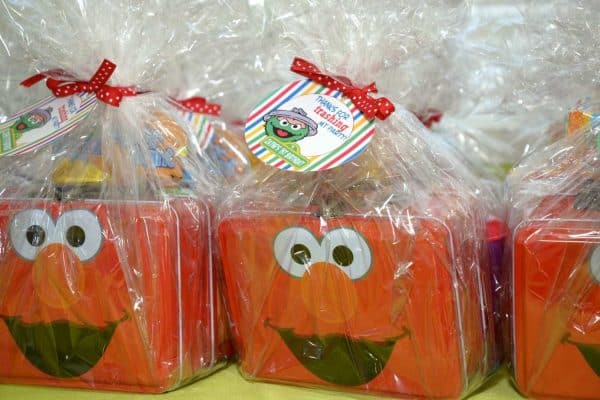 My favorite aspect of the party decor was the sweets/favor table area. My son loves Elmo's world so I knew I had to represent that somehow. I decided to make a backdrop that was a replica of Elmo's world. I used a twin white sheet and used spray paint to draw Elmo's room door, window, and stand with fishbowl. On the actual table I made a Cookie Monster lollipop stand with 2″ party circles from the printables package attached to each lollipop. The Elmo and Cookie monster foam buckets held the utensils that were wrapped in napkins and sealed with the water bottle labels from the printable package. My favorite sweet treats featured were the Elmo and Cookie Monster fudge pops and Oscar's Trashy Treats (push up dirt cups)! The cake was a cupcake cake designed by Polka Tots.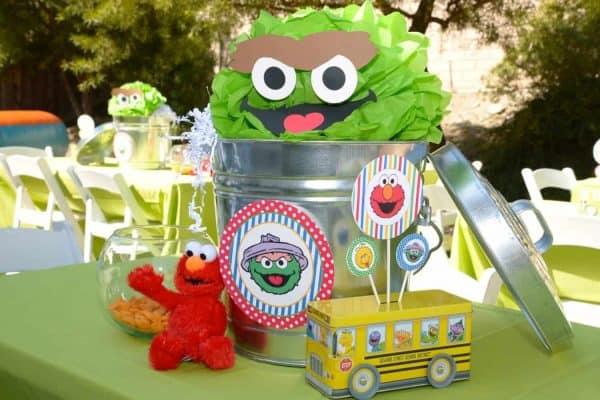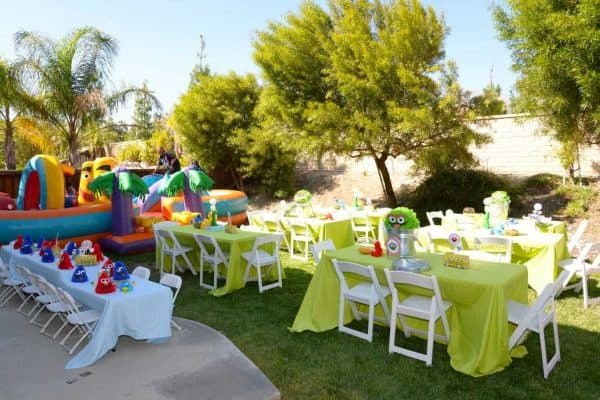 The favors for the kids under 5 were Elmo lunch boxes, a Sesame Street book, cup, and pencil wrapped and tied with a favor tag featuring Oscar the grouch that said "Thanks for trashing my party!" The favors for the older kids were cookie jars I created out of glass fishbowls, plastic floral plates, and wood knobs.  To go with the cookie jars I found mini plastic trashcans that were only $1 and were filled with candy. They were wrapped and tagged with Cookie Monster custom created favor tags that said "Me want cookies."

Here are some helpful links for throwing a Sesame Street party:
Vendors:
– Photographer: Helen Riddington Photography
– Party Printable Package: Mimi's Dollhouse
– Elmo and Cookie Monster fudge pops: Rocky Chocolate Mountain Factory
– Sesame Street Cupcake Cake: Polkatots Cupcakes
– Foam Elmo and Cookie Monster buckets: Kimberly's Foam Party