Ideas for a girly Elmo party
Looking for Elmo party ideas for girls? Sometimes you don't want the traditional primary color Elmo party. If your little girl loves all things Elmo, why not plan her an adorable and girly Elmo birthday? With pinks and pastels, you can turn that cute little red monster into an amazing party fit for a princess!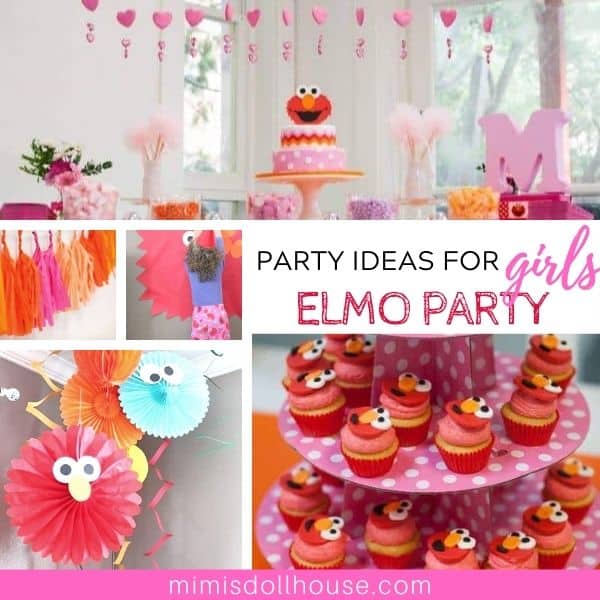 There are tons of ways to throw a Sesame Street themed party. If you are looking for some inspiration, check out these Sesame Street desserts and these Elmo party ideas!
Throwing a SESAME STREET PARTY?
☑️ This Sesame Street Party Kit is the perfect set to get your party planning headed in the right direction!
I have two sweet Girly and Pink Elmo parties to share that were styled using a variation of my FREE Sesame Street printables.
Check out the cuteness…
Elmo Party Ideas for Girls
Sesame Street Party: Harper's Pretty Elmo Party. I'm sharing a fun and girly Elmo Party today. If you have a little one who loves Elmo…a cute little Elmo party is sure to be a hit! Ready to explore these Elmo party ideas for girls?
This adorable Elmo party is so sweet you'll get a toothache!! Harper's 2nd birthday party was styled by her mom, Mckenzie from Girl Loves Glam and she did a fantastic job. I love the simple details and the modern flair. If you aren't familiar with Girl Loves Glam, check her out on facebook and pinterest. For little Harper's big day, they decided to throw an Elmo Pajama Breakfast because Harper loves Elmo and hosting a breakfast party allows everybody to still have a full Saturday and still party. Pretty clever I think! Check out the fun details…
I love these easy paper zigzag streamers. So cute and festive. These would be very easy to make with colored copy paper. Simply cut the paper on alternating sides almost to the edge across the length of the paper. Then let hang. Easy peasy.
Muffins instead of the traditional cupcakes is a great alternative. Perfect for a breakfast party and much healthier…. They look so yummy too! Here is a fun activity for the kiddos…how about a twist on pin the tail…pin the nose on Elmo. Easy to make and loads of fun!!
These cute simple Sesame Street Party hats are great for the kids to wear to really get into the fun of the party.
This is my favorite detail of the party. Take some simple tissue flowers and poms and add some big eyes by cutting circles out of scrap book paper. Easy, simple and adorable characters! Great job McKenzie.
Happy Birthday Harper! Looks like you had a great time!!
Ready for more Elmo party ideas for girls?
Pink Elmo Party Decorations + Ideas
Elmo Party: Miley's Pretty Pink Elmo Party. Love Elmo? Love Pink? Today I am sharing a lovely Elmo Party styled by Sara Jade Weddings and Events.
Pretty Pink and Elmo…sounds like the perfect combination for a sweet little girl who loves Elmo. This sweet party was styled by Sara Jade Weddings & Events using our Pink Elmo Printable Collection for little Miley's 2nd birthday.
Check out all the cute details…
Favor tags on take out boxes are a fun favor boxes!
A simple tissue tassel banner is a great way to decorate a party. This is a nice mix of pinks and the Elmo colors.
Here is what Sara Jade Weddings has to say about the event: "We had the pleasure in Styling Miley's 2nd Birthday Party here in Melbourne.
Miley has a LOVE for Elmo, so coming up with a theme wasn't hard at all! Incorporating a bright colour palette with subtle tones of pink made this theme a little girly & pretty!
This celebration was very close to Miley's Mum & Dad as this was a family trip back home whilst living overseas and to share this special celebration with their family and friends."
This adorable tissue tassel banner can be made by cutting tissue paper (or save some time as purchase the tassel banner from Amazon!)
I love these adorable elmo cupcakes. They are so cute… I also love the cute pink and red polka dot take out boxes for the party favors. Cute, cute. They are perfect displayed on a pink cupcake tower.
Aren't the polka dot take out boxes adorable???
Here is a clever way to use the water bottle labels…to dress up a box for display. Awesome!!
Check out these pretty pink flowers too…love it.

Here is the cute little birthday girl with her cake! Happy Birthday Miley!! Adorable. I especially love the pink candy buffet. I am a huge sucker for colored candies in glass jars!! How about you?
Adding pink polka dot balloons is sure to be a hit with the kiddos!
And of course…don't forget the pink party ware!!! It's the perfect touch! Looking for some Sesame Street birthday party inspiration? Check out these Elmo party ideas, these Sesame street party ideas, this Elmo party and this Cookie Monster party.
What a lovely party!
Here are some helpful links for throwing an Elmo party:
Conclusion for Elmo birthday for girls:
If you are planning an adorable Elmo birthday for a girl, these ideas will help to inspire your party! From pink and girly to fun there will be plenty of party ideas to get your planning going!
If you love these ideas, please pin this image to your birthday Pinterest Board: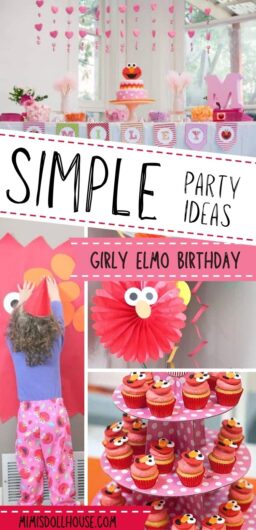 Related posts for Girl Elmo Party Ideas:
Thank you for reading my Girly Elmo Party Ideas!