Muppet Babies Party Supplies and Ideas for a Birthday!
These Muppet Babies birthday party ideas will make your dreams come true in true muppet fashion. From simple to extraordinary, these party supplies and food ideas will inspire your creativity and turn your party into a smash hit!
Ready to play?
I remember watching the Muppet Babies cartoon when I was a kid, so when Disney Jr. decided to revamp this classic show, I was super excited to let my own kiddos watch it.
I didn't expect to love it so much more than the original (I do!) If you want to read more about the show…check out this Muppet Babies Review!
Throwing a MUPPET THEMED PARTY?
If you are planning a party for your own little Kermit or Miss Piggy, the whimsical fun of all these ideas is sure to inspire you to build your own backyard adventure and have an amazing party.
Ready to talk party ideas?
Muppet Babies Party Ideas
I think the biggest element of a strong Muppets theme (classic Muppets included as well as Muppet Babies) is color. Each character is colorful and they have their own signature look and personality.
Using that splash of colors in your party is a great way really capture the Muppet feel before you have even baked a cookie or filled a piñata!
Don't be afraid of colors. In fact, grabbing a Rainbow variety pack of decorations is a great start to getting the atmosphere set.
Muppet Babies Party Decorations
Once you have decided on your space and the colors, there are tons of ways to start bringing those cute little characters to life in your decorations.
One budget save I like to use in setting up a character themed party is using the toys or stuffed animals my kids already have in the decor, or buying Muppet Babies stuffed animals and after the party, they double as gifts for the birthday boy or girl.
Here are some of the best Muppet Babies decorations ideas:
Muppet Babies Party on Catch My Party
Fun and colorful, this set up mixes solid colored decor with cute character cut outs. They used a large vinyl banner as a backdrop as well.
Felt Name Banner from Felt Happens
How fun is this personalized banner? This would also be something adorable to hang in their bedroom after the party!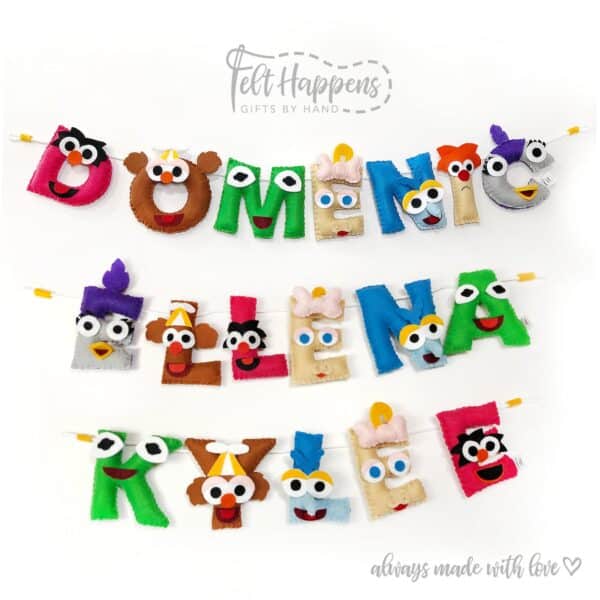 Muppet Babies Rainbow Baby Shower from Funny Beautiful
I adore the soft rainbow feel of this party. Since we know Kermit is all about the Rainbow Connection, use that as a inspiration for all your colorful decor.
Muppet Babies Painting Party on Catch My Party
Get your party guest using some creativity with a Muppet Babies themed painting party!
Muppet Themed Birthday on HWTM
This party is stunning. If you want 100 different ways to use Muppets characters throughout your party, this party is definitely worth looking through. From fondant letters to adorable decor, it's just wow!
Muppet Babies 1st Birthday on Catch My Party
Here is another great use of color. That coupled with the stuffed animals really sets the Muppet Babies mood.
Muppet Babies Party Supplies
In addition to the right colorful decor, having some themed items for the kids to interact with can help your party be epic.
Here are some stellar Disney muppet babies party supplies to help you plan that birthday party:
Muppet Babies Favors from Tried and True
These DIY favors are absolutely fantastic. So clever and you can fill the cups with anything from candy to trinkets!
Muppet Party Hats from Mary Had a Little Party
Help your little ones dress up like their favorite character with some cute party hats!
Muppet Babies Party Food
Once you have your party decorations all in order, its time to start talking about the delicious party food. There are so many amazing ideas for Muppet Themed party food.
If you want to showcase certain characters with normal party food, here are some awesome ideas:
Miss Piggy's Pigs in a Blanket
Camilla's Chicken Nuggets or Wings
Animal's drumsticks (pretzel rods or licorice sticks)
Kermit's Candy Frogs
Fozzy's Bear claws or Bananas
Summer's Popsicles or Snow Cones
Gonzo's Blueberries
Bunsen + Beaker's Fizzy Drinks
Rizzo's Cheese and Crackers
Muppet Babies Cakes + Desserts
You can also make or buy some super amazing themed desserts. From gorgeous Muppet Cakes to fun royal iced cookies, these ideas will help you create the coolest treats.
Check it out:
Muppet Babies Cake from Jazzy Cakes
This adorable cake mixes fun colorful candy with plastic muppet babies characters to create an amazing cake!
Rainbow Connection Cake on Pop Sugar
This cake is definitely a favorite. With the focus on all the gorgeous colors, fondant characters really bring a simple cake to life.
Muppets Cake Pops from Bakerella
These cake pops are EPIC! Not only are they so stinking cute, but they are so fun for a party treat.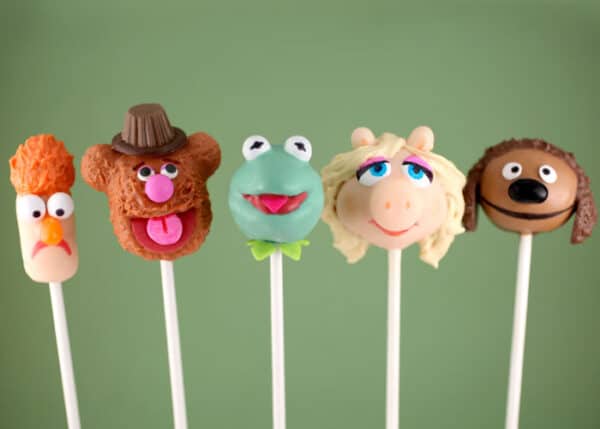 Kermit the Frog Oreo Pops from Mimi's Dollhouse
These fun Kermit themed Oreo pops are super easy to recreate. Check out this easy to follow tutorial!
Muppet Babies Donuts from Disney Family
If you really want to up your game…try making these muppet-tastic donuts! They will for sure be the talk of the party!
Beaker Twinkies from Hungry Happenings
Confession…Beaker is my favorite. I've always loved him most! These Beaker Twinkie's make my party loving heart skip a beat. Check out this simple DIY treat for an amazing character treat.
Muppet Babies Cookies
Fun and fantastic cookies are always a great place to splurge a little with your party food. If you are a royal icing pro, go for it! If you aren't…you can order too!
Muppet Babies Cookies from Carlota's Sweets
These cookies are BEAUTIFUL. The details are absolutely amazing. I want them all now!
Muppet Babies Cookies from Kat Bree Bakery
Here is another fun set of Muppet cookies that would be perfect for a birthday party.
Muppet Babies Face Cookies from The Sugar House Bakery
These cute cookies would be so fun for a party. Not only are they super yummy…but they would make such great photos as kids hold them up to their faces to "play" with their food!
Muppet Babies Cupcakes
Ready for some super fantastic cupcake ideas? These Muppet cupcakes are ready to leave the nursery!
Muppet Cupcakes on Pop Sugar
These amazing Muppet themed cupcakes use a combo of fondant and icing to recreate each character to perfection.
Kermit the Frog Cupcakes from Simply Being Mommy
Here is a simple Kermit Cupcake idea that even a beginner baker can pull off without losing your mind. Adorable, right!?
Muppet Babies Cupcakes from You've Been Cupcaked
Fondant cupcake toppers are always a great option. Especially if you are wanting to buy cupcakes and add the details later!
Muppet Babies Cupcake Toppers from Funny Beautiful
I love the playful watercolor feel of these vintage Muppet Babies cupcake toppers. So fun and perfect for a first birthday!
Muppet Babies Birthday Party Supplies
Setting up a party is ALWAYS made easier with the right tableware. From Muppet Babies party plates to adorable napkins and decor, Save time by grabbing a matching set!
Shop this Party
Here are some helpful links for planning a Muppet Babies Birthday Party:
Conclusion for Muppet Babies Birthday:
If you are planning a Muppet Babies party for your little guy or gal, check out these super creative party ideas. From adorable themed desserts to amazing decorations, these party ideas will help you you get creative and make the perfect party for your little Kermit or Piggy! Get inspired with these awesome festive ideas!
If you love these ideas, please pin this image to your birthday Pinterest Board:
Related posts for Muppet Babies Birthday Decorations:
Thank you for reading our Muppet Babies Party Supplies Ideas!