Farm birthday party decorations and ideas!
Old MacDonald had a farm and so can you with an adorable Farm Birthday Party! With cute party supplies and unique treats, this party is a playful way to celebrate any little one who loves farm animals.
This party will help inspire you to plan the perfect farm themed birthday!
Chicks and Cows and Sheep, Oh My! We have some fun and friendly down on the farm party ideas to share!
I have always loved the idea of being on a farm. Growing up a city girl, I didn't get a lot of exposure to farms as a kid. I always loved them though.
Especially cows. I think cows are the coolest. I secretly want to live on a farm and have cows to milk. Some day maybe!
Throwing a FARM THEMED PARTY?
☑️ This
Farm Party Kit
is the perfect set to get your party planning headed in the right direction!
My kids love farms too. Whenever we make it into the country, they get so excited about seeing the horses and the farm animals in fields.
Their little bright eyes shining at the thought of playing with a pig or little chickens is my inspiration for this fun party!
Ideas for Planning a Farm Birthday
Alright…let's talk about setting up a farm themed party.
Farm animals come in a variety of colors. This helps to guide your party set-up and style. While you can go traditional red checkered and wood with a farm party, you can also play into the colorful feel.
To have a colorful farm party, start with a white base. Clean white tables and walls will help make colors pop. Grab some simple multi-colored party supplies to fill in backdrops and accent food and activities.
I used bright colored garlands and added the adorable Friendly Farm decorations and party ware to my table for a fun and festive farm animal feel. It was simple and bright!
I used simple white serving dishes and white cake stands to display the food. To add some color and a little character to the food dishes, I filled the bottom with colorful jellybeans.
This is a fun way to display cookies and other treats. It gives a pop of color, and helps fill a plate so you don't have to put out as many cookies at a time.
Farm Birthday invitations
Once you have settled on a farm theme for your birthday party, you will want to send out invitations. There are some absolutely adorable options available for this. Here are some of the best:
Farm party Invitation from Minted
Farm Birthday Invitation from Minted
Farm Birthday Invitation from Zazzle
The invitations are the first step in setting the tone for your party. Sending out cute, themed invitations really lets your party guests get excited about the party to come!
Farm Birthday Decorations
The design of these decorations is colorful and cute with smiling farm animals and tons of options! It was seriously such an easy party to decorate because there were so many adorable options.
Everything from playful straw toppers to mini piñatas (that are awesome for place settings and favors). So many adorable options.
These cow face plates were fantastically adorable too! I mean who wouldn't want to use that cute little cow plate?
This theme would be fantastic for a first birthday party too! Toddler parties are always a blast with fun and colorful characters, like these little farm animals.
Farm Party Food ideas
The desserts for this party were super simple to put together and so much fun. Making adorable cookies, cupcakes and cakes is not nearly as hard as it seems.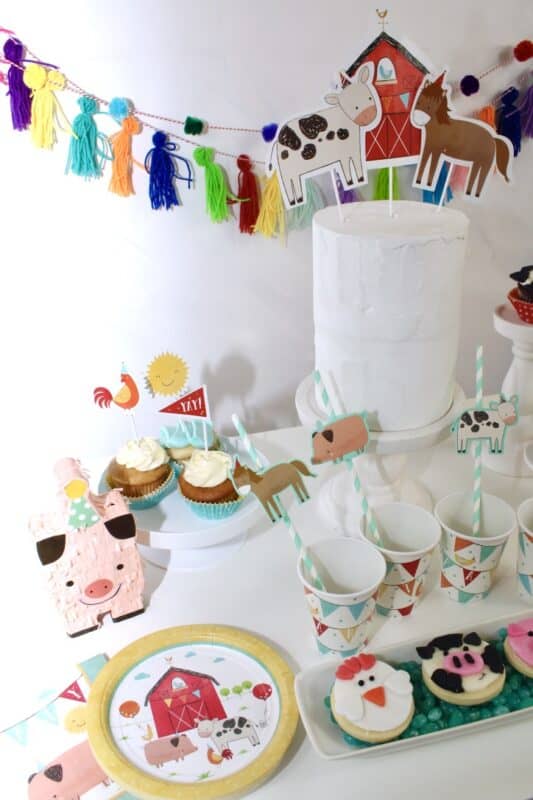 For non dessert foods, here are some fantastic ideas for things you can serve at a farm themed party:
anything BBQ. If you can grill it…it's good to go for a farm theme
corn on the cob
baked beans
pulled pork
watermelon
fruit salad
fresh cut veggies (especially in individual cups to make serving easy!)
hot dogs or corn dogs
kid-friendly snacks like pretzels or chips
You can also get creative with fun themed foods like:
Corn Pops in a bowl could be "Chicken Feed"
Peppermint Patties can be "Cow Paddies"
Churros can be "Horse Tails"
"Pigs in a Blanket"
Cotton Candy can be "Sheep's Wool"
So many amazing ideas…let your creativity guide you. Also, think of food your little one's love and try to get creative with those foods! Fun naming can make any ordinary food turn into a party favorite!
Farm Cupcakes
For this fun farm party, I made farm animal themed cupcakes. These were playful and included a variety of animals. Be sure to check out the Farm Animal Cupcake Tutorial to learn how to make these adorable little treats.
Farm Cake
The cake was a simple layered chocolate cake (using my no-fail chocolate cake recipe) iced with white buttercream frosting. To decorate this simple cake, I used the decorations as cake toppers.
This was super and easy and so cute!
Farm Cookies
The farm themed cookies were also themed to match the party as cute little animal faces. Using my basic sugar cookie recipe, I baked and decorated these little cuties for this party to show off the fun animals!
Be sure to check out the easy Farm Animal Sugar Cookies tutorial to learn how to make these sweet little animal cookies.
Farm Party Supplies
The basis and inspiration for this party definitely came from these adorable farm party supplies. Setting up a cute and unique party is made so simple when you find a set like this that just screams adorable!
From fun tableware to adorable decorations…I am sure you will love grabbing this set for your own farm party.
Shop This Party
Here are some helpful links for throwing a farm party and grabbing all the goodies we used to create this festive event:
Here are some helpful links for planning a farm party:
Conclusion for Farm Animal Birthday:
If you are planning a farm themed birthday, you can't go wrong with these easy and fun farm party ideas. From cute custom cookies to bright decor, this party is full of ideas to help you create the best farm themed event ever.
Perfect for first and second birthday parties, this is such a fun and kid-friendly theme.
If you love this party, please pin this image to your birthday Pinterest board:
Related posts for Farm Birthday Party Ideas:
Thank you for reading our Farm Birthday Party Decor and Ideas!