Adorable Dessert + Food Ideas for a Sesame Street Birthday Party.
If you are planning an amazing Sesame Street party, you should definitely have some adorable and perfectly themed desserts. These Sesame Street cakes, Sesame Street cupcakes, desserts and more are so fun and super simple for planning a party!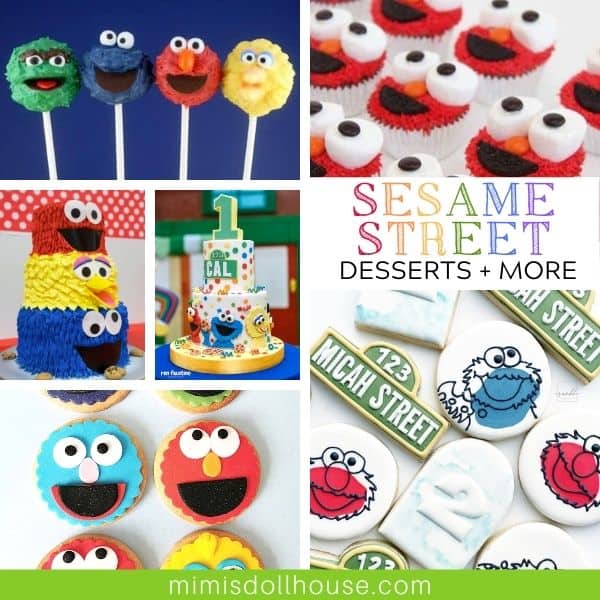 Can you believe that Sesame Street has been around since the 1960s? Granted, it changed a lot over the decades…but still. That's quite a run!!
Sesame Street is very iconic and the characters are definitely immediately recognizable and very well known.
Throwing a SESAME STREET PARTY?
☑️ This Sesame Street Party Kit is the perfect set to get your party planning headed in the right direction!
Personally, I think that is what makes a Sesame Street party so fun!! a few shapes on a solid colored object and POW…Elmo, Cookie Monster and friends come to life.
I was actually one of the few kids growing up who didn't watch Sesame Street. I honestly still don't think I've ever completed an entire episode. I know…weird, right???
RELATED: FREE Sesame Street Printables for Birthday Parties
I don't know if it was because my parents just never put it on for me or if I tried and failed to latch on to it as a youngster. Even so, I know a whole lot about Sesame Street for not having been a little watcher.
My Elmo, Cookie Monster and Sesame Street Inspired party ideas are definitely among the most popular parties. What I think is the best part, though, is how many of the parents who are throwing adorable Elmo and Cookie Monster parties for their kids watched the show way back in the day.
It makes me smile to see kids getting excited about the same characters and shows as their parents:)
There are millions of amazing Sesame Street party ideas. There is just so, so much you can do with the characters and so many food and decor ideas that can really bring the party to life. Here are some of my favorites:
Sesame Street Cupcakes
Sesame Street cupcakes are a great party treat. It's super easy to make them look like the characters and this is definitely a hit with the kiddos!
Elmo Cupcakes from Make It-Love It
These cupcakes are super adorable and with the tutorial from Make-It Love It, they are super duper easy to make too! How can you say no to this cute little Elmo face???

These fun cookie monster cupcakes are made very similarly to the Elmo Cupcakes above, except with cute mini chocolate chip cookies in his mouth!!!
Oscar the Grouch Cupcakes from Two Sisters Crafting
These fun Oscar the Grouch cupcakes are cute and simple to make. I love the frosting eyebrow!
Sesame Street Cupcakes from Baby and Breakfast
Here is another super cute cupcake option. These make adorable toppers and are a fun way to dress up simple homemade or store bought cupcakes!
Sesame Street Cakes
Sesame street cupcakes are great. Of course, a beautiful Sesame Street themed cake is a fantastic dessert table centerpiece. Check these out…
Sesame Street Cake via Catch My Party
This character tiered cake is simply adorable. It would be a fantastic birthday cake!
Sesame Street Cake from And Everything Sweet
Here is an adorable fondant cover cake. The cupcake on top is a super sweet option as well!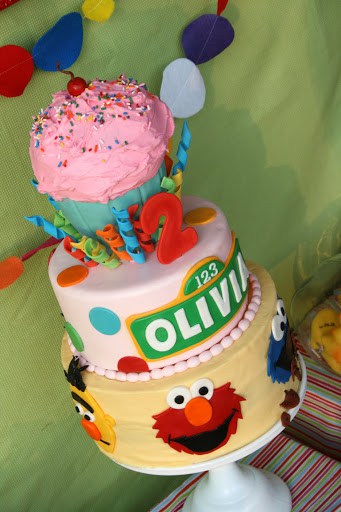 Sesame Street Cake from Patty Cakes Bakery
Here is a simple option for a Sesame Street themed cake. You don't have to be an expert to pull of a cute cake like this!
Sesame Street Cake from Baby and Breakfast
This cake is simply perfect. The fondant is ON POINT!
Sesame Street Cake from Kara's Party Ideas
This is also a beautiful option for a fondant covered tiered birthday cake. So fantastic!
Sesame Street Cookies
Sesame Street themed cookies are also an amazing party treat. These cute options are sure to be crowd pleasers.
Sesame Street Cookies from La Galleteria
These cookies are adorable. The square shape is fun and unique. Love it!
Sesame Street Cookies from Minikin Bake Box
Fondant toppers for cookies are fun and simple to make. These are adorable!
Sesame Street Character Face Cookies from Little Cub
These fun cookies feature kid's favorite "monsters" and would be a blast to serve on a dessert table or give away as party favors!
Sesame Street Cookies from Crumble Catering
I love splurging on amazing cookies…it's my favorite part of every dessert table. These cookies might be my favorite. The fun coloring book feel is super adorable!
Sesame Street Sign and Face Cookies from Z Golden Sweets
Here is another great option for splurging on some cookies you don't have to try to bake yourself. Aren't they adorable?
Sesame Street Desserts
Of course…there are other fun desserts you can make for a Sesame Street party too…
Sesame Street Cake Pops by Bakerella
OK…stop with the cuteness already! These are AMAZING! Bakerella always has the most adorable and easy to follow tutorials for making the best party treats…and these do not disappoint!!
Cookie Monster Fudge from Something Swanky
Cookie Monster fudge is an easy and perfectly on theme treat that is unexpected. So delicious!
Big Bird Candy Pops from The Decorated Cookie
These fun little birds would be simple to make and a great addition to a dessert table! What kid wouldn't want one of these?
Cookie Monster Bark from House of Yumm
Another simple and winning Cookie Monster treat! The candy eyes really make this one!
Sesame Street Healthy Snacks
You can't just serve sweets at your party, even if you wish you could! Here are some healthy Sesame Street food ideas…
Sesame Street Fruit Trays from The Mom Creative
Fun character themed fruit trays? This is so very creative!
Sesame Street Lunch Box from Lunchbox Dad
If you are going to make individual lunches…why not make them adorably?
Coordinating Sesame Street Party Supplies
Setting up a party is definitely easier with coordinating party supplies. This will help set those Sesame Street cupcakes up to look amazing! Here are some fun options you will love that will make parties so easy:
Sesame Street Party Balloons from Target
Sesame Street Favor Bags from Amazon
Sesame Street Party Tableware
Matching party ware is also a great way to get your party planned and stay on budget and on theme.
Sesame Street Tableware from Target
Sesame Street Tableware from Oriental Trading
Sesame Street Tableware from Amazon
Here are some helpful links for planning a Sesame Street party:
Conclusion for Sesame Street Cakes + Desserts:
If you love Sesame Street and are looking for an amazing assortment of themed treats to make, bake and buy for your party, you will LOVE these Sesame street cookies, cakes and more. From simple to elaborate, we have the perfect dessert ideas for you!
If you love these ideas, please pin this image to your birthday Pinterest Board:
Related posts for Sesame Street Food Ideas:
Thank you for reading about our favorite Sesame Street Party Treats!