Ideas for throwing a party with a shark theme
Sharks are seriously such a great theme for summer parties. If you are planning to swim, there are some exciting games and ideas you can incorporate into your party themed around a shark!
Throwing a SHARK THEMED PARTY?
☑️ This
Shark Party Kit
is the perfect set to get your party planning headed in the right direction!
On top of those games and activities…the shark themed decor is ADORABLE!! Planning a shark party sounds like a killer idea this summer! Let's look at some fantastic shark themed desserts and decor ideas!
Shark Party Ideas
From shark cupcakes to wearable shark fins, there are so many ideas that are fantastic for a shark party. If you are throwing a traditional shark party, check out this bright blue Shark party for inspiration.
If you are planning a shark party for a toddler, or just want a more playful theme, try out these Baby Shark themed birthday ideas. Either way…these food, decor and game ideas are going to take a bite out of planning your summer party!
Shark Party Food
Yummy Shark themed food and dessert ideas are a great way to really add an extra amount of amazing to your party spread. These food ideas can be simple, like placing Doritos in a bowl labeled "Shark Fins" or complicated like elaborate fondant covered layer cakes.
Here are some of the most adorable and creative food ideas for planning a killer shark party:
Shark Cake from 100 Layer Cake
This sweet little shark cake has that fun underwater feel with colored buttercream and a simple shark fin topper.
Fondant Shark Fin Cupcakes via Catch My Party
Fondant shark fin toppers for the win! These adorable cupcakes are yummy and super festive. Any little swimmer would love to see these shark fins approaching!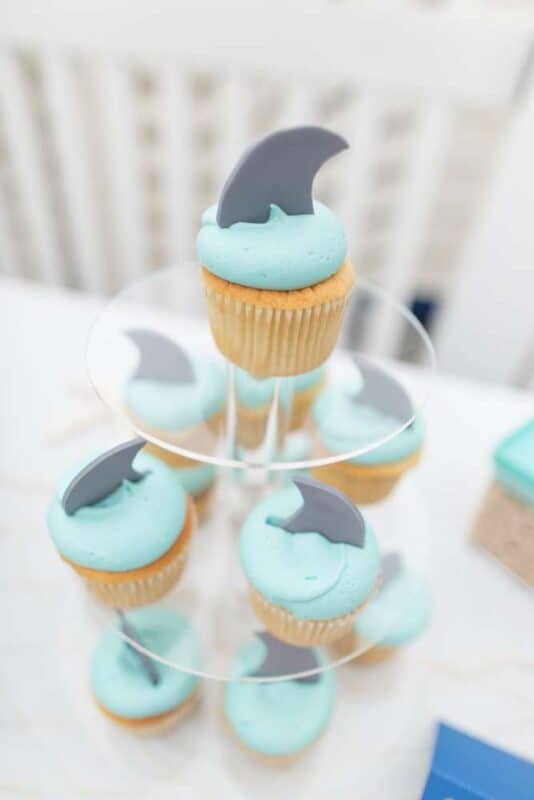 Shark Fin Cake from 100 Layer Cake
Here is another buttercream frosted shark cake. I love the wave like feel of the frosting. Adorable!
Hammerhead Shark Cookies from Cookie Connection
Grab some adorably cute hammerhead shark cookies and take a bite out of the shark! The teeth are my favorite part!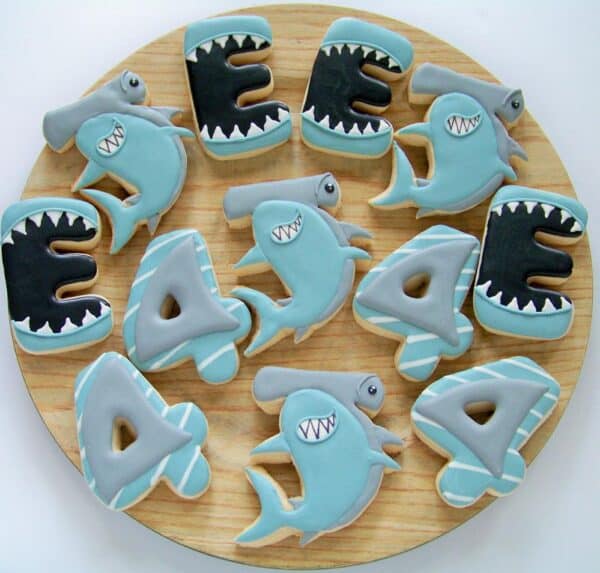 Shark Marshmallow Pops from The Decorated Cookie
Marshmallow pops are a fun way to jazz up any party. Especially when those cute pops look like even cuter sharks!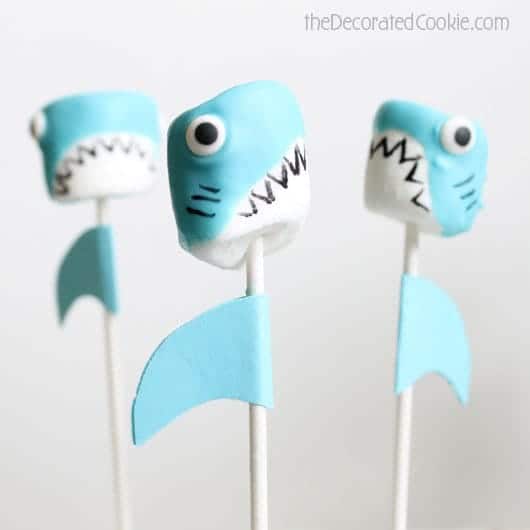 Shark Cake Pops from Bakerella
Ready to dive into making adorable cake pops? These fun little sharks are delicious and ready to diy!
Shark Fin Cupcakes from Joy in the Commonplace
Here are some cute homemade shark cupcakes with simple shark fin cupcake picks. IF you have a textured frosting tip, you can make fun wave designs like this too! Jaw-some!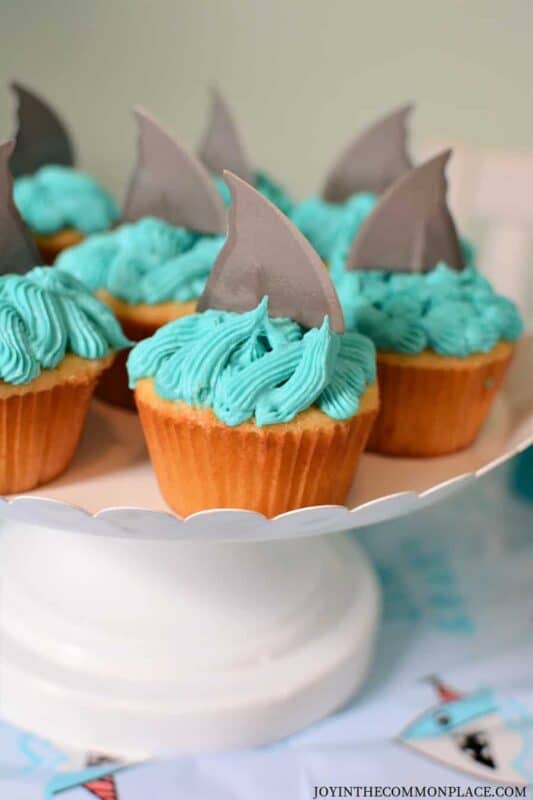 Shark Chocolate Bark from Sandy Toes and Popsicles
Yummy shark candies on delicious chocolate bark for the win! Not only does this look fantastic, it's such a great simple treat!
Shark Party Punch from Liz on Call
Have those shark candies do double duty in a yummy shark infested drink!
Shark Jello Jars from Fun365
These jello cups are perfection. I love the colors and the shark tooth candy necklace wrapper. So cute!
Shark Ombre Cake via Prints for Events
This gorgeous ombre cake is perfect for a shark party. Just add simple printable cake toppers and you have an instantly fantastic shark cake.
Shark Printable Popcorn Holder from Creating Creatives
These printable treat holders are fun and make serving foods like popcorn simple!
Shark Cocktail from Suburban Soapbox
Looking for an "adult" beverage for your shark party? Check out this Shark themed cocktail!
Shark Sushi from Momma Lew
Who wouldn't want a delicious shark sushi roll? Candy sushi is so clever and perfect for a shark birthday!
Shark Party Decorations
Once you have your menu all planned out, it's time to start talking decorations. Adding cute little sharks into a fun blue, white and gray color scheme is a simple way to get going and create a fantastic party spread without breaking the budget.
Here are some fun shark party ideas to decorate your event:
Shark Balloon Backdrop via Prints for Events
This balloon wave backdrop is awesome for a shark party. It's fun and playful! The printable poster is awesome too!
Modern Shark Party Table via Kara's Party Ideas
Here is a little shark themed fishing party. This is color palette is also very trendy and modern.
Beware of Sharks Party from Fun365
Here is a fun way to set up a party table with playful sharks and pretty blues. The net table cloth is an awesome touch.
Shark Welcome Sign from Delight Paperie
Printables make party planning a snap. This welcome sign has a playful pattern and a cute bite mark for added fun!
Shark Surfboard Party Table from Wholesale Party Supplies
Sharks and surfboards seem to go hand in hand. This table set up is fun for an older kid party as well!
Beach Themed Shark Dessert Table from 100 Layer Cake
Here is a beach-y flair to a shark party. The balloon garland is awesome, but the best detail is that sandy floor!
Shark Birthday Party Invitations
Start your party off right with a cute and clever themed invitation. Here are some printable options I know you will love:
Shark Invitation from Red Foxx
Shark Birthday Invitation from My First Invitation
Watercolor Shark Invitation from Little Birdie Prints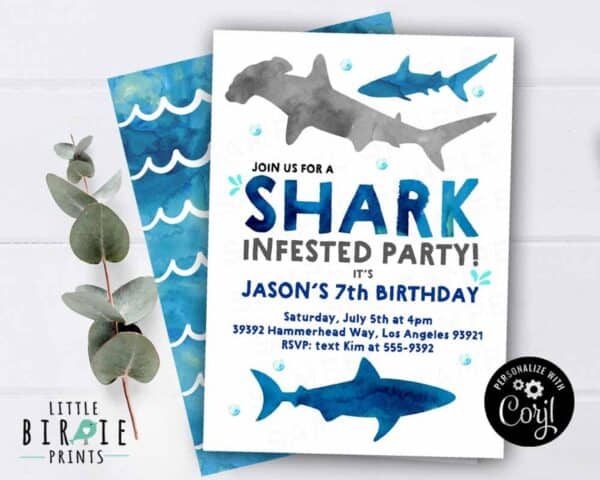 Shark Party Games
Keeping those kids entertained during a party can be themed too. Sometimes simple games you would already play can take on a shark theme so you can keep everything on point.
A given for a shark party is definitely swimming. If you have a pool or beach access, playing in the water is definitely a great idea. You can also set up sprinklers and other water activities.
Here are some other shark themed games:
Pin the Fin on the Shark from Team Whitaker
This is a tried and true game that can be so fun for little ones. It also gives great photo ops!
Adopt a Shark from Laura's Little Party
Give away little stuffed sharks as an activity that also doubles as a fun party favor.
Shark Bean Bag Toss from Wholesale Party Supplies
Buckets and bean bags make a great little toss game. Whether you are tossing to the shark or the lifeguard!
Shark Toss Game from Catch My Party
You can also make a cool shark out of foam to make a shark toss game

Shark Party Supplies
Starting off your party planning with some coordinating supplies is a great way to save time and money. Here are some awesome tableware and decorations packages to get you started.
Shark Tableware from Target
Shark Party Supplies from Meri Meri
Shark Party Supplies from Oriental Trading

Shark Party Printables
Here are some helpful links for planning a shark party:
Conclusion for Ideas for a Shark party:
Planning a fin-tastic Shark birthday party is a great party for summertime and warmer weather. If you have a little one who loves sharks, these awesome ideas will help get your party planning off on the right track! Checkout all the inspiration and make a splash!
If you love these ideas, please pin this image to your birthday Pinterest Board:
Related posts for Shark Party Theme:
Thank you for reading our ideas for throwing a Shark Party!