Amazing ideas for a Fortnite Party you will never forget!
Gearing up for an epic Battle Royale? These amazing Fortnite Birthday ideas will get you set for an adventure your little gamers will never forget. Whether you are a stud DIY crafter or just need some quick links for things to grab…we have got the loot Llamas you are looking for! Everybody Fortnite Dance!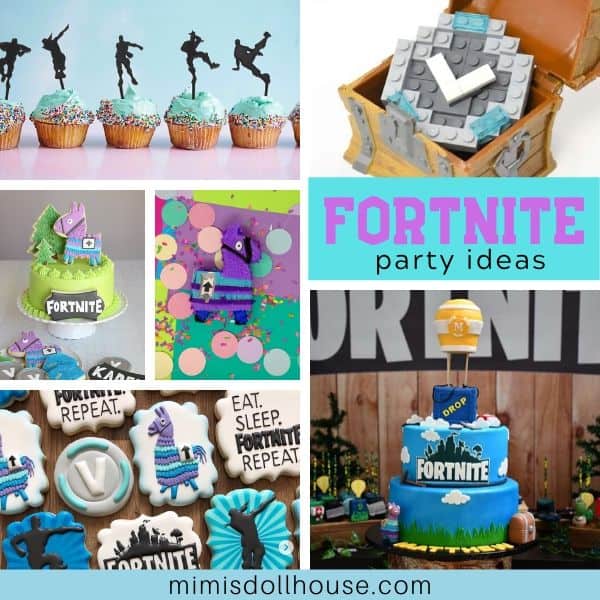 Ready to get your party started? If the idea of putting together an amazing Fortnite themed party for your little gamer makes your head spin, we are here to help keep your party planning from being a sweat!
Throwing a FORTNITE THEMED PARTY?
☑️ This
Fortnite Party Kit
is the perfect set to get your party planning headed in the right direction!
Fortnite parties are all the rage! If you have a gamer in your home, you have no doubt heard about v-bucks and seen at least one variation of a fortnite dance. My kids have tried to teach me their favorite dances, but this mama's un-coordination makes that for a hilarious mess!
Fortnite Party Ideas
Your Fortnite Themed party need not be a hilarious mess, however! These amazing ideas will help you launch your Fortnite players into play! Everything from party food and desserts to party decorations to party favors.
Check them out!
Fortnite Food Ideas
Ready for some delicious and perfectly themed food ideas? Here are some awesome ideas from party juice to gorgeous birthday cakes. Check out all the fantastic ideas…
Fortnite Slurp Juice from Kimspired DIY
Here is a simple and awesome Slurp juice to keep your little gamers hydrated and in the battle!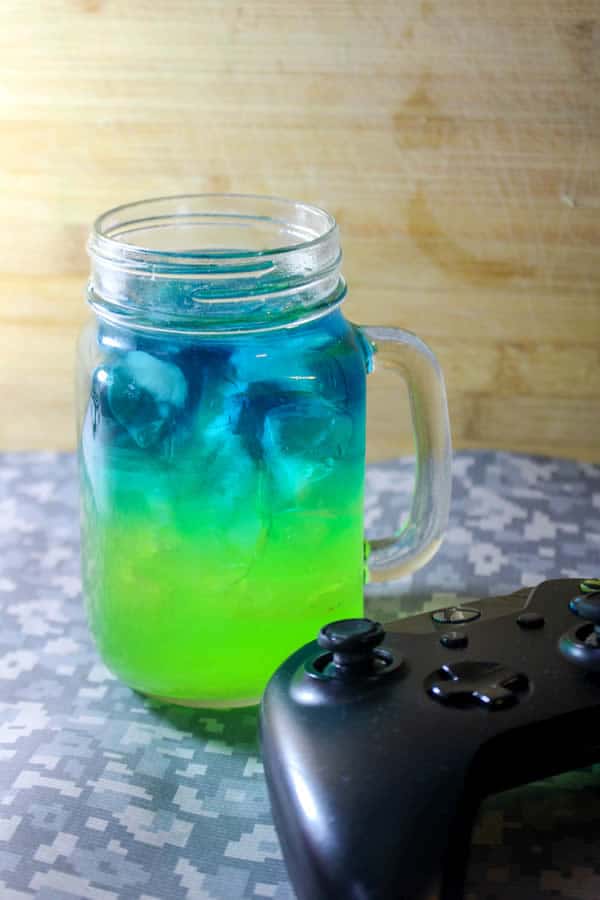 Durr Burger from The Starving Chef
Feeling adventurous? Make up some delicious Durr Burgers that will be favorites for both the kids and the adults!
Fortnite Bars from Cutefetti
Simple and yummy bars with fortnite colors are great for dessert tables and party favors!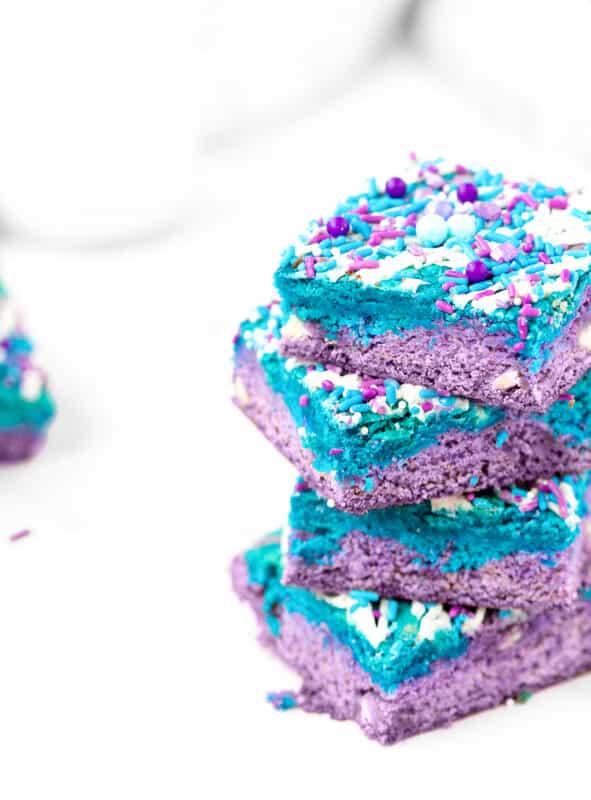 Fortnite Cookies
Looking for some some amazing ideas for custom cookies? We have ideas for both DIY bakers and busy mamas looking for something sugary to order!
Fortnite Cookies from Pretty Killer Cookies
Aren't these loot llama cookies the cutest ever? Loving these!!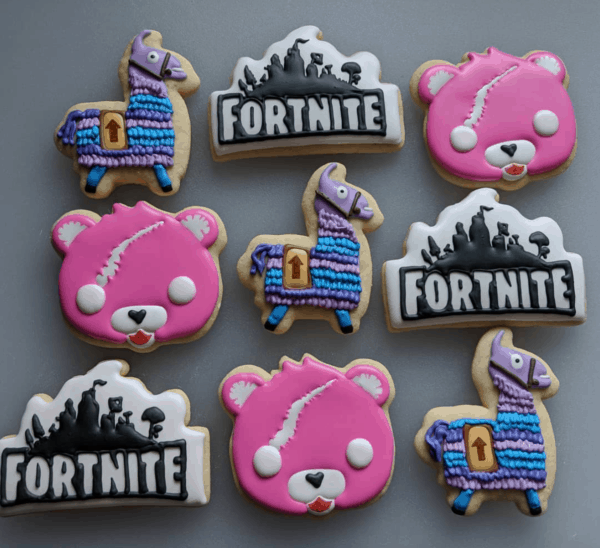 Battle Royale Cookies from 6 B's Creations
Eat. Sleep. FORTNITE. Repeat. These cookies say it all. I love the dance cookies and those adorable v-bucks!
V Buck Sugar Cookies from Kookie Vision
Looking to make your own v-buck cookies? Check out this amazing tutorial for delicious v-buck cookies! These will definitely keep you in the game all party long!
Fortnite Cake and Cookies from Glorious Treats
Want some cookies that double as an awesome cake? Dress a simple homemade or store bought cake up with custom cookies for a double win that saves time and party budget! Plus…they are adorable!
Fortnite Cakes
Its wouldn't be a Fortnite party without an amazing cake, right. Here are some awesome ideas for every baking level!
Fortnite Themed Cake from Steph G Bakes
This cake is amazing. All the details. I especially love the loot llama layer with the fringed fondant! Genius!
Loot Llama Cake Toppers from My Soirée Designs
Another easy and fun way to dress up a simple homemade or store bought birthday cake is with some cake toppers. These mini loot llama pinatas would be perfect on top of any cake to take ordinary to epic!
Durr Burger Cake from Pinterest
Feeling adventurous? Why not make a Durr Burger cake. Cake layers with colored frosting for the win. I love this idea!!
Fortnite Fondant Cake Toppers from Tammy's Toppers
Here is a fantastic fondant set you can use to turn any simple cake into a Battle Royale themed extravaganza! Amazing!
Fortnite Cake on Catch My Party
Here is another beautiful cake decorated with amazing fondant Fortnite items. Delicious!

Fortnite Cupcakes
Need some ideas for a some cupcake treats? From cupcakes you bake to cupcake toppers you pop in, these ideas are perfect!
Fortnite Dance Cupcakes Toppers from Stumblebaum
Get your dancing moves ready with some simple sillhoutte dancers that can take any homemade or store bought cupcakes to the next level!!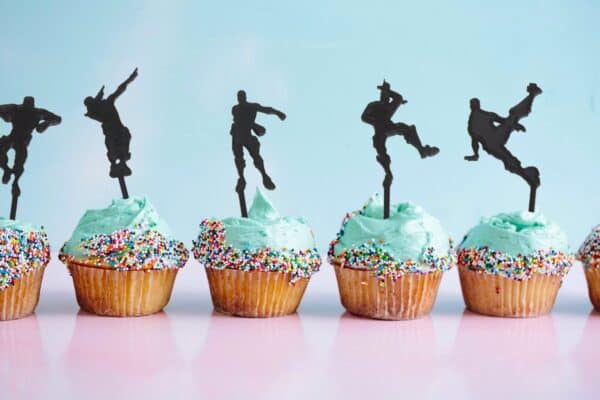 Fortnite Cupcakes from cupCAKEs
These custom cupcakes are adorable. I love the boogie bombs especially!
Loot Llama Fondant Cupcake Toppers from Simply Sucre
Fondant cupcake toppers are a fun and super simple way to take plain cupcakes and turn them into party favorites. I mean come on with the cuteness of these llamas!
Fortnite Party Decorations
Alright, we have talked food. Now let's talk about decorating that party! There are some great ways to dress up a simple party into an epic Fortnite Birthday battle!
Fortnite Party Supplies
One thing to remember is Fortnite is full of bright colors! It is also full of greenery and blacks. So basically…anything is game! Pick a focal point and run wild!
Here are some links for awesome Fortnite Party Supplies:
Balloon Backdrop on Catch My Party
This balloon backdrop is perfection. The mixture of colors is so good and it gives so many options for ways to include drop boxes and loot llamas and more in the decor!
Mini Marshmello Pinatas from My Soiree Designs
Have a kiddo who love Marshmello? Pop some mini marshmello pinatas! These would be great for place settings or favors as well.
Llama Fur Stickers from Crim Rose Design
Simple cotton candy and a fun sticker turns an ordinary (and inexpensive) party treat into an amazing favor or price for winning a Fortnite themed party game.
Mini Loot Llama Pinata Party Favors from My Soiree Designs
Don't forget about the iconic loot llama! How about party favors that are actually your very own llama pinata? Everyone leaves a winner!

Fortnite Crafts
Looking for some simple crafts for activities or party favors? These ideas are so simple, yet so great…you'll be so glad you found them!
Fortnite Shield Potion Necklace from Simplicity Living
Here is a great party favor! Send your party guests home with their own Shield Potion!
Drop Favor Bags from Party Favors
Drop Boxes give you the goods in game. Why not use them to get the goods after a party too?
Lego Fortnite V-Bucks from Simplicity Living
Simple Lego V-bucks. This would be a great station for kids to make their own v-bucks! Love it!
Fortnite Party Tableware
Alright…setting up the party tables can be as easy as pie. The fastest and easiest way to get your party decor on track to to buy a ready to go party kit. This Battle Royal Party Decorations Kit from Party City, includes everything from a Fortnite birthday banner to plates and spoons.
It's a quick and easy way to keep everything themed and coordinated. I mean who doesn't want an easy win?
Conclusion for Fortnite Party Ideas:
If you are planning a Fortnite Battle Royale birthday, these epic ideas are sure to get your party off to a great start and impress even your savviest little gamer.
If you love these Fortnite Birthday Ideas, please pin this image to your Birthday Pinterest Board:
Here are some helpful links for Fortnite Birthday Party:
Related posts for Battle Royale Birthday Ideas:
Thank you for reading our Fortnite Cakes, Decor and More!