Recipes to bake the best cookies ever!
Looking to bake some delicious cookies? Whether you want a fun activity to do with your kids, are planning a huge party or just want a sweet treat…these amazing recipes are truly the BEST COOKIE RECIPES of all time!
From scrumptious sugar cookies to fun s'mores stuffed cookies…you will love these fu options.
There is nothing quite like baking cookies. From the smells and the sounds coming from the kitchen to that first bite of too hot cookie you just couldn't wait to get in your mouth…cookie baking is amazing!
Ready to explore some of the most delicious, softest and chewiest cookie recipes EVER?
Related: Best Chocolate Cookie Recipes
Peanut Butter Cookie Recipes
Oh the peanut butter cookie! Peanut butter cookies are a classic favorite in many homes. From the simple traditional criss cross cookie to peanut blossoms and more, here are some absolutely fabulous peanut butter cookie recipes you'll wish you had been baking your whole life!
Make delicious peanut butter cookies without grains or refined sugar! Perfect for those who want something sweet with just a few ingredients
These Peanut Cookie Butter Cookies are made with both peanut butter and cookie butter, giving them a hint of mild gingerbread flavor and elevating them to an entirely new level of deliciousness! Made with mostly pantry ingredients, they are quick and easy to make
There's nothing like good old-fashioned peanut butter cookies for comfort food. And you probably already have everything you need in your pantry for these goodies!
These peanut butter blossom cookies are full of delicious flavor and melt in your mouth from the first bite.
These Peanut Butter Cookies with M&Ms and rolled oats are going to become your latest cookie obsession… the perfect peanut-chocolate combination!
Peanut Butter No Bake Cookies are a healthier version of your favorite no bake cookie. Coconut oil, honey, cacao powder, peanut butter, instant oats and shredded coconut come together to create a sweet treat that will cure your sweet tooth.
Oatmeal Cookie Recipes
Hearty oatmeal cookies are both delicious and helpful for some dietary needs. From oatmeal raisin to oatmeal chocolate chunks…you can find a household favorite amongst these bite-sized pieces of heaven!
Dried Cranberries in a traditional oatmeal cookie are delicious Oatmeal Cranberry Cookies. This soft cookie is packed full of flavor and is perfect for eating right away or freezing for later.
Healthy, 3-ingredient banana peanut butter oatmeal cookies. No refined sugar. No flour. No baking soda. I even included 3 variations: chocolate chips, raisins, and cocoa powder. Perfect for a quick snack or for an on-the-go breakfast.
Simple Gluten Free Oatmeal Chocolate Chip Cookies made with hearty oats and loaded with chocolate chips. These old fashioned cookies are a family favorite.
These soft and chewy Oat Flour Cookies are vegan, gluten-free and refined sugar-free! You can easily make them nut-free too by swapping out the pecans for chocolate chunks or chips.
The BEST Oatmeal Cookie Recipe – crispy edges with soft and chewy centers, these oatmeal cookies are easy to make (no chilling, simple ingredients) and out-of-this-world delicious. Add your favorite mix-ins for an extra special twist!
Sugar Cookie Recipes
Soft sugar cookie recipes are some of the most tasty and most versatile cookies. They can be frosted and decorated for any party, they can be colored and flavored. You really can't go wrong with a perfect sugar cookie!
If you are looking for a simple and delicious basic sugar cookie recipe that is perfect for decorated cookies, these cut out sugar cookies are perfect.
Homemade snickerdoodle cookies are soft, chewy and coated in cinnamon sugar.
Vegan Eggless sugar cookies that taste even better than the original. They're no-chill, no-spread little miracles that will save you both time and money.
This easy, no-chill recipe for Gluten Free Frosted Sugar Cookies is a must-make. They're great for holidays, birthdays, or any time you're looking for a sweet treat.
Donut Sugar Cookies topped with icing and sprinkles are the best recipe for soft cut out sugar cookies made from scratch!
These Soft Oversized Crinkled Sprinkle Sugar Cookies are so good, they'll leave you indulging in two or three before you even realize it. Super soft and tender with a slightly crispy edge, these sugar cookies are nothing like the traditional, yet are so easy to whip together.
This easy cut out sugar cookie recipe makes a simple sugar cookie made with cookie cutters.
They are soft and chewy with the perfect crispy edge. No chilling of dough required for these snickerdoodles!
Grandma's Cookie Recipes
Ever wish you could bake those delicious holiday treats just like grandma used to make? Here are some of those classic cookie recipes for the next generation! From delectable molasses cookies to shortbread cookie goodness, you can make grandma proud baking these goodies!
Simple linzer cookies just like grandma used to make. You will love these delicious little bites.
Soft, crumbly, tangy and crunchy, these Lemon Poppy Seed Cookies are super easy to make and delicious to snack on all day long! Enjoy your favourite shortbread cookies with a cup of tea or as a sweet snack!
These old-fashioned molasses cookies are oldies but goodies! You will eat them up!
Hojarascas (or Mexican Shortbread Cookies) are yummy little bites of heaven that literally melt in your mouth. Covered in cinnamon and sugar and 100% vegan.
Linzer cookies are simple, cut-out almond cookies filled with raspberry jam and dusted with confectioners' sugar.
4 ingredient whipped shortbread cookies are amazing, melt-in-your-mouth, quick and easy!
Maple Bacon Shortbreads. Shortbreads could be the most underrated cookie out there. They have mastered the ability to be rich and buttery while also having a crumbly texture. These are extra decadent with maple syrup and bacon.
Buttery, crumbly and light – classic shortbread cookies are one of a kind, and you only need a minimum of 3 ingredients (butter, sugar, flour) to make them!
5 ingredients are all that is needed to make these delicious Gluten and Dairy Free Almond Cookies! So simple to make, and also freeze well.
These Sable Breton Cookies, aka French Salted Butter Cookies, are the most delicious French Cookies ever: crumbly, melt-in-your mouth cookies you will ever try… and they are super easy to make!
Gingersnap cookies. These cookies put the 'snap' in gingersnap! Not only are they full of spicy ginger flavor and warm spices, but they've also got plenty of that classic, true gingersnap crispness with a gentle, chewy middle.
Cake Mix Cookie Recipes
Step up the softness of your cookies with some cake mix. Cookie recipes with cake mix deliver some of the most crumbly and delightful cookies ever. Whether you want some brookies (brownie cookies) or some whoopee pies…you can find the perfect cake cookie here…
Pecan Cake Mix Cookies are a quick and easy snack or dessert idea. So delicious and soft.
The best, simple cake cookie recipe! These Gooey Butter Cake Cookies are sweet, buttery and super moist. These cookies are perfect to bake at home with kids!
Whoopie pies are chocolate cake-like cookies filled with a whipped buttercream filling. These sandwich cookies are rich, decadent, and a crowd favorite chocolate cookie recipe.
Absolutely scrumptious birthday cake cookies are perfect for any occasion…Especially a birthday! Birthday Cake Cookies are soft, chewy, buttery, and filled with white chocolate chips and sprinkles. These cookies have that classic birthday cake flavor, without the need for a boxed cake mix – they're made entirely from scratch!
This quick & easy brownie mix cookies recipe turns out deliciously fudgy and chewy brownie cookies from a boxed mix in just about 15 minutes! With just 3 ingredients, this recipe is ideal for beginner bakers (and busy moms)…
Easy Lemon Crinkle Cookies are easy to make and fun to make with kids. They are lemony, soft, chewy spring cookies!
These Brownie Cookies are made from an adapted brownie box mix and are loaded with chocolate chips! They have a crisp outer edge and chewy fudge center just like a classic brownie!
Fruit Cookie Recipes
Jazz up some yummy sweetness with a little fruit. From tart lemon to sweet strawberry, the best cookies can be made better with a little fruity punch.
These award-winning Toffee Apple Pie Cookies combine apple pie and toffee flavors with a fresh lemon glaze. They won Grand Prize in the Home Baking Cookie Category at "Canada's Baking and Sweets Show 2015". A unique and tasty dessert recipe that's the perfect way to use up those apples
These Berry Cream Cheese Cookie Cups are delicious mini sugar cookie cups filled with creamy cream cheese frosting and topped with fresh blueberries and raspberries
These flavorful, soft breakfast cookies are full of bananas, blueberries, coconut, nuts, and oatmeal — perfect for a quick breakfast as you dash out the door.
Maple Dried Apple Cookies. Sweetened with maple syrup and full of dried apples these hearty and filling cookies are perfect for lunch boxes, care packages, and dessert any night of the week.
Raspberry cheesecake cookies are a simple and delicious treat with the tang of cream cheese and a little pop of berry in every bite.
These sweet and delicious Blueberry Cheesecake Cookies are officially the best blueberry cookies ever! Made simple with fresh blueberries, white chocolate chips, cream cheese, and cheesecake pudding mix, they'll quickly become your new favorite cookie.
Cranberry Shortbread Cookies. A classic cookie meets tart cranberries for a delicious recipe you will make time and again.
Chewy Strawberry Oatmeal Cookies are one delicious treat filled with fresh strawberries and beautiful flavors. These tasteful cookies are whole grain, and super low-calorie. Perfect breakfast, kids school snack or afternoon dessert.
Fancy Cookie Recipes
Some cookies just scream sophistication. If you are baking for a fancy event, try some delicious and spectacular fancy cookies to really impress the eyes and the tastebuds.
The perfect combo of chewy and crisp! These lace cookies are full of flavor and naturally gluten free
These golden and aromatic Persian Saffron Raisin Cookies (shirini kishmishi) are not only swoon-worthy to serve to your friends and family, but also very simple to make.
Easy enough for beginner bakers, these Everything Cookies include one-cup of each ingredient with a blend of chocolate, dried fruit, coconut, nuts and oats.
These doughnut cookies will melt in your mouth and make your heart sing. Fun to make with kids, you can let them dip the cookies in melted chocolate!
Amaretti Macarons. Less sugar and four kinds of almond flavoring make for a deliciously chewy, gluten-free, yolk-free almond cookie that is bursting with flavor.
Christmas is for eggnog cookies! This easy keto eggnog cookie recipe creates a soft treat. To make these even better, top them with homemade low carb caramel sauce!
Unique Cookie Recipes
If your idea of baking is a little of this and a lot of that…these unique cookies are just for you. From potato chips to pretzels, you haven't lived until you have tried some of these extraordinary cookie options.
If I really wanted a chocolate covered potato chip in cookie form I would make this exact recipe: potato chip cookies! Potato chip cookies are like an extra brown sugary chocolate cookie with added texture and a bit of saltiness.
Crispy, chewy and gooey, these delicious s'mores cookies are made with graham crackers and toasted under the broiler. This s'mores cookie recipe is perfect way to get your chocolate, marshmallow and graham cracker s'mores fix without a campfire!
Looking for the perfect salty and sweet combo?! Check out these Peanut Butter Cup Cookies loaded with mini peanut butter cups and pretzels for a delicious flavor combination.
Sweet, salty, crunchy and soft, these kitchen sink cookies have it all. Full of caramel, chocolate and even bits of pretzel. They are based off the popular Panera cookies and they are delicious.
Chocolate Dipped Cookies. Buttery cookies with bits of pecans are shaped into crescents and dipped in a chocolate coating for a perfect combination. These cookies have been favorites in our family for generations!
These Soft + Crisp Crinkled Butterscotch Cookies are truly my newest favorite flavor of cookies. Unlike standard cookies, these small handheld favorites are full of bold buttery and sweet butterscotch flavors—which work perfectly together.
Our Twix Cookies are completely addictive! Made with a super easy shortbread base, caramel filling and dark chocolate topping… the perfect sweet treat!
Quick and easy cinnamon chewy cookies topped with salted dulce de leche. A must have treat!
Here are some helpful links for baking cookies:
Conclusion for Simple Cookie Recipes:
If you are looking to start baking up some delicious cookies, you can't go wrong with these absolutely fabulous cookie recipes. From delectable sugar cookies to unique and fun candy bar themed cookie recipes, you will have creative and yummy cookies for days and won't want to stop baking!
If you love these ideas, please pin this image to your baking Pinterest Board: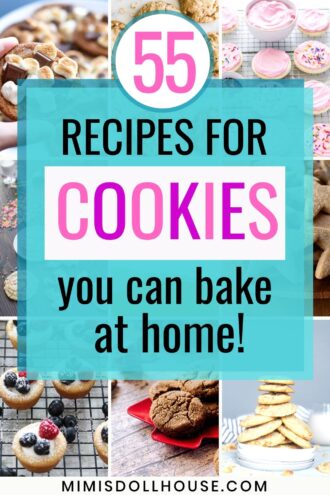 Related posts for Delicious and Easy Cookie Recipes:
Thank you for reading our best cookie recipes to bake!