Amazing Homemade Donut Recipes
There is nothing quite like a delicious and warm donut. These delicious and creative homemade donuts are exactly what you need for a party, special occasion or even just a Saturday morning. From savory to traditional…we have a donut recipe that is perfect for you!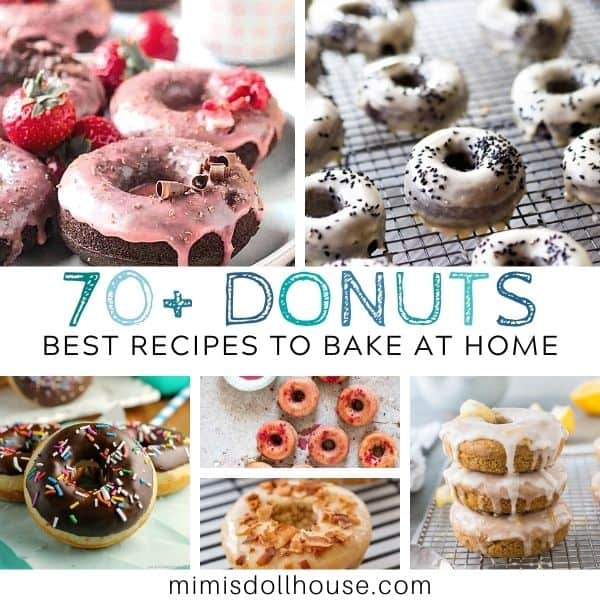 Donuts are the best. They are the perfect combination of sugar and bread. Everyone loves a good donut. Bake the best donuts on the block with this fantastic list of donut recipes! Check it out…
29 Traditional Donut Recipes
Here are some of the best traditional donuts. From cinnamon sugar to glazed…you will love these donuts!
Homemade baked donuts will save you a trip to the donut shop this weekend! Dip the freshly baked donuts in cinnamon and sugar while they're still warm for the perfect treat.
Cinnamon donut holes are light and flaky and made with just four ingredients! These bite-sized donut holes are perfect fresh out of the oven and take less than 30 minutes to make.
I love those sugar donuts at the Chinese Buffet – and not only did I make them at home – I made them in my air fryer! They're light, fluffy and done in minutes! I
Vanilla Donuts! Totally fluffy, soft, moist, and amazingly dairy-free, you would never know that these crowd-pleasing donuts are vegan, and baked, to keep this delicious dessert a little healthier. This is the perfect treat for birthday parties, holidays, gifting, bake sales, and more!
These mini donuts are just like the ones at the fair but baked and not fried!
Whether you spell it doughnuts or donuts, Grandma's Old-Fashioned Doughnuts are the BEST! Serve up these cakey beauties plain or coated all around in cinnamon sugar. Just like Grandma used to make!
Who doesn't love a delicious fresh-made donut? Well, just grab yourself a donut baking pan and follow these simple steps on how to make Baked Donuts. You can enjoy a fresh homemade batch in minutes ~ all with the ease of baking instead of frying!
Donuts you will want to make today! Super yummy vanilla cake donut with glaze.
Classic old fashioned Cinnamon sugar Donuts. Eggfree and very simple recipe.
This Pampushky (Ukrainian Doughnut) recipe is a light and airy raised doughnut without filling. These traditional Ukrainian donuts are made into modern mini (Stampede-style) doughnuts and sprinkled with cinnamon and sugar just the way my Baba used to make them when I was a kid.
Cinnamon Vanilla Donuts are a perfect quick treat your whole family will love. These delicious donuts are covered with chocolate. Perfectly flavored but healthy – whole grain and REFINED-SUGAR-FREE. Yummy and easy to make.
Perfect vegan doughnuts that are light as a feather! Everyone will want them and no one will ever guess they're vegan!
Donuts made with puff pastry from the freezer. So easy!
The most perfect yeast doughnuts you'll ever have! Super easy step by step directions for great results!
You can make these warm, fluffy Air Fryer Donuts in just 10 minutes! With 3 glaze options, every one can make their favorite donut at home!
These easy baked cinnamon sugar doughnuts are the classic cakey treat super simplified and ready to eat in 30 minutes or less. Perfect for a potluck or perhaps gifting to a friend.
Loukoumades or Lokmades, as they are called in Cyprus, are Greek doughnuts. They are fried, shaped into small round ballls, served with honey, cinnamon and walnuts or plain in Cyprus dipped in sugar syrup.
When it comes to homemade doughnuts, this right here is that Daddy of all recipes. Light, moist and altogether more easy to make than you'd ever think – these doughnuts are pure perfection!
Something a little different to the rest. Gluten free & vegan doughnuts
An old-fashioned doughnuts recipe handwritten back in 1940.
This recipe for Air Fryer Donuts uses a fraction of the oil as the traditional method. Now you have a healthier way to indulge your sweet tooth that is easy, fun and guilt-free
These Eggless Doughnuts are delicious and healthy version of donuts made with whole wheat flour and are baked.
If you love maple donuts from Dunkin Donuts or your local store, try these homemade donuts featuring some of our favorite flavors!
Cinnamon donuts are a bouncy, sugary treat. These baked vegan donuts are coated in a fine layer of cinnamon sugar.
Use Letter Donuts to create your own messages. This is a popular way to celebrate birthdays, make announcements, or surprise loved ones!
Baked Mini Donuts dusted with powdered sugar make a delicious breakfast or a quick snack. These are fun little donuts that can be made and enjoyed in under 30 minutes!
Homemade Baked Sugar Donuts recipe that is easy to make and ready in 15 minutes.
These homemade baked doughnuts are the perfect sweet treat for the whole family! Easy to make and they are best served with chocolate icing and generously topped with sprinkles! Easy and fun to make, you'll have a batch of baked doughnuts in just 20 minutes!
They always say that everything is better with sprinkles and these Vegan Vanilla Donuts with Sprinkles aren't an exception. Super fluffy, soft, moist, and completely dairy-free, these donuts truly are like the perfect sweet treat for adults and kids alike, especially during Easter.
16 Chocolate Donut Recipes
Ooh…chocolate. You can't go wrong with chocolate. Chocolate is the perfect way to bake the best donuts ever!
Chocolate Glazed Baked Cake Donuts covered in sprinkles. Homemade donuts are probably easier to make than you think and you can save a trip to the donut shop!
Delicious chocolate glazed biscuit donuts are just what the Dr. ordered for an amazing donut experience.
Intense red color, cake-like texture and deep chocolate flavor make our Red Velvet Donuts perfect for breakfast or dessert! Red velvet cake shaped like donuts will be everyone's favorite!
Simple and very easy to make Nutella stuffed Cinnamon Sugar Donuts.
These Cake Donuts with Chocolate Glaze are so easy to make with a donut pan! Baked, not fried.
Soft, sweet and absolutely irresistible, Double Chocolate Banana Donuts are one delicious guilt-free treat. These donuts are oven baked, made with whole grains and refined SUGAR-FREE. Super HEALTHY and easy to make too!
Brazilian Chocolate Truffle filled Doughnut Holes that are easy to prepare and a crowd-pleasing snack. They are deep-fried and both filled and topped with chocolate. So yummy!
Just look at all that fluffy donut, graham cracker and marshmallow glaze. That right there is perfection.
These Chocolate Glazed Almond Donuts are baked to perfect and topped with chocolate and almonds! They bake up in just about 10 minutes!
Enjoy delicious chocolate doughnuts with a shiny chocolate glaze! Moist baked doughnuts are covered in a three-ingredient chocolate glaze that tastes rich and looks beautifully glossy.
Morning treat you will not want to miss! Easy doughnuts stuffed with cheesecake mixture and topped with sweet glaze and crushed Oreo cookies.
Blood orange chocolate glazed donuts with cream cheese filling have all the deliciousness you expect from a filled donut but are baked instead of fried!
These matcha donuts are sublime! The white chocolate and matcha work so well together, to create a delicious glaze, utterly addictive! This is also a relatively simple donut recipe, I highly recommend you give these yummy sweet donuts a go!
Bailey's and Chocolate Glazed Doughnuts are the perfect treat! These fluffy doughnuts are easy to make and topped with a Bailey's Irish Cream ganache.
These baked chocolate doughnuts are topped with a spicy, zingy blood orange icing, rich and chocolatey from brown sugar, buttermilk, yogurt, and plenty of cocoa. Much easier than fried doughnuts, these are great to make with family for a weekend project.
Strawberry Glazed Chocolate Vegan Donut Recipe – These easy gluten free, vegan donuts are soft and chocolatey and dipped in a sweet pink glaze made with fresh strawberries.
14 Fruit Donut Recipes
Sometimes your sweet treats need to be just a little sweeter. Fruit flavored donuts are just what you need to have that perfect level of sweet. Strawberry to lemon…you can't go wrong with a fruit flavored donut.
Super light and Fluffy Baked Donut Recipe with a sweet and sour Honey Lemon Glaze – the perfect sweet treat both adults and kids will love!
Portuguese-style donuts from Hawaii with a tropical coconut cream twist! These Hawaiian malasadas are a special breakfast treat or dessert perfect for the whole family!
These baked strawberry sprinkle donut hearts are made with crumbled freeze dried strawberries, and a sweet lemon glaze, for a gorgeous dye free strawberry lemonade treat.
Made with light and lively flavors, these blueberry and lemon-glazed donuts are perfect for spring time. Or, anytime!
Lemon Donuts with Lemon Glaze are full of summery flavor. Sweet with just the right amount of lemony tartness, these baked doughnuts will hit the spot!
With a combination of almond and coconut flour, these keto cake donuts are soft, tender and finished with two toppings, making them irresistible yet low in carbs, gluten-free and keto-friendly.
Lemon Glazed Baked Donuts are fluffy lemon donuts topped with a luscious lemon glaze. They're bursting with fresh lemon flavor!
These Blueberry Whole Wheat Donuts with Chocolate Chips are made with whole wheat flour and packed with blueberries and chocolate, and are a great way to enjoy a slow morning and opt for a gooey slice of goodness.
Super easy, no yeast doughnut holes made with a touch of lemon zest and then filled with tangy lemon curd. Quick and easy lemony sweet breakfast treat.
Sufganiyot Stuffed Donuts let you prepare warm and fresh strawberry jelly and vanilla custard stuffed donuts at home!
Donuts don't come better than this Raspberry Glazed Donut Recipe. They are simply irresistible and made in only a few easy steps and healthier because they are baked.
These spiced blackcurrant doughnuts are light, fluffy and irresistibly delicious.
These Vegan Lemon Poppy Seed Donuts are anything but boring! They are super fluffy, soft, moist, and are a delicious sweet treat that comes loaded with lemony flavor married together with a slight nutty flavor from the poppy seeds and baked to perfection.
These gluten free Matcha Banana Donuts With Matcha Lemon Glaze are the perfect treat for breakfast – or late night snack!
14 Savory Donut Recipes
When sweet alone won't cut it…you need some savory donuts. Here are some delectable flavors from pumpkin to maple that will meet your sweet and savory needs.
These glazed pumpkin donuts are loaded with the flavors of Fall. Not only do they have the pumpkin, but all those wonderful spices as well.
Apple cider donuts can be baked in a donut pan or muffin tin. Use fresh apple cider and cinnamon sugar for the ultimate fall flavor!
This Mini Churros Donuts recipe is surprisingly very easy to make, and the batter just requires 6 ingredients. It takes just 15 minutes to make, plus its gluten-free and vegan too! A perfect treat, ideal for breakfast, brunch and a satisfying dessert! Now every time you crave Churros for comfort, make them at home. They are made light, fast, delicious and above all not fried but baked. Give them a try and enjoy!
Banana bread and donuts are combined to make banana donuts. Brown butter is used in the batter as well as the glaze for ultimate flavor.
You'll fall head over heals with this salted caramel and bacon donuts recipe. They're so crazy easy & fast to make you'll fall in love. Most important it will make you want to try other great flavor combinations!
The Bacon donut is a flavorful and delicious way to start the morning on the right foot.
Guilt-free mini baked donuts that are quick and easy to make yet do delicious!
These baked caramel doughnuts with a sticky sweet glaze are super soft and fudgy, and taste perfect with a glass of milk.
These vegan baked maple doughnuts are topped with a maple glaze and crunchy smoky coconut bacon. So good!
Doughnuts with a twist, doughnuts are black sesame which has been doused in a caramel miso glaze which has a Japanese salted caramel slant.
For a real twist on bagels and cream cheese for breakfast, try these delectable baked doughnuts with smooth and creamy cream cheese frosting.
These Cinnamon Toast Crunch doughnuts are made from yeast raised doughnuts double dipped in cereal milk glaze and topped with crunchy cereal.
The best Glazed Carrot Cake Donuts recipe! This recipe is easy to make, resulting in moist soft donuts!
Easy Baked Vegan Pumpkin Donuts – Soft, fluffy donuts with all the flavors of fall! Gluten free and oil free! Perfect on their own or top them off with sweet vanilla icing for an indulgent treat.
Here are some helpful links for baking donuts:
Conclusion for Baking Donuts:
If you are looking for some delicious donut recipes, these will not let you down. From sweet to savory and everything in between…these donut recipes are perfection!
If you love these ideas, please pin this image to your Baking Pinterest Board:
Related posts for Homemade Donuts:
Thank you for reading my donut recipes to bake at home!