Adorable ideas for Sofia the First Birthday Cakes, Cookies and princess desserts!
Delicious and beautiful Princess Sofia treats are a wonderful way to serve up a party. These Sofia the first cakes, cookies and dessert ideas are exactly what you need to really plan the most scrumptious princess party ever!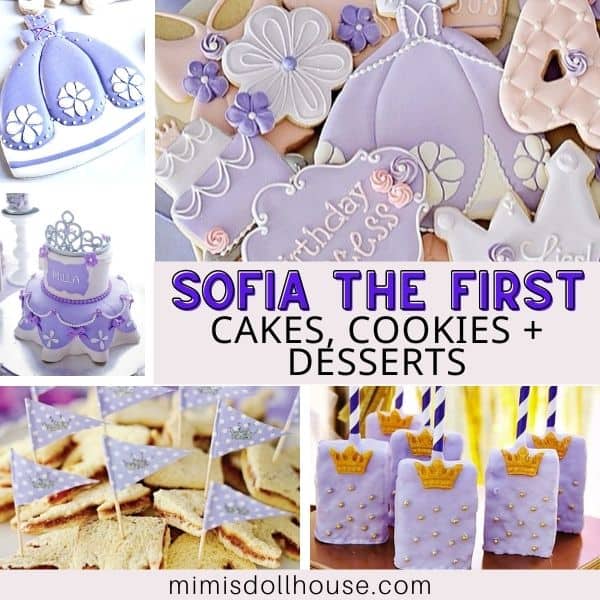 Sofia the First is a character that has become a favorite with many a little girl. If your little one is a fan of the spunky little princess, then a Princess Sofia party might be exactly what you need!
Throwing a SOFIA THE FIRST THEMED PARTY?
With fun purple and gold decor and the right treat ideas, you can turn an ordinary birthday bash into a princess extravaganza! Let's check out all the fantastical dessert options!
RELATED: 15+ Unique Sofia the First Party Ideas
Sofia the First Party Food
Before we discuss all the cakes, cookies and other sweets, there are plenty of healthy, non-sweet options for your Princess Sofia party. Here are some ideas:
Clover's Garden Veggies
Of course, everyone knows Clover loves to eat and definitely loves vegetables! Setting up a vegetable tray or table for all of Clover's favorite treats is a great way to bring healthy food into the party.
Castle Shaped PBJ from HWTM
Character themed treats
Sometimes characters give us a great, creative way to dress up ordinary food.
Baileywick's Bakery-Muffins, or bread
Flora, Fauna and Merriweather's Potions- Lemonade or Punch
Minimus' Horns-pretzel sticks
Sofia The First Cakes
The party cake is the focal piece of the party table. Here are some beautiful and princess themed cake ideas you can mimic for your party…
Sofia the First Cake from Mai Design
Cookies and plastic figures make a fun cake topper. This is a great option for dressing up a store bought or homemade cake.
Purple Sofia Cake from HWTM
Here is a GORGEOUS cake with beautiful dress design to match Sofia the First's outfit.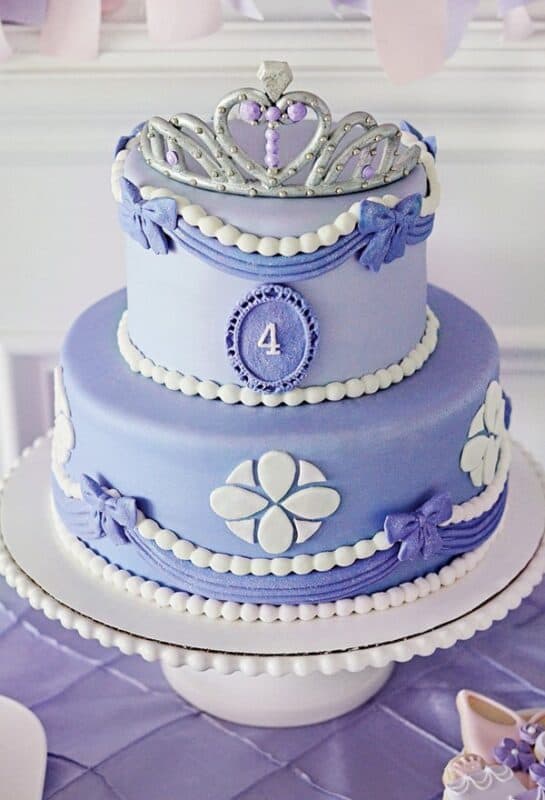 Sofia Party Cake from Catch My Party
Here is another equally gorgeous Sofia dress themed cake. LOVE THIS.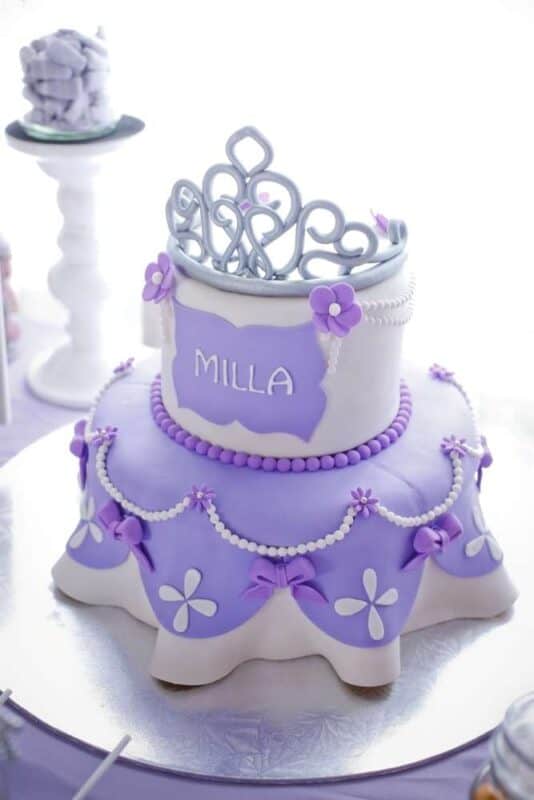 Sofia the First Cake from Cake Central
Making a cake that looks just like the Princess is also a fun and beautiful cake option for a party. Fondant makes amazing cake designs.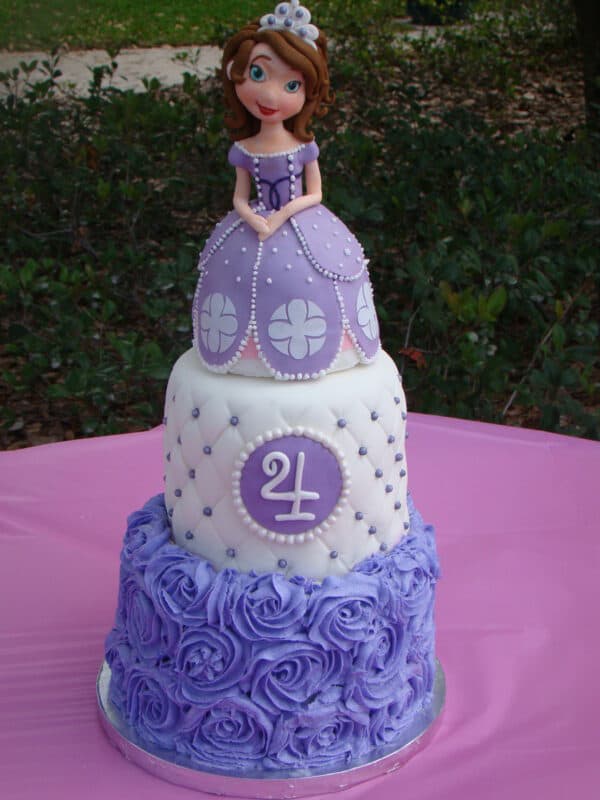 Sofia Cake from Disney Everyday
Simple Fondant and a princess crown for the win with this beautiful cake.
Floral Sofia Cake from Cake Central
Fondant drapes and some frosting flowers are also a great decoration for a Princess Sofia cake. Beautiful.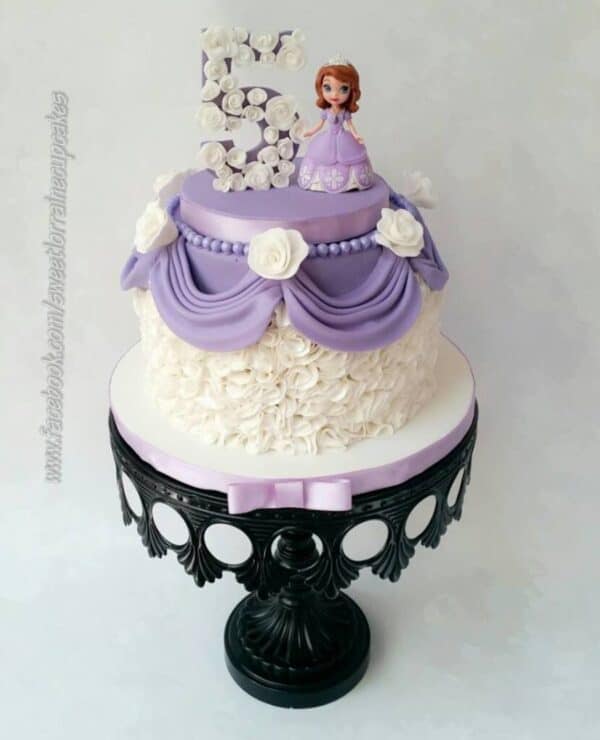 Princess Sofia Cookies
Cookies are one of the best ways to serve perfectly themed and beautiful treats to your party guests. Here are some absolutely amazing Sofia the first theme cookies for your inspiration.
Bonus: Some you can even order if you aren't up for baking them on your own.
Sofia Cookies from Flourish Cookies
So pretty….love these! These are perfect for a party and can be ordered so you don't have to bake them on your own.
Sofia Cookies from Sweet Colors by Ama
Here is an amazing hand painted cookie for a Sofia party.
Sofia Cookies from Sugar Craft
Hand-painted sugar cookies are absolutely to die for!
Sofia Cookies from Lady Bug Cakes
Here are some royal iced Sofia cookies you can buy for your very own party.
Sofia the First Cookies from Golden Cookie Co
These are sooooo pretty. I love the hair and the eyes most!
Sofia Necklace Cookies from Ever After Bakery
Here is a simple Sofia the First cookie idea. Just a little icing and some fondant and you have a beautiful cookie design.
Sofia Dress Cookies from Sinful Cutters
Here is a gorgeous royal iced cookie idea. The dress is so pretty.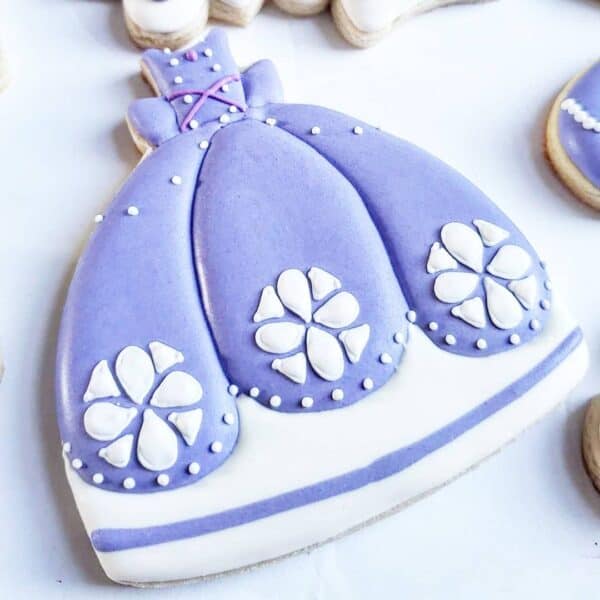 Sofia Cookies from Sweet Confections
Here is a great option for elegant dress options that you can order for your party. They are even customized.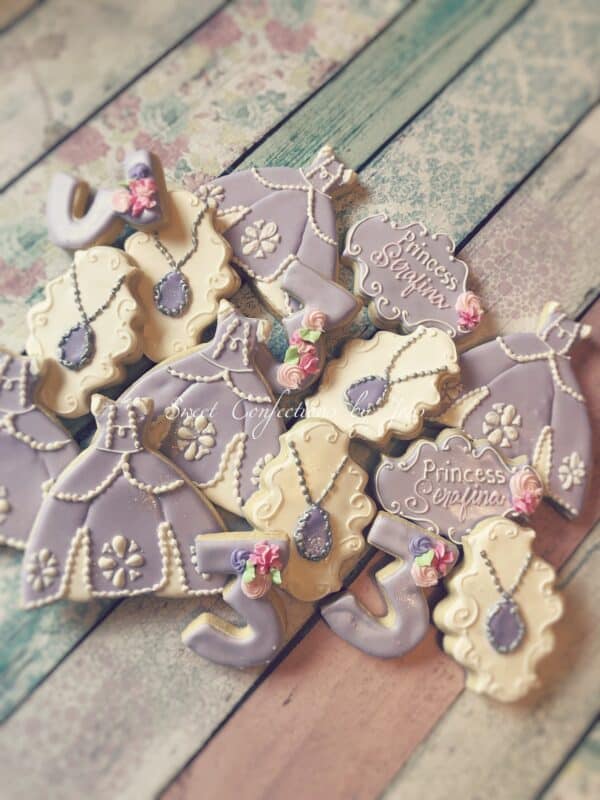 Princess Sofia Desserts
Cookies and Cakes are not the only treats you can whip up for your party. Here are some equally amazing desserts that you will also love…
Purple Sofia themed Desserts from HWTM
Pretty purple treats are a great idea for a fantastic treat you will love.
Sofia Fondant Cupcake Toppers from Ooh La La Sweets
Fondant is a great topper to cupcakes and cookies. How adorable are these?
Purple Pretzel Rods from HWTM
Purple pretzel rods and rice krispies treats for the win. These are beautiful!
Clover's Bunny Tails from Sippy Cup Mom
Here is a fun Clover themed treat… delicious.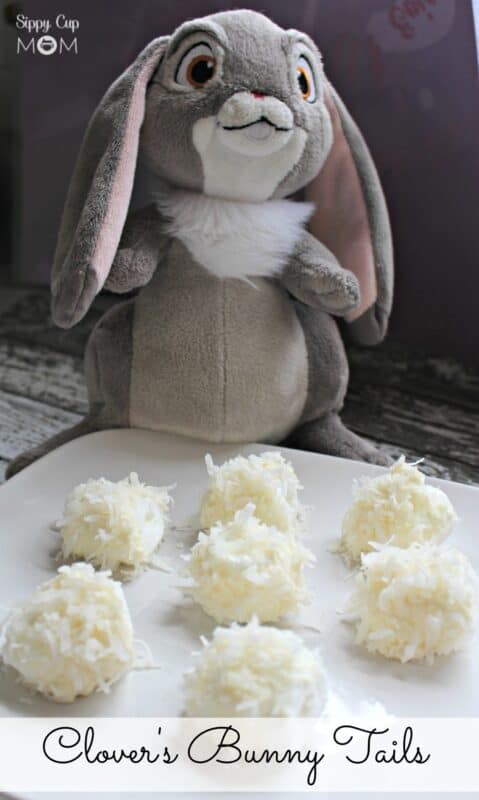 Sofia Friends Fondant from My Artisan Bakery
Fondant animal friends toppers are perfect for a cake or cupcakes. These are adorable little critters for a complete Sofia party.
Sofia Fairy Godmother Treats from HWTM
Using the fun fairy godmothers as inspiration is also an amazing way to style a Sofia party.
Sofia Cupcakes from Invento Festa
Beautiful princess themed cupcakes. These are elegant and lovely ideas for cupcakes.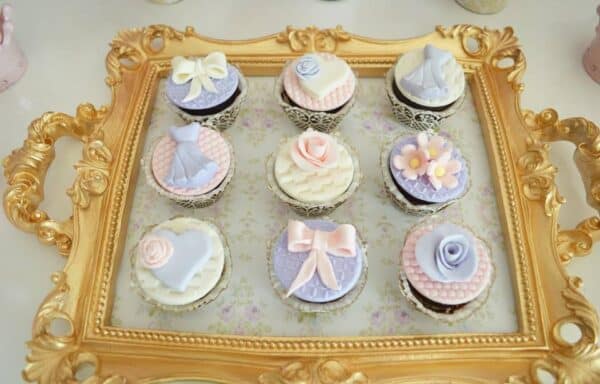 Sofia Desserts from How Sweet it is
You can't go wrong with assorted purple desserts!
Sofia and Friends Desserts from HWTM
Here are some more fondant Sofia and friends treats to dress up any party food idea.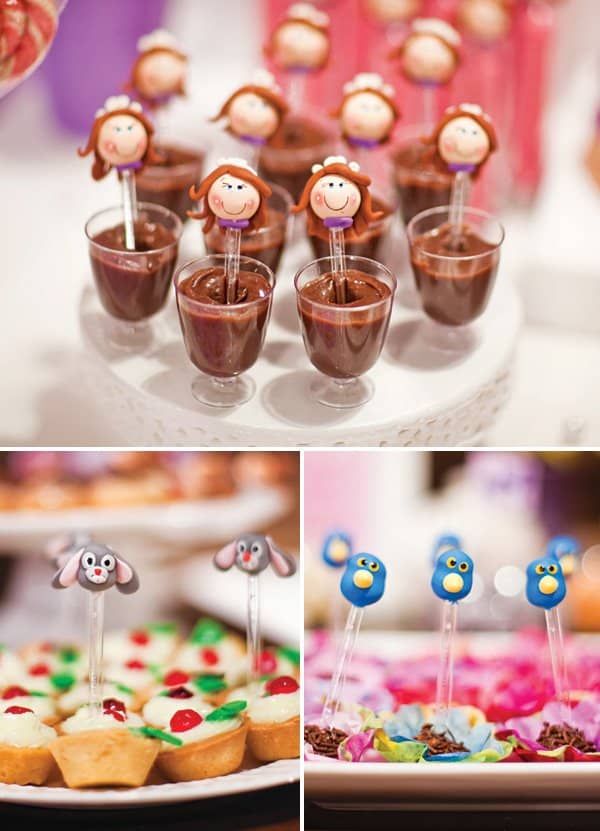 Princess Sofia Party Tableware
Tableware sets are a great way to serve up cute treats at a party and stay on budget. Here are some awesome options:
Princess Tableware from Shop Sweet Lulu
Sofia the First Tableware from Amazon
Sofia the First Party Package from Amazon
Here are some helpful links for planning a Sofia the First birthday:
Looking to plan a Sofia the First Themed Party?
You can grab these fun inspired printables in my shop:
Conclusion for a Sofia the First Desserts:
If yo love Sofia the First and love good desserts, then you will love these ideas. Chock full of delicious and perfectly themed treats, these party ideas will help you plan the best princess party EVER!
If you love these ideas, please pin this image to your birthday Pinterest Board:
Related posts for Princess Sofia Birthday Food Ideas:
Thank you for reading out Sofia the First Cakes and Cookies Ideas!