How to throw a Tinker Bell Party
Looking for ideas that will help you plan the most adorable Tinker Bell party ever? These fairy themed birthday party ideas are just want you need to have the best Tinker Bell birthday full of amazing and simple to DIY decor and food!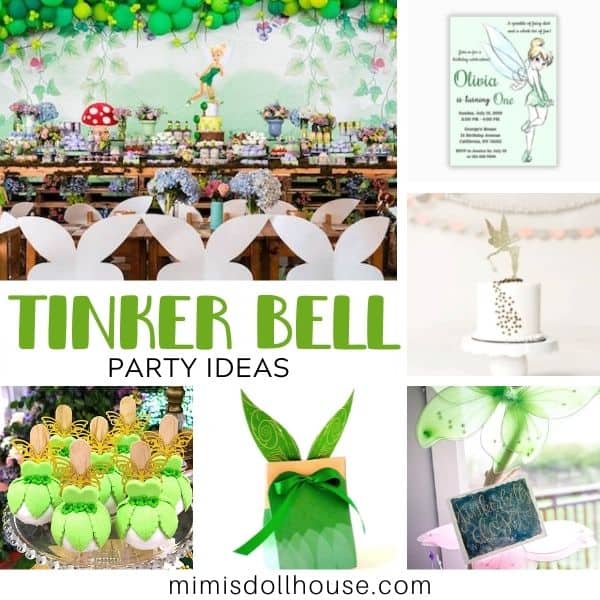 Tinker Bell is such a fun party theme for a girly little girl who loves fairies. Not only is Tinker Bell the sassiest of the fairies…but she is perfectly iconic!
Throwing a TINKER BELL THEMED PARTY?
☑️ This
Tinker Bell Party Kit
is the perfect set to get your party planning headed in the right direction!
Fairy Party Ideas
You can plan a beautiful fairy themed party with a Tinker Bell emphasis or you can opt for a more generic fairy feel. Both of these ideas are perfect for a fun girly garden party or a spring time birthday.
From mushrooms to flowers, there are so many ways to dress up a fun fairy wonderland.
Tinker Bell Party Decorations
Here are some fabulous Tinker Bell themed decorations to get your party planning headed in the right direction. Check out all the gorgeous ideas:
Pixie Hollow Party from Hostess with the Mostest
Set up your own little Pixie Hollow with flowers and fairies and little fairy homes. Cute!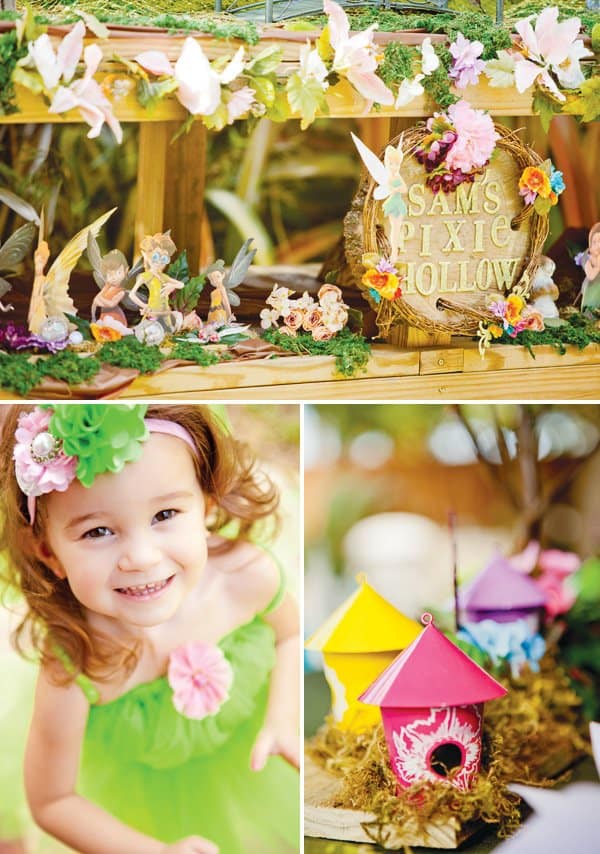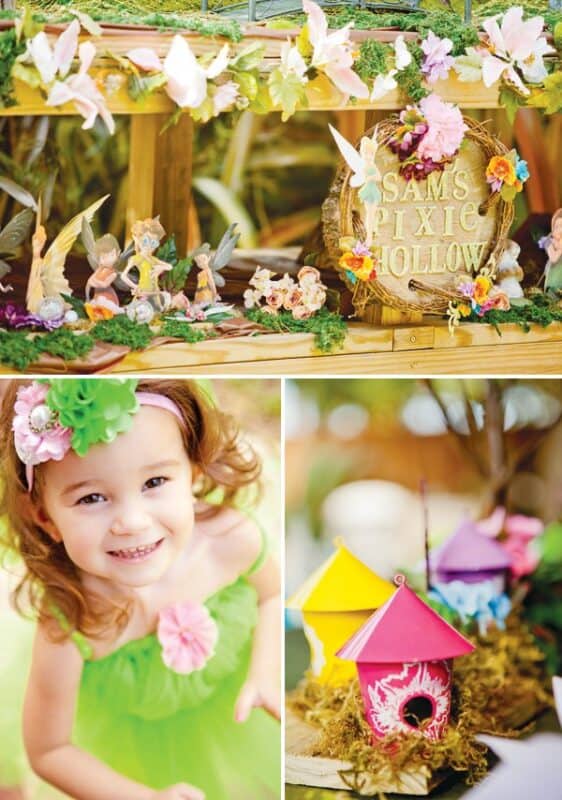 Tinker Bell Party from Kara's Party Ideas
Balloon trees and fairy wing chairs make this party absolutely stunning. I love every detail!
Tinker Bell Mushroom Decor from Pretty My Party
Giant mushrooms can help transform any garden into a fairy wonderland. Try making some adorable mushrooms to jazz up your party table!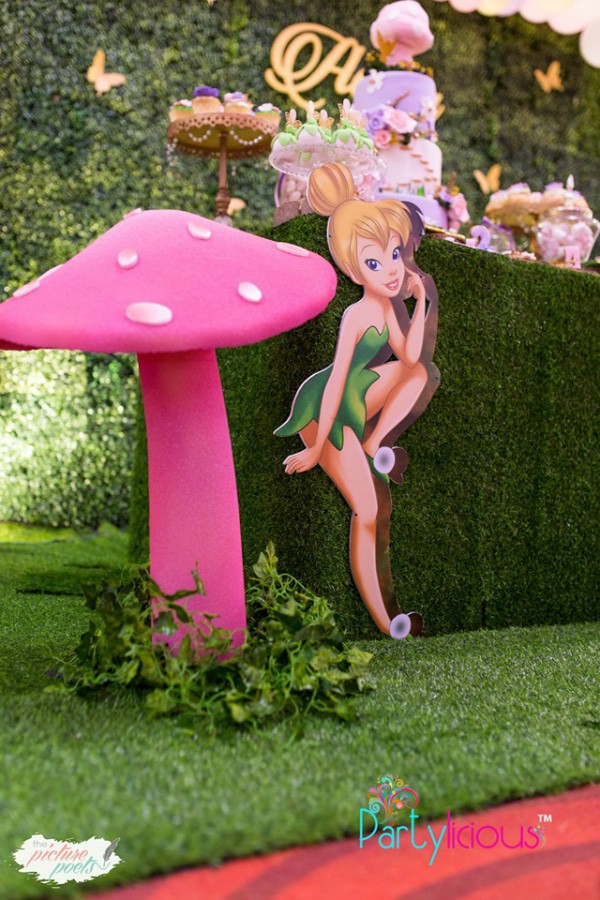 Tinker Bell Party Decorations from Catch My Party
Even if you don't have a garden, you can still have a glorious Tinker Bell themed party. These indoor ideas are just perfect.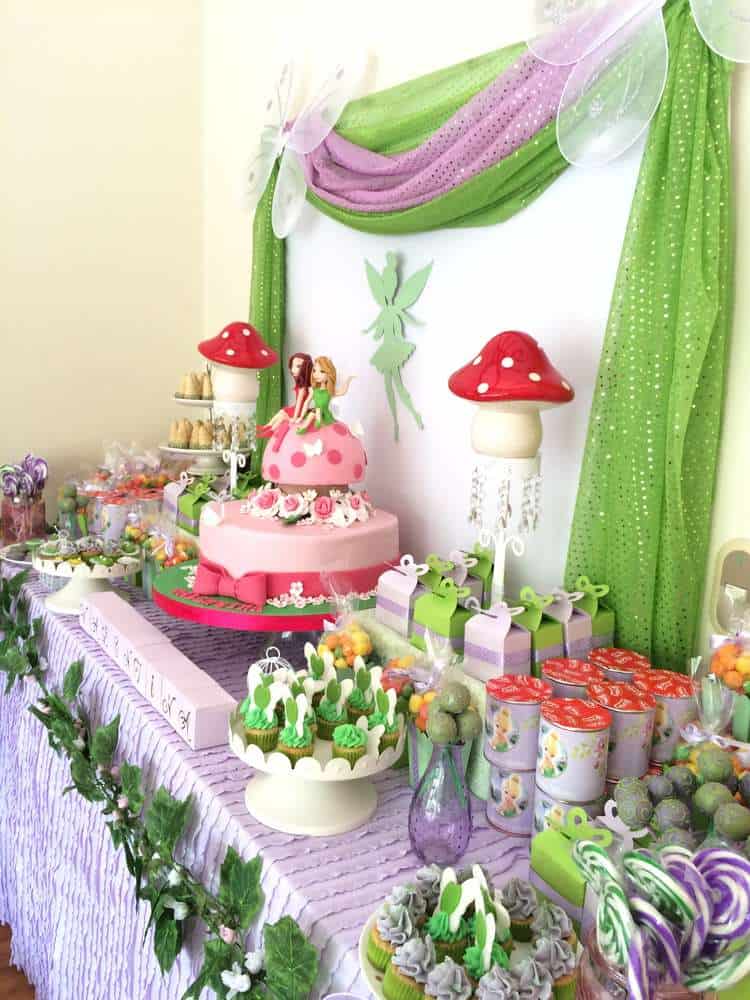 Balloon Backdrop from Kara's Party Ideas
More amazing balloon ideas for a fun and fanciful fairy themed party. You can never have too much green.
Tinker Bell Party Supplies
Once you have your decorations in line, you need some simple and unique supplies to really take your party to the next level. Check out these fun ideas:
Tinker Bell Costume from Little Wellies
Not only is this outfit adorable…but it's so comfortable and able to be worn time and time again. Perfection!
Tinker Bell DIY Flip Flops from Sprinkle Some Fun
Easy, DIY Flip Flops are great for Tinker Bell costumes or party favors.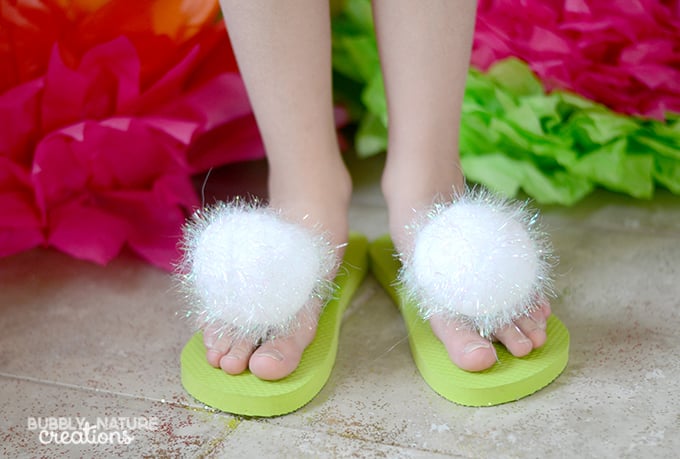 Fairy Garland from Meri Meri
Here is a gorgeous fairy themed garland. You will love this one and so will your guests.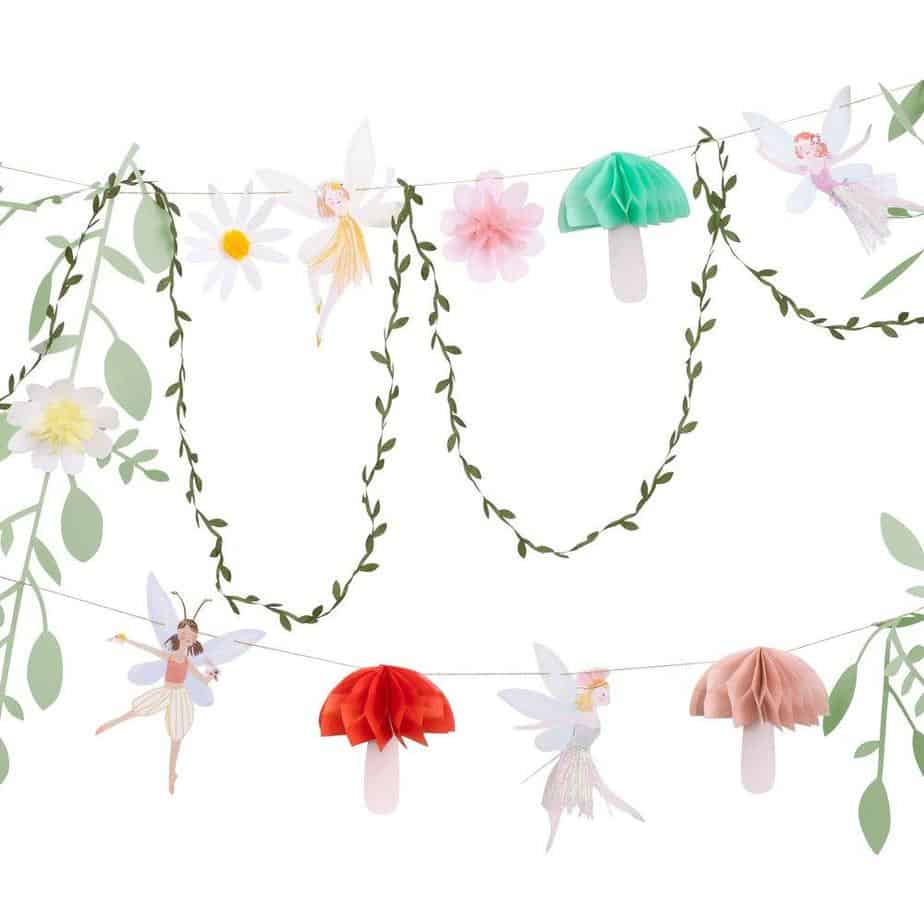 Tinker Bell Treat Bags from Opal and Mae
These are great Tinker Bell favor bags to make a fun party gift bag.
Tinker Bell Dress-up from The Bash
Want to let your guest play dress up? This fun Tinker Bell's closet is a great party station idea to let your little fairies run wild!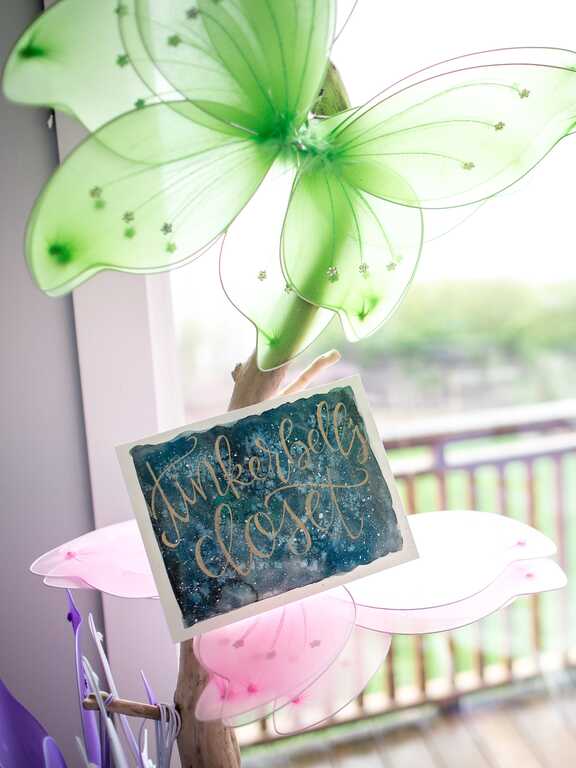 Tinker Bell Birthday Invitations from New Printy
The invitation is the first impression your guests have of your party. What better way to excite them than a beautiful, customized invite?
Tinker Bell Crown from Sweet Cakes Sassy Pants
Here is a sweet little crown for your sweet little fairy birthday girl. So precious.
Pink Tinker Bell Invitation from New Printy
Pretty invitations can also come in pink! Here is another fun option for invites.
Tinker Bell Party Tableware
Tableware sets are a great way to stay on budget and have some beautiful, themed party options. Check these plates and more out:
Fairy Plates from Shop Sweet Lulu
How beautiful are these????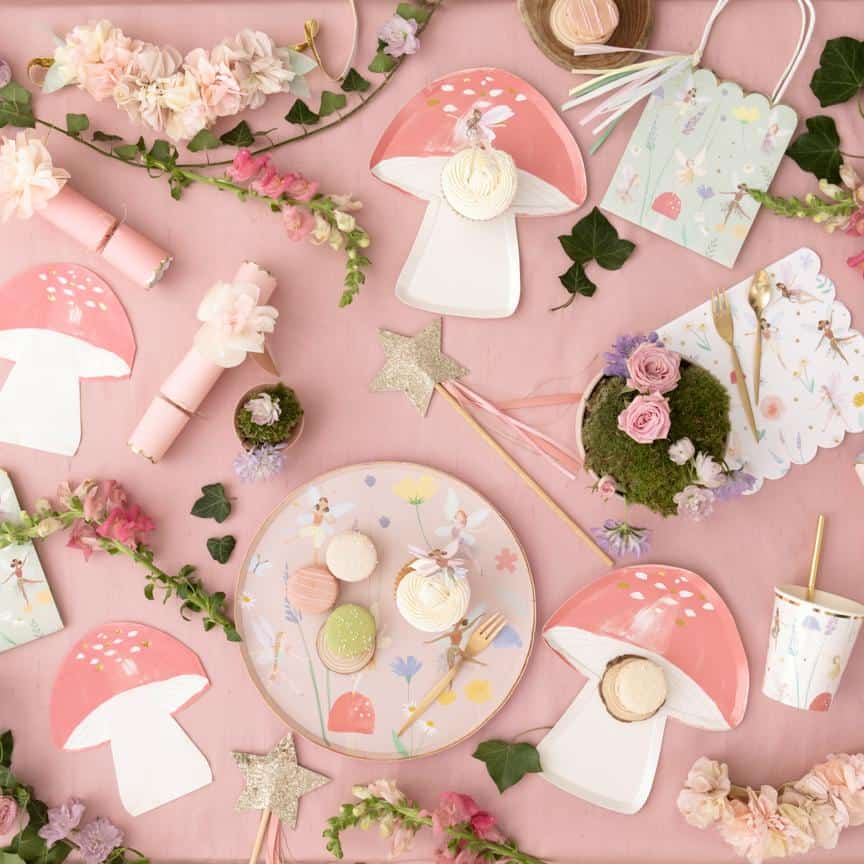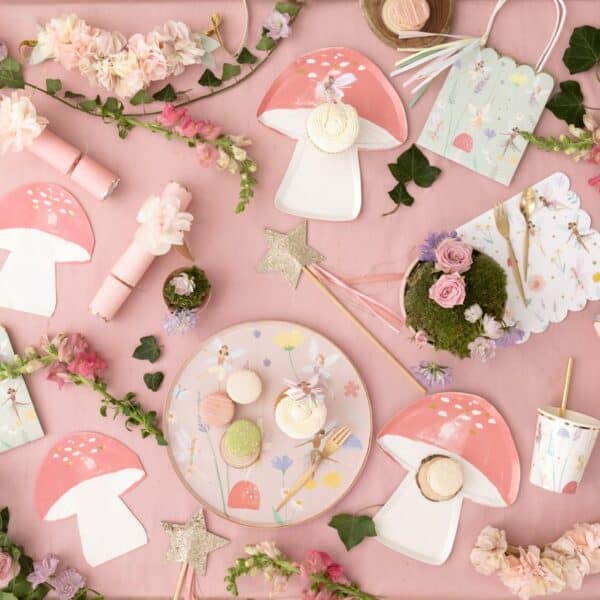 Tinker Bell Tableware from Luca Craft Store
These plates and napkins bring Tinker Bell to the forefront. Adorable!
Fairy Party Tableware from Amazon
Simple, pretty and fairy themed plates, cups and napkins are always a safe bet!
Tinker Bell Party Food
Of course, no party would be complete without the snacks. With beautiful decor, you need some clever and delicious food ideas! Check these mouth-watering fairy treats out:
Fairy Wand Fruit Kabobs from Fun 365
Easy, fun and healthy. Fruit kabobs are a great party treat that is perfect for a birthday bash.
Tinker Bell Sprinkles from Sugar Jazz
These sprinkles are a great addition to any party treat. They are a simple way turn anything into a a fairy themed masterpiece!
Tinker Bell Cakes
Here are some stunning Tinker Bell Cake ideas. You will love these:
Fairy Cake from The Bash
Tinker Bell Cake Topper from Sugar Plum Creations Co
Pixie Hollow Cake from Loralee Lewis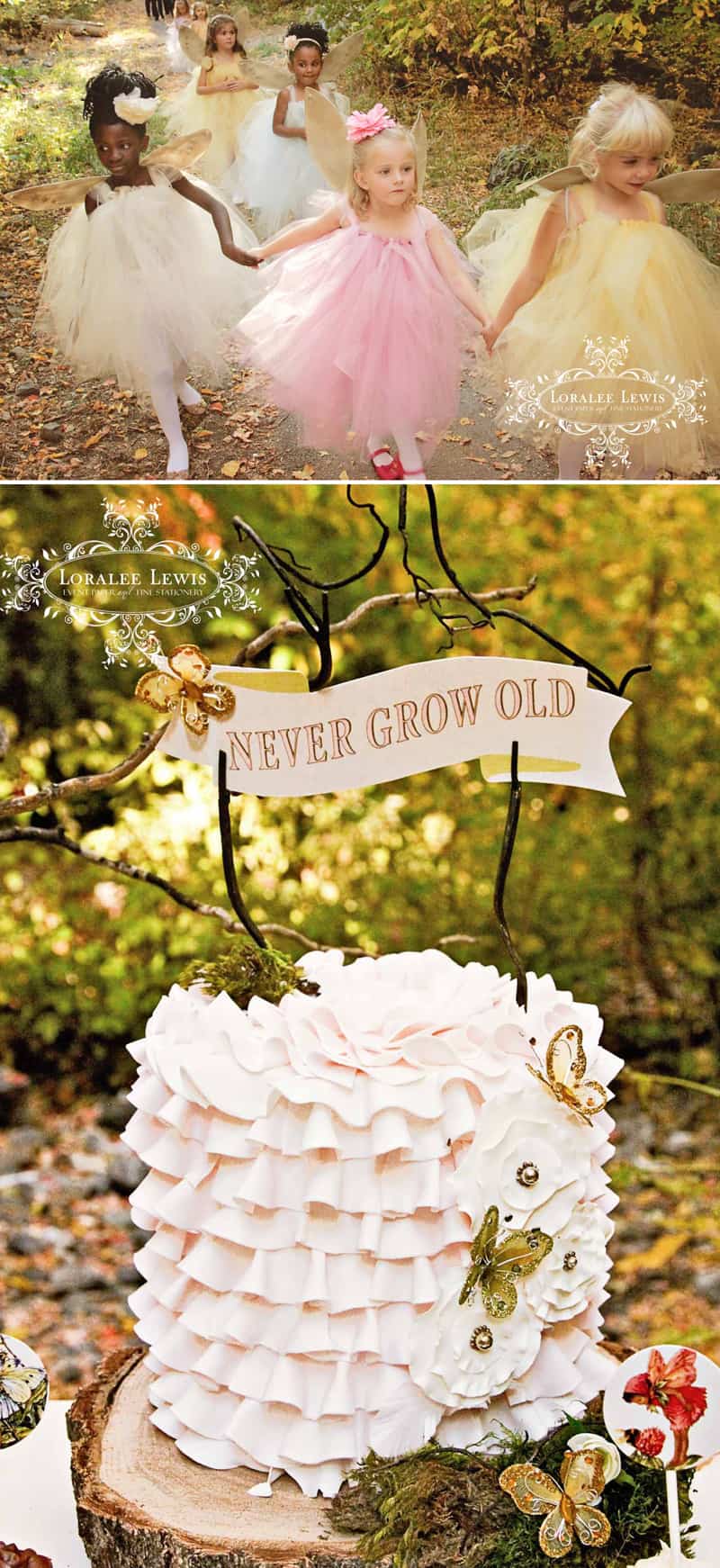 Tinker Bell Cake from Kara's Party Ideas
Tinker Bell Cake Topper from Psycho Bake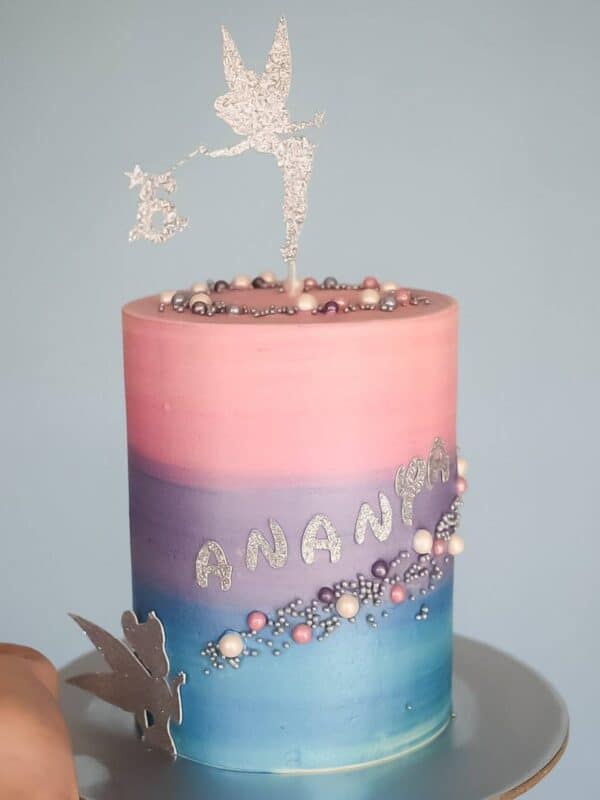 Tinker Bell Cake Topper from Applemint House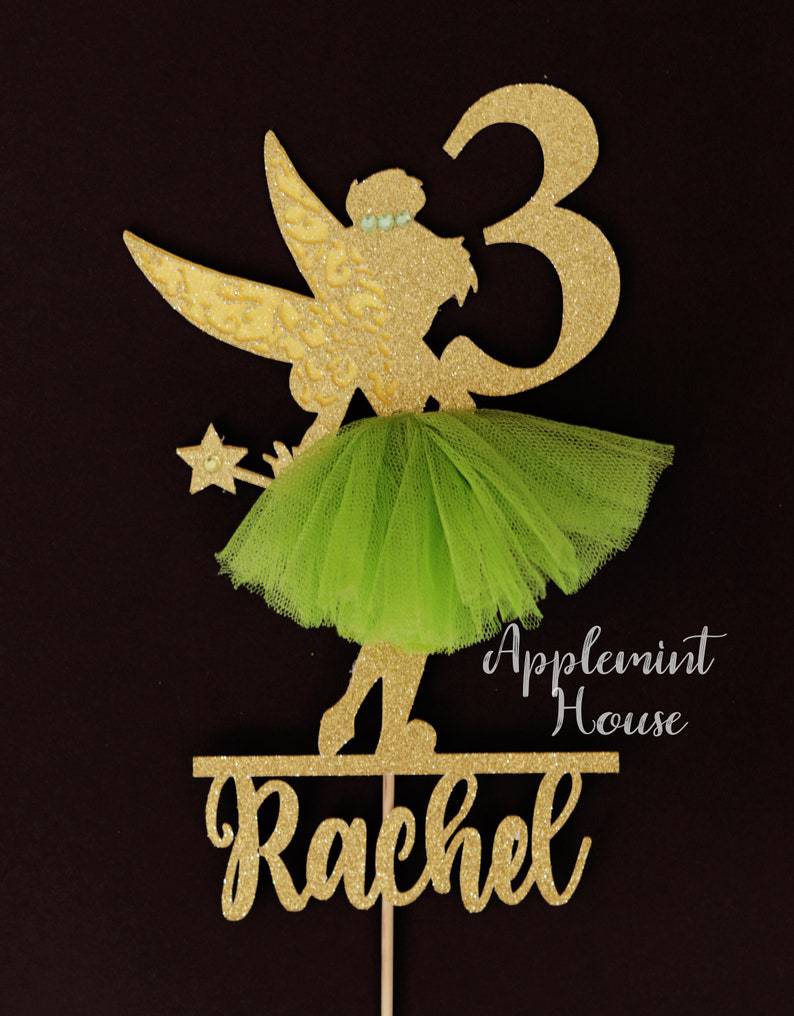 Tinker Bell Cookies and Desserts
Don't forget about cookies and other themed desserts. Fairy perfection…
Tinker Bell Cookie Cutter from Armistina's Cookies
DIY Cookies start with the perfect cutter!
Tinker Bell Cake Pops from Pretty My Party
Unique and perfectly themed cake pops are always a good idea!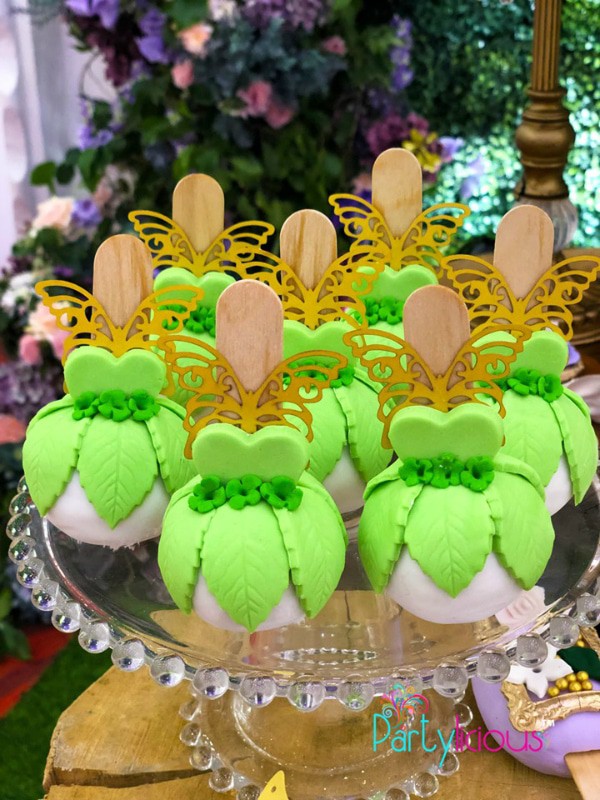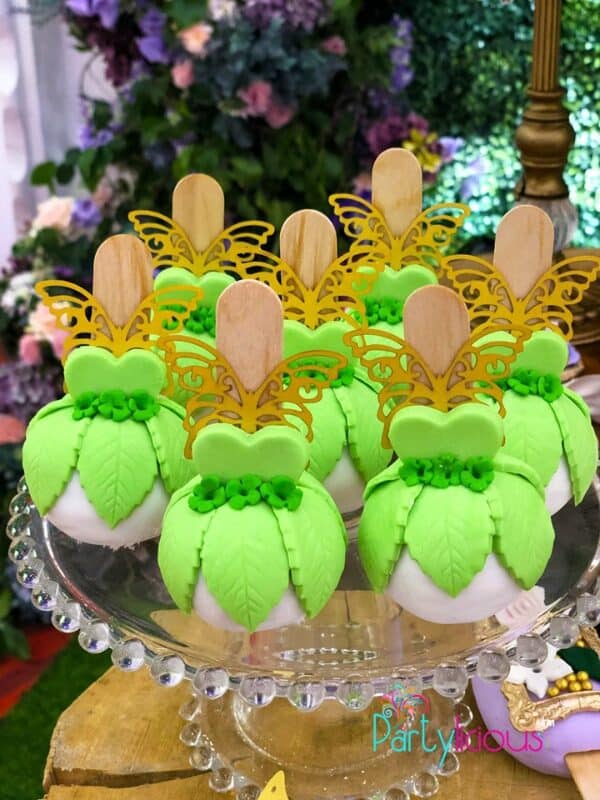 Tinker Bell Snack Mix from Sprinkle Some Fun
Yes, please…these fun little fairy snacks are cute and scrumptious.
Tinker Bell Dress Cake Pops from Kara's Party Ideas
Another cake pop option you will love!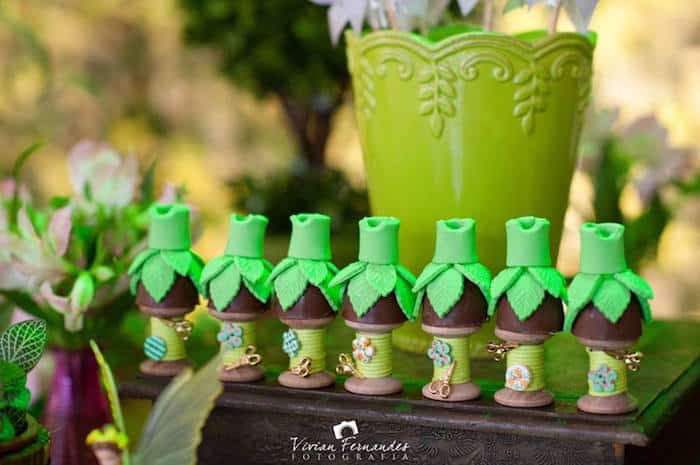 Fairy Pudding Cups from Kara's Party Ideas
Pretty pudding cups make great party treats as well. So fun!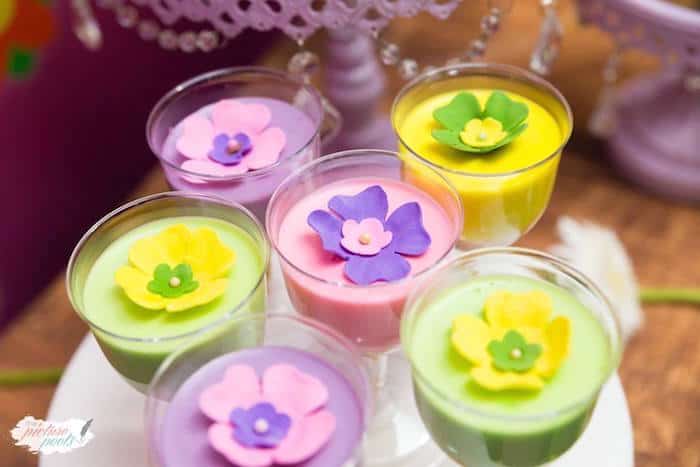 Here are some helpful links for Tinker Bell Party Supplies:
These party ideas are of course inspired by the fun Tinker Bell movies….
Tinker Bell and the Legend of the NeverBeast Blu-ray. Join Tinker Bell on another adorable adventure. Get your copy of Tinker Bell and the Legend of the Neverbeast
on Blu-ray, Digital HD and Disney Movies today!!
So excited to share this fun new Tinker Bell adventure with you. I LOVE Tinker Bell. Love her!!! I mean, I loved Tink all the way back in the Peter Pan days. Her fiery little temper and preoccupation with her figure and well, Peter, of course. What's not to love.
The more recent Tinker Bell movies have been equally as adorable. My little girls LOVE them all…I think we have watched each one about 100 times.
When I told them we were going to be watching the new Tinker Bell and the Legend of the NeverBeast movie, I was greeted with shrieks (yes, shrieks) of joy and my five year immediately ran in to put on her Tinker Bell dress (dress made by Little Wellies).
The movie was of course awesome…highly recommend watching it! And bonus….the "featured fairy" is Fawn, voiced by Ginnifer Goodwin, for all you Once Upon A Time fans!!! Love her!!!
Here's the story…
An ancient myth of a fabled creature sparks the curiosity of Tinker Bell and her good friend Fawn, an animal fairy who's not afraid to break the rules to help an animal in need.
But this creature – massive and wondrous with glowing green eyes – is not welcome in Pixie Hollow – and the scout fairies are determined to capture the mysterious beast, who they fear will destroy their home.
Fawn, who sees a tender heart beneath his gruff exterior, must convince Tink and her fairy friends to risk everything to rescue the NeverBeast.
Be sure to get your copy of
Tinker Bell and the Legend of the Neverbeast
on Blu-ray, Digital HD and Disney Movies being released today!!
Conclusion for Fairy Party Ideas for a Tinker Bell party:
If you love these Tinker Bell party ideas, then you will definitely love styling a beautiful and festive Tinker Bell party. From delicious food to amazing decorations, you are sure to be inspired by these ideas! Here's to planning a one of a kind Tinker Bell party.
If you love these ideas, please pin this image to your birthday Pinterest Board: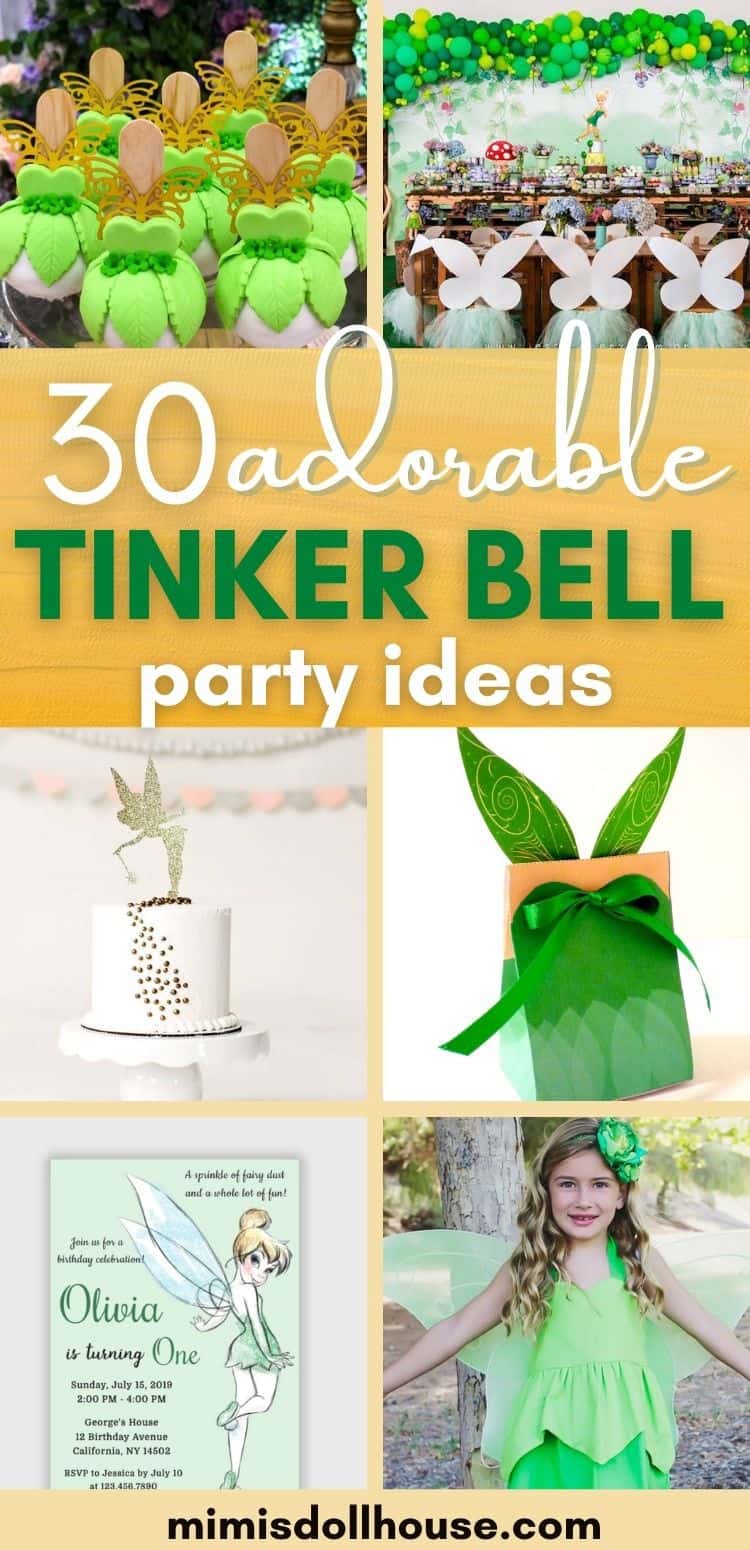 Related posts for Tinker Bell Birthdays:
Thank you for reading my Tinker Bell Birthday ideas!
*This is a sponsored post. Mimi's Dollhouse may have been compensated for this post, but rest assured…all thoughts and opinions are totally honest and totally my own:)