Best Girl's Outfits for Visiting Disneyland or Disney World!
Dressing for Disney: Disney princess dresses. Planning a trip to Disneyland or Disney World? Trying to figure out how to dress your little girls? I'm sharing my secrets to keeping your kids comfortable and stylish while doing Disney!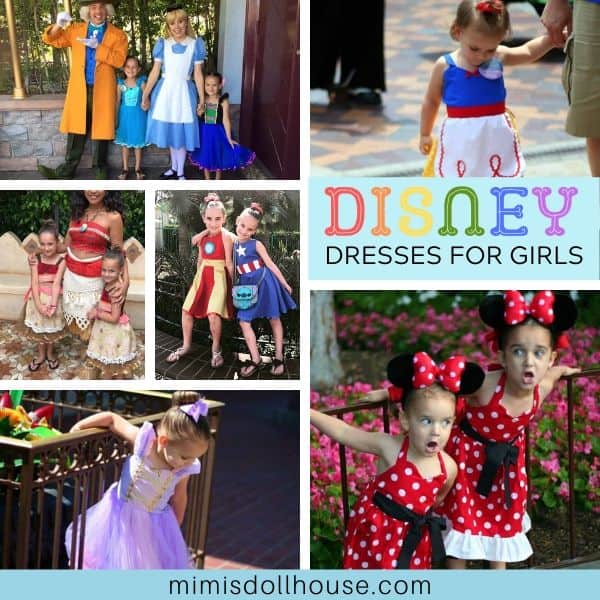 Disneyland is my happy place. We have had season passes for several years and we visit a lot. A. LOT. I know Disney secrets and how to time rides and where to eat and so much more locked away in my Disney vault of a head. It might be a sickness…lol.
When we are at Disney, we are frequently stopped and asked about our girls. "Where did you get those adorable Disney princess dresses?" "How did you do their hair." "OMG, they are so cute…you look just like little princesses."
My daughters are trained too. They have been asked about their dresses so many times, they will simply politely respond that their "Fairy God-mother made them."
As they are getting older and starting to segue into the pre-teen, adolescent "I don't want to wear my princess dresses stage anymore", I decided it was time to pass on the Disney dressing secrets.
Today I'm sharing my tips for dressing little girls for Disneyland and Disney World and sharing with you where I find the cutest options!!
The Dress: Picking the RIGHT Disney Princess Dresses
Picking the right Disney princess dresses is super important. Firstly, both Disneyland and Disney World sell princess dresses. You can show up buy a dress and wear it all day if you want.
You can also go to Bibbity Bobbity Boutique and pay to have your little princess dresses, and done up for the day (which also comes with a line jump at the Princess meet and greet).
We don't do this. EVER. For two main reasons…
ONE: The dresses are scratchy and SUPER hot. I often see little girls sweating like crazy walking around dresses like Merida full on with the long orange wig and I feel sooo bad for the.
No matter the time of year…plan to be sweaty at either park. Long lines, tight spaces and lots of people mean periods of uncomfortable warmness, even in the winter.
TWO: I feel like the girls often come out of BBB looking a little TOO done up….too much hairspray, too much fake hair, too much glitter. It's not my jam.
I like my girls looking sweet, cute and comfortable with real girl hairstyles. This is a personal preference, but my girls are always comfortable and free to climb the ropes in California Adventure or play in the garden at Goofy's house.
Also, I'm a big fan of not wearing exactly the same thing as everyone else. My girls like that we rarely see other little girls wearing Disney princess dresses that look like theirs. It makes them stand out and feel special.
So what do I do? I order their dresses from handmade boutiques ahead of time. I have some tried and true shops that deliver awesome dresses that are comfortable and unique. Here are my recommendations:
Little Wellies offers what they call playground princess dresses. These are awesome. They have an easy halter tops style and adjustable tie around the waist. They last for years too…my girls have gotten several years of use out of theirs!
Below pictured is the Little Wellies Minnie Mouse dress and the Sofia the First dress.
Ross and Rosie offers fun trendy outfits and cute princess aprons. These are a great option is you think you might want to ditch the Disney princess dresses at some point.
They can be tied over leggings or shorts and a t-shirt easily for a beautiful princess look! Below are the Ross and Rosie Anna and Elsa aprons.
This is another one of my favorites! Also…random awesome tid bit for you. You know that tide commercial with the dad and little girls who loves her favorite princess dress?
It was a Lover Dovers Rapunzel dress in the ad. Awesome, right!!
Lover Dovers dresses are comfortable and adorable. She makes some with tulle skirts and some without. We have owned at least 12 of these and have loved each one!! Pictured below is the Rapunzel dress, Anna/Elsa dresses, Moana dress, and the tulle-less Snow White dress.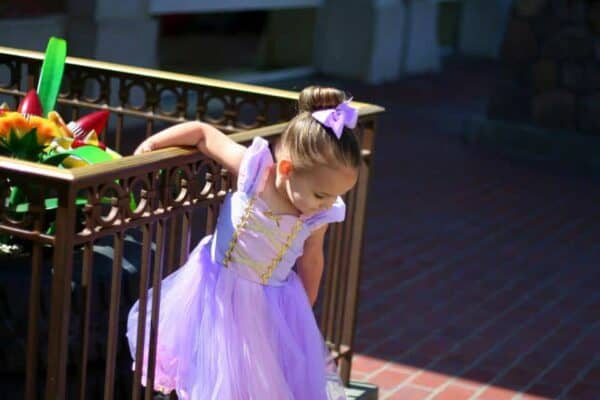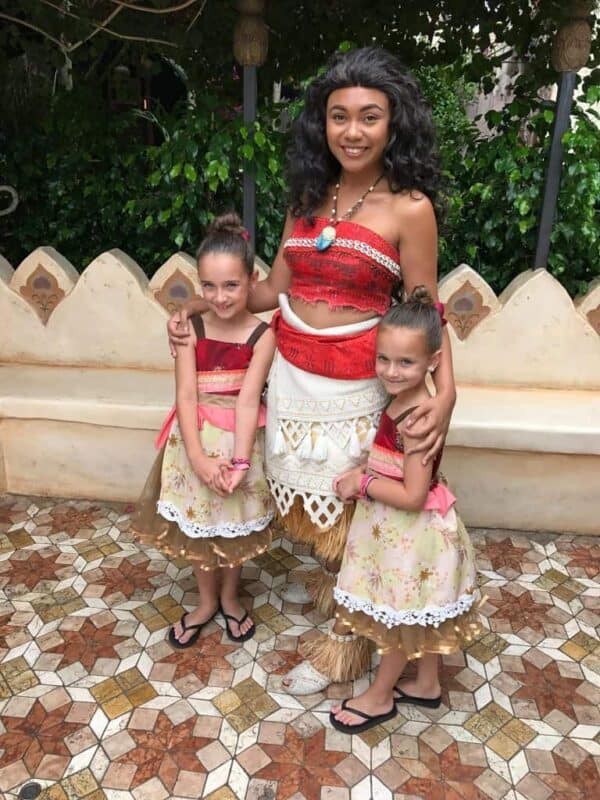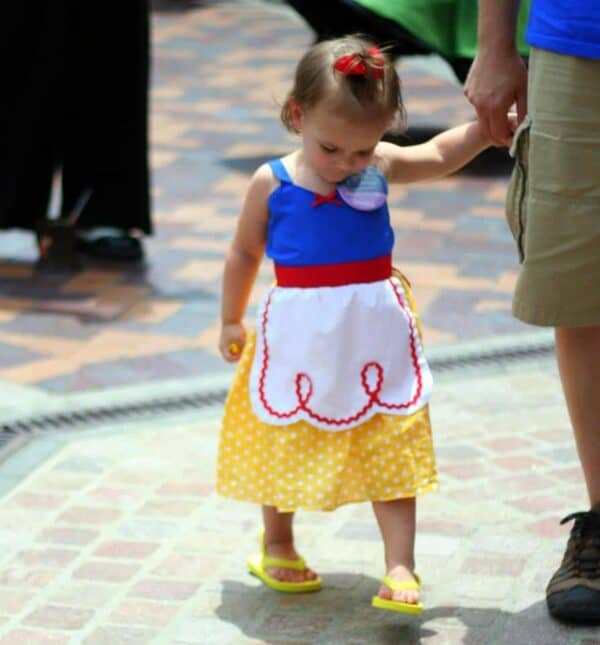 La Jupe make fun Disney princess dresses that are easy to wash and wear. My girls love dressing up like their favorite super heroes and with Marvel firmly planted in the Disney vault…they are awesome Disney dresses to change things up a little bit!
Pictured below are the La Jupe Iron Man and Captain America dresses!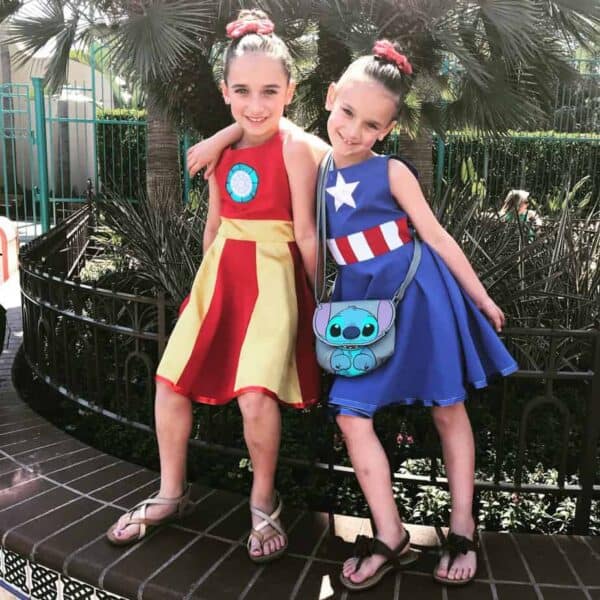 Knotted Wear makes fun Disney princess dresses that are a little more on the long and fancy side. These aren't as versatile for summer, but they are super cute and still comfortable. Pictured below are the Alice in Wonderland and Queen of Hearts dresses. (Also shown is this cute Queen of Hearts headband)
The Hair: To Up-do or not to Up-do
Hair is another big deal when dressing for Disneyland or Disney World. It gets hot…especially when you throw into the mix the excitement and the walking around. I like to keep my girls hair up and off their necks as much as possible.
We typically done simple hair styles with big coordinating bows. I will often do a top knot for princesses, french braid pigtails for Anna and A side Braid for Elsa. For Minnie…we go with our favorite Minnie mouse Buns:
I think getting the hair up and out of the way (and using a healthy dose of hairspray to keep it that way) helps to make the day easier.
We also use an assortment of hair donuts to help make sure buns are clean and add volume as needed.
Prepping for the Weather
So…it's pretty much always warm. There are a couple months in the winter where you want to keep a hoodie on the whole day, but we have been every month of the year and stripped down to a t-shirt with out a problem.
Even in the warmer months, a hoodie in the morning or at night might be needed. Little girls can pretty much always wear a princess dress. When its definitely warm, mine wear a dress and sandals.
When its definitely cooler, they wear a dress, legging underneath and a zip hoodie with tennis shoes. Purchasing a dress is an investment for the whole year!
Dressing for Disney doesn't have to be a hassle. Find a good dress, practice your bun skills and you are good to go!
Here are some helpful links for dressing for Disneyland:
If you love these Disney World Dress options, please pin this Image to your Disney Pinterest Board:
RELATED POSTS FOR Disney dress options for girls:
Thank you for reading our best Disney outfits!