Ideas for throwing a Princess Sofia party
Styling a pretty Sofia the First party is easy and elegant with some beautiful purples and golds. We have some truly amazing and easy to DIY Sofia the First party ideas to get your princess party off to the right start.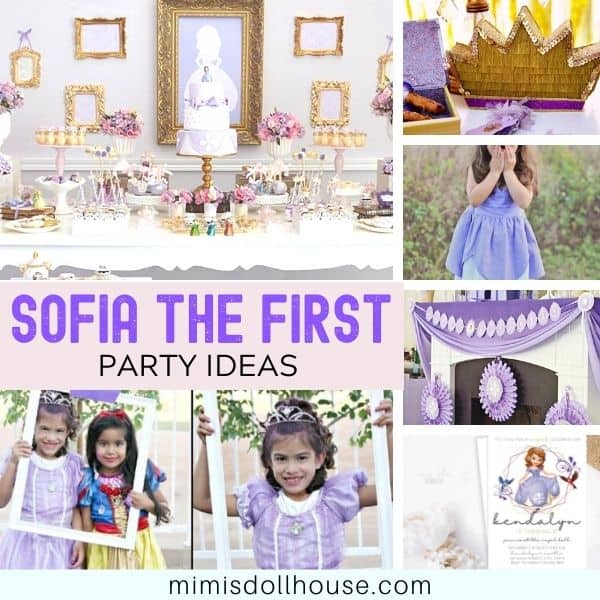 Does your little one love Sofia the First? If so…planning a Sofia party is perfect for a birthday party. With fun purples and pinks, Sofia's castle can come to life in your living room!
Throwing a SOFIA THE FIRST THEMED PARTY?
Sofia is particularly fun because she interacts with so many of the Disney princesses. You can pull in so many fun princess themed ideas to your party.
Sofia the First Party Ideas
The basis of a good Sofia party is definitely purple. Starting with some purple balloons, or some elegant purple party decorations.
Once you have this basic purple decor, you can add in all the gold, themed and character details to make your party fun and princess filled.
RELATED: 24+ Sofia the First Princess Desserts
Sofia the First Party Decorations
Here are some amazing party decorations ideas to get your party started:
Simple Elegant Sofia the First Party from Project Nursery
Here is a beautiful shabby chic princess party with a fun Sofia flair. Love it!
Sofia Mantle Decorations from HWTM
Sometimes dressing up a mantle is a great way to decorate for a party. This mantle display is perfectly princess!
Sofia the First Party from Catch My Party
Here is a fun and inexpensive backdrop. Using plastic table cloths, you can build a fun princess themed curtain backdrop. It is a great setting for that adorable cake too!
Elegant Sofia the First Party from Invento Festa
This table set up is absolutely beautiful. The gold frames and the purple and pink florals are elegant and perfect for a pretty princess party.
Sofia Party Decorations from Kara's Party Ideas
Here is an adorable set up utilizing balloons and tassel banners. Love it! All the pretty pinks and purples.
Sofia Party Supplies
After you have your decorations settled, there are some simple and absolutely amazing supplies you can add into your party to give it that little extra piece of adorable!
Here are some of the best ideas and products to set your party a part from the rest:
Sofia the First Costume from Little Wellies
I could not recommend this dress more. My daughters had one and LOVED it. So comfortable and beautiful and perfect for an elegant princess party and then, of course some good princess dress up play.
Sofia Invitation from Mira Bella
The invitation is the first glimpse your guests get of your party. Start it off right with a personalized printable invitation.
Sofia Costume from Target
Here is a great option for a more traditional Sofia costume. Adorable!
Sofia Photo Booth from Catch My Party
A little DIY photo booth is a great option for a princess party activity. Of course, the fun photos you get of your little princesses is a bonus too!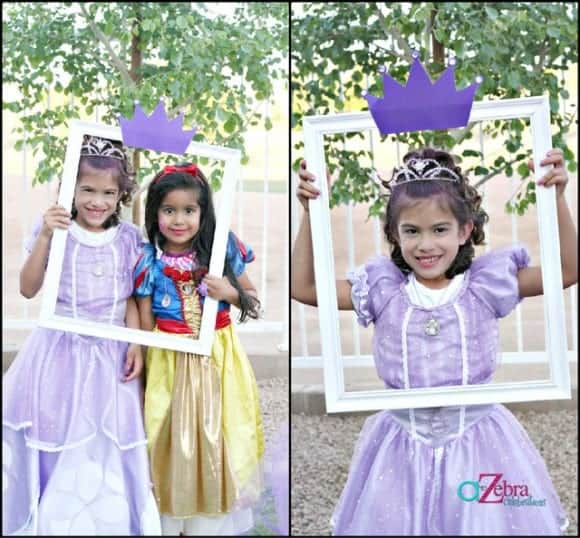 Sofia Banner from Heart your Party
A handmade banner is a great addition to any party design. Especially with that little tutu skirt.
Crown Piñata from HWTM
You can find a plethora of crown piñatas on Etsy. Piñatas are an amazing activity for kids at a party as well.
Purple Balloons from Amazon
You can't go wrong with a cute balloon garland for a backdrop or photo booth.
Sofia Candle from My Bella Topper
Custom candles are a fun way to dress up a simple store bought or home made cake. This one is adorable.
Sofia Balloons from Ballooneys
Need some balloons? Balloons are always a hit with kids. These are fun options for a Princess Sofia party.
Princess Sofia Party Tableware
Tableware sets are a great way to serve up cute treats at a party and stay on budget. Here are some awesome options:
Princess Tableware from Shop Sweet Lulu
Sofia the First Tableware from Amazon
Sofia the First Party Package from Amazon
Here are some helpful links for planning a Sofia the First birthday:
Looking to plan a Sofia the First Themed Party?
You can grab these fun inspired printables in my shop:
Product Review: Sofia and the Floating Palace. Set sail with Princess Sofia as she explores Mermaid Cove and meets princess Ariel!!! This adorable Sofia the First: The Floating Palace
DVD is available for purchase and it might honestly be my favorite yet!! Be sure to check out my other DVD reviews.
We recently received some AWESOME Sofia pool gear in honor of the release of Sofia and the Floating Palace DVD….Here are some fun pictures of my little princesses enjoying a full filled Sofia day at the pool.
It was some fun in the sun for sure! Sofia is definitely one of their FAVORITE princesses. I love that she is young and sweet and a little girl just like them. She also has such a positive attitude and teaches great lessons of behavior and kindness.
My girls totally flipped for this DVD. They are still wearing the friendship bracelets that came in the DVD box. The DVD includes Four Episodes: The Floating Palace, Make way for Miss Nettle, Tri-Kingdom Picnic, and Finding Clover.
All three are absolutely adorable!!.
Ariel being apart of this episode was definitely a high point for my girls. There are two mermaid princesses featured in the show, Una and Cora. My little princesses basically fell in love with these new characters.
My four year old even asks to have her hair fixed like Cora almost every day. Definitely a winner and definitely worth seeing again and again.
The sunglasses, beach towel water bottle and beach ball were also HUGE hits with the little misses. They LOVE, LOVE, LOVE them all!!! If your little princess loves Sofia, she will love Sofia the First: The Floating Palace
.
Conclusion for a Sofia the First Birthday:
If you are looking for a fantastic party option for your little princess, these Princess Sofia ideas are just what you need to get your creative juices flowing. From backdrops to costumes, you will love these ideas!
If you love these ideas, please pin this image to your birthday Pinterest Board:
Related posts for Princess Sofia Birthday Ideas:
Thank you for reading out Sofia the First Party ideas!
This is a sponsored post. Mimi's Dollhouse may have been compensated for this post, but rest assured…all thoughts and opinions are totally honest and totally my own:)