Ideas for Doc McStuffins Birthday Cakes and more!
Planning a Doc McStuffins party is as easy as cookies, cakes and desserts! These Doc McStuffins cookies and other dessert ideas are exactly what the doctor prescribes for a fun Doc McStuffins birthday party! Check out all the cool ideas!
Lambie, Stuffy, Halle and the Doc McStuffins crew all not only make amazing friends, but also the perfect inspiration for some adorable party treats.
Throwing a DOC MCSTUFFINS THEMED PARTY?
Let's take a look at fun and simple ways we can make some absolutely fantastic Doc McStuffin's inspired treats for your next birthday party…
Doc McStuffins Party Food
First up, all those healthy, non-typical and super character themed party food ideas…
You can turn almost anything you want to serve for a party into a themed treat with a little creativity. Here are some ideas to get you thinking…
Stuffy's Sandwiches
Hallie's Hamburgers
Chilly's Snowballs (Marshmallows)
Lambie's Tutu (Cotton Candy)
Sir Kirby Swords (Kabobs)
Donnie's Donuts
Professor Hootburgh's Eyes (Oreos)
McStuffins Muffins from Catch My Party
Here's a fun themed healthy treat your guests will enjoy.
Tongue Depressors from Kara's Party Ideas
Tongue Depressors are a great inexpensive option for a fun themed treat.
Band Aid Lollipops from Sweets by CiCi
Adorable band aid lollipops for the win!
Doc McStuffins Fondant Toppers from Sweet Treats by Jess
Fondant Toppers are such a wonderful way to dress up cookies, cupcakes or other party treats. Fun and simple.
Doc Rice Krispies from Kara's Party Ideas
Simple Rice Krispies are not only delicious, but make a great party themed treats that are always a hit.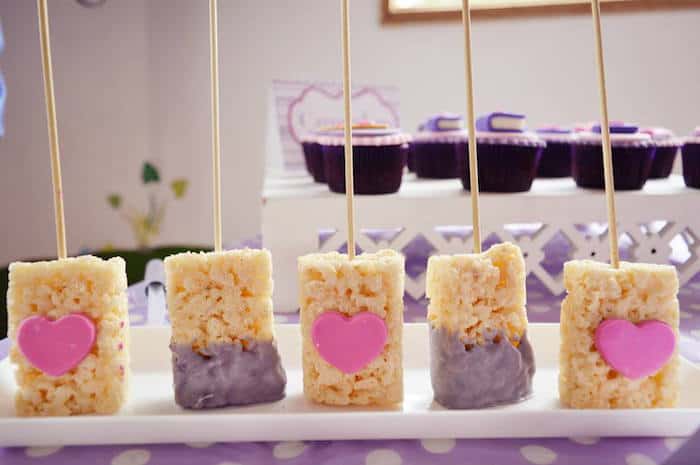 Doc McStuffins Cake Pops from Shortie's Cupcakes
Fantastic themed cake pops are such an adorable idea. These fun character pops are even cuter than regular cake pops too!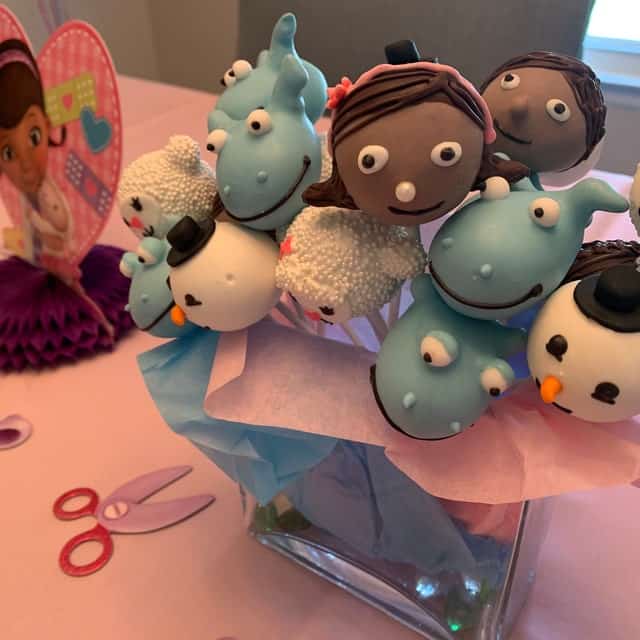 Doc McStuffins Fondant Toppers from Sweet Sugar Tops
Here is another cute fondant topper option too. Love these.
Doc McStuffins Cakes
The centerpiece of any good dessert table is the cake. Here are some fabulous Doc themed birthday cakes:
Doc McStuffins Cake from Cakes Decor
Here is a gorgeous birthday cake. I love the fondant.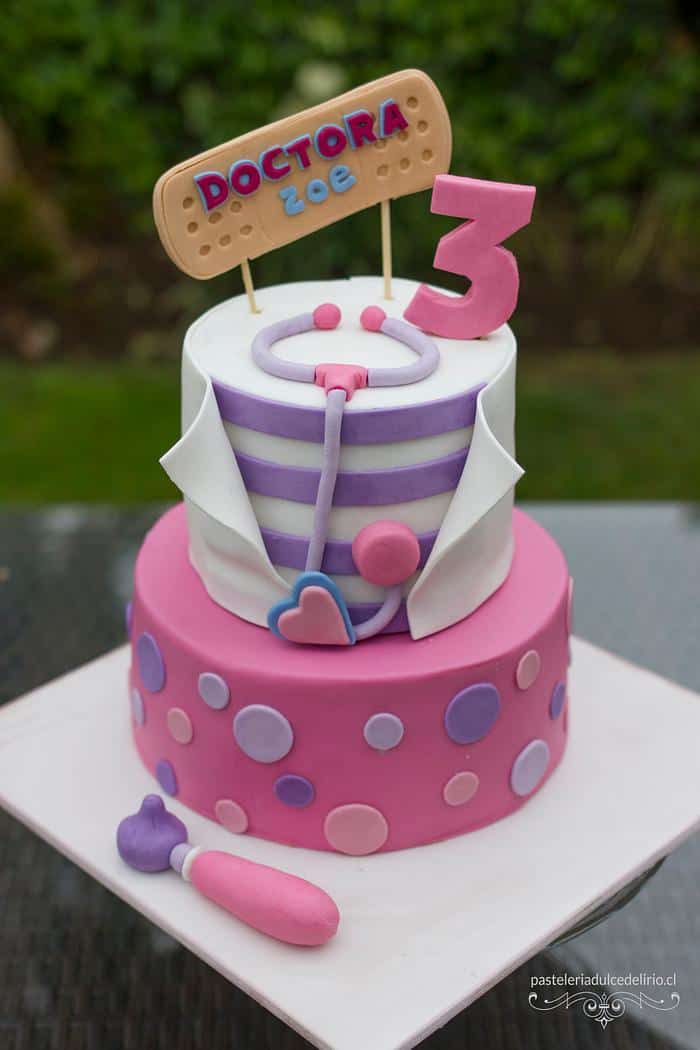 Doc McStuffins Character Cake from Cake Central
This character themed cake is EPIC. The details are adorable, especially the chilly/lambie layer.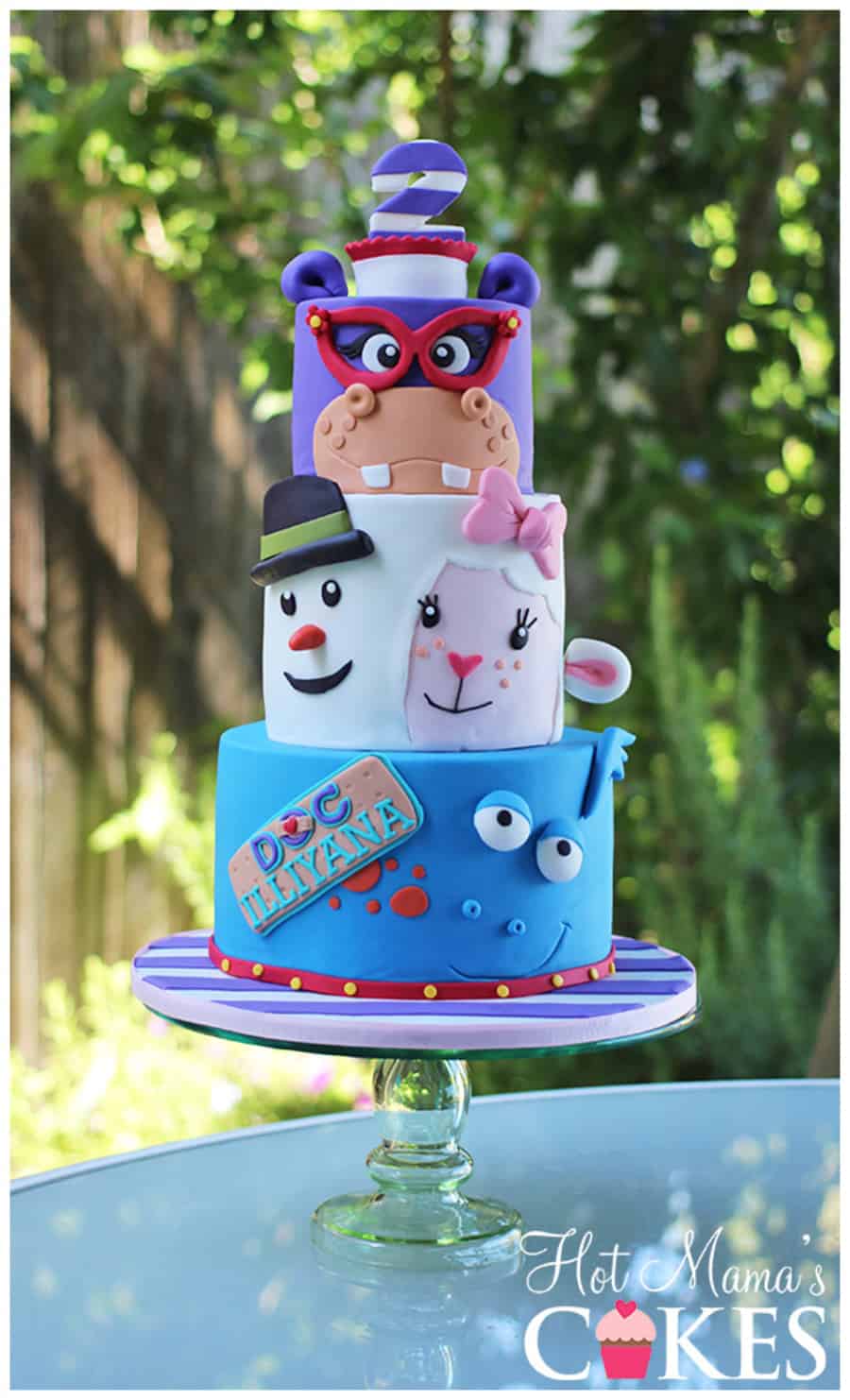 Hallie and Lambie Cake on Pinterest
You also don't need to focus on EVERY character to make a killer cake. Here is a beautiful Hallie and Lambie cake. Way to focus on the favorites!
Doc McStuffins Birthday Cake from Hive Bakery
So this cake is frankly just AH-MAZ-ING. The details and the fondant characters are too, too cute!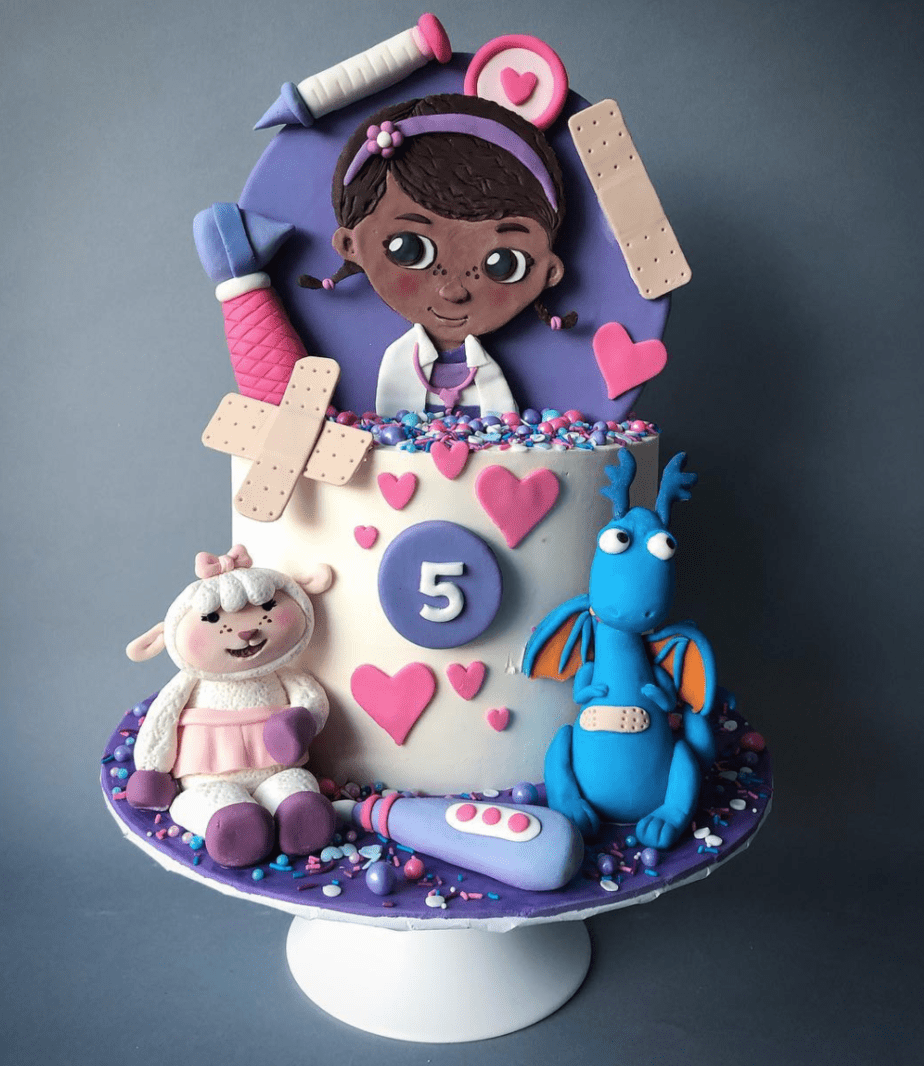 Doc McStuffins Cake from Nashville Sweets
Here is another sweet Doc McStuffins birthday cake. Love it!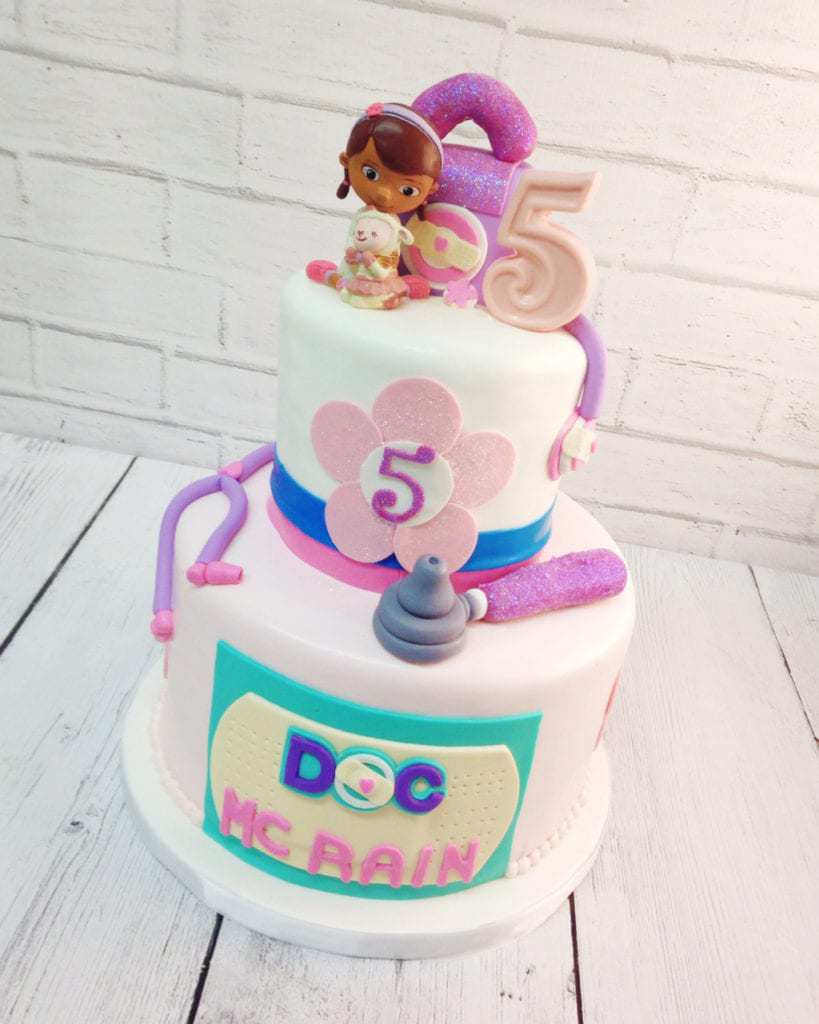 Doc McStuffins Cookies
Custom Royal Iced cookies are divine. These are one of my favorite ways to really dress up a party. Perfect and delicious.
Nurse Cookies from Sweet Ambs
Adorable doctor themed cookies are just sooooo much fun.
Doc McStuffins Cookies from Itz My Party
Here are some cute Doc McStuffins themed cookies you can buy to use for your party.
Doc McStuffins Cookies from Sweet Maleficent
These adorable cookies are perfection for a Doc McStuffins birthday. Sweet and personalized.
Doc McStuffins from The Iced Sugar Cookie
These Doctor kit cookies are so adorable they are almost too cute to eat. From cute band aids to fun medical supplies….so much to love.
Bandaid Cookies from Keksi
You can't go wrong with the DIY bandaid cookies. These can also be done with fondant if icing isn't your thing! SO many possibilities.
Doc McStuffins Cupcakes
There is nothing quite as good as bite sized cake right!! Here are some fantastic cupcake ideas…
Doc McStuffins Cupcakes from Vanilla Frost Cakes
These cupcakes with cute fondant toppers are legit. Such a fun idea.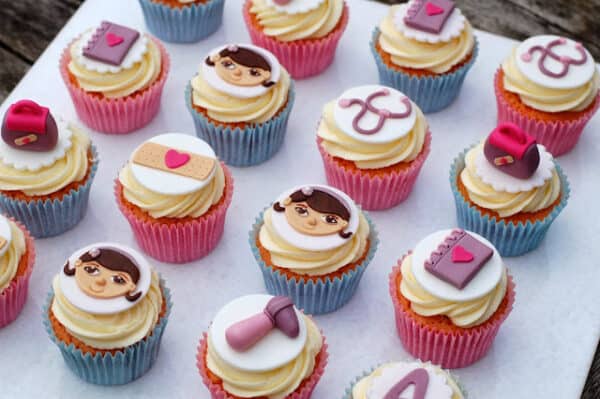 Doc Tools Cupcakes from Kara's Party Ideas
These sweet Doctor kit cupcakes are girly and beautiful while also being perfectly themed.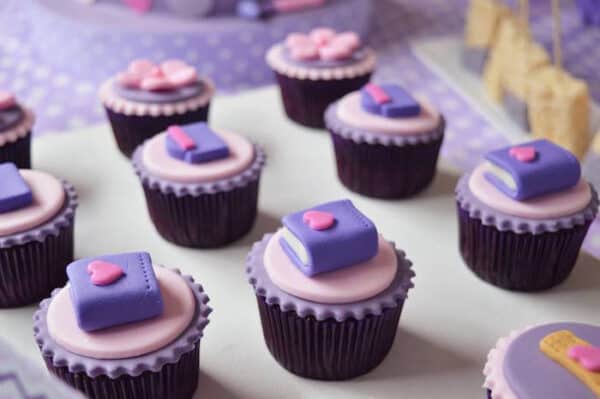 Doc McStuffins Cupcakes on Pinterest
These are fantastic Doc McStuffins cupcakes. Fondant characters are oh so cute!
Lambie Cupcakes on Catch My Party
Lambie cookies make great cupcakes toppers. This is a fantastic way to use cookies to dress up cupcakes. This also works well with cookies as cake toppers. Cookies are pretty versatile!
Doc McStuffins Cupcakes from Catch My Party
Simple paper topper are always a great way to dress up store bought or homemade cupcakes too! So cute!!!
Doc McStuffins Party Tableware
Grabbing a set of Tableware or an easy matching decor set is a great way to set up a themed party and still stay on budget. Here are some awesome options:
Doc McStuffins Tableware from Amazon
Doc McStuffins Decorations
from
Amazon
Here are some helpful links for planning a Doc McStuffins party:
Conclusion for Doc McStuffins birthday treats:
If you are looking for fantastic Doc McStuffins party ideas, making some amazin themed treats and desserts is an easy way to really keep your theme at the forefront of your party. Check out all these ideas and start your planning off right!
If you love these ideas, please pin this image to your birthday Pinterest Board:
Related posts for Doc McStuffins desserts:
Thank you for reading my Doc McStuffins party ideas!