Clifford the Big Red Dog Party Ideas
Looking for some fun party ideas for a Clifford themed party? We are all about the Clifford party ideas today! If you have a little one who love Clifford the Big Red Dog, then you will love these Big Red party ideas.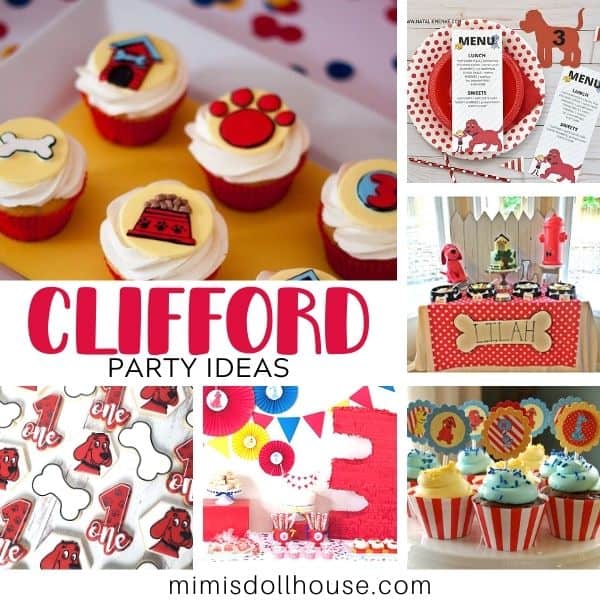 To celebrate the release of the new live action Clifford Movie, Clifford The Big Red Dog, I have put together some adorable and fun Clifford party ideas and movie viewing options.
Throwing a CLIFFORD THEMED PARTY?
☑️ This
Puppy Paw Party Kit
is the perfect set to get your party planning headed in the right direction!
Clifford makes a great party theme for kids who love puppies. You can pull in so many dog themed ideas in addition to the traditional Clifford ideas. And of course, you can't have too much bright red!!
Clifford Movie Review
Before we look at party ideas, let's take a look at this awesome live action movie. Clifford The Big Red Dog is adorable. The story is fun and it really brings the characters to life. My kids loved watching it. They asked for it again and again.
Clifford Movie Synopsis
When Emily discovers her little red puppy named Clifford has grown ten feet overnight, she turns to her eccentric Uncle Casey for help. But when a mad scientist tries to capture the larger-than-life playful pup, it takes the entire neighborhood to hide Clifford as they race across the city. Get ready for the incredible, laugh-out-loud comedy adventure that is BIG fun for the entire family!
Alright…when it comes to planning a Clifford themed party, there are so many awesome ideas and ways you can incorporate your favorite party treats into a Clifford themed world.
Clifford Food Ideas
First let's take a look at the food. There are so many ways to use normal food with a fun theme. Simple things like carrot sticks can be magically transformed into Clifford's carrots with a cute label. You can also cut cookies into shapes like dog bones to make them instantly themed.
Here are some fun ideas to try:
Clifford Cookies from A Heidi Cookie
Here are some super adorable Clifford cookies. The logo cookie is the best!
Clifford Cupcakes from Catch My Party
Adorable fondant covered cupcakes are perfection! Having a random sampling of dog themed toppers is even better!
Clifford Cookies from Holly Ann Thorpe
These cookies are cute and colorful. The balloons are fun as are the paw prints.
Clifford Cupcakes from Bobblehead Baby
Dressing cupcakes up with cute paper cupcake toppers is a wonderful option for an easy party treat as well.
Clifford Cookies from Yellow Rose
Don't you just love these clifford faces? Cookies with paw prints are also such a cute idea.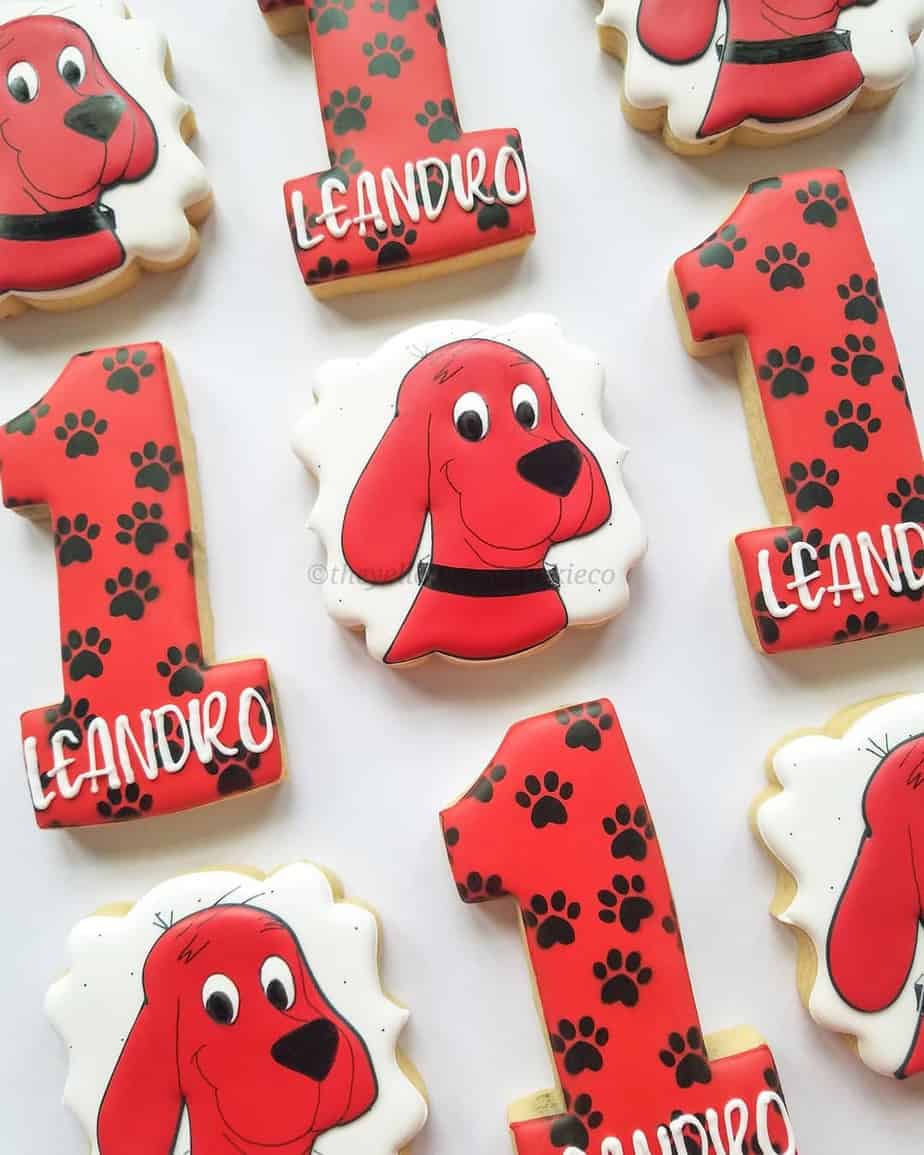 Clifford Cookies from B Club Bakehouse
The dog bone cookies are simple and super fun. They fit in perfectly with the Clifford face cookies too.
Clifford Fondant Cake Topper from Carolina Cake Topper
You definitely can't go wring with a fondant Clifford for the top of a simple homemade or store bought cake. What a cute little puppy!
Clifford Menu from Natalie Menke
Here is a fun idea for a menu. Dress up those simple party treats with a fun lunch label!
Clifford Party Decorations
Decorating a Clifford party is as easy as puppies and bright red. We have some fantastic ideas to get your party dressed up right. Check them out…
Clifford Party Table from Bella C Parties
Dog bowls and a fire hydrant are a sure fire way to make your little puppy feel right at home!
Clifford Party from As The Bunny Hops
Cutting pictures out of old story books is a fun idea for unique cupcake toppers. These are even in brownie bites for an additional party treat idea!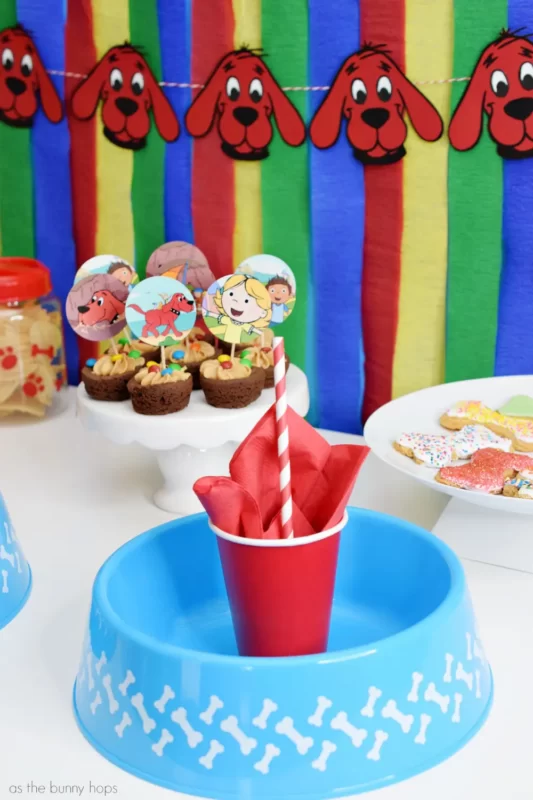 Clifford Party Table from Catch My Party
Sweet, simple and primary colored for the win with this little Clifford themed party table!
Clifford Themed Supplies
Grabbing some easy to use supplies is a great way to get your party planning off to the right start. Here are some of our favorite options:
Clifford Invitation from Moniolo
Custom, digital invitations are a really affordable and absolutely adorable way to invite your party guests to your Clifford party.
Clifford Favor Bags from Bobblehead Baby
Favor bags are a great way to send home so delicious or fun party favors with your guests. Making a themed bag lets you fill it with little goodies and still stay perfectly themed.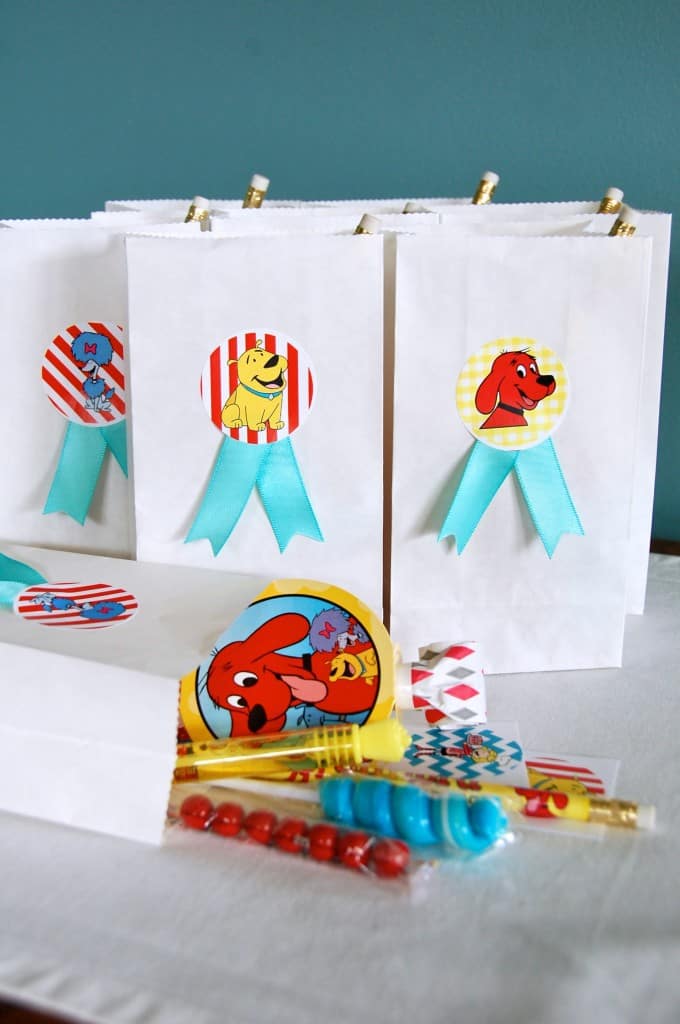 Clifford Cut Out from Forever Krafty
Clifford cutouts make photo props and table decorating an absolute breeze. Aren't these sooo cute?
Clifford Banner from Marshmallow Party Shop
A fun printable banner is a great decoration as well. This is a super affordable option for a birthday party.
Clifford Balloon Stickers from Kids Island
Clifford birthday balloons can brighten up any party. Who doesn't love party balloons?
Red Striped Plates from Meri Meri
Of course, don't forget the the tableware…simple reds are a great option for a Clifford party. These stripes are super duper cute!
Here are some helpful links for planning a Clifford viewing party:
Conclusion for Clifford Movie Party:
If you are planning a Clifford party, you can't go wrong with these fun and super cute party ideas. From the perfect Clifford cupcakes to the simplest party plates, we have the ideas you need for a Clifford party. Your kids are sure to love this birthday!
If you love these ideas, please pin this image to your party Pinterest Board: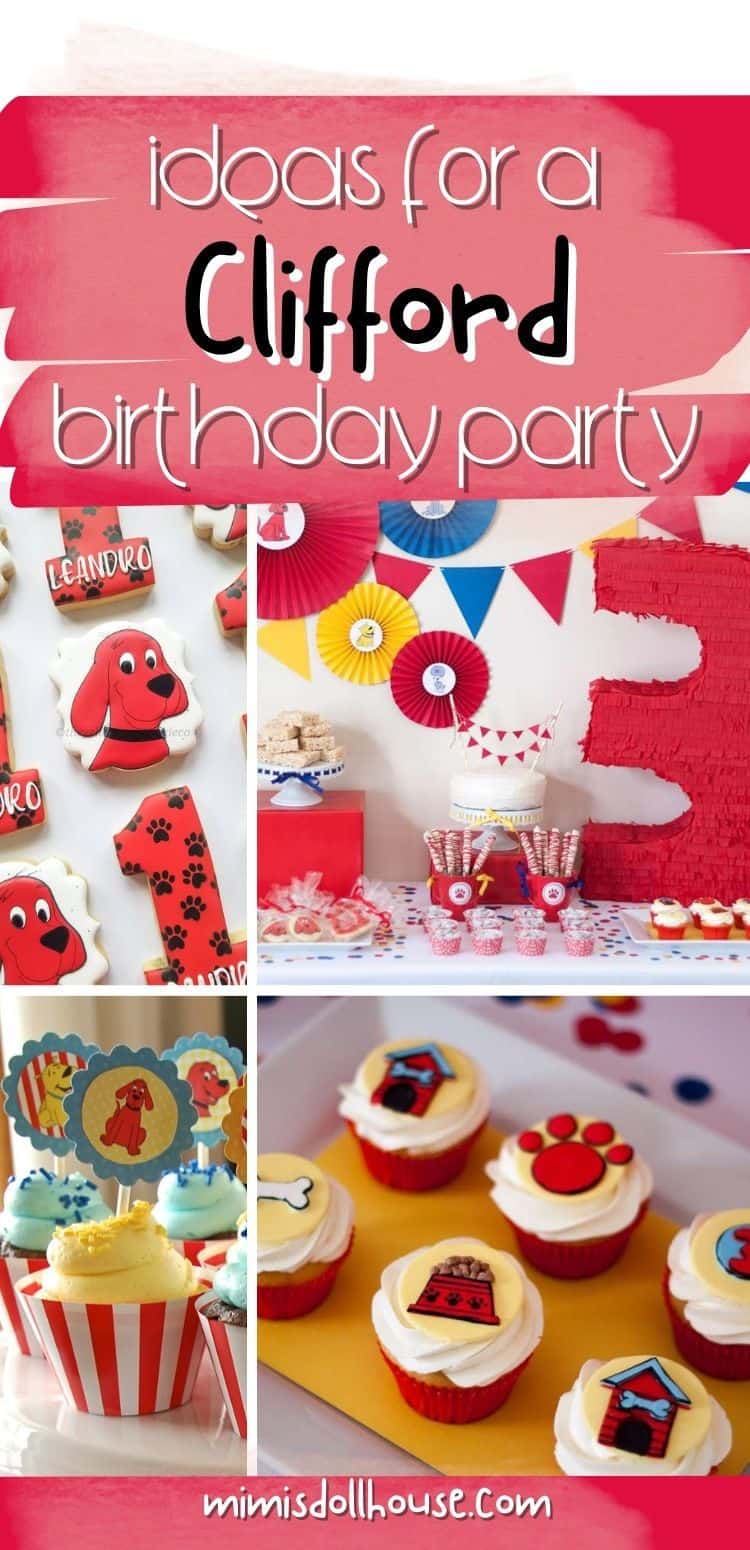 Related posts for Clifford Birthday Party:
Thank you for reading our Clifford Movie Party Ideas!