Make Your Pantry Your Own With 50+ Customizable Food Label Templates
If the idea of a clean and orderly pantry makes you excited, then these free printable food labels are going to make your day! Coming in a variety of styles, these adorable, downloadable labels will make kitchen organization a snap!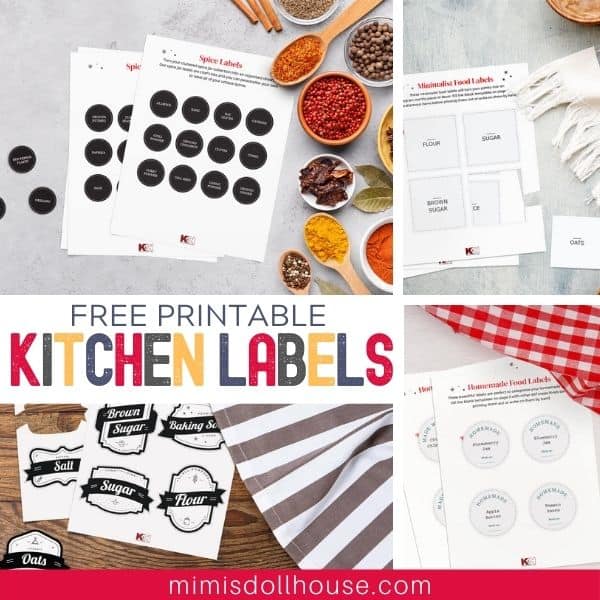 No more wishing your pantry was Pinterest cute and easy to use…grab some free labels and let the reorganization begin!
Organizing Your Kitchen
When it comes to kitchen decor and organization, it's all about the little details. We all know that arranging your cabinets and pantries can be trying, boring, and even a little frustrating. But organizing your kitchen cabinets just got a lot easier and a lot more exciting.
You can now add personal touches to your kitchen containers with the help of our printable food label templates. With so many different styles and color schemes, you can choose from the labels that will make your kitchen look and feel most like you!
Who doesn't love a little bit of beauty and functionality? Whether you are looking for a more vintage look or dig a minimalistic approach to labeling your spice cabinet, these printables will make you and your family more organized.
Looking to try them out yourself? Download the labels you're interested in, print them on US letter-sized paper (8.5″ x 11″), cut them out, spray adhesive to the back of the printable, and stick them to your favorite storage containers. Before you know it, your cabinets will look trendy and tidy!
Homemade Food Labels
Who wouldn't want labels for your homemade goods?
These homemade food labels are perfect for any upcoming dish or dessert you may be serving. Click the image below to download these printable labels!
Some of these labels include:
Blueberry Jam

Apple Butter

Tomato Sauce

Chocolate Chip Cookies

Lemon Curd

Dog Cookies
Vintage Food Labels
These food labels are perfect for any mason jars, plastic containers, or refrigerator drawers that might need some organization.
Download these vintage food labels by clicking the image below for some of the following ingredients:
Flour

Sugar

Brown Sugar

Coffee

Rice

Baking soda

Salt

Pepper
Minimalist Food Labels
If you swear by simple, but effective looks…a minimal design may be your go-to.
A clean and polished design will make give your cabinets a clean, polished style. There are a ton of minimalist food labels that we have created for you to use in your kitchen however you please! Download these labels by clicking the image below!
Printable Spice Labels
Perfecting a system in your spice cabinet can be extremely rewarding. If you are just itching to spice up your spice cabinet, look no further. Download these labels by clicking the image below.
We have created labels for all of the essentials including:
Basil

Bay Leaves

Cayenne

Ground Cinnamon

Cloves

Cumin

Dill Seed
Organizing Your Cabinets with Labels
While you may be ready to add labels to all of your kitchen necessities, it is important to purge unneeded items from your cabinets and pantries. Expired foods and unused spices should be thrown away.
This will help you stay organized and aware of the supplies that you have.
Revamping your kitchen cabinets and sorting foods to be more accessible will help you to feel more comfortable in your kitchen.
Not only will you love the organized look of your cabinets, but you will love its practicality as well.
Conclusion for Free Labels for Kitchen Organization:
Getting your kitchen pantry organized with simple and beautiful labels is a great way to be more efficient and stylish in your cooking. We know you will love these labels!
Here are some helpful links for organizing your pantry:
If you love these organization ideas, please pin this image to your Pinterest Board:
Related posts for Organizing your Pantry:
Thank you for reading about our Free Pantry Labels and Organization!