Style a fabulous spa party for your tween, teen or bachelorette!
Looking for a fun and more grown-up party for your older girls? How about a relaxing at home pamper party? Nail polish, cucumber masks and pedicures, oh my! These spa themed ideas will be perfect for tweens, teens, and even a wedding shower! Let's get pampered!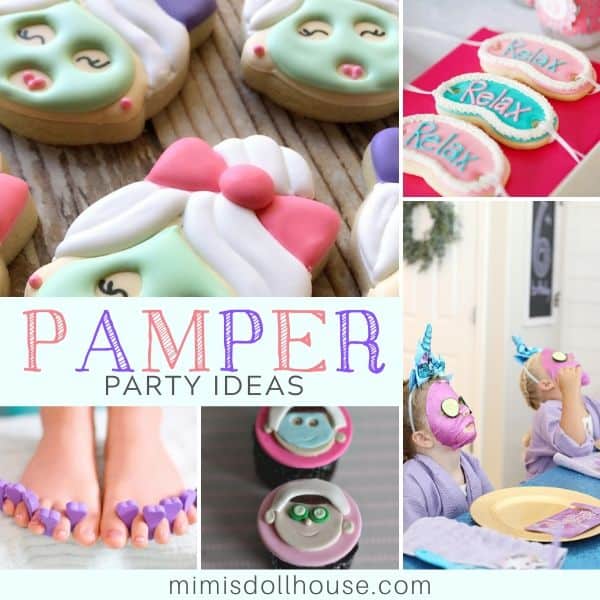 So having daughters is super fun. One thing that I have learned in parenting girls…you don't really have to teach them to be girls. They pretty much come that way.
Granted, they do watch and learn a lot of girly stuff from me…but so much of it just comes naturally. My girls LOVE to dress up. They have a big dress up hamper full of themed play outfits.
Throwing a PAMPER THEMED PARTY?
☑️ This
Spa Party Kit
is the perfect set to get your party planning headed in the right direction!
I love seeing them dressed up like princesses pushing their baby strollers. Their room is exploding with pink and frilly and tea parties and girly fun fun!
There are some things, though, that I totally think are taught….for instance. The other day, a huge moth flew into our house and up the staircase to where I was standing with my daughter.
So…I screamed. Like horror movie scream. I would totally be the stupid chick who dies at the beginning of the movie because I ran up the stairs screaming.
So anyway…big scream (cuz, hello…BIG BUG!!!) and I grabbed my daughter and carried her into her bedroom and we hid until Super-Dad came and killed the bug.
During the Bug killing extravaganza it actually flew into the bedroom we were in. And, yeah…I'm not too proud to admit…I threw my daughter on the bed and covered her up while we screamed. I know…pathetic. Yes!
So, long story short….now she's TERRIFIED of bugs. Nice going mom!!!
In honor of little girly girls, I'm sharing some ADORABLE spa party ideas today. What's more girly than a spa day. Spa days pretty much take the Girly cake, right. Check it out…
Related: Gorgeous Spa Party for Tweens
Pamper Party Theme
So go ahead and pamper YOUR little girly girls with a fabulous spa party. Then afterwards…maybe afterwards, take yourself to the spa as a reward…come on, you earned it!!!
Sleepover Party in a box for 6 from Snooze Sleepover Co.
This party in a box is a great buy. It includes items like robes and nail polish and face masks for each little girl! What a fun way to get tons of the items you need at once!
Kid Friendly Mani/Pedis on Project Nursery
If you are planning to style a pamper party, you are definitely going to need some kid-friendly manicure and pedicure supplies. These ideas from sparkly nail polish to little toe spacers are great for planning a beautiful and relaxing spa day!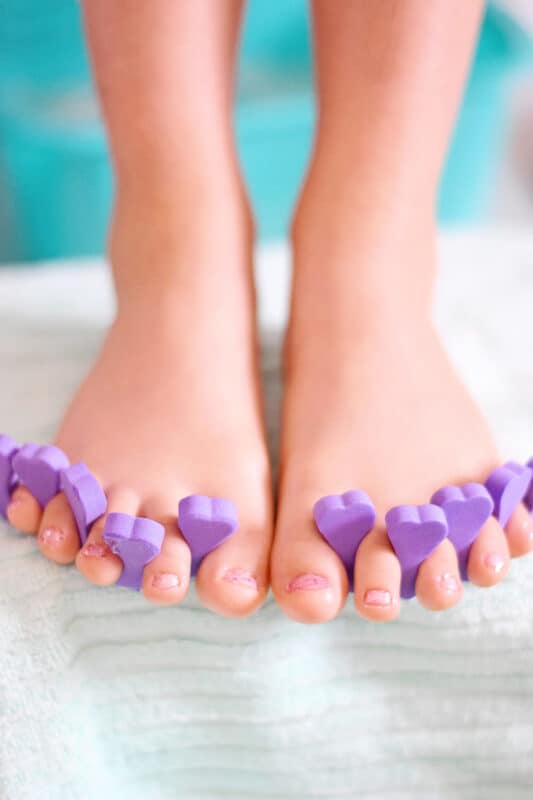 Spa Party Photo Props from Clever Marten
Ok…if you are going to host all these adorable girls in their robes and painted toes…you should definitely plan a photo booth. Pictures will just be fantastic!
Pamper Party Decorations
Here are some adorable party decoration ideas to turn your home or party space into a relaxing day spa!
Spa Party Table from Jenny Cookies
I love the idea of setting up a pamper station for each little girl. You can do this at a long table like the picture below. Another fun idea is chairs with individual pedicure buckets to soak those cute little feet.
Photo Booth Ideas from Kara's Party Ideas
This is a great backdrop for a photo booth. I love the giant balloons !
Unicorn Face Masks from See Vanessa Craft
Face masks are a definite must! This particular spa party had a unicorn twist. Unicorns are so great for tweens!
Spa Sleepover Tents from Dream and Party
Ok…honestly…who wouldn't want to sleep in their own tent? This is such a gorgeous set up for a sleepover pamper party!
Spa Party Food Ideas
Now let's talk food. No party would be complete without some delicious and of course perfectly themed party food ideas! Cucumbers and face masks…here we come!
LOL Surprise Spa Party Cake from Kara's Party Ideas
LOL Surprise is another fun twist on a pre-teen spa party. This cake is absolutely fabulous too!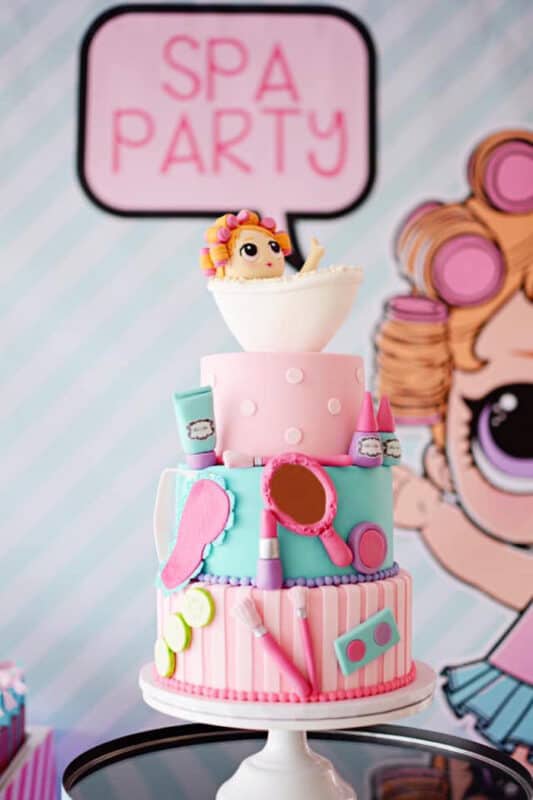 Spa Mask Cookies from Sugar Shack Bakery
These spa themed cookies are adorable. The green face mask and fun towel wrapped head are just too, too, cute.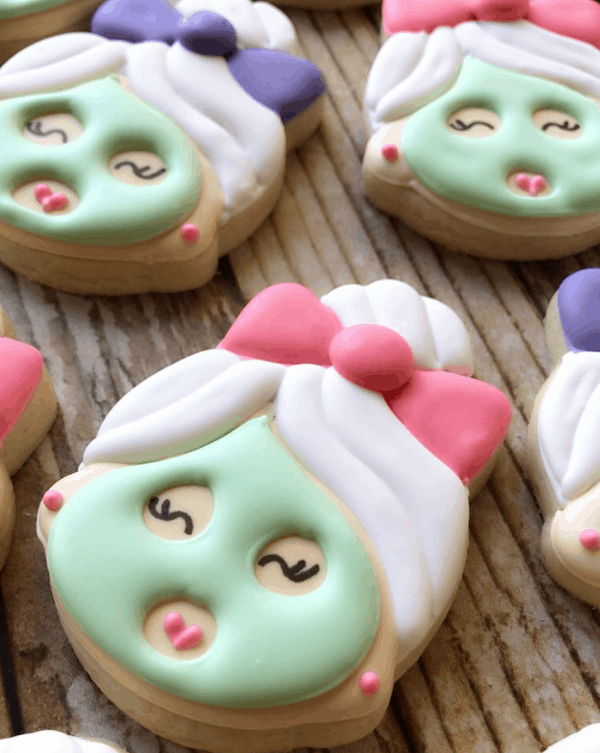 Cucumber Slice Cupcakes from Rain and Pine
Here is a super simple way to dress up homemade or store bought cupcakes. Cucumber slices are such an iconic element of a spa experience…this is just perfect!
Fondant Spa Cupcake Toppers from Parker's Flour Patch
These are absolutely adorable fondant cupcakes toppers that would be so adorable at a spa themed birthday. The little cucumbers…so cute!
Relax Mask Cookies on Pop Sugar
Relax with some fun sleep mask cookies. These can be made to match any color scheme. Absolutely adorable!
Spa Party Themed Cheese Ball from Hungry Happenings
If you feel a little more adventurous…why not make a face mask themed cheese ball? Isn't this just the coolest?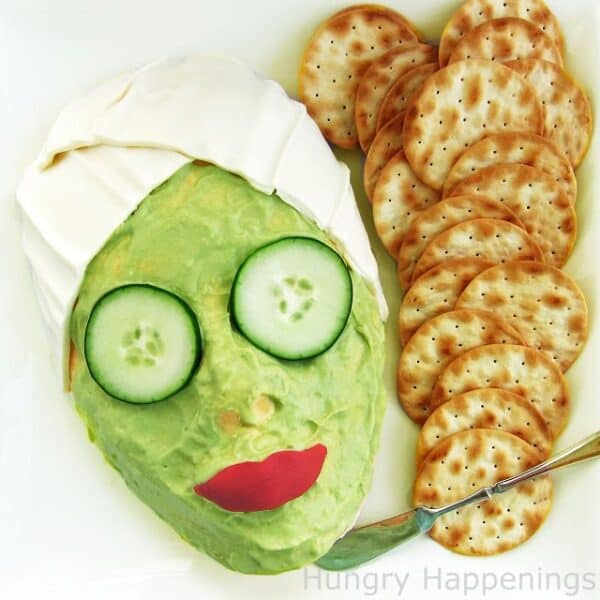 Nail Polish Cookies from SweetAmbs
Cute nail polish bottle cookies. These would be so fun on place settings for each individual guest.
Spa Party Cake Pops from Drizzled Dipped Dunked
Here are some fun cake pops you will love. How adorable are these?
Fondant Spa Cake Toppers from 7 Sky Bakery
If you are decorating a cake yourself, these adorable fondant pieces would be so cute on a simple white cake.
Pamper Party Supplies
To really pull off a spa party…there are some definite things you need. Of course, you need nail polish and all the goodies for mani/pedis. Face masks, robes and towels are definite bonuses that take simple to extraordinary. Here is an assortment of kid friendly spa supplies options to help you pick the right items for your pamper party!
Spa Party Tableware
Getting some fun coordinating tableware is a great way to start planning your party right. These sets make decorating easy too, because they set the color and tone and usually include some matching decorations anyway!
Here is a great option from Amazon: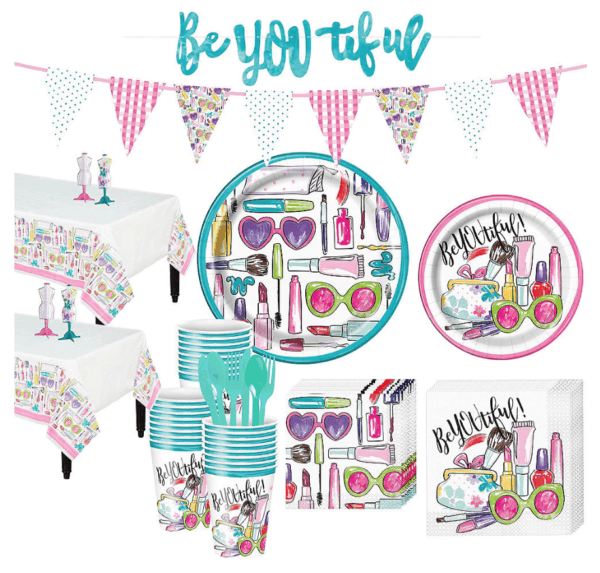 If you want something a little more "grown up" for your teen or adult spa party, this set from Amazon is pretty perfect too with its bright colors and fun designs.
Conclusion for Pamper Birthday Party:
These fun spa party ideas are a great way to celebrate your tween or teen daughter's birthday. Full of ideas that appeal to older girls, you can't go wrong with the adorable pampering party
Here are some helpful links for throwing a Spa Party:
If you love this spa birthday, please pin this image to your birthday Pinterest Board: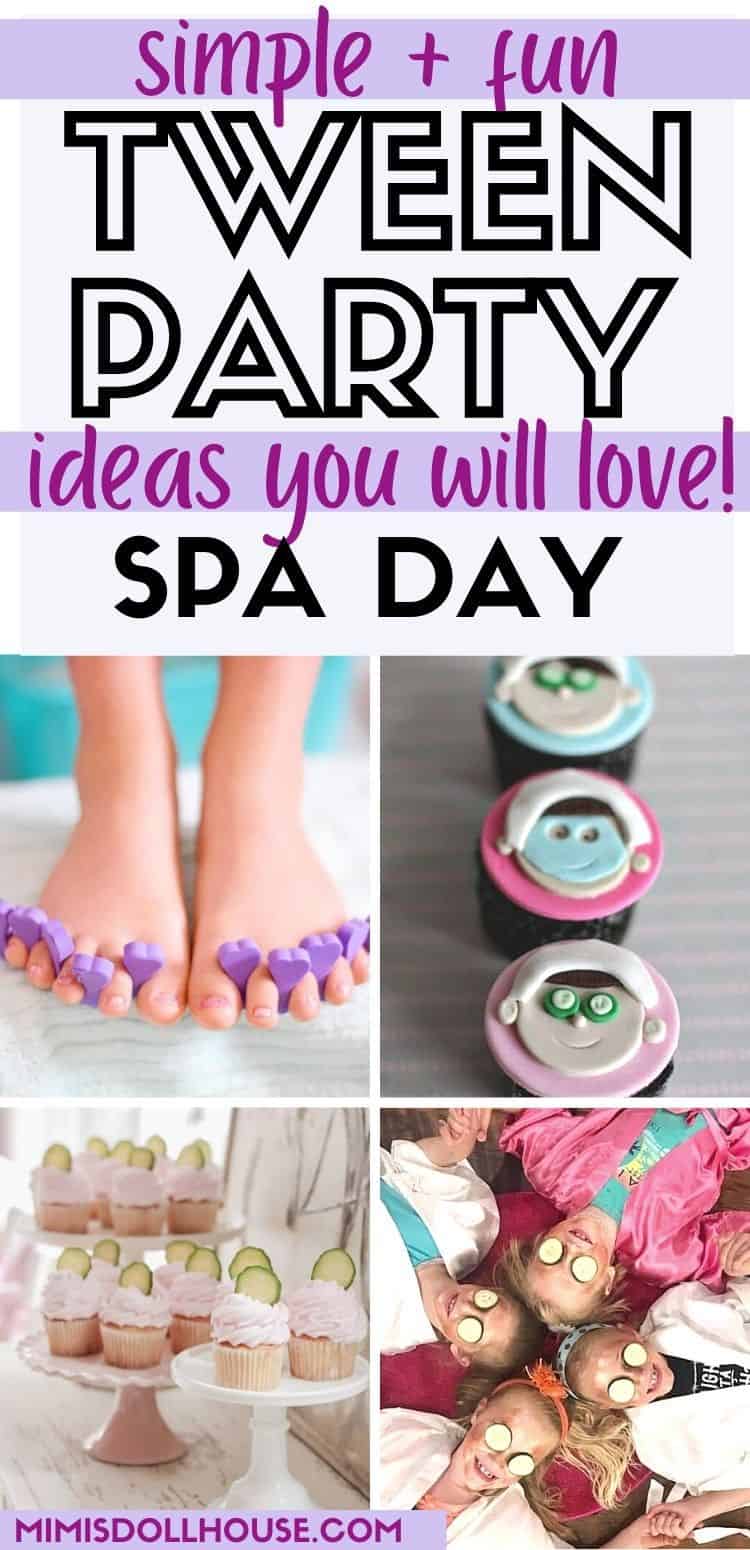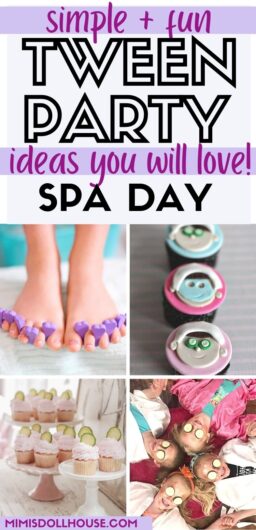 Wanna throw a Spa Party?
The printable spa party package is available for purchase in my shop:
Related posts for Spa Party Ideas:
Thank you for reading our Pamper Party Birthday Ideas and Inspiration!