Fun indoor Activities for kids at home
Sometimes you just need some good old fashioned indoor fun. If you are stuck inside with your kids, here are some fun indoor activities you can do together or let them do on their own to keep things fun and engaged while you are avoiding the outdoors.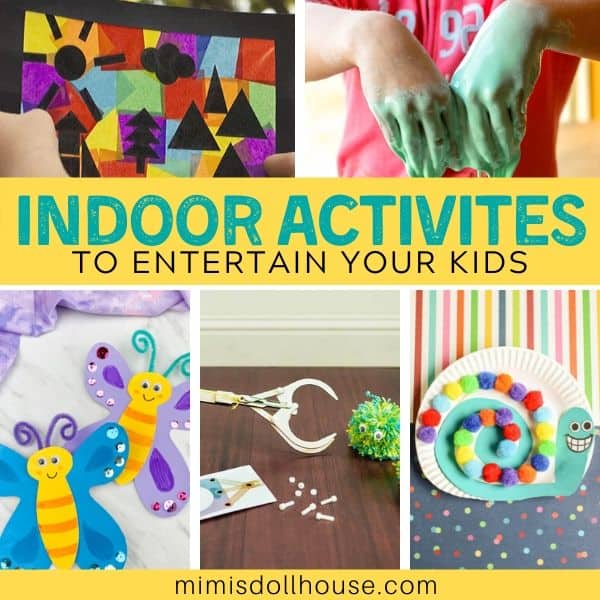 There are lots of reasons to be stuck inside. Perhaps it's raining cats and dogs outside. Maybe your work situation has changed and now you are working from home with little kids at home. Maybe you are snowed in.
Whatever the reason…it can be a challenge to entertain those adorable little people you have created.
Sometimes the best ideas are to get creative and let them make some fun crafts. You can also never go wrong with some killer learning ideas!
Let's check out some kid-friendly boredom busters!
Fun indoor activities for toddlers and preschoolers
First up, let's talk about those cute little ones. Toddlers and preschoolers can definitely be more demanding when it comes to attention. They also, however, can be entertained with simpler projects than older kids.
So having a needy toddler is a trade off for having to think as hard to entertain them.
Kiwi Co.Learning Boxes
These subscription boxes are my FAVORITE pick. They come monthly if you subscribe, but you can also order them as one time boxes as needed.
They are set up with age appropriate learning crafts and activities that stimulate and entertain kids for days. What's better than that?
Koala Crate: Ages 2-4
DIY Balance Scales for Toddlers from Go Science Kids
Easy DIY balance scales for toddlers and preschoolers to explore weight and gravity concepts through play. Let your kids explore different weights and how objects are compare to one another. Learning meets fun!
Snail Paper Plate Craft Project from Toots Mom is Tired
Here is a super cute activity that you can use to either just let your little one be creative or teach colors and shapes. So much fun!
Wooden Toddler Puzzles from Amazon
Wooden puzzles are great ways to not only keep little ones engaged, but teach them as well. You can find number puzzles and shape puzzles.
You can also find puzzles for any interest your kid might have from farm animals to princesses!
Paper Plate Butterfly Project from Simple Everyday Mom
Turn a plain paper plate into this fun and colorful butterfly! What's more fun than creating cute little animals and bugs with your kiddos?
Salt Dough Recipe from Unsophisticook
This simple and easy salt dough recipe is the perfect rainy day activity… Kids will master valuable kitchen skills while learning how to make salt dough, and then spend hours playing with it!
Toilet Paper roll Racers from Toots Mom is Tired
Have extra toilet paper rolls lying about? Why not make fun little race cars and hold an indoor derby?
Animal Shadow Puppets from Eat Move Make
Keep boredom at bay with these endlessly fun animal shadow puppets. This is great way to be creative and interact with your bored kiddos!
Kids Indoor Games + Supplies
Pre-made kits and activity boxes can be great ways to help kids be engaged and not bored during extended days at home. Here are some awesome projects you can buy:
Rock Painting Kit from Target
This kit is great for encouraging creativity. It comes with rocks, but can also be broadened to painting other rocks you can find in your yard or when you are able to go outside for a walk!
Indoor Horseshoes Set from Oriental Trading
If you have a little space, setting up an indoor game like these fun horseshoes is an easy way to bring outside play indoors.
Crazy Loom from Target
Does your pre-teen love to make friendship bracelets and chokers? Here is a super fun loom that can help them make bracelets all day!
Pillow Bed for a Movie Night from Amazon
If you want to watch some family movies…grab some pillow beds and have a campout in your living room. These pillow beds are also great for sleepovers and independent reading time!
Color Chemistry Set from Target
Science meets art with fun lab kit. Encourage your kids to explore some chemistry with this awesome set of 50 experiements.
Stained Glass Kit from Target
Do you have a budding artist? Let them make some beautiful stained glass artwork to hang in the window and catch the sunlight…even on a rainy day!
Nintendo Switch Lite from Target
Even if you are tying to limit screen time, having some devices that allow quiet time and play can be a great option. There are tons of games that can be purchased to accompany the Switch. These games will help your kids to learn and just have some plain fun.
Older Kids Indoor Activities
Older kids can sometimes be more challenging to entertain. Especially if they are just wanting to watch tv or are DESPERATE to socialize. Here are some ideas for boredom busters for your older children:
Salt Crystal Snowflakes from Go Science Kids
Stunning craft that doubles as a cool crystal science lesson – how to make salt crystal paper snowflakes! These are especially great for girls! Decorate your room with pretty snowfall!
Oobleck Recipe from Unsophisticook
If you've ever wanted to learn how to make oobleck at home, à la Bartholomew and the Oobleck by Dr. Seuss, this oobleck recipe tutorial is for you! Super inexpensive and a fun kitchen science experiment…
Kids' Hand Embroidery from Swoodson Says
Teach kids four basic hand embroidery stitched with this free sampler pattern! Once they learn it…they can create for HOURS with simple tools!
Make a Dollhouse from Dad Life Lessons
Teach your kids how to make an easy dollhouse they can use for their dolls and action figures. It's a fun idea for being creative and also gives them something to play with after the fact.
Kiwi Co.Learning Boxes
Kiwi Co. learning crates are also available for older kids. Like the boxes for younger kids, they come monthly if you subscribe, but you can also order them as one time boxes as needed.
They are set up with age appropriate learning crafts and activities that stimulate and entertain kids for days.
Eureka Crate: Ages 14+
Tinker Crate: Ages 9-16+
Kiwi Crate: Ages 5-8
Make a No Sew T-Shirt Bag from Happiest Camper
Here is a craft that is great for pre-teen girls. Who doesn't need a fun new bag? It's like shopping and crafting all in one!
Build a Cardboard Castle from Easy Crafts for Kids
Why not make your own cardboard medieval castle and play knights and Princesses for the day? This is a great group craft idea your kids will love!
Fortune Tellers from Easy Crafts for Kids
Want to know what your future holds, you can do so if you make a paper fortune teller craft. These are fun and easy and can be made in so many variations.
Baby Yoda Craft from Simple Everyday Mom
If your kids love Baby Yoda, they'll have a blast making this easy paper craft.
Bead and Button Pipe Cleaner Bracelets from Glitter on a Dime
Here is a cute craft for making some easy DIY jewelry with crafting supplies you might even have on hand. Sometimes simple is best!
Easy DIY Storybook Peg Dolls from The Purposeful Nest
This craft is one that is great for your older kids and benefits you younger kids. Let the older kids paint the characters your little ones love and then let your little ones play with them.
Don't you love dual purpose ideas?
DIY Unicorn Banner from Party with Unicorns
If you are stuck inside put a little magic into your day with this DIY unicorn banner. The post comes with a printable template making it an easy craft for kids of all ages
Refraction Light Drawings from Go Science Kids
Let your kids explore how to 'magically flip' drawings using refraction of light. Fun art meets science activity for kids.
Coloring Pages for kids
Sometimes you just need some awesome coloring pages, no matter how old you are. Here are some amazing options:
Here are some helpful links for kid-friendly indoor activities:
Conclusion for things to do at home with kids:
No need to fret if you are stuck inside with your bored kids. With these fun and educational options, you can have crafts and ideas that will bust boredom for your kids and keep them entertained so you don't lose your mind while you are either trying to work from home or just keep your sanity.
If you love these ideas, please pin this image to your parenting Pinterest Board:
Related posts for fun indoor activities for kids:
Thank you for reading our boredom busters!