Honest Review of the Gakken Play Smart Workbooks
Finding great resources for teaching Preschool is so important when you are homeschooling. This review of the Gakken Play Smart Workbooks from Timberdoodle* will help you decide if these are an option for you and your child!
Teaching Preschool can be such a fun time. At ages 2-4, your little one is learning so much and so rapidly that learning is fun and easy. So much of preschool learning comes from play.
This is why fun resources like the Gakken Worksbooks are simple and easy to use ways to engage your child in learning without having to stress.
What are the Gakken Play Smart Workbooks?
The Play Smart Workbooks are included in the Timberdoodle Preschool Curriculum. They can also be purchased as a stand alone resource for teaching skills to your child.
The workbooks use a series of developmentally appropriate steps to improve your child's ability to reason, make decisions and build concentration.
Some of the skills taught in the workbooks are hand-writing skills, counting, basic decision making, grouping, differentiation, matching numbers with quantities, pencil control, cutting, matching and more!
Who are the Play Smart Workbooks for?
These Play Smart Workbooks are great resources for children ages 2+. The workbooks build on different skill sets as your child progresses through skills, you will move on in the workbook.
Many of the pages can be completed multiple times, so if your child isn't picking up the skill the first time, you can repeat daily until they grasp the concept.
Will my kids like the PlaySmart Workbooks?
Absolutely. The pages are colorful and have fun animals and pictures on them. The books use fun stickers to complete activities. It is a very engaging set of books for PreK age children, without being overly complicated.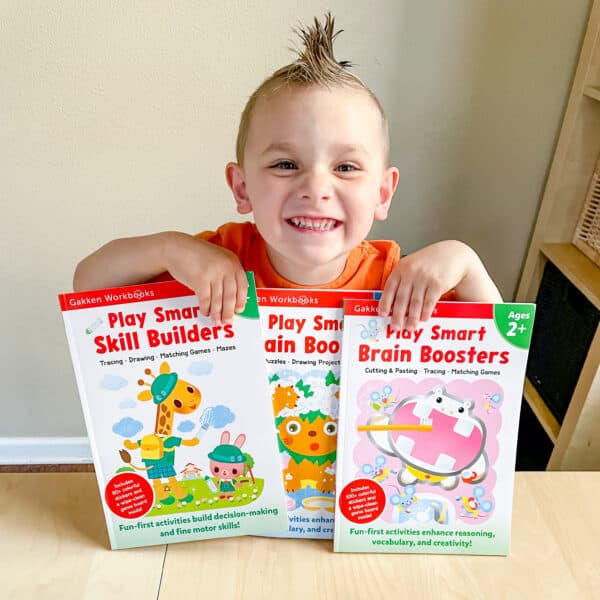 What are the features of the Gakken Play Smart Workbooks?
Each page of the Play Smart Workbooks includes helpful notes for parents, instructions as to what tools the child needs to complete the page (i.e. finger, crayons, stickers) and a spot for a reward sticker that can be given upon completion of the page.
The books include a wipe-clean activity board and plenty of cute reward stickers to motivate your young learner! The workbooks are full of research based activities that are developmentally appropriate and frustration-free.
There are three books in the set. The first is Play Smart Brain Boosters 2+ and includes cutting/pasting, tracing and matching games.
The second book is Play Smart Skill Builders 2+ and includes tracing, drawing, matching games, and mazes. The third is Play Smart Brain Boosters 3+ and includes picture puzzles, drawing projects and number games.
How to use the Play Smart Workbooks to supplement your homeschool program.
Utilizing the Play Smart Workbooks to supplement your existing homeschool program is simple. You can use 1-2 pages a day or a few times a week and add them in as skill building activities.
They would be great for after lunch or transitional activities where your child may not quite be ready for focusing for long stretches on bulding reading or math skills.
Most activities need to be done with an adult and are not independent activities.
Conclusion for the Play Smart Review:
The Play Smart Workbooks are a great supplement to a preschool program. They are fun for growing learners and a great resource for building basic reasoning skills and fine motor growth.
There are so many options for using these books. The review discusses some of the great features of these books and how to utilize them for your homeschool program.
If you love these party ideas, please pin this image to your homeschool Pinterest Board:
Related posts for the PlaySmart Workbooks Review:
Thank you for reading my Gakken Workbooks
review!
*This post was sponsored by Timberdoodle. The opinions are completely my own based on my experience.*