Back to School Teacher Gifts that teachers LOVE!
Back to School: Best Teacher Gift Ideas with FREE Printables. Want to give your child's teacher a gift they actually want this year?
Make teacher gift giving easy with adorable free printables and easy gift ideas. Check out this list for the best teacher gift for teacher from student.
Looking for back to school ideas for teachers, back to school hacks, or school lunch ideas? Also check out our Teacher Appreciation gift tags and back to school ideas.
"Back to Schooool, Back to Schooool, to prove to Daddy that I'm not a Foooool." Woah, 90's flashback! Ok, I'm better now:)
Today was my princess' first day of Pre-K 4. (Here is the cute First Day of School Sign I made her last year with the Tutorial.) Such a change from last year! She ran right in, so excited to see her teachers. I'm sure it helps that they are the same teachers she had last year!
She loves school and LOVES her teachers! We wanted to do a little something special for them on the first day. Doesn't hurt to butter them up a little bit before she starts getting in trouble for talking too much, right?!
I wanted something cute and fun, but not too expensive or over the top. We settled on an insulated coffee mug with a starbucks gift card tucked inside.
I made this fun Teacher Gift Tag to go on it and used a little Washi Tape I had handy to secure it. Easy Peasy. Oh, and I'm giving away the tag for FREE.
Free Thanks a Latte Teacher Gift Card Printable

I am also sharing my favorite Teacher Gift tags and back to school teacher gift ideas…Check out all these awesome ideas and FREE printable teacher gift tags!!
More Teacher Gift Ideas for Teacher Appreciation or Back to School
Back to School Teacher Emergency Stash from Eighteen25
This is a great back to school teacher gift idea!! Chocolate fixes everything right?!?! Give your favorite teacher the pick me up she/he needs this year with an Emergency stash of chocolate!!! They will thank you on those days when the only thing to get you through is chocolate:)
Thanks for Being a Cool Teacher Tags from Tatertots & Jello
Speaking as a former teacher, gift cards are ALWAYS a welcome gift. Treat your teacher with dinner or dessert out with these awesome gift card holder gifts. These are perfect for back to school or teacher appreciation gifts. This is a great way to let your teacher know how awesome-sauce they really are!!
EOS This year is going to be the BOMB tags from Liz on Call
Do you love EOS lip balm? I know I do. They are super soft and awesome on the lips. Chances are good, your favorite teacher likes them too! Give her the gift of soothing lips this year while still letting her know she is the "BOMB"!!!
Back to School USB Charger Gift Tags from The Crafting Chicks
Let's face it…you can never have too many phone chargers. This adorable gift tag is perfect for helping your teacher stay plugged in this year. This is a great back to school teacher gift for any teacher!
A Latte Fun Teacher Gift tag from Pizzazzerie
Ummm….coffee. Enough said, right? I promise, coffee is always a good gift! Teachers are often running around doing a million things at the beginning of the year and coffee is the fuel.
These adorable printable tags are made to match your favorite coffee place!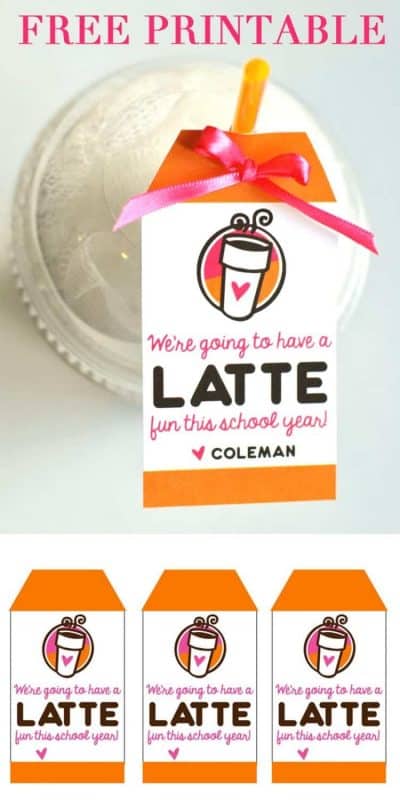 Take Note Teacher Gift tags from Skip to the Lou
Teachers are always going through lots of notes…whether your choose post-it notes or pads of paper…they will love taking notes with this gift!!
There are always to-do lists to make and things to jot down…or impromptu hall passes to write.
First Week of School Teacher Gift Tags from Whipperberry
This is a great teacher gift idea. Teachers always need coffee and carry-out and you can't go wrong with chocolate!!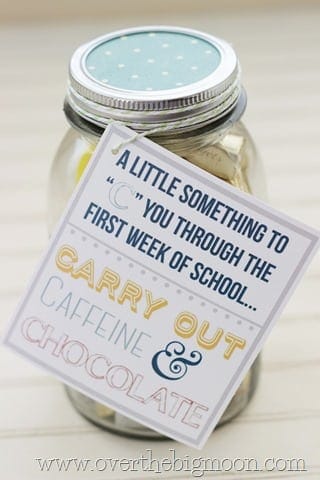 Clorox Wipes Teacher Gift Tags from Smart Schoolhouse
So…nobody wants to get sick! Especially at the beginning of the year!! These adorable tags can be easily added to some clorox wipes to make even a simple disinfecting gift adorable!!!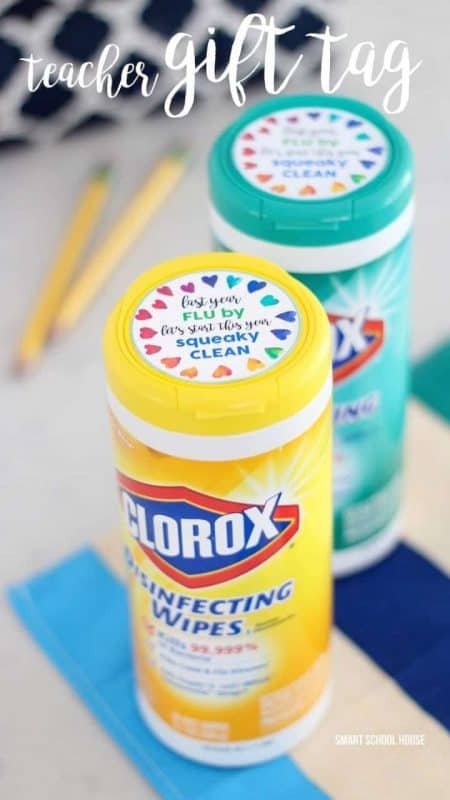 The future looks SHARP Teacher Gift Tags from Skip to My Lou
Colored sharpies are my happy place. Seriously. They are so pretty and if you are gonna label things…it should be pretty right?
Teachers can honestly NEVER have enough pretty pens and sharpies. This is a great back to school teacher gift idea and an adorable tag!! Love it!!!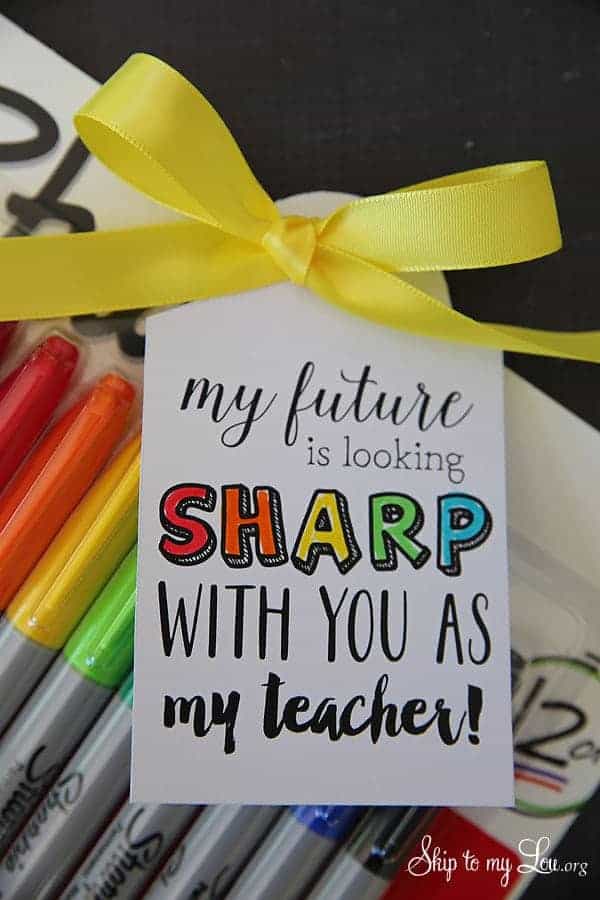 Apple for a Teacher EOS tag from Liz on Call
This is another adorable EOS lip balm teacher gift idea…if you want to give your teacher that traditional apple, without giving that apple…this is the way to go.
The tag is cute and the lip balm is awesome. Pair this with a "punny" idea and its the perfect apple for teacher!!!
Back to School Apple Painted Mason Jar Tags from Mimi's Dollhouse
Feeling crafty? This DIY mason jar is another adorable apple for teacher. Show your crafty side and give your favorite teacher a fun apple themed back to school gift.
This tutorial will help you paint your own mason jar.
Let's Stick Together Post It Gift Tags from Teaching Maddeness
This is another great teacher gift that is perfect for those cute post it notes and note pads….I told you teachers can always use note pads!!! Let your teacher know she is apart of the team!!!
Did you love these ideas as much as I did? I certainly hope so!!!
Looking for back to school ideas for teachers, back to school hacks, or school lunch ideas? Also check out our Teacher Appreciation gift tags and back to school ideas.
Here are some helpful links for back to school gifts:
RELATED POSTS FOR Teacher Appreciation Gifts with Free Printables:
Thanks for reading my Back to School gift ideas!