Honest Review of Wimmelbooks from Timberdoodle
When it comes to homeschooling your preschooler, there are some tools that make the process so much easier. Wimmelbooks from Timberdoodle* are one of those amazing resources. These books are fun for kids and chock full of learning.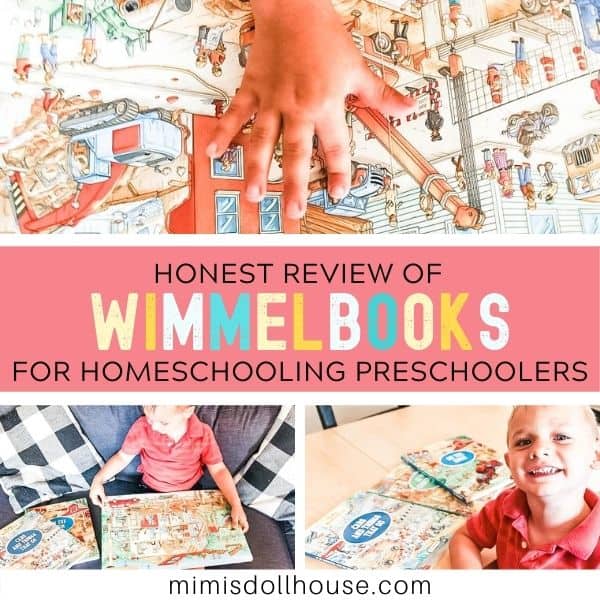 We had the privilege of reviewing these books for Timberdoodle. My three year old LOVES them. His favorite, hands down, is the construction book and he asks for these all the time!
What are Wimmelbooks?
Ok, so firstly…what ARE Wimmelbooks?
Wimmelbooks are unique, oversized board boards featuring "busy" scenes to explore. They use minimal to no words and are full of extremely detailed images for little learners to discover. Basically, its a fun and educational Where's Waldo? for your preschooler.
At first glance these books are just fun picture books you can flip through with your child. The wonderful thing about the Wimmelbooks, however, are that there are an endless number of things to find. The book will grow with your learner.
In education, we call this scaffolding and it's an educational concept where learning builds upon itself as the learners understanding grows. At first, your child might just pick out familiar items, like a race car or a balloon.
Overtime, they will begin to notice these same characters and items from page to page, pick up on storylines woven throughout and notice differences from page to page.
As a parent/teacher, you can easily use simple questioning to have your child identify colors, shapes, objects and then even verbally tell you the story as they interpret it on the page. Each time you open the book, the experience can be unique and meaningful.
Being able to adapt these books as your children grow really helps to make them an investment in their education. As a parent, you can encourage your child to continue to explore and add detail to their verbal retelling of the events of each page or even create a hide and seek game from the pages.
Honestly, the possibilities are endless!
Who are Wimmelbooks for?
Wimmelbooks are for young learners and they are especially useful for visual learners. Wimmelbooks also make a great independent activity. You child can sit with a Wimmelbook and explore while you are working with older children or you can use the book one-on-one for instruction.
Wimmelbooks Review: Will my preschooler like Wimmelbooks?
We love Wimmelbooks. The pictures are vibrant and busy enough to capture the attention of my always-on-the-go three year old, without being overwhelming. We have loved going through the books and identifying objects and creating stories together from each page.
As a mom on a budget, one of my favorite aspects of these books is how sturdy they are. My little one loves to read books, but often he loves them until they are bent up or ripped. These large board books are resilient and he is able to re-read them over and over.
The books have fun, kid-friendly characters and items throughout that we love finding and creating stories that explain what is happening on each page. Even my older kids like to sit and use the Wimmelbooks with him. This element of having my kids learning together is priceless.
Features of the Wimmelbooks.
There are many awesome features of Wimmelbooks. Some of my favorites include:
Bright colors
Fun reoccurring characters and items
Endless exploration
Large size and board pages that are perfect for preschoolers
Kid friendly themes
What if I want the whole preschool curriculum?
Wimmelbooks are included in the fabulous Timberdoodle Preschool Curriculum. If you are looking to jump into homeschool with a curriculum…this is a great one to choose.
While, it is not necessary to purchase a whole curriculum when you are starting out, having a curriculum can help you stay on track and not get overwhelmed with options and choices.
If you do decide you want to use a curriculum, I highly recommend Timberdoodle! It's colorful and full of amazing options that your kiddos will love. The benefit of having the curriculum is that it walks you through setting up your homeschool routine day by day.
How to use Wimmelbooks to supplement your homeschool program.
You can completely homeschool preschoolers with simple games, puzzles and books you have at home. The great thing about the preschool is that play learning can happen with things they already enjoy.
Wimmelbooks are perfect for including in tis kind of learning because they are both visual and tactile (when you use your body to point and mimic things on the page).
Your child will love searching each page for their favorite items and telling you about each new character.
Conclusion for Wimmelbooks for Homeschooling a Preschooler:
If you are looking for a fun and affordable homeschool resource for your preschooler, you can't go wrong with Wimmelbooks. These fun and creative board books are filled with bright colors and unique images that will captivate your child's learning.
If you love these Wimmelbooks, pin this image to your Pinterest boards for later:
Related posts for Wimmelbooks Review:
Thank you for reading my Wimmelbooks review!
*This post was sponsored by Timberdoodle. The opinions are completely my own based on my experience.*