The Erin Condren Teacher Lesson Planner for an Organized School Year!
Beautiful + Functional Teacher Planner you can't live without! Want to get organized this school year? The Erin Condren Teacher Planner* is the most thorough and most adorable lesson planner EVER.
Ordering a new lesson planner each year is a little like being a small child at Christmas. The excitement of opening the box and playing with all the goodies! I might have squealed a little. Erin Condren sent me the Teacher Lesson Planner for free, so that I could review it.*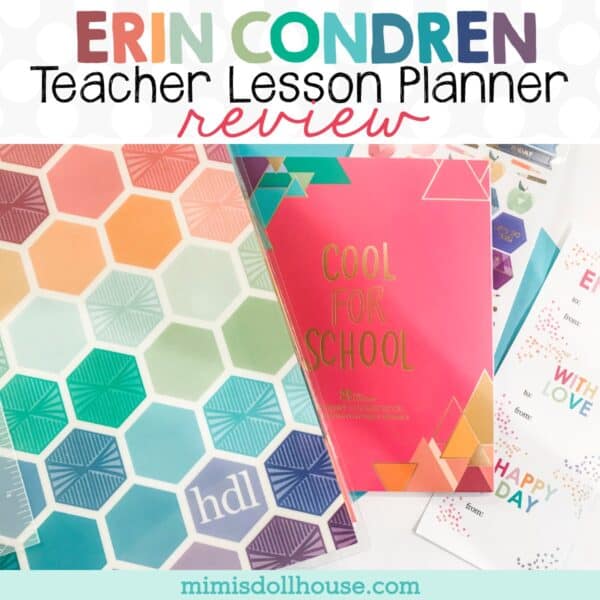 There are two things in the world that make me super happy:
PRETTY THINGS

ORGANIZATION
Look at any aspect of my life, and you will see at least an attempt at mastering these two things. From the bows I try to put in my daughters' hair everyday to the pantry that used to be organized before my toddler discovered granola bars were hiding in there…I love things to be pretty and organized.
Sometimes I rock these concepts. Sometimes I fail at them miserably. In both my classroom as a teacher (yes, I taught both History and Special Education for several years) and now in my home as a homeschooling mama of three, I crave pretty and organized.

Over the years, the tricks I've learned to keeping things organized is to start with the right tools. And if those tools happen to be GORGEOUS…well that just makes my whole week!
Enter the Erin Condren Teacher Planner. It's colorful and organized and it just makes you WANT to be so on top of your game. It's like buying the best running shoes to get in shape…you want to run in those awesome shoes, right!
Well with this teacher planner…you WANT to be the most organizer teacher EVER!
How to use a Teacher Planner
Using a teacher planner can really help you to stay on top of important parts of your school week and plan for big events throughout the year.
The Erin Condren planner has tons of sections with versatile pages that can be used as is or with a little creativity, customized to meet your need.
There are also lots of different options for customizing the planner before it is even sent to you, making it the perfect tool for your classroom or homeschool planning.

How to use the Erin Condren Lesson Planner alongside Electronic Lesson Plans
One major question I often get about using a paper planner in the classroom is electronic lesson plans. Yes, my district, like many of yours required electronic lesson plans to be submitted.
Most of time I found them to be less ideal than having paper plans, but if it's what the administration wants…what's a rule following teacher to do?
For me, the electronic lesson plans were more requirement and significantly less functional than a solid pacing calendar. Honestly, unless you are leaving sub plans do you really need every step of your lessons written out…doubtful.
What you DO need is a full month view calendar and a weekly grid. Erin Condren provides both in adorable colors and patterns.
Plan your units on the month view calendar where you can use stickers to remind you of holidays, field trips and anything else that you need to take into account in your lesson planning.
Then break those units down into small sections to keep you on track. This is the lesson plan you really want to reference each day!!
How to use the Erin Condren Lesson Planner as a Homeschooler
As a homeschooler, you may not need to show your lesson plans to anyone…but you DEFINITELY need to have a detailed schedule and lesson plans. The Erin Condren Lesson Planner is perfect for the homeschooling teacher too.
As a homeschooler, despite what non-homeschooler might think…you have A LOT going on each week. Your kids probably participate in co-ops, music lessons, sports, church events, scouts, etc.
Some homeschoolers are actually a part of charter schools or home-based groups that have field trips, workshops, volunteering and more! All of those things have to be scheduled and accounted for alongside completing lessons.
The monthly and weekly calendars can include all of those activities in addition to the weekly lessons your kids need to complete. It's like a pretty, organized version of the inside of your head!
You might not use the grid paper for seating charts…but you might use it to map out our space or keep track of your supplies.
Another element of using a planner that I like to so with my kids is teach them HOW to use a planner to stay organized. I want them to grow up with life skills that will help them succeed in college or whatever career they may choose.
My girls each have a Kid's Planner from Erin Condren and part of our Monday schedule each week is planning out the activities and assignments they have to complete that week and teaching them to keep track of their progress in their own planner.
I love watching them learning how to appreciate organization too!
Why the Erin Condren Teacher Planner?
Another common question I often hear is "Why the Erin Condren Planner?"
Yes, there are cheaper planners available. Would I switch to save money….not a chance. The quality of the Erin Condren planners far surpasses the competition in my honest opinion.
Quality aside, there are just so many customization options and the planners are so fun to use. It's worth every penny and then some.
Erin Condren does offer a Teacher Gift Card Bundle that includes some extras and a gift card to customize a teacher planner. This option is perfect if you are a teacher and really WANT a planner, but can't bring yourself to spend the money or if you are a SUPER AWESOME room parent looking to bless your favorite teacher.
Encourage those looking to buy something for your classroom to pitch in for a gift card. Trust me…as a teacher, you can only receive so many "greatest teacher ever" mugs and apple themed items.

Is it worth the price?
My answer to this is a resounding YES! If you are like me and you love all things pretty and organized…you will LOVE this planner.
***Also…if you have never purchased from Erin Condren before, you can use this link to sign up for the rewards program and earn $10 off your purchase!!!***
Highlights of the Erin Condren Lesson Planner
Ok…so there are tons of features included in the Teacher Lesson Planners.
Here are a few of my favorites:
Gorgeous Designs with customizable colors:

Each Teacher Lesson Planner comes with a secure & stylish (removable & interchangeable) cover so you can switch & swap designs as often as you like.

Two Page Monthly Calendar Spreads + Weekly Pages for Lesson Planning: These were designed with input from teachers to make lesson planning fun and easy. The planner

features monthly planning spreads, weekly lesson plans & functional checklists & stickers for a stylish layout!

Laminated Tabs & 2 Dated Calendar Options: This mak

es this planner optimal for flipping between months! Choose between four unique calendar options to suit your school schedule!

Monthly Note Pages, Inspirational Quotes & More:

Extras like lined note pages and motivational quotes make for happy lesson planning!

Stickers + Extras included:

Four pages of coiled in stickers (some metallic!) & a dual-sided folder!
You can also customize your lesson planner to meet your specific needs!!! You can upgrade to more checklist pages, page protectors and more accessories!
Tools to use to make the most of your Planner
Here are a few of my favorite tools to make using a planner fun and functional:
Pens: You can't beat the colors on these dual tip markers! They are gorgeous and functional! Bring me all the pretty pens!!!
Stickers: There are LOADS of sticker options…but I think this sticker pack is my favorite:
Don't forget, you can always join the sticker club too for more stickers!!
Bookmarks: The planner comes with a large snap in bookmark, but I also love these smaller clip in bookmarks. I like to have a few places saved all at once!!
Get your Erin Condren Planner and get school ready!
If you are a teacher planning your school year or someone who loves a teacher…you can't go wrong by choosing the Erin Condren Teacher Lesson Planner. It's beautiful. It's functional. It's fun!!!
If you love this teacher planner, please pin this image to your school Pinterest Board:
RELATED POSTS FOR Erin Condren Teacher Lesson Planner Review:
Thank you for reading about the Erin Condren Teacher Lesson Planner for homeschooling or use in the classroom.
*This post was sponsored by Erin Condren. The opinions are completely my own based on my experience.*