Honest Review of ABCmouse
Thinking about trying ABCmouse for your preschool thru elementary aged child? This ABCmouse review will answer all your questions about whether this is the right program to help your child succeed in learning at home!
Recently we started using ABmouse to supplement my 4 year old's homeschooling. Here are our throughts on ABCmouse and some information about the program to help you decide whether or not it's the right choice for you! You can try ABCmouse.com for $5 for 2 Months!
What is ABCmouse?
So you might be wondering what ABCmouse IS exactly.
ABCmouse, Adventure Academy, and ReadingIQ are online early education curriculums that are all created with the purpose of helping children build a strong foundation for academic success. It also seeks to foster a love of learning.
To get your child set-up for the summer, ABCmouse is running a summer special:
☑️
ABCmouse.com – $10 for 3 Months!
This is a great way to give the program a try and kep your child engaged all summer long!
ABCMouse uses award-winning curriculum that has been created with early childhood education experts to offer over 10,000 books, games, songs, puzzles, and art activities.
Each type of activity has specific learning objectives in the subjects of reading, mathematics, beginning science, social studies, art, and music.
Who is ABCmouse for?
ABCmouse is perfect for preschool, kindergarten, and early elementary. It teaches the skills necessary to be successful at these age/grade levels.
In fact, more than 18 million children ages 2-8 have completed more than 4 billion learning activities on ABCmouse at home, in classrooms, libraries, and other community institutions! That's a lot of kiddos!
This is a great option for either homeschooling or in classroom learning. If you are homeschooling or doing distance learning, it gives kids skills and helps build independence. I love using it to engage my preschool learner while I'm working one-one with my older children.
It helps give pieces of mind that he is still learning and loving it, while I can focus on teaching my older kids all those complicated things they are learning!
Options for older kids
Age of Learning, Inc. also has Adventure Academy. Adventure Academy is a massively multiplayer online game for elementary and middle school aged children 8-13 featuring thousands of learning activities in a fun and safe virtual world.
It brings learning to life as it builds critical knowledge of essential curriculum topics in language arts, math, science, social studies, and more. Basically…it picks up where ABCmouse leaves off.
Want to tryAdventure Academy? You can give it a go for free here: AdventureAcademy.com -Get 30 Days FREE!
Will my kids like ABC Mouse?
ABCmouse is great for kids who enjoy computer/tablet games. There is a lot of variety and the activities move fairly quickly. If your child does fairly well working independently on a tablet or computer, this program should work well. If they need assistance, you can still use it as a non independent learning aid as well.
My little one thinks the games are fun. He is a little less interested in the coloring elements of the games, but loves the math games and books.
What are the features of ABC Mouse?
There are many awesome features of ABCmouse. Here is the homescreen where you can access all the options for your child: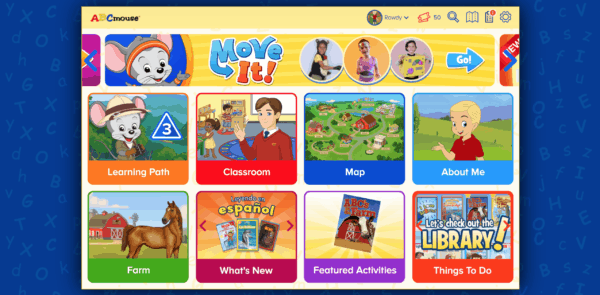 Learning Path
The Learning Path is a series of engaging lessons and activities that your child can progress through to build skills as they go. It's a great way to keep kids motivated as they see their progress and can earn tickets as they go.
Classroom
The classroom is kind of a a home base where your child can access different types of engaging activities. From songs to books to puzzles and games. There are plenty of options to engage your child in learning.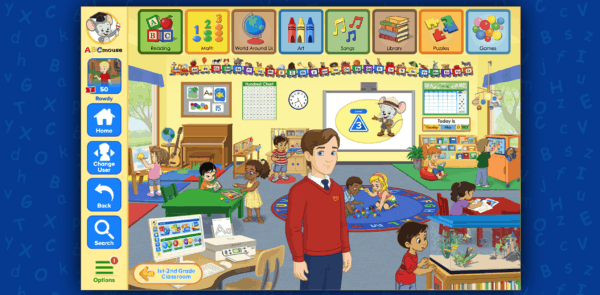 ReadingIQ
In addition to ABCMouse, you can also subscribe to ReadingIQ, a digital library of over 7,000 books for kids 12 and under. These books include award-winning titles, including Caldecott and Newberry Medal winners that will engage young readers! Want to give it a try? Get 30 Days FREE of ReadingIQ.com!
ReadingIQ's collection is constantly growing and includes Highlights, National Geographic Kids, Curious George, The Boxcar Children, and more!
Monitoring
Parents can see their child's reading skills grow by tracking and monitoring their progress. ReadingIQ's Guided Reading and Lexile measures ensures the books on every child's list is age-appropriate and matches his or her reading level. So it basically takes the guesswork out of it for the parents!
How to use ABC Mouse to supplement your homeschool program.
ABCmouse is a great way to supplement your homeschool curriculum. It works to build key skills in an engaging way and also gives your child a break from the "paper/pencil" learning. This break is important for both parent and child to refocus.
If you are looking to use the program, all year long. You can save byt buysing a year at a time or even Gift 1 Year of ABCmouse for $59.95!
to a child you know who can use some extra skill building!
Conclusion for ABC Mouse:
ABCmouse is definitely a great program for early learners to help them develop a love of learning. By teaching these important beginner skills in an engaging way, ABCmouse can help your child go from a hesitant learner to the top of the class! I know you will love giving it a try (don't forget you can try ABCmouse for FREE!)
If you enjoyed this review, please pin this image to your school Pinterest board:
Related posts for ABC Mouse Review:
Thank you for reading my

ABCmouse

review!

*This post was sponsored by ABCmouse. The opinions are completely my own based on my experience.*