How to plan a petting zoo party for Spring
Celebrating a birthday or holiday with a fun petting zoo is a great party theme for spring or summer. This Easter petting zoo is an adorable way to entertain kids and celebrate a big day.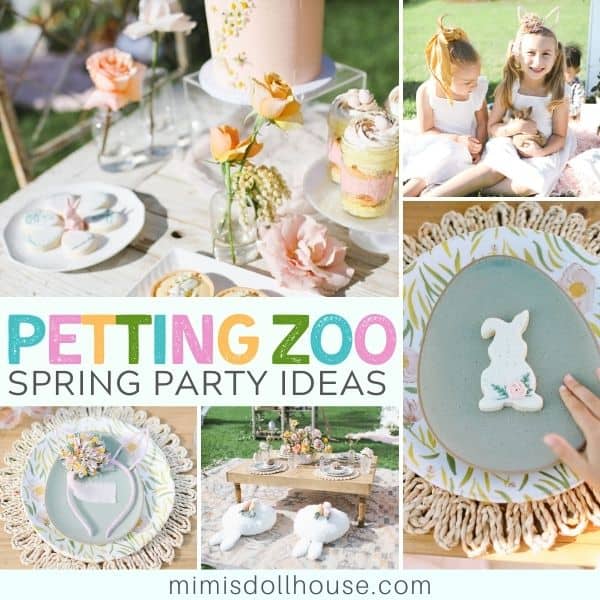 If you are looking for a unique spring party theme, a petting zoo picnic is a great way to celebrate a birthday or holiday.
Throwing a SPRING THEMED PARTY?
☑️ This
Spring Party Kit
is the perfect set to get your party planning headed in the right direction!
From fun spring patterns and colors to cute fuzzy animals…you will love every detail of this gorgeous picnic party styled by Karina from Diamond Events.
Petting Zoo Party Theme
A petting zoo theme has got to be one of the cutest ideas for a spring party. Firstly, who doesn't love adorable little fuzzy farm animals?

Secondly, if you want a theme that is sure to be a hit with little ones…this is definitely it. Thirdly, sweet little animals do make for absolutely adorable photo ops!

Setting up a petting zoo themed party doesn't have to be difficult. If you can borrow or rent some sweet little animals, you can jazz up a picnic party with a fun little petting zoo. Think of how much fun your little ones will have petting, holding and playing with bunnies, pigs, goats and more!

This is a great party theme for a park, backyard or outdoor party. It would also be a sweet way to intermix a farm theme and a floral, girly theme.

Perfect for Spring or Easter
A petting zoo party is a great theme for a spring party or, like this fun setup, an Easter celebration. Fun and fuzzy little rabbits are perfect for hopping around a pastel picnic!

The inspiration for this party was definitely wanting to create something different for Easter. Karina knew the party would be perfect with bunnies, goats and pigs.

The kids' favorite was Petunia the pig. They also set up a cute stand filled of fresh veggies for the kids to feed the animals.

The table set up is absolutely gorgeous. I love the mixture of textures and patterns. The sweet bunny headbands are a great addition to the place settings and make great party dress up features for the little ones.

Petting Zoo Party Ideas
There are many different ways to set up a petting zoo party. You can plan the entire party around the animals, including animals in the decor and the theme itself.

You can also have the animals be a bonus to a spring, picnic or Easter type theme.

It is important to remember safety when dealing with animals. Having a secure place for the animals to be held during the party helps.

It's always a good idea to keep the animals away from the party food.

Structuring time for the kiddos to interact with animals is a good idea too…also making sure they have supervision so no one gets hurt!

This really is such a fun theme for a spring party. Little ones will love playing with sweet animals.

Spring Petting Zoo Decorations
The decorations for this party are completely perfect. Such sweet colorful and perfectly spring.


The table top was full of easter decor. It included custom bunny ears headbands, personalized eggs with calligraphy and beautiful spring flowers.

One of the cutest details of the whole party is the bunny shaped pillows with adorable carrots. They are so cute and fluffy.

Another gorgeous detail is the balloons with flowers cascading down from the arch on the dessert table..

The textures in the styling are perfect too. Like this blanket with food for the animals. Too, too cute.

Food Ideas for a Petting Zoo Party
Alright, let's talk about the yummy food! With so many scrumptious treats, I know you will find inspiration in this menu.

A large charcuterie spread with pressed sandwiches pepper turkey with pesto, mozzarella, whipped feta and micro greens lavender, platters of mix veggies and fruits.

Of course it was all beautifully displayed with bold colors and gorgeous flowers. Love every detail!

Desserts and Drinks for a Spring Garden Party
Aside of regular food, there were several fantastic desserts. Let's take a look at all the deliciousness.


Fresh bottles of lavender limeade. This Easter shoot was not just for kids, we even had cocktail drinks that were delicious.

A stunning cake with chamomile flowers and bunny tarts along with the egg shaped cookies were egg-cellent. Of course one of the best details was the hand painted bunny cookies.


Banana pudding cups with crushed chocolate and easter chocolate eggs. So many delicious desserts.


Vendors:
Design/Styling: @_diamondevents_
Florals and Boho Table: @daydreamstudio.la
Balloons: @dreasavydesigns
Rentals: @sweetsalvagerentals @glitzyeventrentals
Catering: @grazebyrefinedcravings
Cocktails Drinks: @la.speakeasy
Cookies: @unforgedible_art
Cake and Tarts: @jeannettessweetsbarr
Pudding Cups: @bettertogethersweets
Bunny Ears Headbands: @augustroot
Invitation and Calligraphy: @papermintpress
Photography: @adriennegunde
Petting Zoo: @ittybittypettingzoo
Bunny Girls Models: Kayla, Valentina, Violeta and Siennah

Conclusion for Spring Petting Zoo Party:
If you are looking for a unique and playful spring birthday or Easter party idea, you will love this gorgeous spring Petting Zoo party. It is full of beautiful details, delicious foods and fun ideas the whole family will love!
Here are some helpful links for planning a spring party:
If you love these party ideas, please pin this image to your birthday Pinterest Board: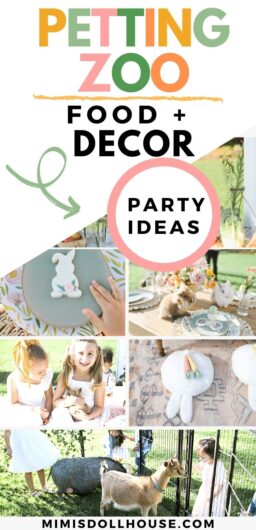 Related posts for Planning a Petting Zoo Party:
Thank you for reading our Spring Party Ideas!